Any Internet user worth their salt already know that the virtual space is essentially a minefield. With our data at risk almost all of the time, it's natural people turn to Virtual Private Networks to gain anonymity. ProtonVPN (visit) is a player that joined the race recently. While relatively new to the market, the company has gained love from users because of its staunch support for privacy and free rights. Users have enjoyed Proton's services for some time now and the company has always had a habit of introducing new security services. This time is no different either. ProtonVPN has now adopted the WireGuard Protocol in an attempt to make users' VPN journey even faster and more importantly, safer. But what does it mean for you? Well, let's find out.
WireGuard Brings Safety and Speed at Once
Before we dive into Proton adopting this protocol, let's quickly discuss what WireGuard itself is. Aimed at making the Internet a safer place, the WireGuard VPN protocol is a fresh addition to the industry. This open-source protocol prioritizes security and performance and has a wide range of compatibility. Ever since it was launched in 2021, WireGuard has been lauded by VPN users the world over and has been adopted by many VPN companies.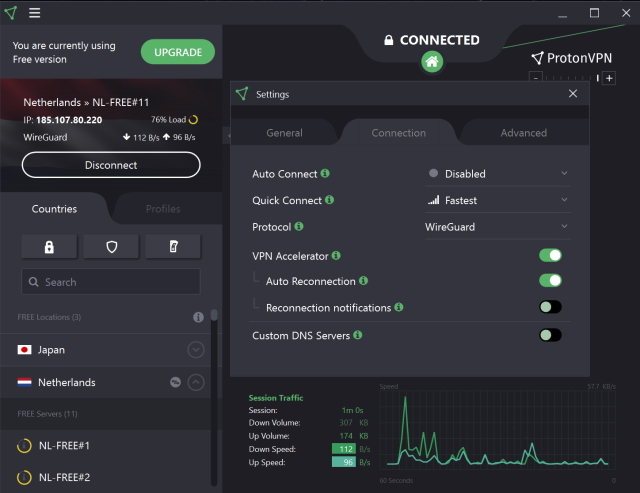 ProtonVPN in a constant effort to maximize protection has now made WireGuard the default protocol for its service. While that may come as something new to you, the company has actually supported the protocol ever since its early days. Available to Proton users across all major platforms, the WireGuard protocol will offer insanely high speeds coupled with extensive security. When combined with ProtonVPN's accelerator feature, the protocol will offer up to 400% increased speeds. Yes, you read that correctly.
We're excited to finally launch WireGuard support as it has long been requested by our user
community.ANdy Yen, PROTONVPN
While it's natural to assume new tech like this will take a toll on devices, this adoption also brings with it a lightweight structure. This translates to reduced CPU load to use the protocol which in turn will give users extensive battery life on all platforms. However, if you think you're forced to choose it, don't fret. You can always switch back using the provided settings. However, the company's Smart Protocol feature automatically chooses the relevant one for you and can be relied upon easily.
What About Safety?
Speed isn't the only thing getting a bump. ProtonVPN coupled with the WireGuard release brings with it enhanced security too. If the company's no-logs policy and audits weren't enough for you, WireGuard will certainly tide you over. Built to be a no-nonsense complement to speed, the new protocol automatically enhances the security level of the user from the get-go. This ensures your privacy isn't ever compromised as you browse through your virtual tunnel from another country.
Founded by scientists who met at CERN, we have always been defined by a strong culture of research and development, and a focus on peer-reviewed transparency.Douglas Crawford, ProtonVPN
Variety enters the conversation through the company's server locations. With the VPN provider's servers situated in over 61 countries for the Plus Plan users, there is more than enough to go around. Some new additions to this list include the Philippines, Vietnam, Cambodia, and Egypt. And while the location count may be less than ideal for some, there is enough smart tech here to help. Using a technique called 'Smart Routing', the company runs the user's Internet connection through hardware that isn't even present in the chosen country. This ensures you get access to geo-blocked content while not even touching the air around there.
All this is in addition to ProtonVPN's existing rollouts of previous protocols and suite of safety features including Secure Core, Kill Switch, DNS leak protection, and much more. Users looking for safety can rely on this player.
Support Has Arrived
No matter which service you use, you're bound to run into problems from time to time. One of the caveats with ProtonVPN used to be the lack of dedicated chat support for free users. However, live chat customer support is available to 100% of the provider's paid users. This means all the paid tiers from Basic to Visionary get full support. While the free tier users do get left out of it, you'd be hard-pressed to upgrade anyway considering the level of services you get.
No Time like Now with ProtonVPN's End of the Year Sale
We believe you have learned by now that no good VPN service ever comes free. The ones that do, gain back their cost from you in more ways than one. However, we also agree that VPN services themselves are not exactly very pocket-friendly all the time. However, call it good timing or post Halloween luck, there's a way to get a VPN without paying a lot.
Proton, fortunately, is hosting an end-of-year sale for its select VPN Plus plan. With the amazing tier offering a plethora of benefits including seamless streaming support, there is no better time to pick up a subscription for yourself. With the offer prices of the Plus Plan dropping to an all-time low of just 5.99 per month for the yearly plan, you can save a lot. However, if you're anything like us, you're in it for the long haul. In that case, the two-year VPN Plus plan comes to mind which comes with a 50% discount and starts at 4.99 per month. Still not sure about paying for it? Try it and use the 30-day money-back guarantee for your peace of mind.
Don't wait too long though since a good deal never lasts forever. With ProtonVPN starting its end of the year sale from 1st November, you have until 1st Jan 2022 to snatch a subscription before it is all gone. If you've been looking for a fast, reliable, and affordable VPN with WireGuard, ProtonVPN is it.
Get ProtonVPN right now (website)