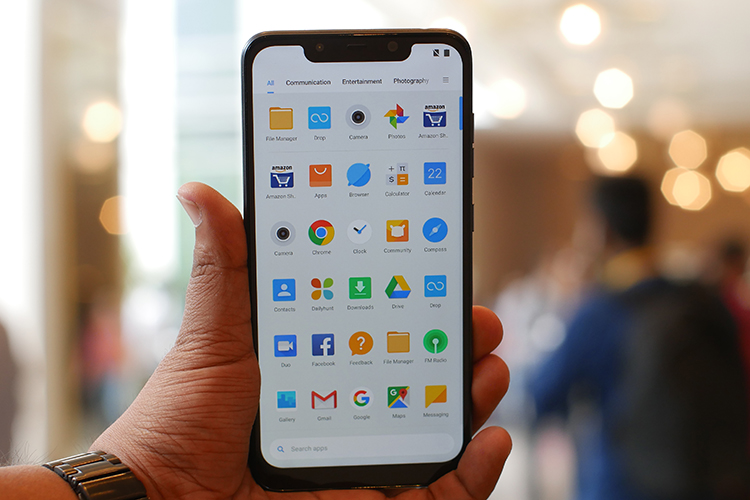 Alongside putting the Poco F1 for sale for the first time today, Xiaomi's Pocophone has released the kernel sources for the developers who want to experience custom ROMs on the smartphone. But for users who just to experience the clean UI of the Poco F1 on their smartphone, the company has also released the Poco Launcher the Google Play Store.
Weighing in at 16MB, the launcher is compatible with most Android smartphones. It should interest not only existing Xiaomi users who are not very impressed with an interface without the app drawer, but also those looking for a launcher with a simple and useful interface.
Besides blessing MIUI with an app drawer, Poco Launcher brings intuitive features such as sorting of icons on the basis of color, a search bar, the ability to hide apps of a certain kind. The launcher also has the features to sort apps automatically and divide them into popular categories like Entertainment, Photography, Games etc.
You can choose the appearance of the scroll bar and while it's a small feature, it is likely to improve usability to a certain degree for some users who have been stuck without an app drawer.
The Poco Launcher is available in beta, which means that some of the features will not be functional. The ones currently limited to the Poco F1 include the ability to open the notifications by swiping down on the home screen and Xiaomi's app vault. These features are not even present within the Launcher on Xiaomi smartphones other than the Poco F1.
Further, unlike the F1's interface, there's no option to hide apps or access them. Moreover, it is not possible to hide individual app but you can hide an entire category of apps. But we expect Pocophone to include these feature by the time a stable version is released.
For now, you can try the Poco Launcher by downloading it from Google Play Store (free) but if that effort hits a wall, you can use this link to download the APK and install it on your smartphone.
---