Another great addition to OxygenOS 9.5 comes in the form of a new Screen Recorder, which has debuted on the OnePlus 7 Pro today. I know, you must be thinking what's so special about a screen recording feature, we have a multitude of apps (both non-root and root) for this and have seen the same on several custom ROMs before too. Well, you can say OnePlus has supercharged its Screen Recorder to provide you every feature you may need while capturing the screen.
Just like the Zen Mode, the screen recorder quick settings tile can be found sitting up-top in the notification shade. Tapping the said icon opens the screen recording controls pill at the bottom of the display – but can be dragged around easily. There's the record and settings button on the pill, the latter opens the following pages, as seen attached below, and enable you to adjust resolution, bit rate, and audio source. The recording can be paused in between via a screen overlay.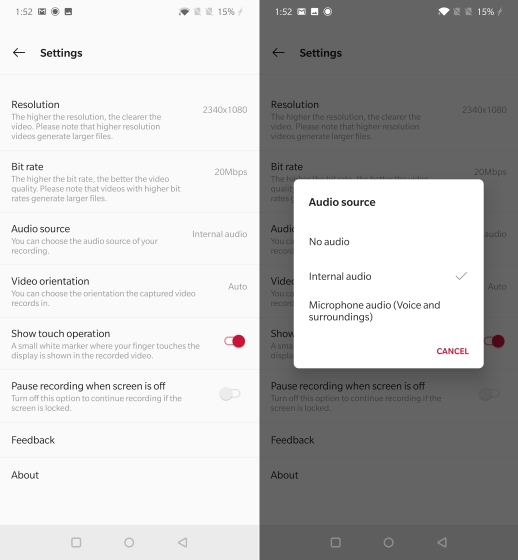 OnePlus in its official release touts that you can simultaneously capture both internal audio from the app, as well as external audio from the microphone using its Screen Recorder feature. However, as you can see in the screenshot attached above, we could currently choose only between the internal audio and microphone audio options.
In our brief testing, we found none of the two aforementioned audio sources to record simultaneous audios while playing PUBG Mobile. However, we're probably running pre-production software and OxygenOS 9.5 could score an update in the coming weeks to deliver the handy audio recording feature in its Screen Recorder. I believe we would be turning to the OnePlus 7 Pro for all our future screen recordings.
What are your thoughts on this new screen recording feature? Do tell us in the comments section down below.