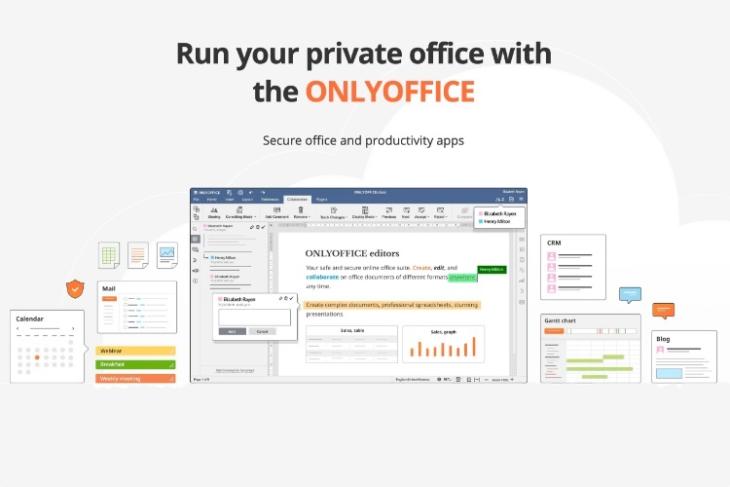 Thanks to the pandemic, most of the employees are working virtually. This trend is going to stay even after the pandemic ends, as both companies and employees are comprehending that it's a better working environment. It also means that online collaboration tools have become more vital than ever before. And if you want to collaborate with your colleagues on projects, you need a robust and secure online document collaboration tool. We have been testing OnlyOffice for the same purpose, and I think this is one of the best online document collaboration tools on the market. In this article, I am going to take you through all the best features of OnlyOffice Docs to help you understand what makes it a secure online document collaboration tool.
Key Features
OnlyOffice is a complete solution for all your document needs. Whether you want to write complex reports, create eye-catching presentations, or showcase data in tables and charts, OnlyOffice can handle all your needs. However, the focus of our discussion for this article will be its secure and robust online collaboration feature.
OnlyOffice is not a document service that introduced collaboration as an afterthought. On the contrary, collaboration is one of the founding pillars of this service. So, everything that you can do with OnlyOffice in an offline mode, you can do online while collaborating with others. It gives you a robust collaboration system that has all the features that you might require from such a tool.
In this section, we are going to cover some of its main collaboration features that you can expect from this service.
1. Flexible Document Permissions
One of the biggest things to consider while collaborating with others on a document is the amount of access you want your colleagues to have. Sometimes you want colleagues to be able to edit the document, while other times, you might want them to spectate and give feedback.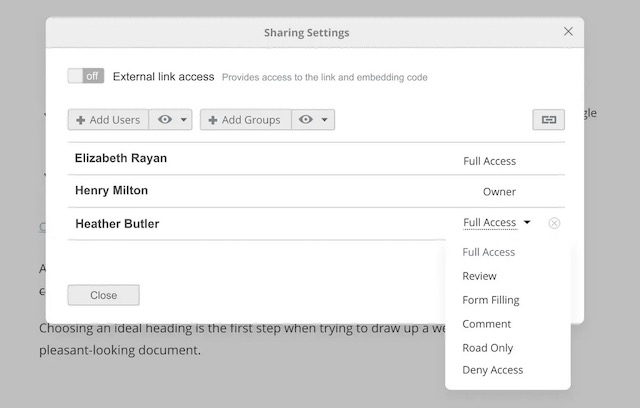 The flexible document permissions of OnlyOffice allows you to handle all these use-cases. You can grant permission for documents in review, edit, comment-only, form-fill, and view only modes. You can even restrict copy, download, and print options.
On the other side of the spectrum, you can choose to share the document publicly so anyone with the link can access it. As you can see, you have complete control over how people can interact with your documents.
2. Different Co-editing Modes
When you are working with other users in real-time, OnlyOffice provides two different co-editing modes. First is the Fast mode, which displays all the changes instantly after input. The second is the Strict mode, which only displays changes when the users save them.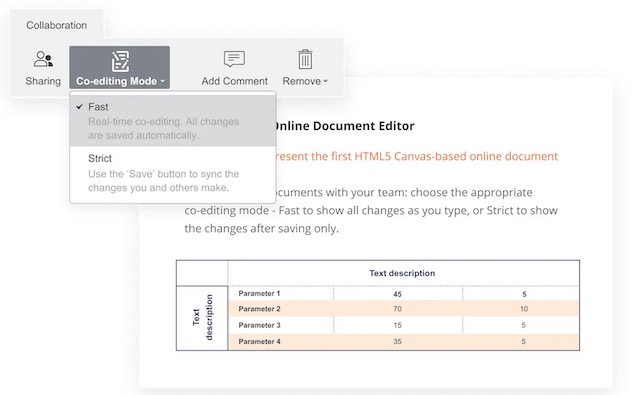 I generally use the fast mode as I want to see real-time changes. But for some documents where I don't want to be disturbed by constant changes and just want to see the final product, the Strict mode works well. It allows me to collaborate on a document without unnecessary distraction.
3. Track Changes
If you want to collaborate on online documents, you need a robust way to track changes, so you know who did what. OnlyOffice is great at this. Not only it allows you to review changes made by your colleagues, but it also allows you to accept or deny the changes as you see fit. So, if you don't like what your colleagues did, you can reject the changes to go back to the original document.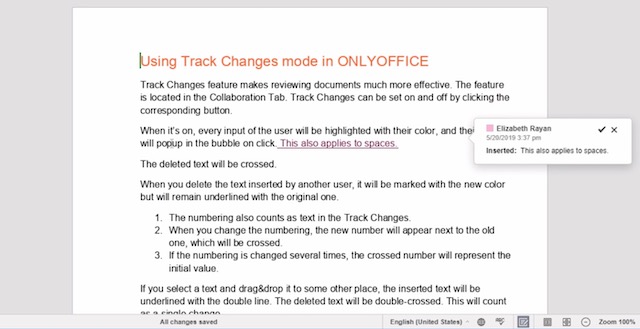 4. Version History
Another crucial online collaboration feature is the version history. Version history is a vital feature as it lets you keep track of your document and allows you to switch to past versions easily. Suppose you are not happy with the current form of a document, or you mistakenly deleted important information. You can use the version history feature to restore the past versions of the document.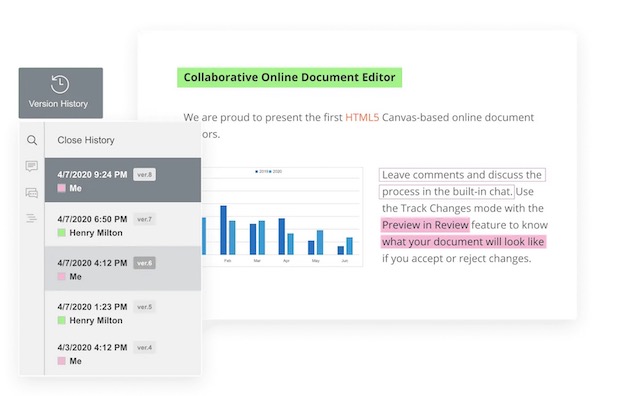 5. Built-in Communication
OnlyOffice also has a built-in communication feature that allows you to easily communicate with your colleagues. I find this feature handy as it keeps my work and communication in the same app. I don't have to switch apps to find context for my work. You can tag authors and leave comments for them. You can even use a real-time chat service to discuss points while working on the document.
6. Integration with Popular Business Platforms
OnlyOffice Docs can also connect with your favorite business platforms with ready to use connectors. You can integrate OnlyOffice with services like Alfresco Share, Confluence, HumHub, Liferay, Nextcloud, ownCloud, and more.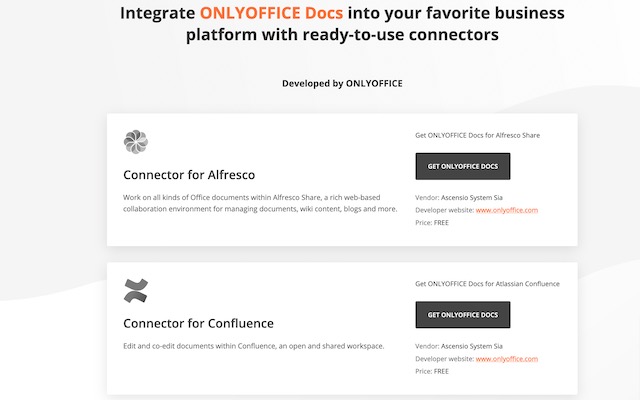 And these are not just superficial connections. OnlyOffice has built deep links that allow you to edit and securely collaborate on documents of any size and complexity within the platforms mentioned above. And the service has released its code as open-source on GitHub, so anyone can check it for security vulnerabilities.
7. Private Rooms
One unique feature of OnlyOffice Docs that separates it from other online document collaboration services is the end-to-end encryption. If you work and collaborate on sensitive documents, OnlyOffice is the best tool to use. It provides end-to-end encryption of documents, spreadsheets, and presentations via the Private Room feature.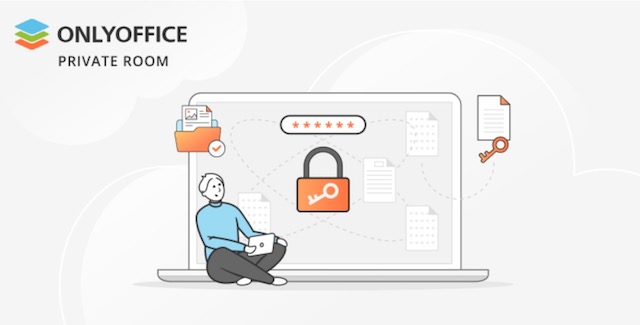 All the data is encrypted locally on your server, and only the encrypted data makes to their servers. Despite the encryption, you still get access to online collaboration features like real-time input, document history, chats, and more. You don't have to jump through any extra hoops to make it work.
8. Other Features
OnlyOffice Docs received a massive update with its version 6.0 release in October 2020. You get a plethora of new features in OnlyOffice spreadsheets along with several productivity enhancements in OnlyOffice online editors. Now you can use the spreadsheets to create Pivot tables, use conditional formatting, use slicers for your formatted tables, remove duplicates with one-click, and do so much more.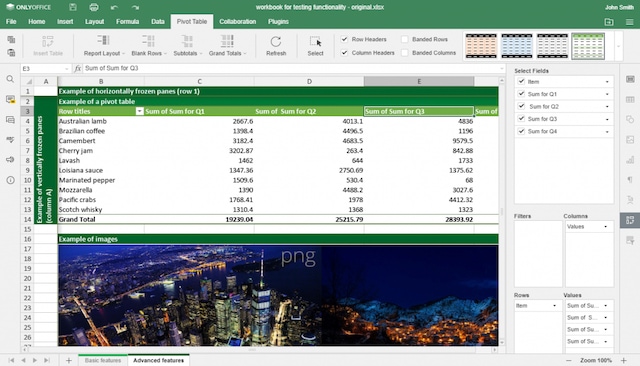 Other improvements include drag and drop support for values, internal links, new cell properties, a quick search for functions, improved copy and pasting experience, automatic macros, and more. This update was followed by a new version 6.1 update in December that brings several more new features.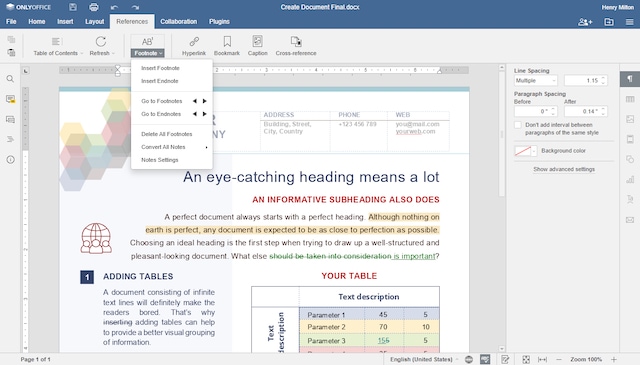 There's a new sheet view that only changes your view of the data without affecting the views of your collaborators. This is a welcome feature as it allows multiple users to work on the same sheet freely. Also, you can now easily edit chart data, add end-notes and references, and use line counting in docs, among many other things.
Pricing and Availability
You can use OnlyOffice Docs as an online suite or download and use native apps on your machine. The apps are available for all the popular desktop and mobile operating systems. That means you can use it on Windows, macOS, Linux, Android, and iOS devices. This makes OnlyOffice one of the most versatile online document collaboration tools on the market when it comes to platform compatibility.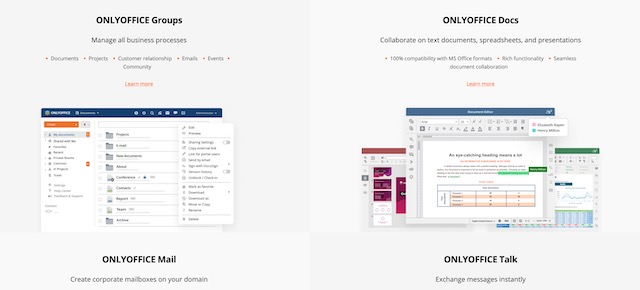 OnlyOffice Docs is also available as a part of a Workspace which gives you access to a suite of apps for efficient team management and collaboration. As a part of the workspace, apart from OnlyOffice Docs, you also get OnlyOffice Groups for managing business processes, OnlyOffice Mail for handling emails, and OnlyOffice Talk for communicating with your team members.
Another good thing about OnlyOffice is that it allows you to use its services on self-hosted servers. So, if you don't want your data on their servers, you can use self-hosting. There's also a one-click install and auto-update version for AWS.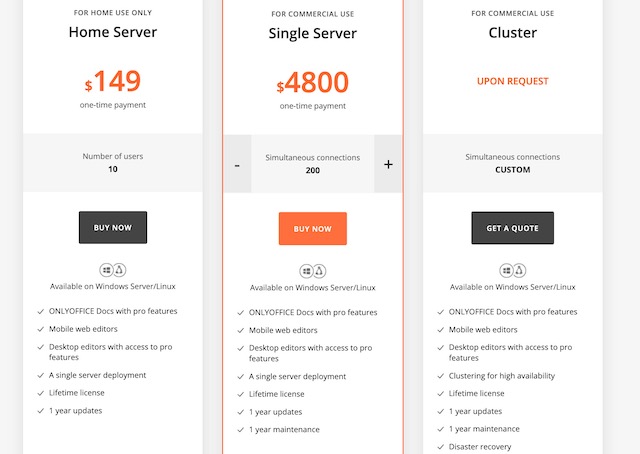 As for pricing, the Home Server package starts at $149 (10 members), while the commercial license will cost you $1200 for 50 simultaneous connections. There's also separate pricing available for development servers. And if you are not happy with preconfigured prices, you can contact the company to get a custom quote.
Use OnlyOffice Docs to Get Real-Time Encrypted Document Collaboration
I have used many online document collaboration tools in the past. None of those apps have the breadth and depth of the features that OnlyOffice Docs offers. And when you factor in features like end-to-end encryption and built-in chats, you are getting a complete solution for all your document collaboration needs. So, what are you waiting for? Click on the link to check it out.