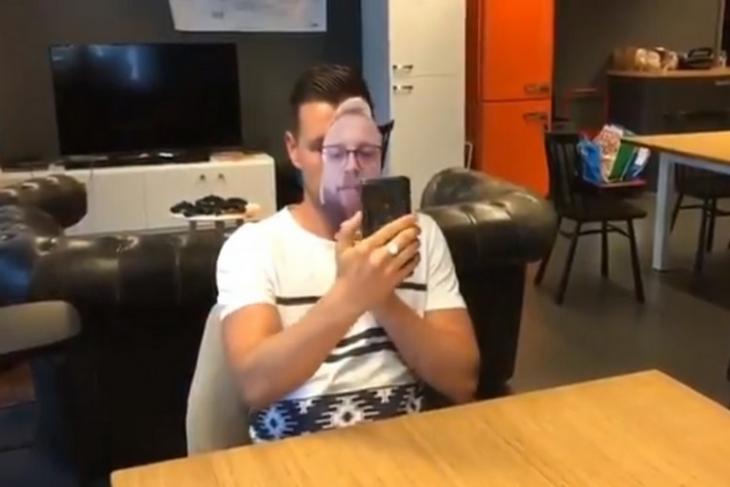 It has been done before, and this time around it's the latest flagship to fall prey. Most Android phones with face unlock technology are vulnerable to being spoofed by a simple, printed photo. Even the iPhone X, with its super-secure FaceID system, has been tricked multiple times in the past. This time, it is the OnePlus 6's facial recognition system which has been bamboozled by a plain photograph, casting dark clouds of doubt over the security of OnePlus' face unlock system.
A Twitter user named Rik recently put his OnePlus 6 and its facial recognition system to test by printing his face on a paper and then asking a friend to use the cut-out for unlocking his smartphone. Surprisingly, (or unsurprisingly), the device was unlocked within a matter of seconds, leaving the device's owner in a surprised state. Even a black & white photo of the same person was capable of tricking the OnePlus 6's face unlock system.
I printed my face to unlock my OnePlus 6 for the lulz… it worked ¯_(ツ)_/¯ pic.twitter.com/rAVMq8JKBr

— rik van duijn (@rikvduijn) May 29, 2018
Naturally, for a company as tightly engaged with its user community as OnePlus, the video came as a shocker, something which challenges the company's claims of offering only the best there is. When OnePlus was reached for a comment, this is how the company responded:
We designed Face Unlock around convenience, and while we took corresponding measures to optimise its security we always recommended you use a password/PIN/fingerprint for security. For this reason Face Unlock is not enabled for any secure apps such as banking or payments. We're constantly working to improve all of our technology, including Face Unlock.
So basically, what OnePlus wants to say is that face unlock is merely for users' convenience, and should be not be used as a foolproof measure of security the way a fingerprint, password or PIN is used. So, you are better off securing your private files and apps by using your fingerprint pattern or a password. However, OnePlus has promised to improve its face unlock technology to prevent any security mishap.