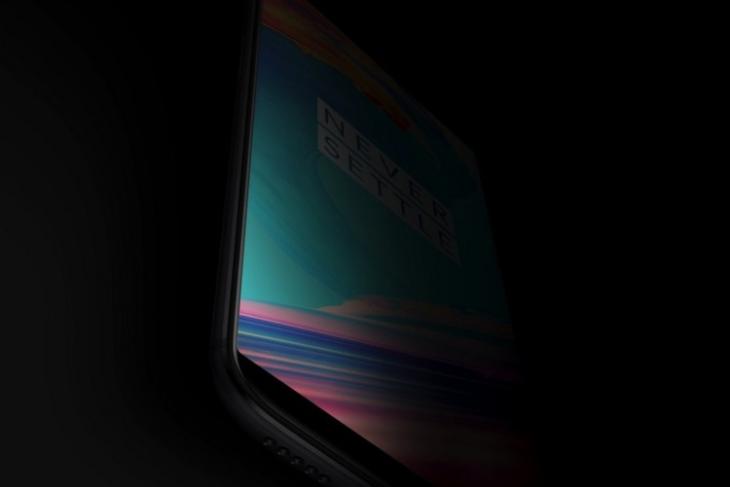 OnePlus 5 is certainly one of the best smartphones that you can currently get your hands on, this year. It literally has almost everything you expect from a smartphone at its price point, like the top-of-the-line Snapdragon 835 octa-core processor, 8 GB RAM, pretty decent dual-camera setup and even a seamless software to go with it, but the device was constantly criticized for two reasons. For starters, the device looked pretty much identical to an iPhone 7 Plus, but what's more disappointing was the lack of a bezel-less design, a trend that almost every other major manufacturer has been following with their flagship smartphones.
Well, the popular Chinese manufacturer intends to fix these two flaws with their upcoming OnePlus 5T smartphone, which is just around the corner. To start things off, it's expected to feature a larger 6-inch Optic AMOLED display with minimal bezels, and thanks to this design approach, the device's footprint is expected to be quite similar to the current OnePlus 5. The resolution is expected to be slightly bumped to 2160 x 1080 pixels to make up for that 18:9 aspect ratio. There won't be any physical or haptic buttons on the front, and the fingerprint scanner is expected to be on the back, which the price you're paying for an all-screen display.
Top-half of OnePlus 5T (2.5t? Ha). pic.twitter.com/pmfhdQSgWQ

— Ev (@evleaks) October 30, 2017
Moving on to the camera department, a bump in resolution is expected if the camera on the OnePlus wasn't already good enough for you. The OnePlus 5T is rumored to boast a dual-20 MP camera setup with an aperture of f/1.7 and f/2.6 for the standard lens and telephoto lens respectively. Sadly, neither of the lenses will have Optical Image Stabilization. OnePlus' co-founder and CEO Pete Lau used Twitter to tease the fans by sharing a breathtaking still that was shot on the OnePlus 5T.
Impressive photo. Must be a great camera 😉 pic.twitter.com/rixfXiqaFS

— Pete Lau (@PeteLau) October 25, 2017
As far as the rest of the hardware is concerned, it's going to be powered by the same Snapdragon 835 chip along with either 6 or 8 GB of RAM just like the OnePlus 5, so decent expect any performance improvements. Apart from this, the company's co-founder and CEO Pete Lau also confirmed that they will keep the headphone jack for time being, which is good news considering the fact that several manufacturers have already started to ditch it in their smartphones.
Overall, the OnePlus 5T is supposed to be a smartphone that fixes the flaws that the existing OnePlus 5 was criticized for, when it launches later this month. With an expected price tag of around $550-$600 this could pretty much be the perfect smartphone for 2017. So, what do you guys think about the OnePlus 5T? Would you be willing to spend your hard-earned cash on this one? Do let us know, by dropping your valuable opinions in the comments section down below.