Cloud storage services are all the rage these days. And why shouldn't they be? They provide you with instant access to all your important files/data anytime and anywhere, so long as you have reliable network connectivity. There are numerous of them out there, with more jumping in the fray daily. And out of those, the Microsoft backed OneDrive is one of the most popular.
OneDrive is a great cloud storage service, especially for those invested in the Microsoft ecosystem. It includes goodies such as tight integration with the Office (Online) suite and the latest Windows 10, one-click addition of attachments to e-mail, sharing & collaboration features, and then some more. However very recently, Microsoft made some drastic changes to the OneDrive storage policy (read more here), including cutting down the free tier storage from 15 GB to just 5 GB, even for existing users. In addition to that, the changes, which will be effective beginning early 2016, will see the paid OneDrive storage plans start at $1.99 per month for 50 GB. Clearly, this hasn't sat right with a lot of OneDrive users, who are now obviously looking out at alternatives.
If you're among the lot, don't fret, as there are a quite a few amazing OneDrive alternatives available out there, that you can move your data to. And that too quite easily, thanks to services like Mover, which make transferring data from one cloud storage service to another as simple as connecting the two and letting it do its thing.
With that out of the way, let's strap in, and take a look at some of the best OneDrive alternatives.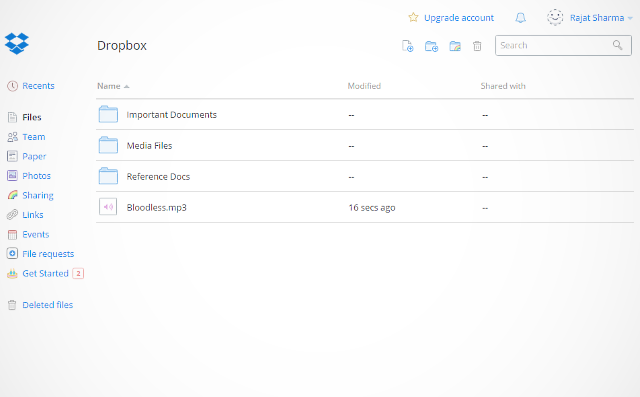 Without a doubt the most popular cloud storage service out there, Dropbox is ridiculously simple to use, yet incredibly loaded. Although the storage space offered (initially) at the free tier is a measly 2 GB, but you can easily blow it up to a maximum of 16 GB via referrals, and by completing some simple tasks. Moreover, Dropbox makes up for it by the goodies it provides, such as utterly simple file sharing, revision history for 30 days (unlimited for pro users), virtually no file size limit, innumerable productivity enhancing add-ons, and then some more. Lastly, availability of sync clients for nearly every platform ensures that you have 24×7 access to your files. If you're looking for an overall great cloud storage service, it's hard to go wrong with Dropbox.
Pros: Reliability, Consistent upload and sync speeds, No restriction on file sizes (300 MB for uploads through website), Availability of sync clients on nearly every desktop/mobile platform, Hundreds of add-ons, Easy sharing.
Cons: Low initial free tier storage (2 GB), Somewhat non-polished web front end, Almost useless mobile web UI.
Availability: Windows, Mac; iOS, Android, Windows Phone, Blackberry, Kindle.
Pricing: Paid plans start from $9.99 per month for 1 TB storage.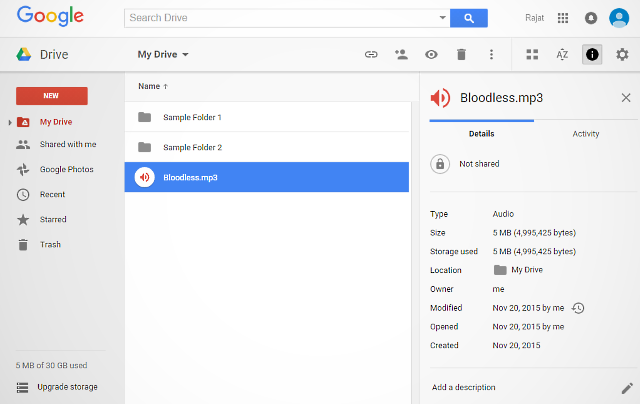 In many ways, Google Drive can be considered as the most direct competitor to OneDrive. And if you're invested in the Google ecosystem, it's an absolute no-brainer. The search giant's cloud storage service grants you a nice 15 GB at the free tier (30 GB, if you use Google Apps for Work), has great sync/upload speeds, and sports tight integration with a variety of other Google services, such as Gmail, Docs, and Photos. The maximum file size for uploads is a colossal 5 TB, and you can directly preview a variety of file formats of different types (e.g. audio, documents). Google Drive lets you share files and folders with both viewing and editing rights, and includes support for numerous add-ons. Also, native sync clients are available for nearly all platforms. All in all, Google Drive is a perfect choice for all your cloud storage needs.
Pros: Sizeable free tier storage (15 GB), Deep integration with Google services, Google docs don't count towards storage, 30 days file history, preview support for many file types, official and third party add-ons.
Cons: Chrome sign-in generally required for majority of add-ons, No referral system, Non-availability of sync client for Windows Phone.
Availability: Windows, Mac; iOS, Android.
Pricing: Paid plans start from $1.99 per month for 100 GB storage.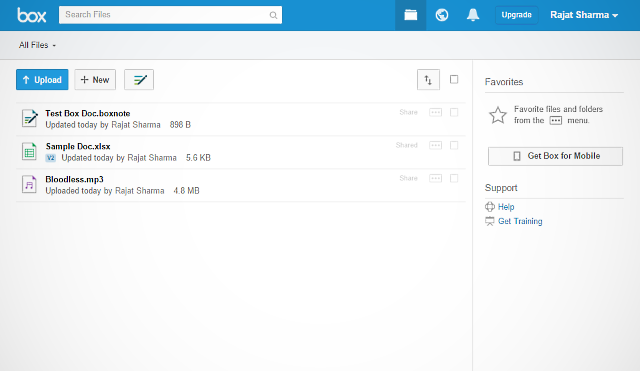 What probably sets Box apart from the rest of the cloud storage services is its emphasis on security and collaboration. Although it's primarily geared towards enterprises, Box packs in enough goodness to be used by just about anyone. The free storage tier gives you 10 GB of storage, which is pretty good if you ask me. Sharing files with other users is as easy as sharing the unique URL, which itself can be customized. You can even allow/prevent downloading of shared files for increased security. Box makes it a breeze to create and work on documents collaboratively, tying into both Office Online and Google Docs productivity suites. And if that's not enough, you can also use the incredible Box Notes. Other features include multiple level file versioning, cross platform sync clients, and tight administrative controls. However, the biggest disadvantage of Box is that the free tier caps the maximum file size to just 250 MB. If you can live with that, Box is pretty darn great.
Pros: Enterprise grade security and collaboration features, 10 GB of free storage, Integration with both Office Online and Google Docs productivity suites, Secure sharing, Multi-platform sync clients, Add-on support.
Cons: File upload size restricted to a paltry 250 MB for free tier, Slightly confusing Web UI, Many advanced options reserved for paid level accounts.
Availability: Windows, Mac; iOS, Android, Windows Phone, Blackberry.
Pricing: Paid plans start from $11.50 per month for 100 GB storage.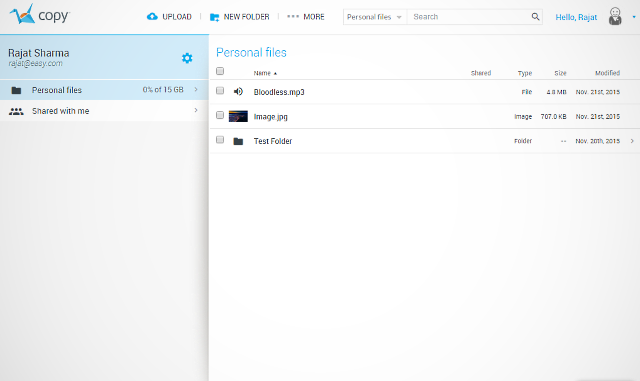 Coming from the house of security & storage experts Barracuda networks, Copy has a lot going for it. A free account with the feature laden cloud storage service nets you 15 GB of free storage, which can be maxed out to 20 GB via referrals. There are no restraints on the file upload size, and the sync/upload speeds are pretty consistent. Standard goodies like file revision history and the ability to recover deleted files are also there, with both being available for 30 days. As far as sharing is concerned, Copy not only lets you share files/folders via unique URLs, but also directly to major social networks such as Facebook and Twitter. However, the highlight of Copy is its Transfer a service feature, which lets you copy your files (free up to 2 GB) from existing cloud storage services (e.g. Box, Google Drive) to Copy, all in a matter of few clicks. And with the presence of sync clients/apps on nearly all platforms, Copy makes a strong case for being a perfect home for all your important documents.
Pros: 15 GB free cloud storage, upgradeable to 20 GB via referrals, Social sharing, Direct transfer of files from all major cloud storage services, Robust file preview support.
Cons: No add-on compatibility, Multi-column web UI isn't exactly the best to work with.
Availability: Windows, Mac, Linux; iOS, Android, Windows Phone.
Pricing: Paid plans start from $4.99 per month for 250 GB storage.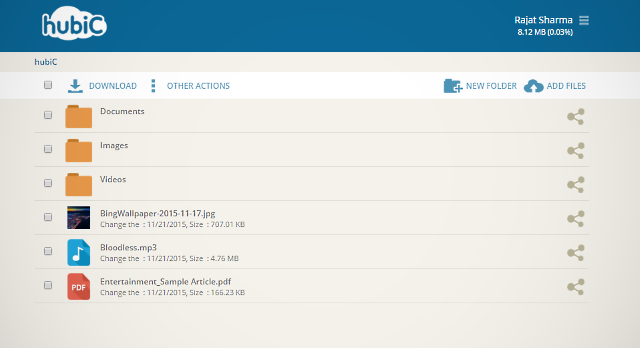 There are many things that make Hubic an incredible choice for anyone looking for a reliable cloud storage service. For starters, the France based service offers a massive 25 GB of free storage, which can be doubled to 50 GB (No kidding!) via approved referrals. You can upload all kinds of files, and native sync clients and mobile applications make using Hubic anywhere and anytime a child's play. File sharing is simple too, and can be done either via email, or directly to major social networks. There's no maximum file size limit; however, files uploaded via the web UI can't exceed 1 GB in size. And the Backup feature lets you backup huge volumes of data via the sync application in a few moments. As for the disadvantages, Hubic doesn't offer any file versioning, and file preview support is fairly limited as well.
Pros: Huge free storage (25 GB), which can be doubled via referrals, Cross-platform native clients and apps, Direct social sharing features, Easy backup functionality.
Cons: No file versioning, Limited file preview support, Files can't be shared permanently, and have to have expiration limits.
Availability: Windows, Mac, Linux; iOS, Android, Windows Phone.
Pricing: Paid plans start from €1 per month for 100 GB storage.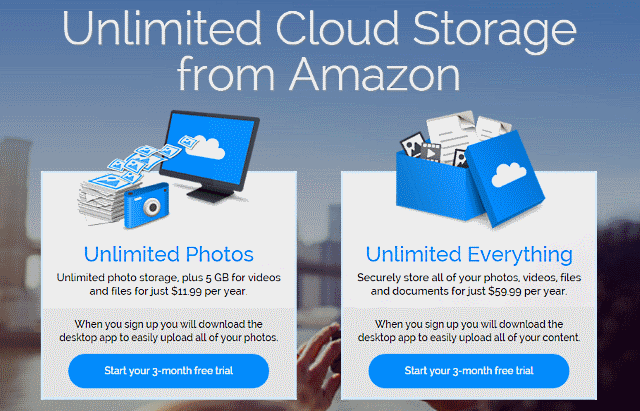 Not everyone is looking to move all their data/documents to the cloud. Sometimes, people require cloud storage for specific requirements. The example in this case are photographers, who often need lots of space for stashing all those high res digital photos they have to work with. If you're also one, you might want to take a look at Amazon Cloud Drive. Although it doesn't have a free level account, but shelling out just $11.99 per year for the starter paid plan gives you unlimited space for all your photos, as well as 5 GB for other documents. Moreover, the service, coming from the world's biggest online retailer, has native clients available for all major desktop/mobile platforms as well.
Pros: Unlimited storage for photos, and documents too (in case you get opt for the higher plan), Reliability, Included with Amazon Prime membership.
Cons: No free tier accounts, Sign-up for 3 month trial requires credit card information, Auto renewal enabled by default.
Availability: Windows, Mac; iOS, Android, Kindle.
Pricing: Paid plans start from $11.99 per year for unlimited storage for photos, and 5 GB for other documents.
OneDrive Alternatives Comparison Table
Service /
Feature
Dropbox
Google Drive
Box
Copy
Hubic
Free tier storage
2 GB
15 GB / 30 GB (Google apps for work)
10 GB
15 GB
25 GB
Paid plans start from / storage offered
$9.99/month - 1 TB
$1.99/month - 100 GB
$11.50/month - 100 GB
$4.99/month - 250 GB
€1/month - 100 GB
Max. file size upload limit
None / 300 MB for uploads via website
5 TB
250 MB
None
None / 1 GB for uploads via website
Max. storage attainable via referrals, and other
16 GB
N.A.
N.A.
20 GB
50 GB
SEE ALSO: Google Drive Vs. Dropbox: Which One You Should Choose?
Conclusion
OneDrive has long been one of the best cloud storage services out there, and as a matter of fact, it still is. However, if the recent changes to its storage policies have you concerned about your data, the above discussed OneDrive alternatives are going to serve your needs just fine, whether you just want a cloud storage service that's great overall, or one that focuses (more) on individual areas. For instance, if you're invested in Google's services, Google Drive is the best option. On the other hand, if you want enterprise grade security features, go for Box. In any case, try them all out, and let me know which one(s) you find the best. Know of any other cloud service that you think could've been included in the list? Shout out in the comments below.