As predicted before, One Piece episode 1071 featuring Luffy's Gear 5 transformation broke the internet (literally). This episode crashed the Crunchyroll website and One Piece fans were in their utmost joy and grinning throughout the episode, including myself. Luffy obtained the powers of Sun God Nika and brought smiles to everyone's faces. This episode introduced us to Luffy's peak power and gave us a glimpse of how powerful it is. However, the upcoming episodes, including 1072, 1073, and more, will be the next key episodes that will be defining the true power of the Gear 5. One Piece Episode 1072 is anticipated to be the best episode of the year, as various popular staff are working on it. Therefore, keep reading to learn about the One Piece Episode 1072 release date and time, production staff, streaming platform, etc.
Spoiler Warning: This article contains spoilers about Luffy's new Gear 5 power. We suggest you watch the anime and read the manga first to avoid ruining your experience.
Before we learn about the next episode, take a quick look at all the gears Luffy uses in One Piece. And if you wish to discover in-depth info on Luffy's Gear 5 technique before watching episode 1072, check the linked guide (or do it later if you don't want to be spoiled). That said, let's dive into the details of One Piece anime Episode 1072:
One Piece: Episode 1072 Release Date & Time
Alright, we have seen the peak gear transformation of Luffy in the anime, but it's time to witness the pinnacle of his powers. The previous episode showed how goofy his new powers are but don't let that misconceive you from the fact it is the most powerful Luffy has ever been. Episode 1072 will showcase what I'm referring to this week.
One Piece Episode 1072 is titled "The Ridiculous Power! GEAR 5 in Full Play" and is scheduled to release this Sunday, August 13, 2023, at 09:30 AM JST. Here are the details about the marvelous team who have worked on yet another potential masterpiece:
Episode Title: "The Ridiculous Power! GEAR 5 in Full Play"
Director: Tasuku Shimaya
Animation Directors: Masami Mori, Hirotaka Ito, Shigefumi Shingaki, Noboyuki Iwai
Key Animators: Sota Shigetsugu, Masami Mori, Shinya Ohira, Akihiro Ota, Ryo Onishi
Storyboard: Megumi Ishitani, Bahi JD, Takeshi Maenami, Tu Yong-Ce
Release Date: 13.08.2023
Furthermore, you can also check out the release timings for One Piece anime episode 1072 in several regions around the world here:
Japan – 09:30 AM JST
Brazil – 11:00 PM BRT
U.S.A – 09:00 PM CDT (or 7:00 PM PST)
India – 07:30 AM IST
Canada – 10:00 PM EDT
France – 04:00 AM CEST
Spain – 4:00 AM CEST
Philippines – 10:00 AM PHT
UK – 03:00 AM BST
South Africa – 04:00 AM SAST
Australia – 11:30 AM ACST
Mexico – 8:00 PM CST
Russia – 05:00 AM MST
One Piece Episode 1072 Release Time in India
The answer to the question of when we can watch the most-anticipated episode 1072 remains the same for the One Piece fans in India. The release of One Piece episode 1072 is scheduled for August 13, 2023, at 7:30 AM IST. We have included information on where you may stream it in the section below.
One Piece Episode 1072 Duration Time
Moreover, if you are wondering about the duration of episode 1072 in One Piece, Alas! it has the same-old as all the other recent episodes. This means episode 1072 will have its customary 25 minutes runtime. It looks like Luffy's final showdown against Kaido with Gear 5 will continue for more episodes (at least up to episode 1074). Therefore, we have to tune in weekly to completely enjoy the Gear 5 powers.
One Piece Anime Episode 1072: Countdown Timer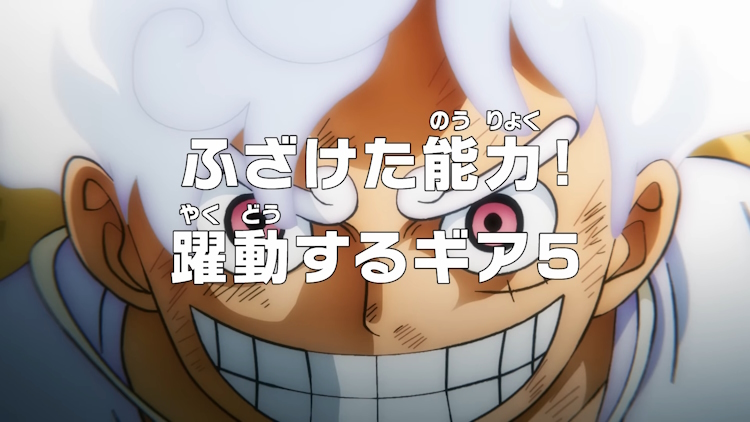 We have also made a countdown timer for the next episode, which will make it easier for you to keep track of its exact release. Therefore, bookmark this page to get a reminder about when you can stream the newest Gear 5 episode right away. Countdown to One Piece Episode 1072
Where to Watch One Piece Anime Episode 1072
The much-anticipated One Piece episode 1072 will be available to stream on streaming services such as Crunchyroll, Funimation, Fuji TV, etc., where One Piece is telecasted every week around the world. But you should know that region-specific differences exist in One Piece's accessibility on popular anime streaming services. For instance, One Piece is available in Crunchyroll's collection and on Netflix in the US, but not in India.
So, if you want to watch One Piece Episode 1072 with English subtitles, Crunchyroll is the right option for you. You can watch this episode about one hour and thirty minutes after it airs in Japan.