Intel Core i7-13700KF is definitely one of the best CPUs in the Intel 13th Gen Raptor Lake lineup, being faster than the Core i5 variant but not costing as much as the Core i9-13900K CPU (review). If you are wondering how powerful is the Core i7-13700KF processor, you have come to the right place. We have benchmarked the Core i7-13700K to assess the performance of this processor.
Here, we have taken the i7-13700KF through its paces to give you benchmarks related to various workloads such as synthetic tests, content creation, and gaming. After going through the benchmark numbers, you will have a good understanding of how the Intel Core i7-13700KF performs. We have used NanoReview & GeekBench Browser as reference resources for other CPU scores. Here are the specifications of the testbench we are using for the Intel Core i7-13700KF benchmarks.
CPU: 13th-Gen Intel Core i7-13700KF
CPU Cooler: Lian Li Galahad 360 AIO ARGB CPU Liquid Cooler
Motherboard: ASUS ROG STRIX Z790-E GAMING WiFi
RAM: 32GB (16GB x 2) HyperX FURY DDR5 5200MHz
GPU: ROG STRIX RTX 3070 Ti Gaming OC Edition
SSD: 500GB WD Black SN770 Gen 4 NVMe Storage
PSU: 1000W Deepcool PQ1000M 80 Plus Gold Power Supply
Case: Cooler Master MasterFrame 700 Full Tower Case
Thermal Compound: Noctua NT-H1
Intel Core i7-13700KF Synthetic Benchmarks
i7-13700KF Cinebench R23 Benchmark
Starting off with Cinebench R23 Multi-Core, the i7-13700KF scores 30,015 pts. Comparing the score to the i9-13900K, the i7 is about 20% slower, which is not too much. The multi-threaded performance here goes to show how capable the i7 is. It's definitely much faster than the i5, and also the Ryzen 7 7800X. The difference against the 12th Gen i7 is shown here, with even the i5 13th Gen breaking past its multi-core scores.
In Cinebench R23 Single-Core, the i7-13700KF scored 2,006 pts. In contrast to earlier generation processors, the single-core performance is definitely improved by a good margin, and obviously, that improvement reflects in the higher multi-core scores above as well. Below, you can see that various processors of this generation score quite similarly, so when it comes to Single-Core performance I guess you can call it a tie.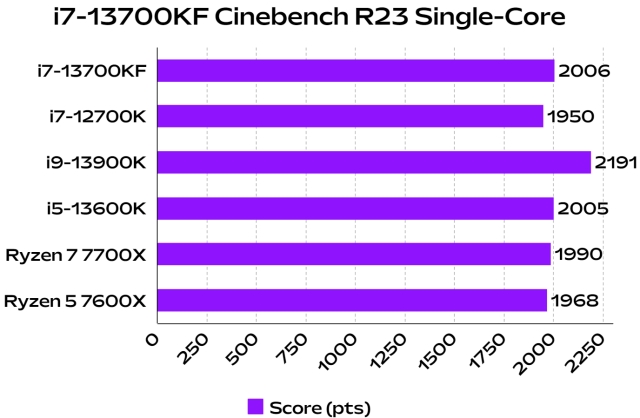 i7-13700KF Geekbench 6 Benchmark
In Geekbench 6 Multi-Core, the i7-13700KF scores 17,708 pts. This is a good result, and similar to how things went down in the Cinebench Multi-Core test. You can see that the Core i7-13700KF is trailing right behind its Raptor Lake i9 sibling. Also, compared to its predecessor, the new Core i7 processor is about 21% faster.
In Geekbench 5 Single-Core, we see a similar situation as the Cinebench R23 benchmark, with scores for all current generation processors from both AMD and Intel being close to each other. AMD does edge out all Intel CPUs in Geekbench, and that's why we mention multiple benchmarks (as you can see below, Intel edged out AMD in Cinebench while the opposite happened in Geekbench). Although, the point is still that they all perform similarly to one another in single-core.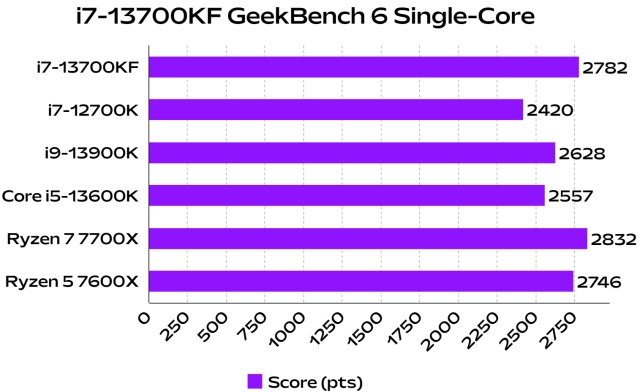 i7-13700KF PCMark 10 Benchmark
In the PCMark 10 Extended benchmark, i7-13700KF gets 12,156 pts. This is a very good score and means there were absolutely no hiccups taking our i7-13700KF system through a series of multiple different day-to-day tasks.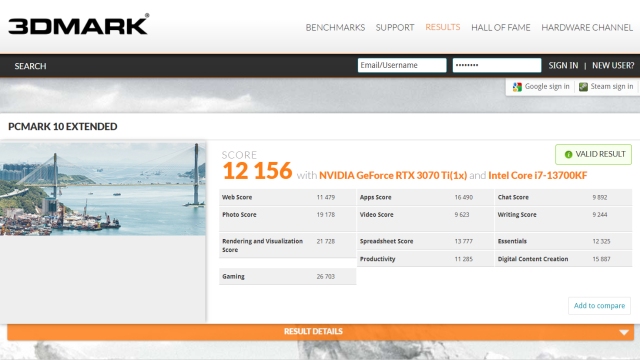 i7-13700KF Blender CPU Benchmark
Overall, the i7-13700KF is an excellent content-creation CPU and will fare well in many professional applications. As a test, we've used the official Blender benchmark, with the i7-13700KF being selected as the rendering device. Here is how many samples per minute it was able to output, in three different scenarios –
Intel Core i7-13700KF Gaming Benchmarks
i7-13700KF Hogwarts Legacy FPS
We tested the i7-13700KF on Hogwarts Legacy, at 1080p High. This is the latest AAA game and by testing it on these settings, you can now access whether the CPU is good for playing AAA games at high-refresh rates on a 1080p screen. Obviously, being a 13th Gen CPU it's recent enough and powerful enough to not bottleneck even the best of graphics cards.
i7-13700KF CS GO FPS
We tested the Intel Core i7-13700KF on Counter-Strike: Global Offensive, using the Ulletical FPS Benchmark. The gaming experience was smooth, with 800-1000FPS in less intensive areas, and a range of 600-700 when there was a lot happening. When going through a smoke grenade, the FPS range dropped to 150-200. We have listed the minimum, average and maximum FPS below.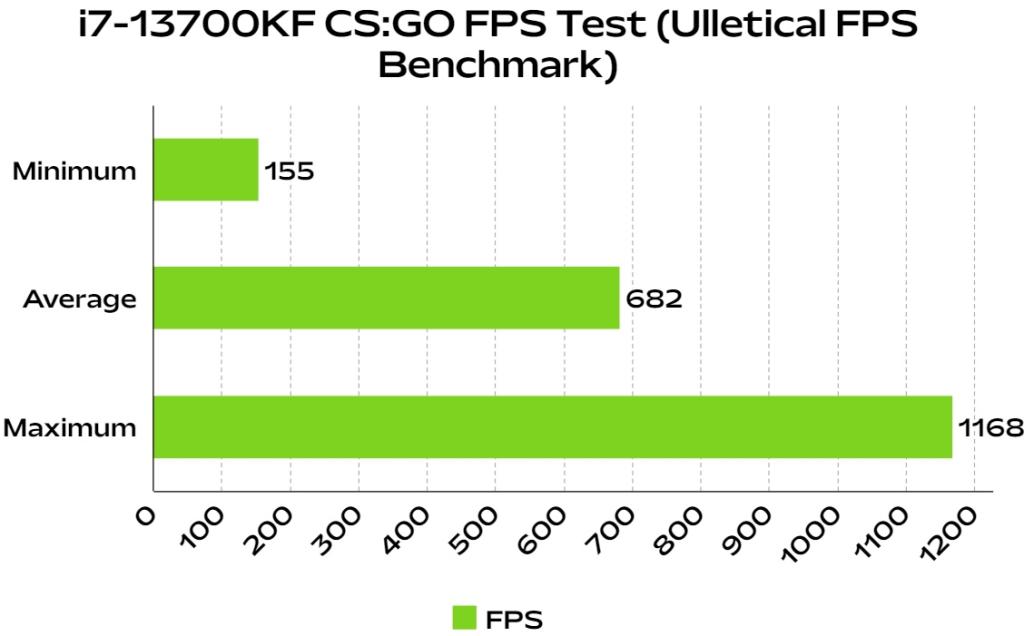 Intel Core i7-13700KF Temperature Test
We ran the i7-13700KF for 10 minutes on Cinebench R23, and these were the results for the peak (maximum) and average temperature. Note that these can vary based on your cooler – we used a Galahad 360 AIO at 100% fan speeds. Also, you should know that not all cores ran at 102 degrees Celcius during this test and the i7-13700KF has a T-Junction limit of 100 degrees Celcius.
Intel Core i7-13700KF Power Consumption Test
We performed this test with a 10-minute Cinebench R23 run, so we can give you the power consumption measurement of Intel's Core i7-13700KF. With this, you can see how much wattage the CPU operates on (average & maximum) when treated with a constant load. This CPU has a max turbo power limit of 253W.
What is the difference between Intel K and KF?
The only difference between the K & KF variants of Intel CPUs is that the KF variants do not come with integrated graphics. So, with an Intel KF-series processor, you will need a dedicated GPU to boot.
Is i7-13700K high-end?
Yes, the i7-13700K is a good processor and is well suited for a high-end Intel PC with performance that is about 20-30% lower than the i9 variant, depending on the task.
How many cores is the i7-13700KF?
i7-13700KF has 16-cores total, that amount to 24 threads. There are 8 P-Cores and E-Cores, which is the hybrid architecture Intel has been using for a while now.
Is Intel KF faster than K?
No, a KF CPU will be just as fast as a K variant. The only difference lies in the iGPU being present on the K variant, which is not the case for the K variant.
Does i7-13700K need DDR5?
No, i7-13700K is compatible with both DDR5 and DDR4 RAM. This depends on the motherboard you choose.
What generation is i7-13700K?
The i7-13700K is part of the 13th Gen Raptor Lake CPU lineup by Intel.