There are a lot of Bluetooth earphones out there, and there are a lot of brands making Bluetooth earphones. On one hand, that's great for consumers since we're getting a lot of options to choose from, on the other, it's getting more difficult to choose a great sounding pair of earphones. Noise is one company that's consistently making great Bluetooth earphones, so when the TuneELITE (Rs. 1,499) landed at our offices, I was pretty stoked to check it out. After all, Noise is claiming quite a lot with these earphones, and they're priced at just Rs. 1,599. So, if you're wondering whether or not you should buy these earphones, here's our detailed Noise TuneELITE review.
Noise TuneELITE Specs
| | |
| --- | --- |
| Connectivity | Bluetooth v4.2 |
| Battery | 130 mAh; rated for 9 hours of playback |
| Drivers | 14mm |
| IP Rating | IPX5 Splashproof |
| Frequency Range | 20Hz - 20kHz |
| Sensitivity | 110±3 dB |
| Price | Rs. 1,599 |
Design and Build
As far as the form factor is concerned, the TuneELITE are your run-of-the-mill neckband Bluetooth earphones, which is fine. The TuneELITE manage to stay out of the way, and I didn't find myself wanting to take them off every time I stopped listening to music. Part of that is because the earphones are not too 'out-there' when you have them around your neck, and then there's the fact that the TuneELITE come with magnetic earbuds, so when they're hanging around your neck they just snap together, instead of getting all over the place. I love that.
The build feels sturdy as well, and even though it's definitely nowhere near what you'll get on expensive Bluetooth earphones, it's actually better than what you'll find on most Bluetooth earphones in this price range, which is awesome. It's a rubberised plastic material, or at least that's what it feels like, and the only thing I don't like about these earphones, as far as the design and build is concerned, is the big glossy thing on the left part of the neckband that holds the 'Noise' logo. It's not a deal breaker, but I think Noise could've gone with a more subtle branding on these earphones for sure.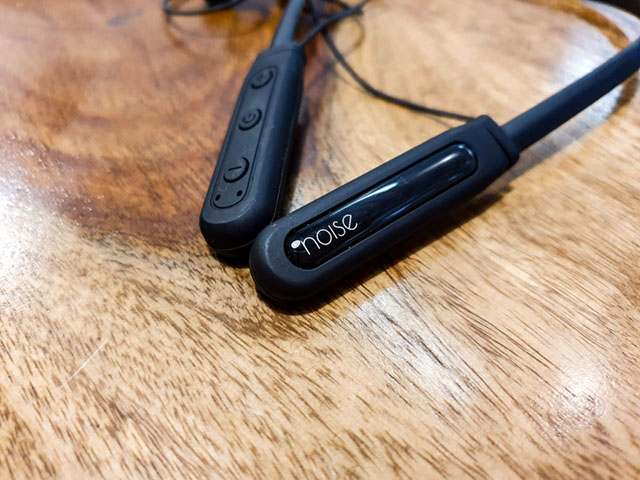 In every other way, the TuneELITE are a very well designed and sturdily built pair of Bluetooth earphones that I really like.
Comfort and Fit
If there is one place where I feel that the TuneELITE could've been better, it's this. See, everything about the comfort and fit of these earphones is fine. The neckband is lightweight, and doesn't bounce around while you're walking, which is great, but the silicon earbuds are where I have my concerns.
They aren't the softest earbuds out there; in fact, they are considerably hard and rough to the touch. Which is why wearing these earphones for longer than a few hours can be somewhat painful.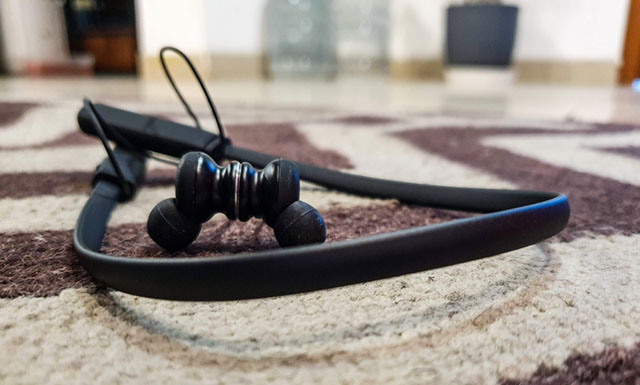 Other than that peculiar issue, the Noise TuneELITE are a very well made pair of Bluetooth earphones and if you choose to buy a third party set of earbuds for them, you're all set for hours and hours of great music experience.
Audio Quality
Coming to one of the most important aspects of any pair of earphones or headphones you'll ever buy — the audio quality. Noise has shipped consistently great sounding earphones for a while now, so my expectations from these were high to begin with, but the earphones sound better than my expectations.
For starters, these earphones can get quite loud, uncomfortably loud I'd say, considering these are in-ear earphones so the sound is directly blasting into your ear canal. However, if you're a fan of listening to loud music, these will not disappoint you. What's more, audio from the TuneELITE doesn't distort even at maximum volume, which is an issue I've observed in a lot of other, similarly priced earphones. With the TuneLITE, you can listen to music at as low, or as high a volume as you like, and the quality doesn't deteriorate; noticeably, at least.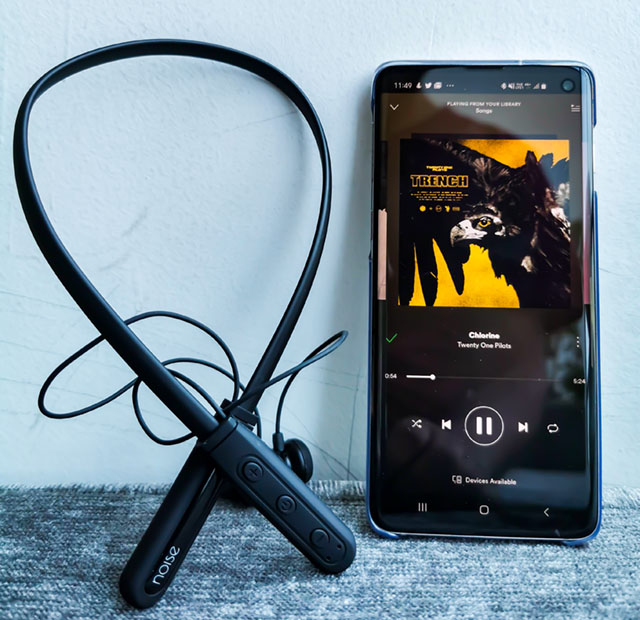 The bass is deep as well, which makes these earphones great for listening to bass-heavy music, but even with a heavy bass, the earphones have a very well balanced treble output as well, so even if you're not one for bass heavy music, these earphones will sound great to you too.
Like I said, Noise has consistently pushed out great sounding earphones at affordable prices, and it looks like with the TuneELITE, the company's streak is continuing. Personally, I really like the sound quality from these earphones. Even when compared to the other two really great Bluetooth earphones out there right now — the Mi Bluetooth Earphones, and the boAt Rockerz 255, the Noise TuneELITE can easily hold their own. True, the bass is heavier on the boAt Rockerz 255, and the clarity seems slightly better on the Mi Bluetooth earphones, but only very slightly, and other than that, the Noise TuneELITE are an overall great package.
Connectivity
In terms of connectivity, the Noise TuneELITE use Bluetooth v4.2 which is fine, and pretty much a standard on Bluetooth earphones in this price range. However, the one thing that's missing here is support for Qualcomm's aptX HD, so even though the audio quality on these earphones is amazing, and really quite impressive, it would've been much better had these earphones support aptX. Plus, it would've helped with Bluetooth stability as well.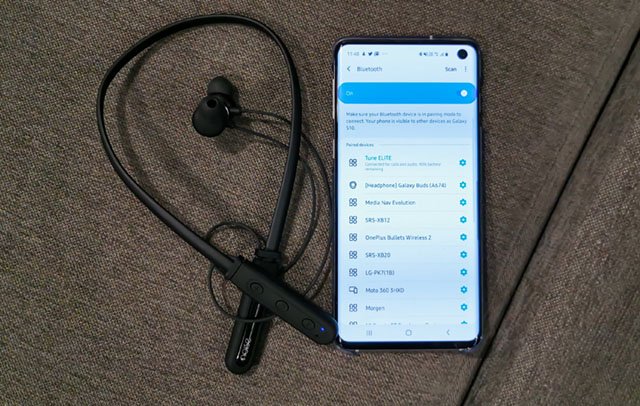 Speaking of Bluetooth stability, even without support for aptX, the Noise TuneELITE maintain a pretty strong and stable connection with the host device, and the claimed 10m of connection distance is almost to the point. I have, on many occasions, left my phone on the living room table and walked around the house with these earphones plugged in, and the sound doesn't really distort even when you leave the room.
Battery
The Noise TuneELITE come with a 130mAh battery that's rated to last up to 9 hours of play time. However, in my usage and testing of these earphones, the battery life was more on the 7 to 7.5 hours of playback time. Don't get me wrong, that's still a pretty solid battery life, especially considering the fact that these earphones can get considerably loud, and I was mostly listening to them on over 80% volume.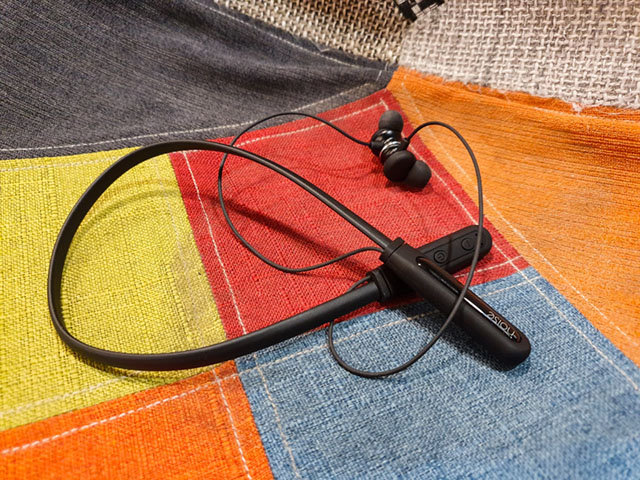 Charging these can be a little time consuming though, especially if you're used to your gadgets charging super fast with all the fast charging technologies out there. The Noise TuneELITE don't come with any sort of fast charging support, and take over 3 hours to fully charge up. Personally, I usually plugged them in while going to sleep so they'd be juiced up and ready to go the next day — it's like having a smartwatch for your ears, in a lot of ways.
Pros and Cons
As with anything you might buy or consider buying, there are pros and cons to the Noise TuneELITE as well. So let's take a quick look at these.
Pros:
Great sound quality
Build quality is at-par with competitors
Lightweight neckband
Decent battery life
Cons:
Earbuds aren't comfortable
Takes over 3 hours to fully charge
No aptX support
Noise TuneELITE Review: One of the Best Bluetooth Earphones in their Price
The Noise TuneELITE are a pretty amazing pair of Bluetooth earphones that get quite a lot right. They have amazing sound quality, the build quality is better than most of their competition, the neckband is lightweight and doesn't bounce around when you're walking, and they're IPX5 rated so you can workout without worrying about sweat messing them up. True, there's no aptX support, and the charging time is quite a lot, but the Noise TuneELITE are definitely one of the best Bluetooth earphones you can get at this price. That said, these aren't the only Bluetooth earphones you can consider. The boAt Rockerz 255 (Rs. 1,499) are another solid option to check out, especially if you want better bass. However, at Rs. 1,499 (sometimes available for lower) the Noise TuneELITE are definitely worth a look-see.
REVIEW OVERVIEW

SUMMARY

The Noise TuneELITE are one of the best pair of Bluetooth earphones you can find under Rs. 1,500 right now. They sound great, they have a good battery life, and true, the earbuds aren't very comfortable, but overall, the Noise TuneELITE seem to be the perfect competition against the Mi Bluetooth earphones, and the boAt Rockerz 255. If you're looking for a pair of affordable Bluetooth earphones, give Noise TuneELITE a shot.