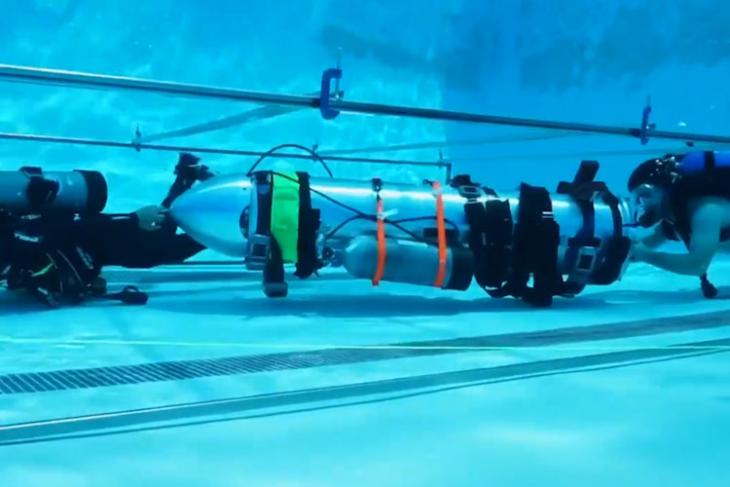 After a week of being trapped in dark underground caves, four of the 12 people from the youth football team in Thailand have already been brought back up in a seemingly healthy state, and efforts are on to rescue the remaining 7 kids along with their coach.
With the rescue proving to be highly arduous and extremely time-consuming, experts are getting their heads together to find a quick and easy way of reuniting the children with their families. While the first four children had to learn how to Scuba dive to get out of the treacherous caves, efforts are now underway to find a less risky way of bringing up the remaining members.
Tesla and SpaceX founder Elon Musk had already sent a team of engineers to Thailand to help in the rescue efforts. Now Musk has shared a series of videos of a mini 'kid-size' submarine that he says can help rescue the children. The videos, shared by Musk on Twitter, show the metallic pod being tested in what's said to be a swimming pool in Los Angeles. The pod is believed to be just 12-inches in diameter, and according to Musk, is already on its way to Thailand.
Simulating maneuvering through a narrow passage pic.twitter.com/2z01Ut3vxJ

— Elon Musk (@elonmusk) July 9, 2018
According to Musk, the pod is "light enough to be carried by 2 divers, small enough to get through narrow gaps" and is "extremely robust", which means it is unexpected to leak water or have other potentially life-threatening problems during the course of a rescue mission.
It's worth noting here that Musk has been following the developments in this case ever since news broke about the kids' disappearance more than a week ago, and had offered his help to the Thai government in rescuing the trapped children. As things stand now, rescue efforts remain suspended as the divers restock oxygen supplies for themselves and the trapped victims.