Video Editing has become one of the best skills to acquire in recent years. Not only it looks good on your CV but it also opens doors to a number of potential side jobs that you can do to earn good money. Whether you want to create online courses, produce videos for YouTube or just edit home videos which don't turn out to be dumpster fires, you need good video editing skills. However, There are two main problems that discourage people from learning video editing both of which have to do with the video editing software options on the market.
Firstly, most of the well-known video editing software cost quite a lot and not many beginners can afford them. Secondly, they are quite hard to learn and many people get discouraged just a few days after they start. That's why I wanted to share a video editing software with you guys which is not only relatively cheaper but also easier to learn. The video editing software that I am talking about is called Movavi Video Editor and in this article, we are going to take a deep dive into its features and user interface to see what it can offer.
Key Features
We will start this article by first taking a look at all the features that Movavi Video Editor can offer. After all, before you start investing time and money in any software, you need to know how well it can serve you. The TLDR version of this section is that despite being so simple to learn and use Movavi offers several pro features that will make prospective video editors happy. With that said, let's start, shall we?
1. All the Basic Editing Tools Are Here
It's no surprise that Movavi Video Editor comes with all the basic video editing tools that you need. Tools like the cut tool, the crop tool, the trim tool, the video stabilization and more are all here. The reason I am mentioning these basic tools is not that it's something unheard of (after all these tools are the minimum a program needs to be even considered as video editing software) but because Movavi makes them so accessible. There sit right there on top of the timeline and are presented with big self-explanatory icons. This makes it so much easier to perform basic editing on your videos than most other video editing tools that I have tested before.
2. Support for Video Filters and Effects
Most of us are familiar with filters and use them almost on a daily basis in your photos before posting them to various social media sites. Well, Movavi lets you do the same with videos. Whether you want to apply that retro video look or just add some cool lighting effects, the filters tool will help you achieve your desire with a simple drag and drop. There are more than a hundred different video filters and all of them look astounding. You just need to figure out which filter works for your video. In fact, since Movavi allows you to use multiple filters, you can mix and match different filters to create your own distinctive look.
Apart from the regular filters, Movavi also brings a full-blown effects panel. The effects panel is a great tool to add cool effects to your videos which normally require professional experience to create yourself. Apart from the normal free effects which are included for free, Movavi offers an Effects Store where you can buy cool effect packs such as Sci-Fi, Fantasy, Education Set, Travel, and more. All these packs come with several effects. Take for example the Sci-Fi pack which comes with laser beams, lighting, plasma blast and more. On the other hand, the Fantasy Pack comes with effects such as witchcraft title, fairy tale backgrounds, enchanted elements and more. With these effects, you are bounded only by your imagination and can create some uber cool videos.
3. The Transitions Panel
If you want to produce a good video, you will need to make tons of cuts and trims in your recorded footage. The only way to make these cuts feel natural is to use transitions. Thankfully, Movavi Video Editor brings a number of cool transitions including Ken Burns, Matrix, Blinds, Warp, Wipe, and more. You can use these transitions wherever you need to join two clips to make the transition from one clip to another smooth and natural.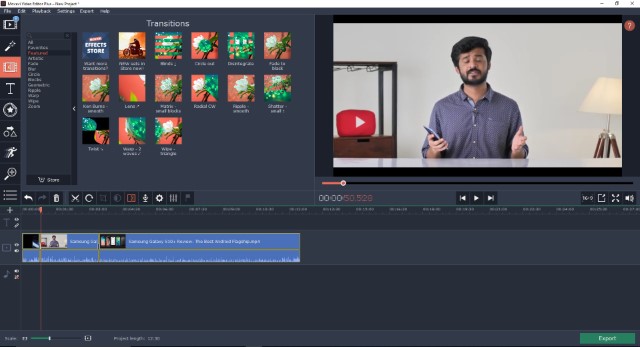 4. Titles, Stickers, and Callouts
Sometimes you need to add extra visual information to your videos to draw the attention of your viewer to a part of your video or convey information that is not explicitly called out in the video. Movavi Video Editor lets you do that by using titles, stickers, and callouts. Titles are not only meant for the start of your video. Since you can resize titles, you can use them anywhere in the video as shown in the screenshot below. Do note that this is a very crude representation of title and you can adjust its parameters (text color, size, opacity, and more) to make it look just the way you like it.

Apart from titles, you can use stickers and callouts to draw your viewer's attention to a part of a video. I love the callouts feature as it is really helpful when you are creating some kind of video tutorial. With callouts, you can use arrows, circles, and more to mark a part of the video to draw attention to it. Finally, there are stickers which I don't find that useful but are surely fun to use.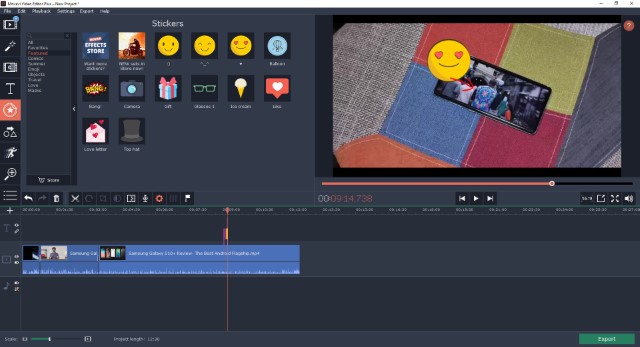 5. Built-in Audio Editing Tools
Most of the basic video editors do not bring any audio editing features which makes it hard to make the video sound good. Thankfully, Movavi Video Editor is not one of them. The editor not only lets you easily detach audio clip from the video but also edit its different parameters. You can easily adjust the volume, change equalization settings, apply audio effects, and more. I was happily surprised when I found that it even comes with a noise removal tool which works really well. There's also a beat detector tool which detects audio beats and displays it on the timeline. Needless to say, you can perform basic to mid-level audio editing right inside the Movavi Video Editor.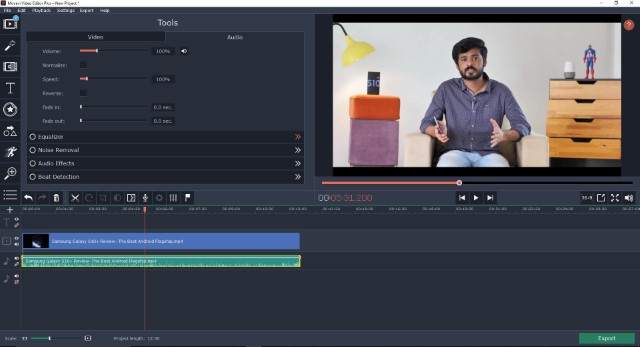 7. Other Features
Apart from the above-mentioned features Movavi Video Editor also brings a ton of other features that will make your video editing life easier. I love that Movavi brings basic keyframe animation which will allow you to animate titles, overlaying video frames, and more. It comes with built-in video and audio sample clips you can use in your videos without worrying about copyright infringement. Its multi-track editing can handle up to 99 tracks which is way more than anyone will ever need.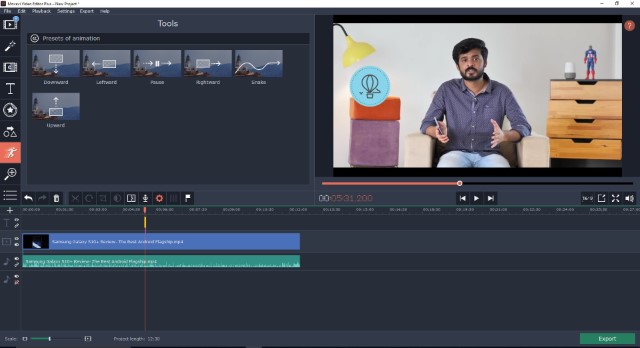 It is fast both during the editing and exporting. It supports up to 4K video so you can produce the highest quality video that you record. Finally, you can directly share videos from Movavi to various video sharing platforms including YouTube and Vimeo.
User Interface and Ease of Use
As I said at the start, one of the biggest USP of Movavi is its user interface. The app is so simple to use that you can start editing your first video within hours of launching this app for the first time. Heck, if you just need to perform some basic editing, you can start as soon as you download the app. Talking about the overall UI, it looks no different than any other video editing program. The UI is divided into three main parts. The top-left is the part where you can access all the tools and effects that you want to use. The top-right is where you can see a live preview of your edited video. And the bottom half hosts the timeline where you will be doing the most of editing.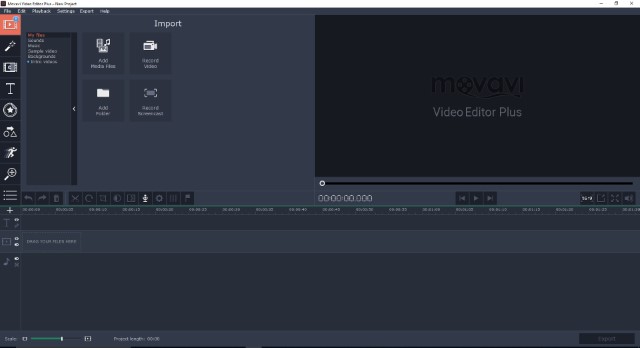 Just about the timeline, you will see big tool icons which let you access all the basic video editing tools such as cut, crop, rotate, and more. While the icons are self-explanatory, you can just hover your mouse cursor on them to get more information if you are confused. The left toolbar is where you can access pro editing tools such as animation, titles, stickers, transitions, effects, and more. Once you are done editing, you can click on the "Export button" at the bottom right to export the edited video. When exporting, you can select the format and the quality of video that you want.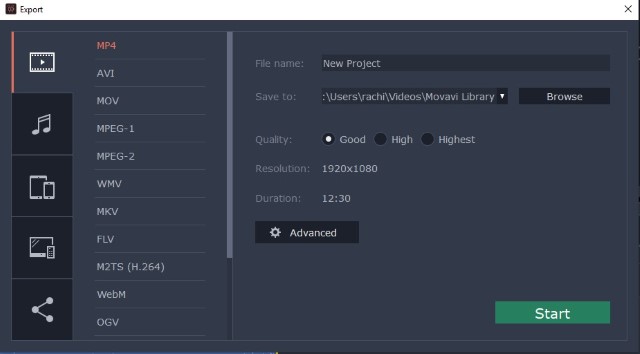 As you can see, Movavi Video Editor is pretty easy to use and makes all the editing tools available right at your fingertips. It will be hard for you to find any other video editing program which brings so many features and yet is so easy to use.
Pricing and Availability
Movavi Video Editor is available for both macOS and Windows operating system. You can download the app for free and try it out. However, if you want to access all the features that I have mentioned in this article, you will need to buy the Movavi Video Editor Plus which only costs $59.95 for a lifetime license. You can also check out Movavi Video Editor which costs only $39.95 for a lifetime license. The effects packs that I mentioned before costs $9.95/pack.
Plus, Beebom readers can get a 10% discount on both Movavi Video Editor, and Movavi Video Editor Plus by using the code "Beebom".
Check Out Movavi Video Editor: ($39.95 for lifetime license; $59.95 for Movavi Video Editor Plus)
Start Your Video Editing Journey with Movavi Video Editor
The biggest advantage that Movavi Video Editor has over other video editing apps in the same price range that it brings various pro-level features and still manages to keep the learning curve simple. I love this video editing app and recommend this to anyone who is looking a for relatively cheap and powerful video editing software which is also easy to use.