While I prefer to edit videos on my Mac, I do edit quite a lot of videos on my Android device when I'm in a hurry. It's surprising to see how powerful Android video editing apps have become in the last few years. If you are starting out with YouTube vlogging or making Instagram Reels from your bedroom and don't wish to invest in a full-blown video editor for your desktop, editing videos on your Android smartphone can be a great option. To help you get started with video editing on Android, we have tried and tested a bunch of paid and free video editing apps to find the best ones. So, here are the 15 best video editors for Android you should check out in 2022:
Best Video Editors for Android (Updated August 2022)
We have included different types of Android video editing apps in this list. Whether you are looking for a mobile video editor for YouTube videos, or a video editing app for Instagram Reels and YouTube Shorts, we have you covered with this list. As always, you can use the table of contents below to navigate between the various video editing apps on this list.
1. VN Video Editor
VN Video Editor is one of those rare Android apps that will not disappoint you on any front. It's a free video editor on Android with support for basic, advanced, and pro level editing tools. This app comes with a multi-track timeline, and you can add as many layers as you want. Other than that, you have features like premade templates, speed adjustment, splitting, trimming, effects, and more.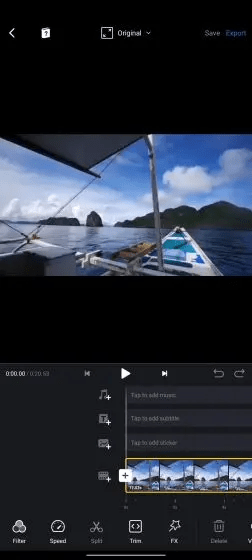 In VN Video Editor on Android, I love the fact that you can add music beats and multiple soundtracks and edit them to sync with the video. Not to mention, there is a huge library of fonts and design templates at your disposal, so your titles and descriptions should look super cool. And if you are a pro user, you can utilize curve shifting for speed adjustment. Not to mention, the Keyframe feature here lets you highlight a scene with interesting effects.
Wait, there's more. You get all of these features in a Android video editor without any watermark and the ability to export videos in top quality. I would say, if you are looking for the best video editor on Android, your search stops at VN Video Editor.
| Pros | Cons |
| --- | --- |
| Powerful and advanced features | None as such |
| No watermark | |
| Export videos in the highest quality for free | |
Install: Free, offers in-app purchases
2. KineMaster
KineMaster is one of the best, fully featured video editors on Android. The app has multi-layer timeline editing with support for multiple layers of video, images, and text. It even supports multi-track audio allowing you to easily add voiceovers and background music without any hiccup. When it comes to video editing tools, the app features all the tools you might need, including trim, cut, precise audio controls, color LUT filters, 3D transitions, and more.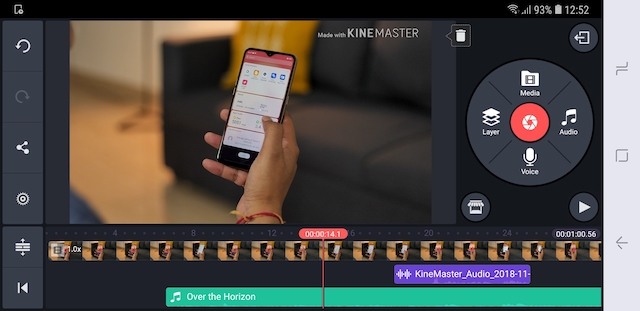 I love how smooth KineMaster is when I am using video playback while editing the footage. The app even comes with effects and access to thousands of royalty-free music tracks, overlays, stickers, and more. If you are looking for a powerful video editing app for Android phones, you should definitely try out KineMaster.
The app is free to use for personal, non-commercial use, but videos exported from the free version have a watermark. This isn't really a dealbreaker, though, when you look at the whole host of features that are accessible for free. And you can get a subscription to remove the watermark and get access to downloadable premium assets for your videos.
| Pros | Cons |
| --- | --- |
| Free templates and incredible editing assets | The free version adds a watermark |
| Basic and advanced features | |
| Royalty-free music | |
Install: Free, $4.99/month
3. InShot
Next up on this list is InShot, which isn't the most powerful video editing app for Android but it makes up by being one of the simplest apps out there. In face, InShot is a great video editor for Instagram creators who want to shoot and edit Instagram Reels on their Android phone. The app lets you make all different types of edits, like trimming, splitting, cropping, zooming, flipping videos, fitting any video in any aspect ratio. Moreover, you can even edit the speed and turn standard videos into slow-mo videos or time-lapses.
Along with the video edits, it lets you add music, sound effects, and even record voiceovers right in the app. That's not all, InShot even lets you add text with various styles and fonts available, animated stickers and emojis, memes, and custom images.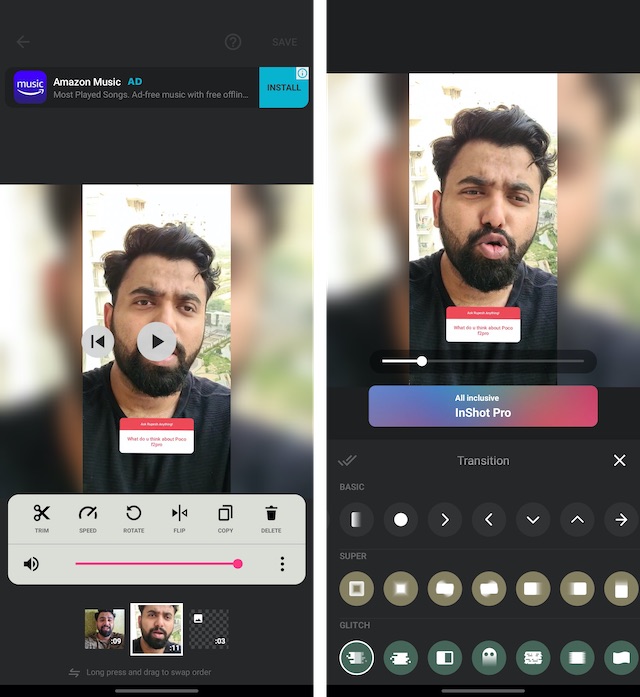 All that is great, but InShot also has some pro video editing tools that I like. There is support for a multitrack timeline, different effects, and transitions you can use in between videos, commercially free soundtracks, sound effects, export options up to 4K resolution, and more.
Overall, InShot is a feature-rich tool (offers a video converter and photo editor as well) that's also simple to use. And while its free version has ads all around the place, I like the fact that you can at least watch some ads to use all the features for free. Having said that, if you want to remove all the ads, you can get InShot Pro.
| Pros | Cons |
| --- | --- |
| Simple yet powerful | Batch addition of images can be improved |
| Huge library of fonts, filters, and effects | |
| Free soundtracks | |
Install: Free, InShot Pro starts at $25.99 or $2.99/month
4. CapCut
CapCut is a fantastic video editor on Android that is pretty intuitive and brings a host of new features. While it's not available in India due to the government's restrictions, users from around the world can use this tool to edit videos on their Android smartphones. You have all the usual tools like effects, filters, canvas, stickers, and more. On top, you can add a 3D Zoom effect or adjust auto velocity control to make your videos look cool.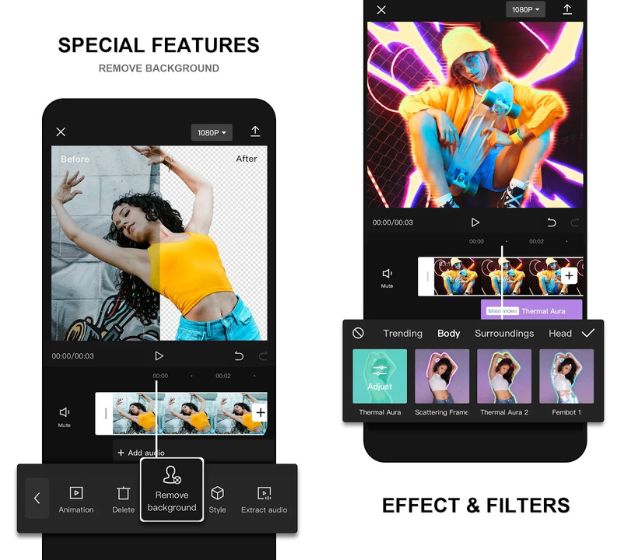 I particularly like the fact that CapCut lets you remove background from videos within the app, and it's so much better. The feature is nifty, and it works well. Not to mention, you have got a multi-track editor, where you can add music, text, banners, etc. Apart from that, you can add TikTok original sounds to your videos. To sum up, CapCut is a worthy video editor on Android, and you must give it a try.
| Pros | Cons |
| --- | --- |
| Clean and beautiful UI | Audio library is limited |
| Basic and advanced tools available | |
| Multi-track editing | |
Install: Free, offers in-app purchases
5. Splice
Splice is one of the newer video editors on Android, but it has gained traction due to its intuitive timeline and powerful editing tools. To begin with, Splice packs a multi-track timeline with high-precision sliders, so that you can choose the exact time stamp. Other than that, you have volume controls, cropping, splitting, slow motion, etc., among many other things.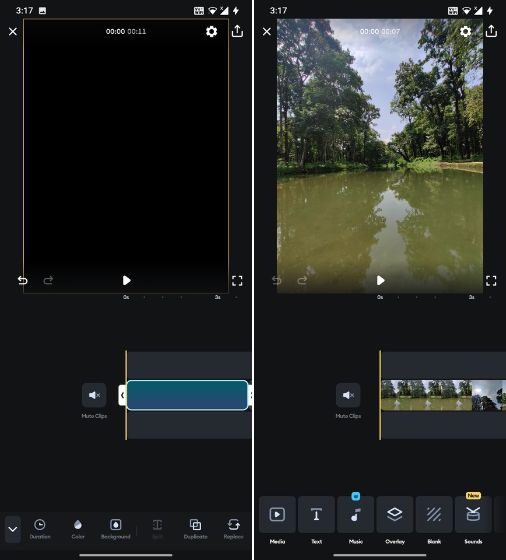 If you want to add texts and overlays, you can do so with Splice, and it does come with a huge range of fonts which is amazing. And yeah, you can extract and remove audio from videos, add your custom music, and mix it with the video. Simply put, if you want an Android video editor that is simple to use and has enough features to create stunning videos, well, you can consider Splice.
| Pros | Cons |
| --- | --- |
| Intuituve UI | A bit buggy |
| Great multi-track timeline | |
| Basic and pro-level editing tools | |
Install: Free, offers in-app purchases
6. PowerDirector Video Editor App
Another powerful video editing app for Android is the PowerDirector video editor, which brings a powerful multiple-track timeline editor along with free video effects, slow motion controls, voice-over support, action cam editing and more. I especially love the built-in transitions here as they are smooth and look beautiful when applied correctly.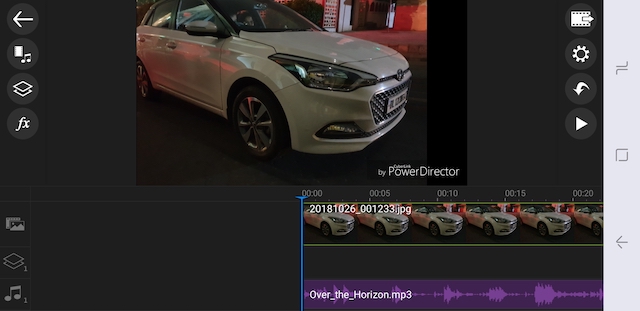 One of the USPs of PowerDirector is its chroma key feature which allows you to edit the background of your video by applying green screen effects. The app's slow-motion video editor is also quite powerful and allows you to make perfect slow-motion effects. even on videos recorded at normal speed.
Overall, this app is capable and should easily serve all your mobile video editing needs. The app is also compatible with Chromebooks, by the way, so even if you're using your Pixel Book or Pixel Slate, you can edit videos on it without any hassle. The app can be used for free, but it only supports 720p exports in the free version. However, you can unlock support for rendering 1080p and 4k videos with an in-app purchase.
| Pros | Cons |
| --- | --- |
| Powerful video editor | Not for general users |
| Beautiful transitions | |
| Chrome Key feature | |
Install: Free, $5.99
7. FilmoraGo Video Editor
Wondershare Filmora is a popular desktop video editing program, and FilmoraGo is the company's offering for mobile devices. FilmoraGo is easy to use and offers quite a bit of control. Now, it supports multi-track editing and makes the whole editing process much easier. One of the unique features of this app is that not only it allows you to use media stored on your phone but import media from your social media accounts including Facebook, Instagram, Twitter, and more.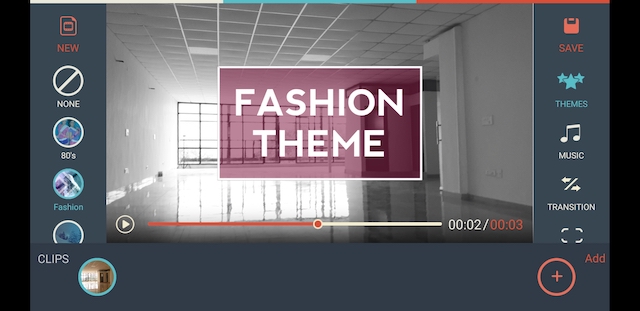 Moreover, the app offers good control. You can trim and cut videos, add effects and music and apply transitions to all your videos. When it comes to music, FlimoraGo offers a healthy selection of copyright-free music, however, you can use your own music if you want to. The app can export videos in both 1:1 (for Instagram) and 16:9 ratios (desktop). Overall, I had fun using this video editor and recommend that you check it out.
| Pros | Cons |
| --- | --- |
| Multi-track editing | Collects too much data |
| Chrome Key feature | |
| Huge library of templates | |
Install: Free, offers in-app purchases
8. Adobe Premiere Rush
While Adobe has had a video editing app, Adobe Premiere Clip, on Android and iOS for quite some time now, it is a basic app that's more suited as an Instagram Reels video editor. However, Adobe launched its truly powerful, professional video editing app on Android and iOS last year called Adobe Premiere Rush.
Adobe Premiere Rush is available on Windows and macOS as well, and it brings several features. But the biggest and the most important feature here is support for a multi-track timeline. You can have four videos and three audio tracks at once for a truly pro editing approach.
Premiere Rush also has features like a built-in camera for more control, more than 100 free motion graphics templates, music templates, and more. Plus, if you are wondering, you can use Premiere Rush to edit audio too. You get features like sound balancing, auto-ducking, and noise cancellation.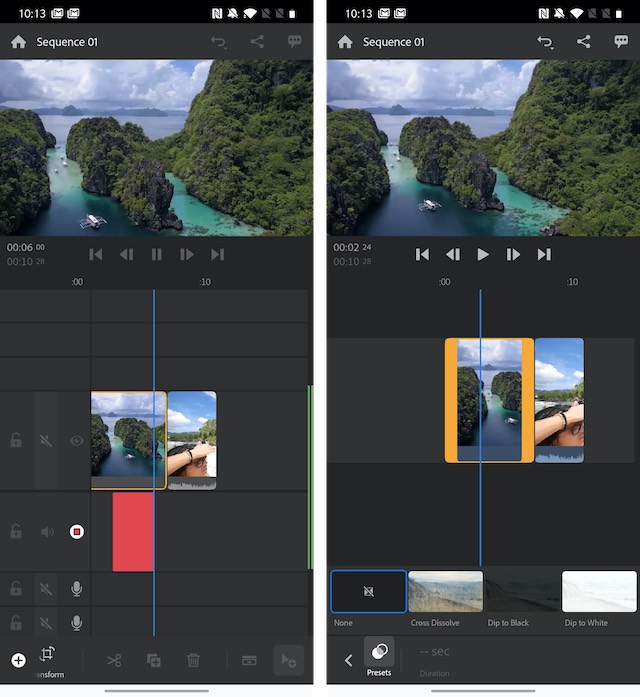 When it comes to performance, Adobe Premiere Rush is a video editing app I have used on multiple devices and while it has worked fine on most high-end phones and iPhones, it does get a bit stuttery on low-end devices. Also, it's important to point out this video editor app isn't compatible with every single Android device.
Apart from that, it requires a Creative Cloud account, and the free version of the app is limited to 3 exports. So yes, Adobe Premiere Rush isn't exactly a perfect solution when it comes to video editing on phones but ya, with its features, it's definitely something you should try and see how it goes.
| Pros | Cons |
| --- | --- |
| Motion graphic templates | Stutters on mid-tier devices |
| Edit audio as well | |
| Professional video editing tools | |
Install: Free, Paid plan for unlimited exports starts at $9.99/month or any Creative Cloud plan
9. Vita
Vita is another Android video editor that is popular on the Google Play Store. This app has a clean UI but comes with a multi-track timeline and a ton of other features. You can import videos, images, music, and edit videos like a pro with its nifty tools and features. You can apply effects, add stock videos, choose effects and filters, and do much more. There is also a huge library of no-copyright sound effects, which is awesome.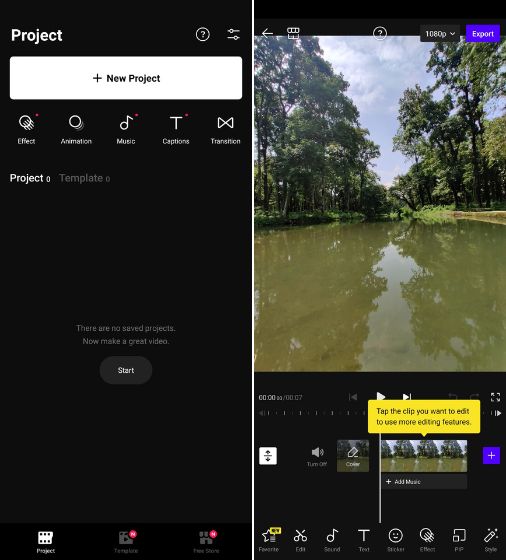 In case, you want to add your own voiceover, you can do so within the app with a dedicated mic. Having said all of that, the best part about Vita is that it allows you to export videos in full HD quality even for free users which is just great. So if you want an Android video editor that can add a cinematic touch to your videos, go ahead with Vita.
| Pros | Cons |
| --- | --- |
| Stock videos and templates | Lags on budget devices |
| Library of 2000+ no-copyright music | |
| Original filters and effects | |
Install: Free
10. Quik
While the video editors listed above are good and powerful, what if you are not looking for a full-fledged video editor but rather something which is quick and easy to use and makes your videos look beautiful? Well, in that case, check out "Quik" by GoPro, which is likely the best video editing app that you can find on the Play Store.
With Quik, you can create awesome videos with just a few taps. Just choose your favorite videos and photos and let Quik do the rest of the work. With Quik's built-in presets you will create a share-worthy video with just a few taps.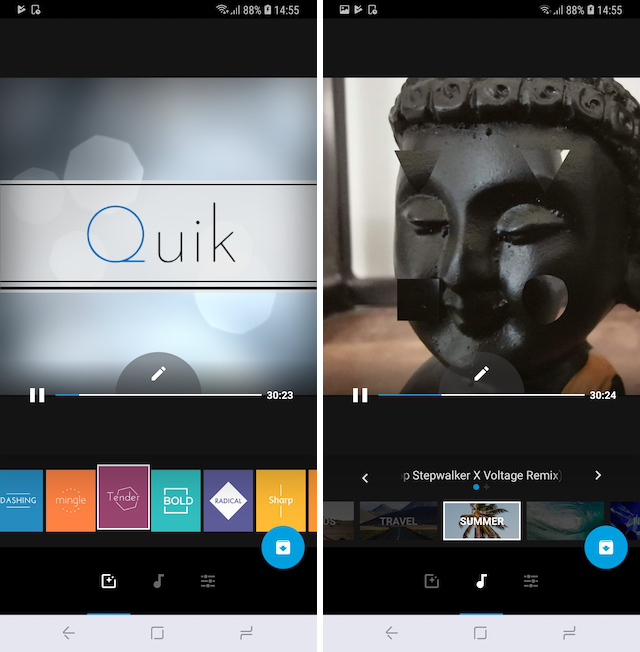 Quik comes with 23 beautiful themes, which can transform your home-captured videos into something that looks professionally shot and edited. You can even choose your own music to give videos a more personal touch. Quik is good at what it does and if you are looking for a tool to make social media-ready videos, you should definitely take a look at this Android video editor.
| Pros | Cons |
| --- | --- |
| Quick video editing | Not much customization |
| Add custom music | |
| Best for social media-ready videos | |
Install: Free
11. YouCut
YouCut is a free and simple to use video editor that packs a big punch. The app allows you to easily import videos from your library and edit them with various built-in tools. You can easily add text, filters, emojis, music, and more. I love how easy it is to access YouCut's tools and features as the app sports a clear and intuitive UI.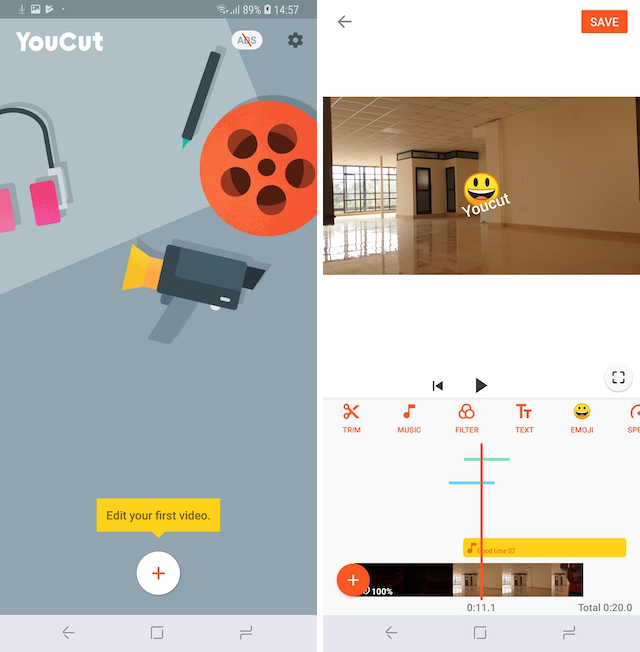 YouCut also makes it easy to cut and trim clips, which is always a plus in my books. One of the USPs of YouCut is its brand-new video speed adjustment feature, which allows you to speed up or slow down videos without any loss of quality. YouCut is one of the best video editors on Android as far as free video editors are concerned, and you should definitely give this one a try.
| Pros | Cons |
| --- | --- |
| Simple and easy to use | Older video effects and animations |
| No watermark | |
| Best for general users | |
Install: Free, offers in-app purchases
12. VLLO
VLLO is an easy-to-use video editor that's aimed at editing vlogs but having tried it out, I can tell you that it should work with most types of videos. When you first import videos and audio files to create a project, VLLO asks you the aspect ratio you want, which is great, because I wanted to edit the video in an 18:9 aspect ratio, but you know what, there are a lot of options – be it 1:1, 16:9, and more.
Once you have added your files, you get a ton of tools here. You can split, crop, zoom videos, change speed, add filters, and more. You can even add background music from VLLO's free library or add a track you have available locally, add a sound effect like a laugh or a cheer or a ding, or even do a voice-over in the app.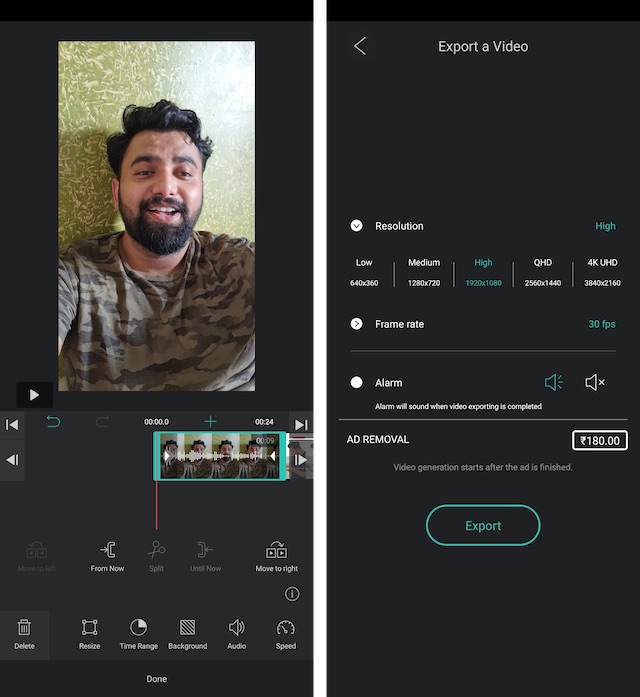 VLLO also lets you add motion stickers, text, a picture in picture image or video, different transitions, and more. There are a lot of options, and in my time with the app, it worked very well. Plus, what I really liked about the app is that it supports a plethora of output resolutions, be it 720p, 1080p, QHD, or even 4K. All that is great, but most of the great features in VLLO are limited to the paid version, which removes the ads as well. So I will suggest you go ahead and buy the paid version if you like it, but you can try most things out for free.
| Pros | Cons |
| --- | --- |
| Basic and advanced tools available | Most features are paid-only |
| Decent transition effects | |
| Add music or voiceover | |
Install: Free, $3.99 for ad-free full version
13. ActionDirector Video Editor
ActionDirector Video Editor is your one-stop solution for all your video recording and editing needs. Not only you can record and edit videos, but you can also apply effects and share them with friends on different social media platforms, all from the same app. I also love how easily ActionDirector Video Editor can handle 4K clips. The prominent editing features of the app include slow motion and speed edits, repeat and rewind video effects, the ability to highlight key moments in your videos, and more.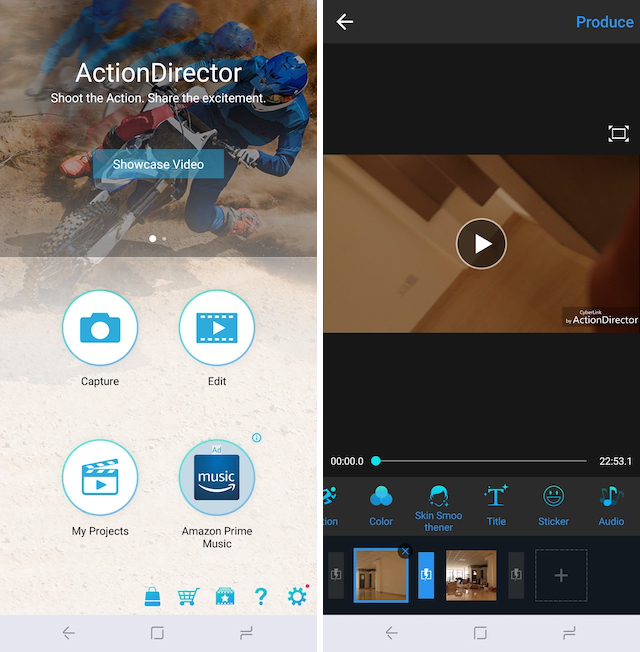 That said, the app doesn't support multi-track editing. Also, it only works in portrait mode which means you will have less real estate while editing a video. If these are features that matter to you, you should look at other apps on this list. However, if you want a one-stop solution for quick video producing needs, look no further than ActionDirector.
| Pros | Cons |
| --- | --- |
| Can handle 4K clips | At times, the app crashes |
| Multi-track editing | |
| Supports voiceover | |
Install: Free, $3.99
14. VideoShow
VideoShow is a powerful video editor for your Android device, which brings a bunch of unique features. For starters, it allows you to easily zoom and rotate videos allowing them to create their own transitions and effects. There are also more than 50 themes, allowing you to turn your normal videos into a share-worthy product.
Like other prominent video editing apps on this list, VideoShow brings a material store where you can find themes, effects, music, text styles, and more, and apply them to your videos. The app also supports square video exports, making this another one of the best apps to create videos for Instagram. If none of the above apps felt right to you, you should give VideoShow a chance.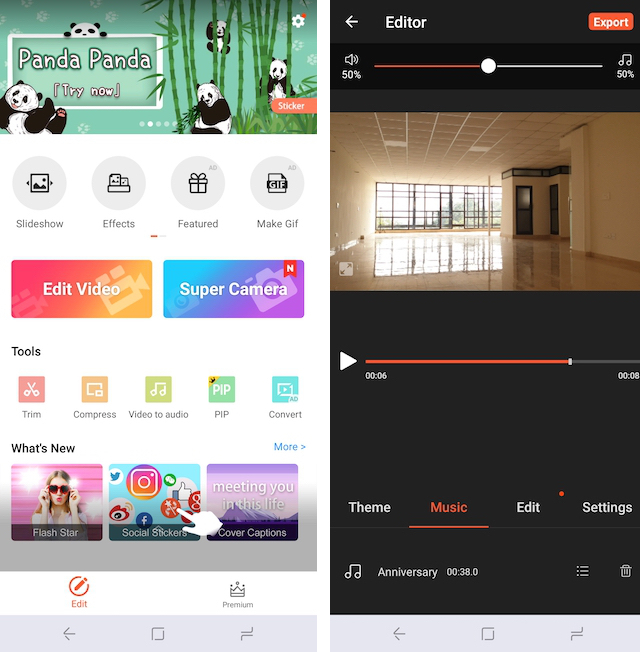 While the free version of the app is pretty feature rich in itself, it adds a watermark to exported videos and limits them to 720p resolutions. However, you can get the pro version to remove watermarks, export 1080p videos, add support for 4K videos, and more, including exclusive effects.
| Pros | Cons |
| --- | --- |
| Multi-layer editing | No reverse effects |
| Background music available | |
| Animated stickers | |
15. Alight Motion
If you fancy yourself a video editor as well as a motion graphics designer, Alight Motion is an app that you'd really love. This Android video editing app brings quite a lot of features to your smartphone video editing toolkit. For one, as the name suggests, Alight Motion isn't just a mobile video editor. Instead, it also brings a motion graphics editor on Android. On the video editing front, the app supports most of the features you'd like. You get a neat timeline, with support for layers and a ton of editing flexibility. You can also add elements, text, and drawings to the videos and photos you import into your project.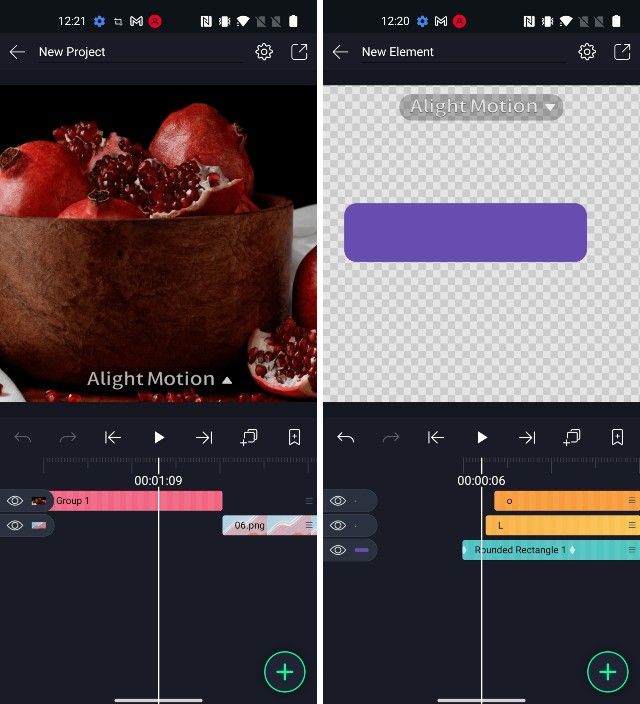 So that's all good, however, I did notice that there's no option to add transitions between things. Or at least I couldn't find it, which means it's either not there, or it's hidden away in some obscure corner of the app. Either way, if you like using a ton of transitions instead of jump cuts, you might want to check out another app.
That said, Alight Motion's motion graphics editing feature-set is pretty impressive too. You can easily create new animations, whether it's a new lower-third, or anything else. There's support for key frames which work very intuitively, and there's also graph editing if that's what you like using for a more fine-tuned approach to motion graphics editing. All in all, Alight Motion is a solid Android video editor and motion graphics editor that you can use for free.
| Pros | Cons |
| --- | --- |
| Keyframe animation | At times, the app crashes |
| Tons of visual effects | |
| Blending modes | |
Install: Free, offers in-app purchases
Best Paid and Free Android Video Editing Apps
That ends our article on the best video editing apps for Android on the Google Play Store. Whether you are looking for a quick and easy video editing app or a fully featured video editor with multi-track support, I'm pretty sure you'll find a suitable app on this list. I have also included both free and paid options so you won't have to worry about the price. Do check the list out and let us know which is your favorite Android video editor amongst them all. Also, if you are looking for the best video editor on Android without a watermark, head over to our curated list. Finally, if you have any questions let us know in the comment section below.