On flip phones, how big and functional the cover display is can make or break the user experience. Motorola has offered a decently-sized secondary display to keep things smooth and is now expected to take things to the next level with the launch of the alleged Moto Razr 40 Ultra. This is said to offer a bigger and better cover display with lots of customization options, as seen via recently leaked renders. Check out the details below.
New Moto Razr 40 Ultra Leaked
Motorola has already confirmed the arrival of the next foldable phone (possibly two) and the alleged Razr 40 Ultra could be one of them. While there's not much information available online about the new Razr's specs, recent leaks show off a new and improved cover display.
Images leaked by popular leaker Evan Blass on Twitter show off the impressive size of the screen. It could be a 3.5-inch screen size, which is sure to be a big draw for those who want a foldable phone with a larger display. For those who don't know, the Galaxy Z Flip 5 is also expected to go for the bigger outer display, thus, being a direct rival. It will also take on the likes of the Oppo Find N2 Flip.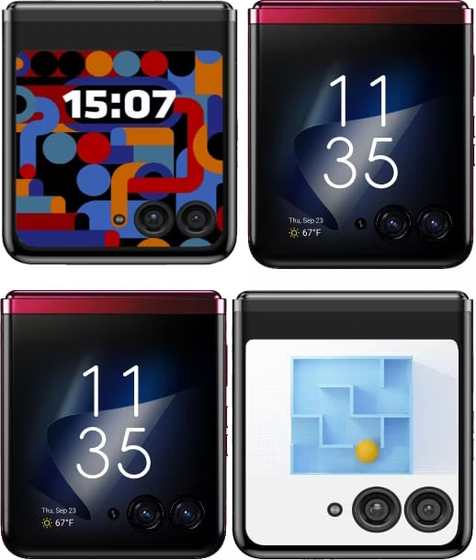 What's even more exciting is the range of customization options that will be available on the phone. Users will be able to change the layout, fonts, colors, icon shapes, and size of the front display. This means that you can truly make the phone your own and personalize it to suit your preferences. The new Razr could also have an improved hinge design, which is great news for those who were disappointed with the hinge on previous models.
The leaked image also hints at a Samsung Galaxy Z Flip 4-like design with two separately-arranged rear cameras. It remains to be seen how the official design pans out. As for the specs, we can expect some high-end specs like support for a high refresh rate and improved performance and battery over the predecessor.
We can also expect a more affordable foldable phone alongside the Razr 40 Ultra. This would be a smart move for the company, as it would allow them to offer a range of options to customers at different price points.
But not much is known about and we will have to play the waiting game until something is out. Stay tuned to this space for more updates! Also, let us know in the comments what you'd like to see from the new Moto Razr!