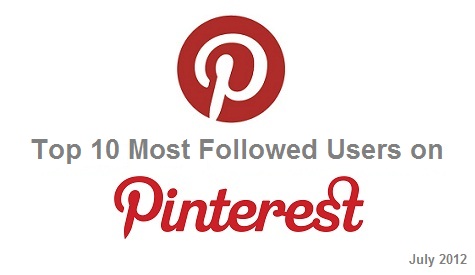 We last wrote about, Top 10 most followed companies on LinkedIn, but now trend is shifting towards Pinterest, which is new but more effective than any other social media websites.
If you are looking for social media branding for your product you should not miss Pinterest, It proved to be most useful tool to generate  referral traffic in first quarter of 2012.
SEE ALSO: Reasons Why Pinterest Will Take Over Twitter
Lets see the people who realized it early and conquered Pinterest by having most followers, here's a list of top 10 most followed users on Pinterest till this time of the year 2012,
1.  Jane Wang (Mother of Ben Silbermann, co-founder of Pinterest.)
Pins: 18,030
Followers: 3,287,052
2.  Jennifer Chong (Graphic designer and Photography enthusiast.)
Pins: 4,293
Followers: 2,159,458
3.  Mike D (Designer, Traveler, and Music lover.)
Pins: 5,055
Followers: 1,839,294
4.  Maia McDonald (Graphic Designer and All-around visual nerd.)
Pins: 14,042
Followers: 1,797,390
5.  Caitlin Cawley (Junior graphic design major at MICA.)
Pins: 3,353
Followers: 1,726,757
6.  anna h (Pins what inspires you.)
Pins: 3,329
Followers: 1,671,790
7.  Daniel Bear Hunley (Social Media Coordinator for Powell Creative.)
Pins: 2,788
Followers: 1,650,063
8.  Michael Wurm, Jr (A freelance lifestyle and DIY blogger.)
Pins: 6,271
Followers: 1,322,687
9.  Bright.Bazaar / (A freelance interiors writer, blogger.)
Pins: 7,287
 Followers: 1,318,796
10.  Ez Pudewa (Blogger at Creature comforts blog.)
Pins: 6,295
Followers: 1,272,839
How many Pinterest followers do you have and how many pins have you pinned on your Pinboard? Let us know in comments below the post.