Post the untimely demise of Windows 10 Mobile, Microsoft has started porting some of its most popular apps on Android and iOS devices. This led the Redmond giant to release the Microsoft Edge browser on Android last month. Edge looks like an elegant port of Windows 10's browsing experience, complete with all basic features. The browser has now bagged an update and brought along two new features. Let us take a look at these new Microsoft Edge browser features:
If you're the kind of user who looks around for the dark theme mode on your mobile apps, you'll be thrilled to hear that Microsoft has added the same to its Edge browser on Android. This adds a layer of personalisation to the mobile browser, while making it perfect for use under low-light conditions (especially during the night time to protect your eyes from strain). And if you ask me, I'm a sucker for dark themes.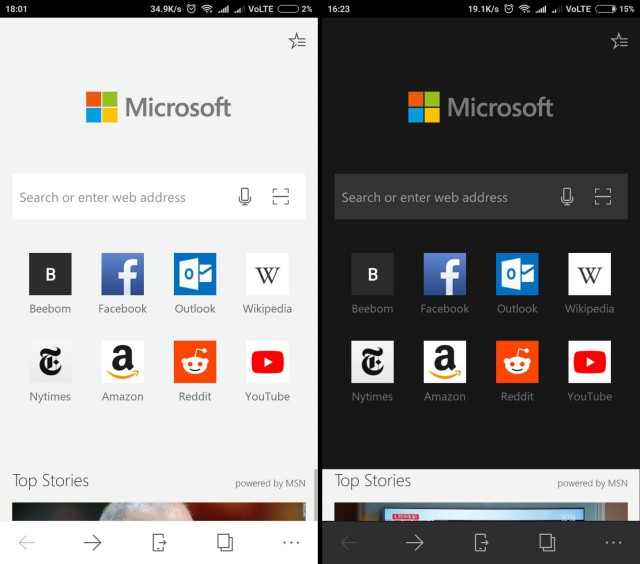 To activate the elegant dark theme, tap on the "three dots" at the right in the bottom bar and open the Settings menu. Tap on 'Appearance' under the basic section and here you'll see the Theme option, where you can select the dark theme.
One of the primary reasons of launching the Microsoft Edge browser on Android (as well as iOS) is that the Redmond giant wants to make it simpler for Windows users to switch back and forth between their devices. Microsoft made this move after the demise of Windows 10 Mobile.
With the latest Edge browser update, the Redmond giant is now making it easier for you to manage your passwords. You no longer need to keep your passwords written down in notes or in memory as they can now be synced across devices. This means the passwords you have saved in Microsoft Edge on Windows 10 will now be available on the Android device and vice versa.
So, how do you like the new Edge features? Let me know in the comments section below.