Chinese giant Xiaomi launches a lot of products in its home country, but a huge number of them never make it across to India. The company's series of laptops is one of those products. So when we got the 2017 Mi Notebook Air (¥5999 in China, $1,143 on GearBest)in our office, well I was really excited to check it out. Ever since the Mi Gaming Laptop, I've been quite taken with Xiaomi's laptop offerings, and I was sure this laptop wouldn't let me down either. After having used it for quite some time, this here is my review of the Mi Notebook Air (2017).
Mi Notebook Air Specs:
First, let's get the specs out of the way for this laptop. For this review, I'm testing the high-end model of the Mi Notebook Air that comes with an 8th-gen Core i7, 8GB RAM, 256GB SSD, and 2GB of MX150 graphics. Here's all the hardware this laptop packs.
| | |
| --- | --- |
| Dimensions | 309.6mm x 210.9mm x 14.8mm |
| Processor | 8th-gen Intel Core i7-8550U |
| Memory | 8GB DDR4 |
| Storage | 256GB PCIe SSD |
| Display | 13.3" FullHD with 300 nits brightness |
| Graphics | Nvidia GeForce MX150 with 2GB GDDR5 |
| I/O | 1x USB Type-C, 2x USB Type-A, HDMI Out, 1x 3.5mm headphone jack |
| Networking | 802.11 b/g/n/ac Dual Band WiFi, Bluetooth 4.1 |
| Battery | 39.2Whr |
| Weight | 1.3kg |
| Price | 5,999 Yuan (~Rs. 61,616.96) |
Design and Build Quality
The first thought that came into my mind when I saw the Mi Notebook Air for the first time was that it looks like a MacBook Pro that Apple forgot to put their logo on. The laptop comes in a sleek metal body that looks really beautiful, plus Xiaomi doesn't put its logo anywhere on the outside of the chassis, opting to stick with a simple Mi branding on the bottom bezel instead, making the laptop look exceedingly minimal and stealthy, especially in the dark space gray variant that we have.
It's very lightweight as well, lighter than the MacBook Pro, and a little heavier than the MacBook Air, which I feel is pretty much a design feat considering the hardware it's packing.
The similarities in design with the MacBook Pro don't go away when you open the lid. There's a very similar look and feel to the entire Mi Notebook Air. In fact, every time people came over to my desk, it took them a minute to figure out which laptop was which. The Mi Notebook Air is that similar to the MacBook Pro. I mean, sure, the corners are less curved here, and the overall feel is a tad boxier than the MacBook Pro (I'm yet to see a laptop that makes me go 'oooh' as much as the MacBook Air and the MacBook Pro do), but at a glance the Mi Notebook Air is remarkably similar to Apple's offering.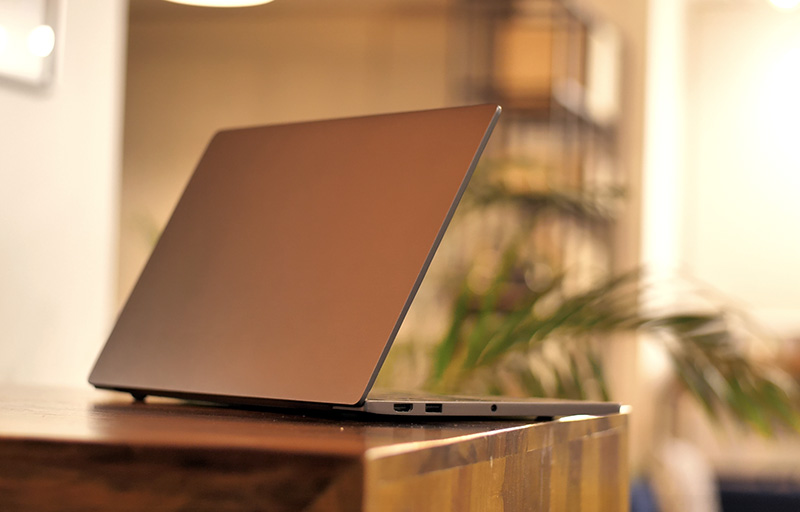 The bezels are thin all around the display, with only the bottom bezel being excessively large for some reason. That's one thing I love on my MacBook Pro — Apple has made the bezels thinner everywhere, but comparing the MacBook Pro's bezels to the Mi Notebook Air  feels a lot like nitpicking over what is otherwise a pretty impressive design in a laptop.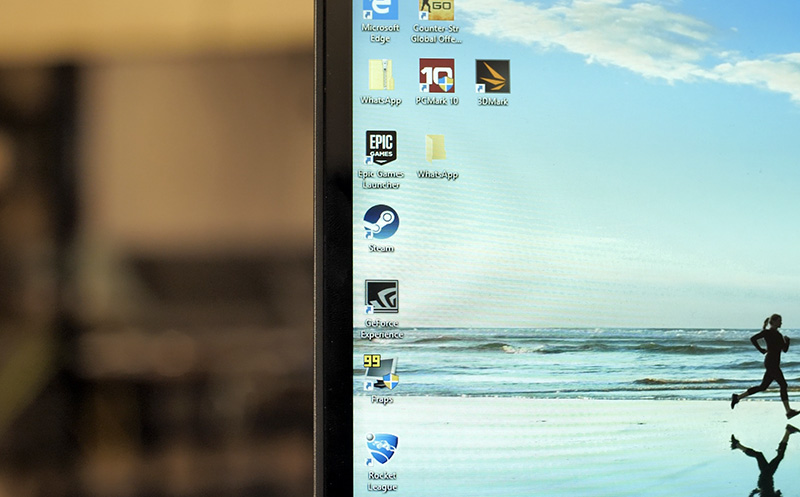 One thing I did notice, and this is a weird one, is that the screen on the Mi Notebook Air has quite a bit of flex. It's not nearly as bad as the plastic lid on the Asus TUF Gaming FX504 that I reviewed a while back, but it's there and it shouldn't have been. After all, the Mi Notebook Air has a metal build, and the lid is quite a bit thicker than the MacBook Pro, but it still flexes quite easily, something that the MacBook Pro doesn't suffer from.
Over all though, the Mi Notebook Air is built really well, and definitely looks like it can handle bumps and scrapes, and probably even a drop (although, as I mention every time, I didn't actually drop it to test this theory out).
I/O Ports and Connectivity
In terms of I/O, the Mi Notebook Air is pretty much what you'd expect from a laptop that comes in a profile as sleek as this. The laptop doesn't feature an army of ports like you'd find on other, larger (mostly gaming) laptops. It does, however, come with two USB 3.0 ports, a USB-C port (charging, and data transfer), an HDMI out, and a headphone jack. There's no RJ-45 ethernet port here, but we don't really use ethernet ports on laptops anymore; at least for the majority of use cases that I can think of.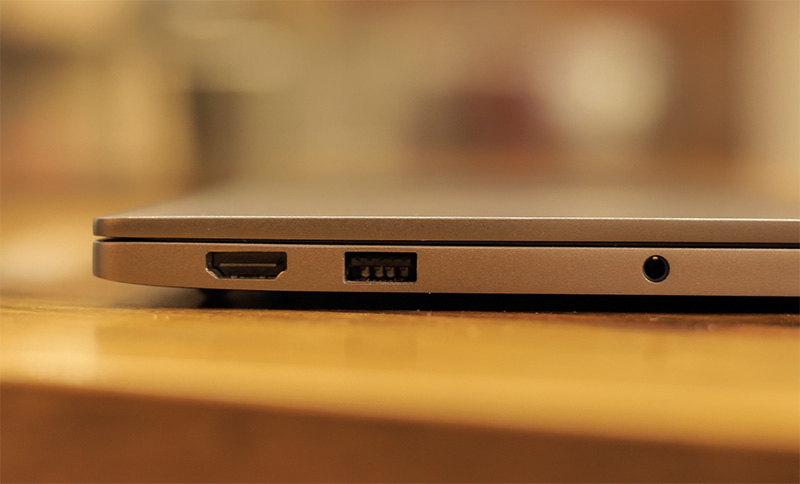 In my usage of the laptop, I didn't find myself wanting for more ports on this thing, or having to look for a dongle (the way I have to every time the video team comes with an external hard disk loaded with renders that they want me to take a look at on my MacBook Pro). I'd call that a win, and it goes to show how much we still depend on standard USB-A ports… I'm still in support for USB-C on everything, though, so I don't think I'm gonna be thinking of switching from my MacBook to this (or any other laptop for that matter).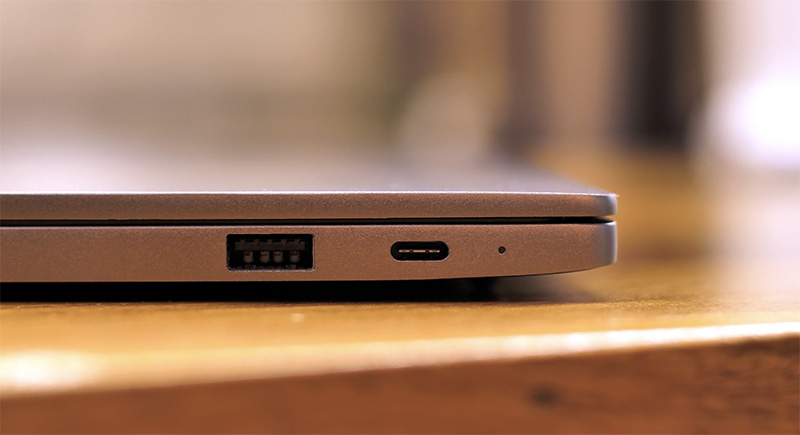 In terms of wireless connectivity, the Mi Notebook Air comes with Bluetooth 4.1, and a dual 2×2 receiver from Intel, giving it the ability to connect to both 2.4GHz and 5GHz wireless networks, if that matters to you (it probably won't).
Display
The Mi Notebook Air comes with a 13.3-inch Full HD IPS LCD display and if I was to sum it up in one word, I'd go with "stunning." That's because it really is a stunning display. It's Full HD, so it's nowhere near the gorgeous 2560×1600 panel on my MacBook Pro, but I didn't find myself missing the MacBook Pro's display while using this thing.
It is, quite simply, a beautiful looking display with great color reproduction, sharp text rendering, and excellent viewing angles. It is quite reflective though, and that hinders with sunlight visibility, but it's not like you absolutely can't use it in sunlight. However, personally, I don't really use my laptop outside much so it's not something that would be a deal breaker for me anyway. If you do use your laptop out in the sun a lot (why do you, though?) then yes, it may be a point of concern for you in that case.
Audio
Moving on to the audio, the Mi Notebook Air doesn't disappoint. It's obviously not as loud as some gaming laptops out there, but it doesn't shy away from getting pretty damn loud nonetheless, and in my opinion it can easily suffice to fill a medium sized room without breaking a sweat.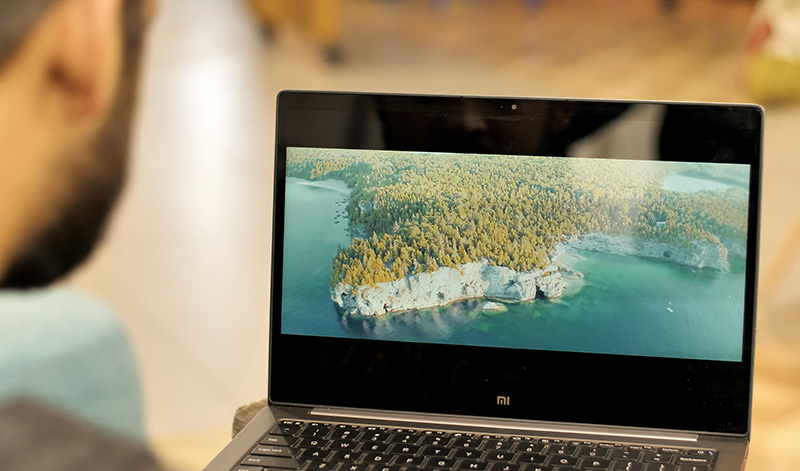 The quality of audio from the Mi Notebook Air is yet another thing that's quite impressive. The highs are crystal clear, and the mids and lows sound pretty good as well, especially if you factor in the bottom firing speakers on the Mi Notebook Air.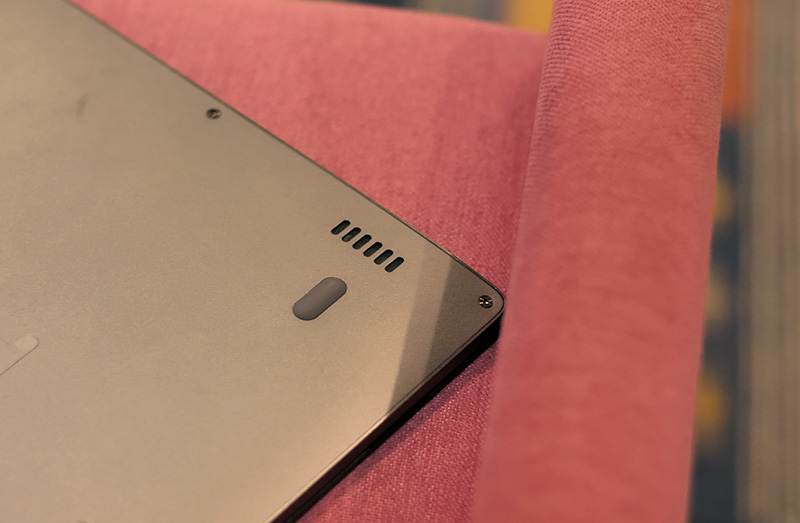 There's a headphone jack for times when you need to put on a pair of cans, or connect an external speaker to the laptop. However, for casual Netflix and Prime Video streaming, the built-in speakers will prove to be more than enough.
Keyboard
The keyboard on the Mi Notebook Air is basically the same as the one you'd find on a MacBook Air, with some minor differences. There's ample travel, so typing is easy and feels good on the laptop. However, call me spoiled if you will, but I still prefer the keyboard on my MacBook Pro (I'm also probably the only person in the world other than Apple's own engineers who does).
When I said minor differences from the keyboard on the MacBook Air, I was talking mostly about the feel and the key-press force that's required for the Mi Notebook Air. In my personal opinion I found that the MacBook Air's keyboard feels a lot better for some reason that I can't explain, and while the travel is similar, the Mi Notebook Air's keyboard feels like it takes a tiny bit extra force to activate a key than it does on the MacBook Air, and that ended up resulting in more fatigue while typing. It's nothing even close to a deal breaker of any sort, but it's there if tiny little differences like that matter to you, or if you're as choosy about your keyboards as I am.
Trackpad
Oh, the trackpad. I like the trackpad on the Mi Notebook Air. It's pretty big, and it's glass which gives it a really nice feel while using. There's a fingerprint reader on the top-right corner of the trackpad, and it's the only biometric authentication available on the laptop.
In my usage, I found the trackpad to be big enough to easily use the various multi-tasking gestures that Windows offers. That said, I do have two complaints with the trackpad here.
First, the tiny, nitpicky, the devil-is-in-the-details issue — the placement of the fingerprint reader in the top-right of the trackpad ends up making the top-right corner of the trackpad ridiculously weird to use. I'd have preferred a placement similar to that on the HP Envy that Rupesh uses.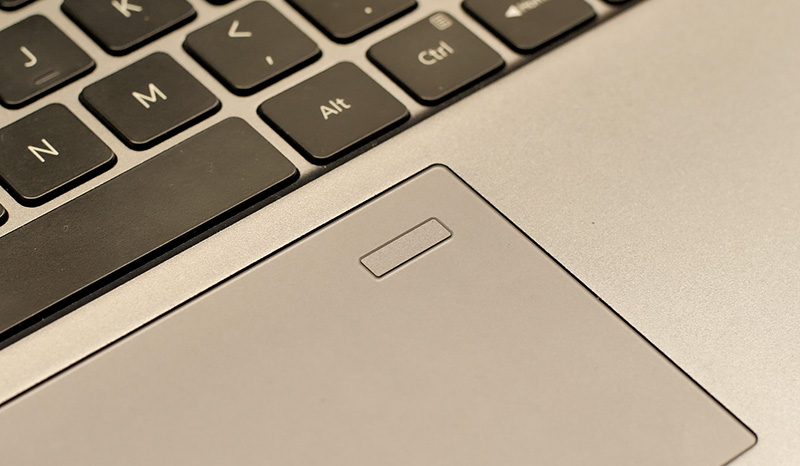 Second, is the fact that palm-rejection on the Mi Notebook Air simply sucks. The trackpad kept registering palm-touches as actual finger movements and kept moving the cursor around while I was typing. It gets really annoying, and I hate it with a burning passion.
Performance
In terms of performance the Mi Notebook Air packs in quite a bit of a punch. There's an 8th-gen Core i7-8550U processor paired with 8GB of RAM, and a 256GB SSD. There's also an Nvidia MX150 GPU on board to help with graphically intensive tasks.
Benchmarks
In terms of synthetic benchmarks, the Mi Notebook Air performs admirably well. The laptop scores 81.12 in Cinebench R15's OpenGL test, and 3,682 in PCMark 10. The scores are quite impressive for a laptop of its form factor, and even though I tend to not judge a laptop by its benchmark scores, this does put the Mi Notebook Air at a nice spot in my opinion.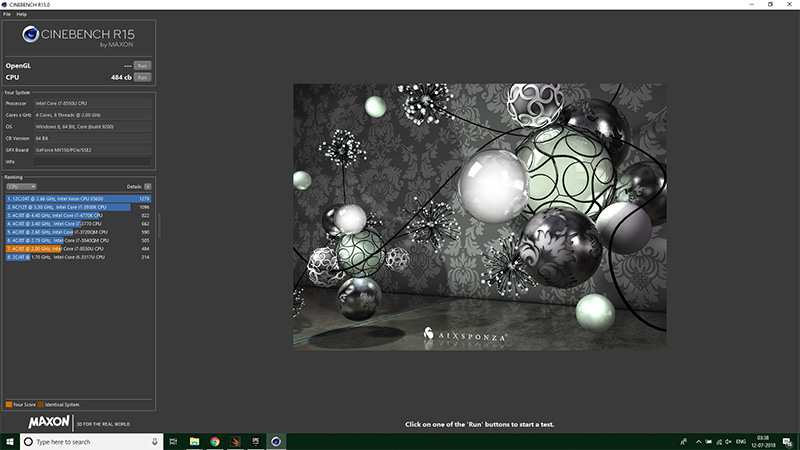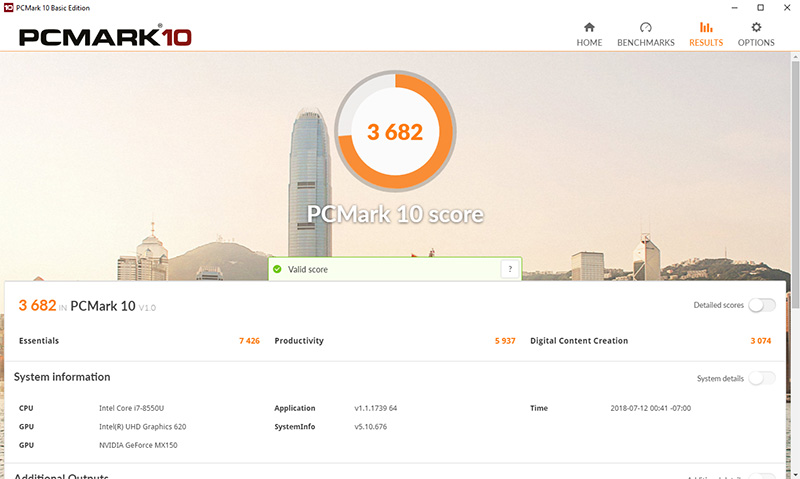 Gaming
When it comes to real world performance though, the laptop doesn't disappoint at all. With an MX150, you can't expect it to run AAA titles on anything above low to medium settings, but you still can run them. I tried playing PUBG on low settings, and the laptop managed a frame rate around 30FPS at all times, which may not be the best but is definitely playable.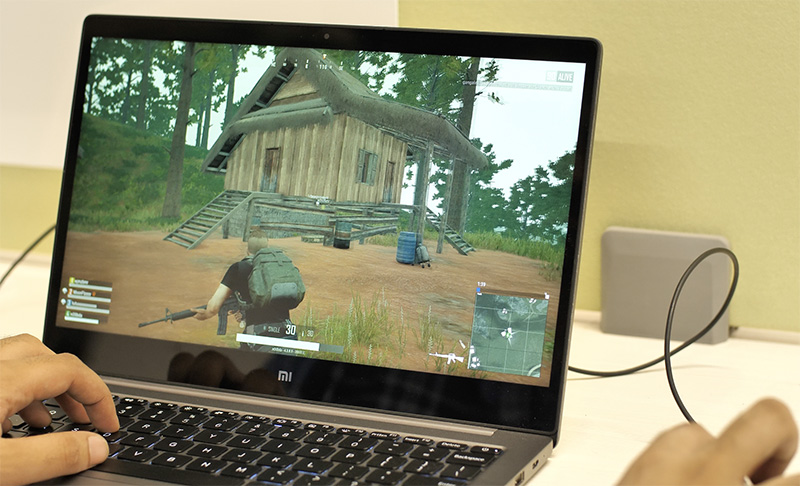 Lighter games like CS: GO and Rocket League work like a charm on this laptop. On max settings in CS: GO the laptop constantly churned out a frame rate over 100FPS, and also pushed out around 60FPS in Rocket League with max settings. Even though this isn't a gaming laptop by any means, it can easily meet the needs of casual gamers on the go.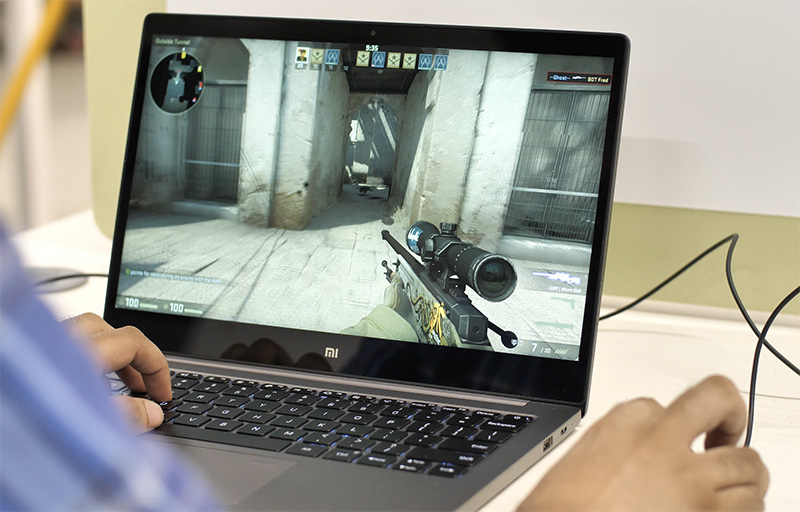 Thermals
The Mi Notebook Air features a dual-fan cooling set up to handle the thermals. In normal usage, the laptop doesn't heat up at all, and I was pretty impressed by the way the Mi Notebook Air handles thermals, ensuring that the laptop remained cool even if you were using it on your lap. It does get a little warm when multitasking but that's mostly true for any laptop out there.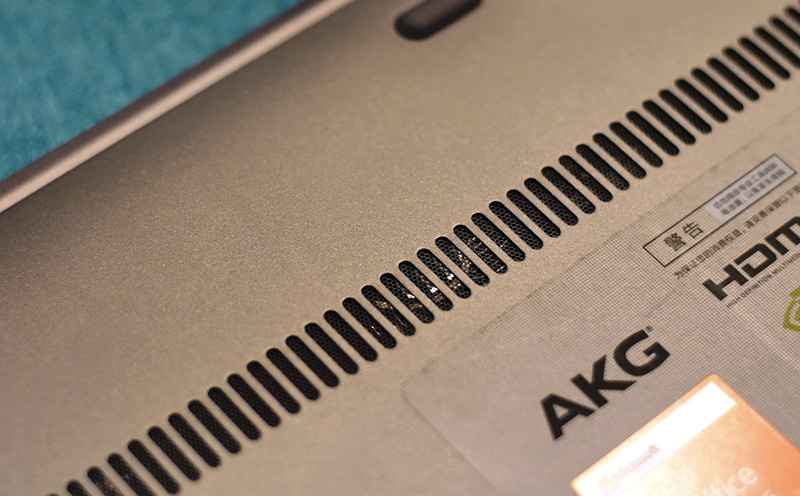 In gaming however, the laptop fails to keep things under check. I noticed this while I was playing CS: GO on the laptop that the keyboard gets really hot to touch. So hot, in fact, that it starts to cross the point where it's just 'uncomfortable' to use it and reach the point where it's almost impossible to use it without wincing. That can be chalked up to the fact that the Mi Notebook Air, due to its thin form factor opts to place the cooling vents on the hinge, similar to the MacBook Pro, and even the intake vents on the bottom of this laptop are quite small to effectively suck in air to cool things down.
Battery
The 32.9Whr battery on the Mi Notebook Air is not a promising battery size by any means, and while Xiaomi claims a battery life of 7.5 hours, they do that under lab testing. In real world usage, the laptop doesn't come anywhere close to that.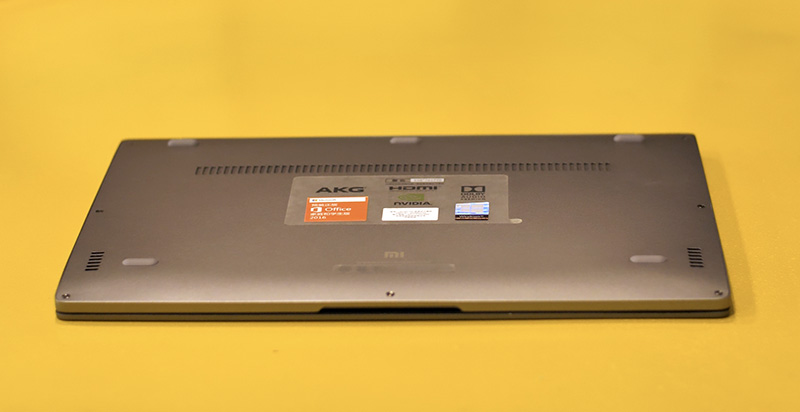 In best performance mode, with the brightness set to 50%, the Mi Notebook Air lasted me for around 4.5 hours under a very casual work load which included at most 3 to 4 Chrome tabs open. That's pretty disappointing, but then again, I told myself it's probably because I set the laptop to best performance mode. I honestly expected a battery life closer to Xiaomi's claimed battery life of 7.5 hours but with best battery life mode selected and the brightness set to 50%, the laptop lasted me (drumroll, please) 4 hours. Yeah, on that same workload of a couple of Chrome tabs open on the Mi Notebook Air, it lasted me for just 4 hours.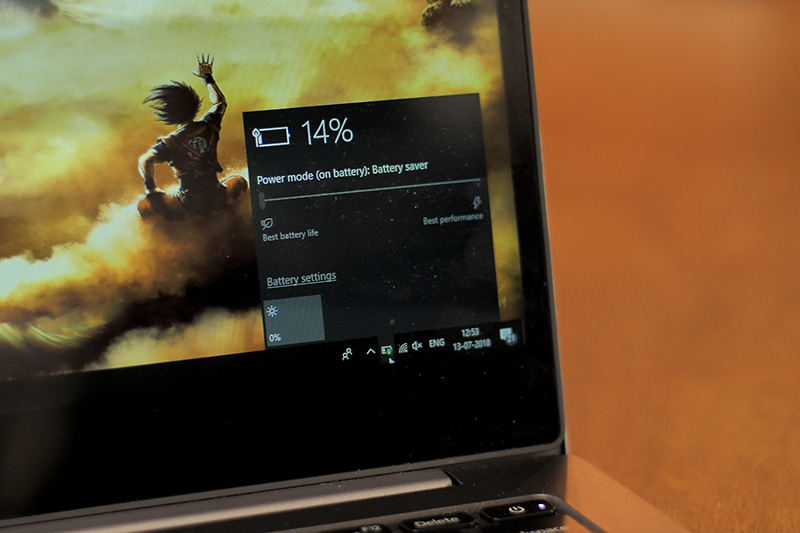 It's weird that the laptop lasts longer on better performance mode than it does on better battery life but that's probably just a bug. The more important point is that the laptop comes nowhere near the claimed 7.5 hours of battery backup that Xiaomi claims.
Pros and Cons:
So, the Mi Notebook Air offers a lot of amazing stuff at a pretty amazing price, but as it is with everything, there are two sides to the proverbial coin. So here are the pros and cons of the Mi Notebook Air:
Pros:
Excellent build and design
Beautiful display
Impressive performance
There's a fingerprint reader (yay!)
Cons:
The fingerprint reader is in the trackpad (nay!)
Palm rejection is terrible
Underwhelming battery life
Mi Notebook Air Review: An Amazing Laptop at An Amazing Price
The Mi Notebook Air is definitely one of the best laptops of its form factor that I've used in quite a while, and it's also a pretty decent laptop for some light gaming. Basically, Xiaomi has managed to make a super-powered MacBook Air, load it up with Windows 10, and stuffed it inside a MacBook Pros body. All while adding a bunch of useful ports to it. The only real disappointment I have with this laptop is the fact that it's not available in India, else it'd be perfect.
It's priced at ¥5999 (~Rs. 62,000) and at that price, this is one of the best laptops out there. It's great for everything whether it be media consumption, casual gaming, or anything else. If your heart is set on the Mi Notebook Air though, you can get it from Chinese retailers. That is, if you're okay with paying import duties and whatnot, and losing the warranty as well. The laptop is available through sellers like GearBest for $1,143.
Buy the Mi Notebook Air from GearBest ($1,143)
REVIEW OVERVIEW

Design and Build Quality

9

SUMMARY

The Mi Notebook Air is a laptop that, at its price is nigh unbeatable. It brings amazing specs packed inside a body so sleek it can give the MacBook Pro a run for its money. The Mi Notebook Air is perfect for anyone looking for a laptop light enough to carry around on the go, with enough power to handle demanding tasks as well without breaking a sweat.