When it comes to gaming laptops, there are a few choice brands that make great gaming laptops at prices that aren't in the 'Alienware' range. Asus happens to be one of the best when it comes to gaming laptops, so when we received the Asus TUF Gaming FX504 at our offices, well I was quite excited to put it through its paces. Having used it over the last week or so, I've come to some conclusions about this Rs. 1,07,990 laptop and I'm going to share them with you guys in this review.
Note: The Asus TUF Gaming laptop comes in a Core i5, and a Core i7 variant. While the Core i5 variant is priced at Rs. 73,990, the pricing for the Core i7 variant has not been announced but we expect it be around Rs. 1,07,990.
Asus TUF Gaming FX504 Specifications
I always tell people that specs aren't everything when picking out a laptop, a smartphone, or anything else for that matter. However, specs definitely do help form a baseline expectation from the laptop, so let's get those out of the way first.
| Dimensions | 38.4 x 26.2 x 2.5 cm |
| --- | --- |
| Processor | 8th-gen Core i7-87500H @ 2.2GHz |
| Memory | 8GB DDR4 2666MHz |
| Storage | 1TB SATA FireCuda HDD |
| Display | 15.6-inch FullHD, 120Hz |
| Graphics | Nvidia GeForce GTX 1050Ti with 4GB GDDR5 |
| I/O | 1x USB 2.0, 2x USB 3.0, HDMI Out, RJ-45 Ethernet Port, Audio Jack |
| Networking | Integrated 802.11ac; Bluetooth 4.0 |
| Battery | 3 cell, 48 Whr |
| Operating System | Windows 10 Home 64 bit |
| Price | Rs. 1,07,990 |
Right from the spec-sheet, one thing that sticks out to me is the fact that this laptop sounds a bit on the lower-end of the specs you would usually find in a similarly priced laptop. I mean, these are the same specs you'd find on the MSI GL63 that's priced at roughly Rs. 90,000. Then again, the laptops we recommended in our video on the best gaming laptops featured 7th-gen Core i7 processors in the Rs. 1 Lakh price bracket, so I suppose the 8th-gen Core i7 might be the reason Asus stuck with a 1050Ti instead of a 1060 such as the one you'd find in the higher-spec Acer Predator Helios 300.
Design and Build Quality
The Asus FX504 (I'm not going to keep typing TUF Gaming all the time, so FX504 it is) features a typically Asus design and build quality and that, for the most part, is a good thing.
The laptop doesn't leave a lot to be desired in terms of the overall design and build quality. The lid, with its smokey-grey color and the light-up Asus logo looks pretty damn good. The chassis is sturdily built and feels like it could take a hit (although I didn't try and drop it, so no guarantees about that).
Inside, the keyboard is surrounded by a design that I can only describe as futuristic, and the power button (which, by the way feels really good to press for some reason) is also angular, with a small red-dot lighting up to show the power's on. Everything about this laptop, it's keyboard, and the color choices Asus has made is very appealing. The red keyboard backlighting looks incredible, and everything else takes a middle road between screaming 'gaming,' and staying stealthy.
The one issue I have with the build quality of this laptop is that for some reason the screen has a lot of flex; and I mean a lot. Just applying a small force to the screen makes it bend so ridiculously it feels like it'll snap into two, or at the very least, screw up the panel. Other than that, though, the laptop is built well and doesn't leave out anything to complain about.
I/O Ports and Connectivity
The Asus FX504 has a decent level of I/O, although not nearly as intense as gaming laptops these days tend to come with. There's a single USB 2.0 port, 2x USB 3.0 Type-A ports, an HDMI out, an RJ-45 ethernet port, and a single audio jack instead of the separate headphone and mic ports you might find in a lot of gaming laptops.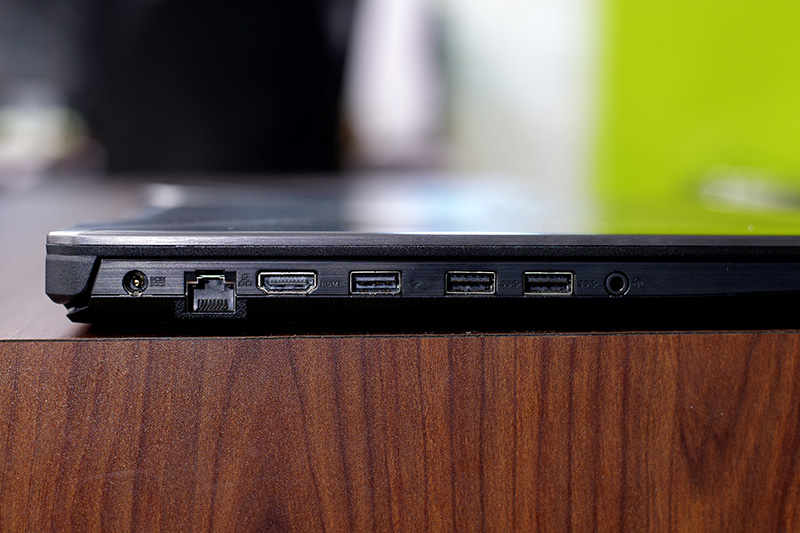 I, for one, don't think that these ports don't suffice for everyday needs, however, it would've been nice to see a USB-C/Thunderbolt-3 port at the very least for the much higher bandwidth it'd afford.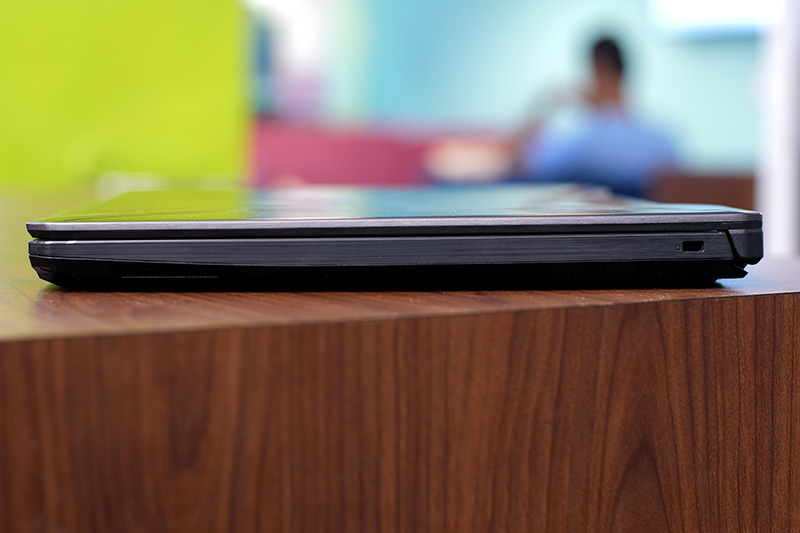 In terms of wireless connectivity, the laptop supports WiFi 802.11ac standard, which is great, and comes with Bluetooth 4.0 in case you want to use Bluetooth headphones, and gaming accessories with it.
Display
The Asus FX504 comes with a 15.6-inch FullHD panel with a 120Hz refresh rate. Of course, at Rs. 1 Lakh, a 120Hz display is great, if not unheard of. In case you're unaware, a higher refresh rate helps with reducing motion-blur in fast paced games.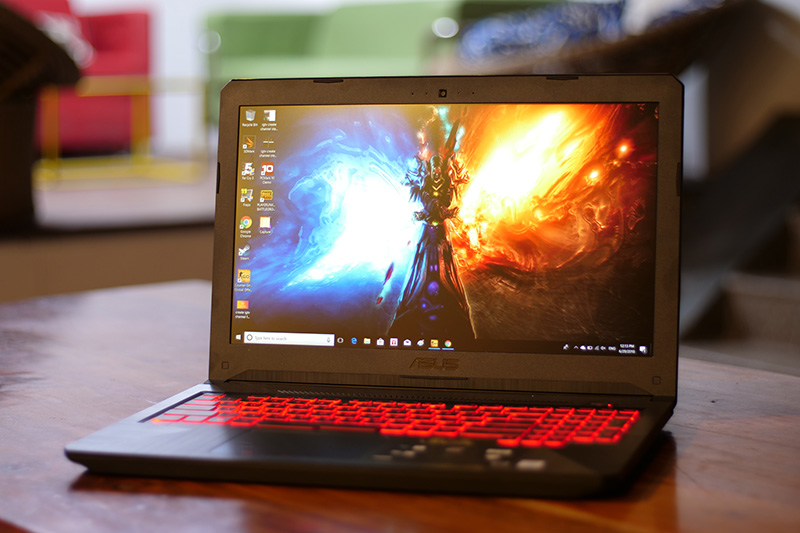 Quality wise, the display on the FX504 is pretty good. It's a FullHD panel that gets quite bright and supports 94% NTSC which means better color-reproduction, and that shows. In my usage of the Asus FX504, the display seemed bright, the colors popped, and I honestly faced no issues with it.
The display panel has decent viewing angles as well, but like I mentioned earlier, the build quality could've been (and should've been) a lot better here. There's a lot of flex and it's honestly kind of scary.
Audio
The Asus FX504 has an audio output that's quite nice to be honest. The sound from the laptop gets quite loud, and can easily fill up a medium sized room. It also handles audio mixing really well, with greatly highlighted vocals, and a nice mixture of bass, treble, and mids all around the place.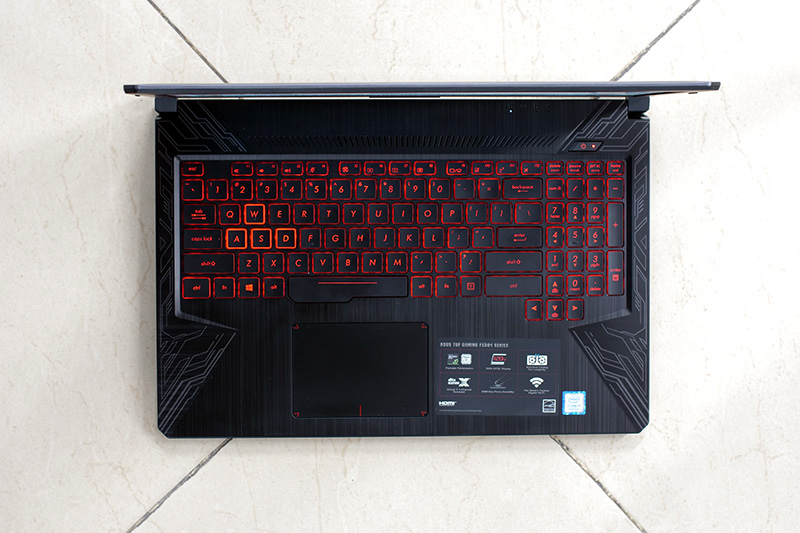 That's for media consumption though, because as far as gaming is concerned, playing without headphones will put you at quite a disadvantage. The fans on this thing can get pretty loud, even if they're not nearly as loud as the Triton 700. I'd recommend using headphones with this laptop if you're interested in hearing your enemy's footsteps in PUBG or Fortnite.
For everyday media consumption, the speakers will not leave you wanting. They can get pretty loud, so watching movies and streaming Netflix will not leave you with a desire to attach external speakers into the mix.
Keyboard
For some reason, I've come to expect some type of a gaming-oriented keyboard on gaming laptops. However, the one Asus has packed inside the FX504 is a chiclet keyboard that comes with the standard red backlighting.
It's not a mechanical keyboard, and it definitely doesn't try to fake it either. However, I didn't find that to be much of an issue, especially since it does offer plenty of travel considering the relatively slimmer profile of the laptop, and it doesn't make you feel like you're tapping on glass when playing a game.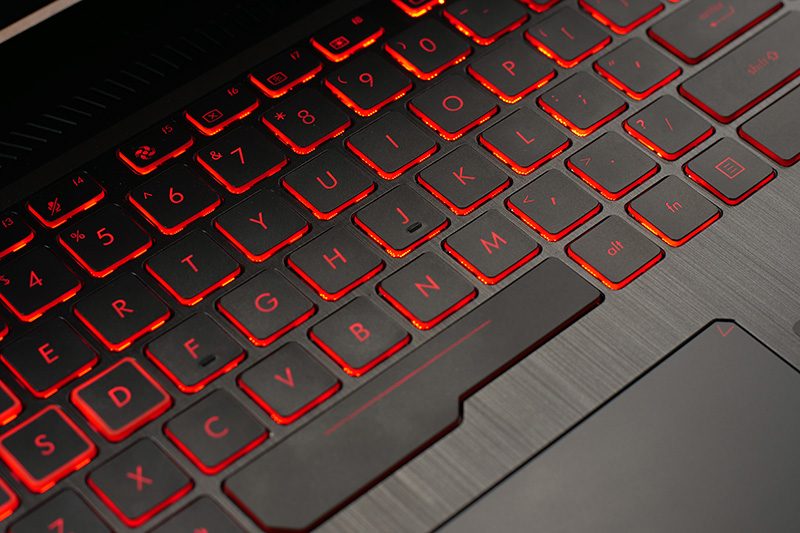 The keycaps also have subtle curves on top making it easier to differentiate between keys without actually looking at the keyboard — that comes in handy while you're in the middle of a gunfight in Fortnite and are trying to build as fast as you can (which I suck at, by the way, but I digress).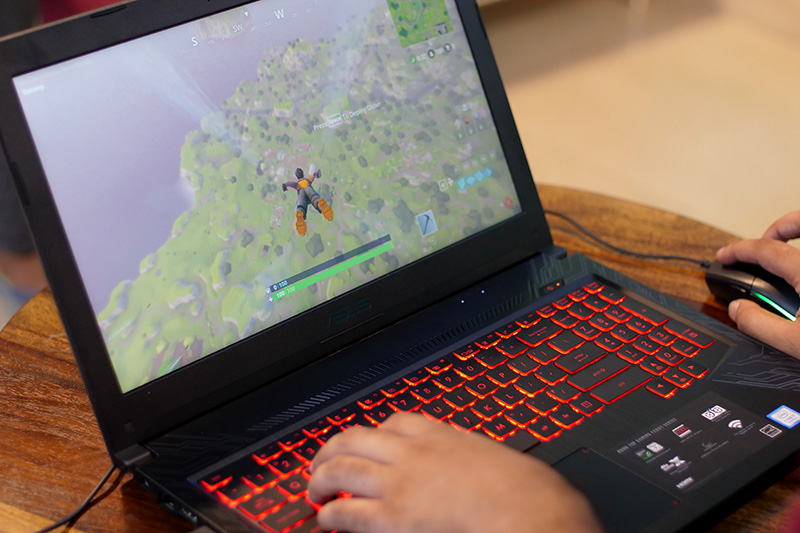 One of my favorite things about the keyboard on the Asus FX504 is the fact that unlike most compact gaming laptops, the FX504 gives you a proper, full-sized arrow key set-up. Believe me, it's annoying to try and press the up arrow key and hitting down instead (and vice-versa), and it could mean the difference between life and death in high-adrenaline moments such as ones you'd encounter in CS: GO.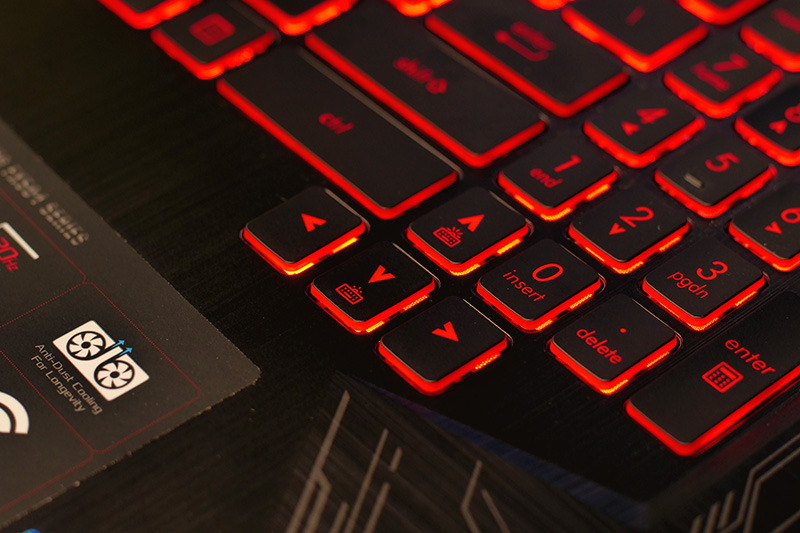 Typing on the Asus FX504 is alright. It's not nearly as much fun as it was with the mechanical keyboard on the Triton 700, and I'm used to the butterfly keyboard on my MacBook Pro, so that might have played a part as well. Objectively speaking, the keyboard shouldn't be an issue if you type a lot, thanks to the decent travel, and the great key-cap feel of the keyboard.
Trackpad
The Asus FX504 has a trackpad that's pretty decent, if not as big as I'd like. However, trackpad size-preferences are something that tend to vary from person to person, so I can't really fault Asus for going with a trackpad of this particular size.
That said, it's not as big a trackpad as the one you'd find on the MacBook Pro, or the Mi Gaming Laptop, but it's not awfully small, like the one on Rupesh's HP Envy. It's also pretty clicky when you click it, and pretty smooth when you're simply moving the cursor around. Also, thankfully, it's not positioned awkwardly like the Triton 700's trackpad.
It looks pretty much like a trackpad looks. There's nothing too special to mention here, and there's nothing wrong with it either. It's a trackpad that looks normal, and works normally, and I like that.
Performance
Talking about the performance of the Asus FX504, it's kind of a mixed bag. Specs wise, the laptop boasts of an 8th-gen Core i7 processor, 8GB of DDR4 RAM, 4GB GTX 1050Ti graphics, and a 1TB FireCuda HDD. The 8th-gen processor is a great addition, but I'm still disappointed with the fact that Asus went with 8GB RAM instead of 16GB which would've afforded some level of future-proofing at-least.
Gaming Performance
In games, the laptop performs the way you'd expect it to. It can run pretty much every game out there right now, and I tried out my usual favorites including PUBG, CS:GO, and Far Cry 5 on this.
With a 1050Ti, I was expecting PUBG to run decently good on a mixture of medium to high settings. However, with everything set to high in PUBG (v-sync and motion blur turned off), the laptop was easily able to push a frame-rate above 70-80 fps which is pretty damn good. At Ultra, the frame rate hovers around 50-60 fps, but does take a hit during gunfights. I'd recommend sticking with high.
CS: GO ran without a hiccup. Even with everything set to max, the game was running smoothly with FPS values well above the 100 mark. Not that I was surprised; with specs like that, this laptop should be handling CS: GO as well as it did. Anything less than that would've been a disappointment, to be honest.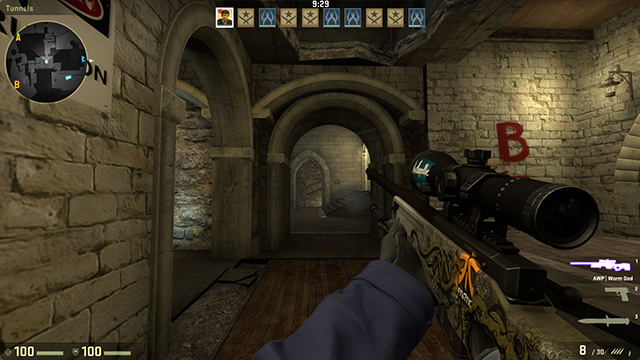 Far Cry 5 is once again a game that can really push a laptop to the edge, and it showed. The laptop ran it pretty well, all things considered, but once again, I'd recommend ensuring that the settings are set to a mixture of medium to high. Ultra is out of the question, obviously, but even with everything set to high you'll notice the laptop struggling to keep up with Far Cry 5's extremely detailed open-world environments.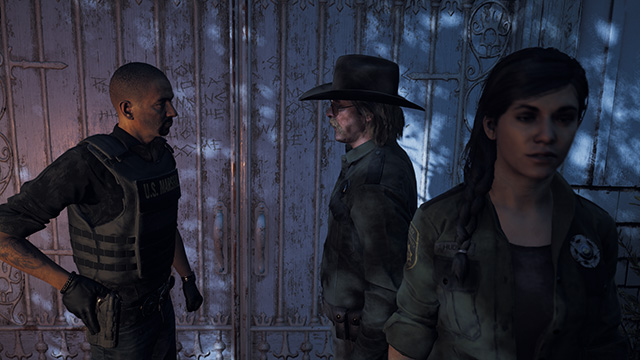 Synthetic Benchmarks
In terms of synthetic benchmarks, the Asus TUF Gaming FX504 is pretty much what you'd expect from a laptop of its caliber. The laptop scores 2,505 in 3DMark Time Spy, 102.63fps in Cinebench R15's OpenGL benchmark, 793 in Cinebench R15's CPU benchmark, and 3,865 on PCMark.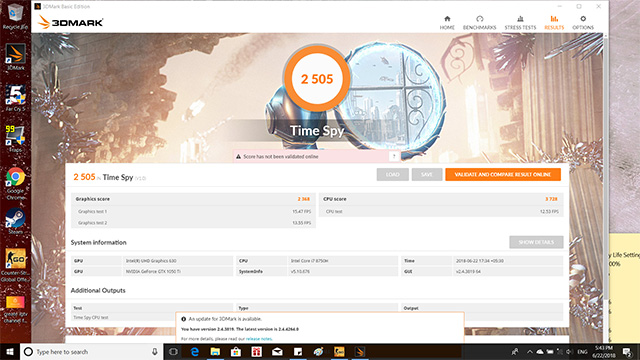 All that said, my biggest issue with what is otherwise a still almost-acceptable spec-sheet for a laptop in this price, is that it comes with a SATA HDD instead of an SSD. FireCuda or not, having an SSD is a pretty big deal, especially with gaming laptops, and the Asus FX504 doesn't have one. You can expect some longer load times, and boot-up times on this.
Thermal Performance
The Asus FX504 features a dual-fan cooling system with anti-dust technology. Basically, the fans have two different vents, with one of them to push the dust out, and the other for the hot air. How this works is not important; what's important is how well this works.
The FX504 features three separate heat-pipes for directing the heat away from the components, and towards the cooling-fans, and I have to say, the thermal performance on this laptop is on point. I didn't notice the laptop getting hot even after playing CS: GO, Far Cry 5, and PUBG back to back on it. Obviously the keyboard got a little warm (as keyboards so often do), but it wasn't uncomfortable, and once I stopped gaming, the laptop quickly went back to room temperature.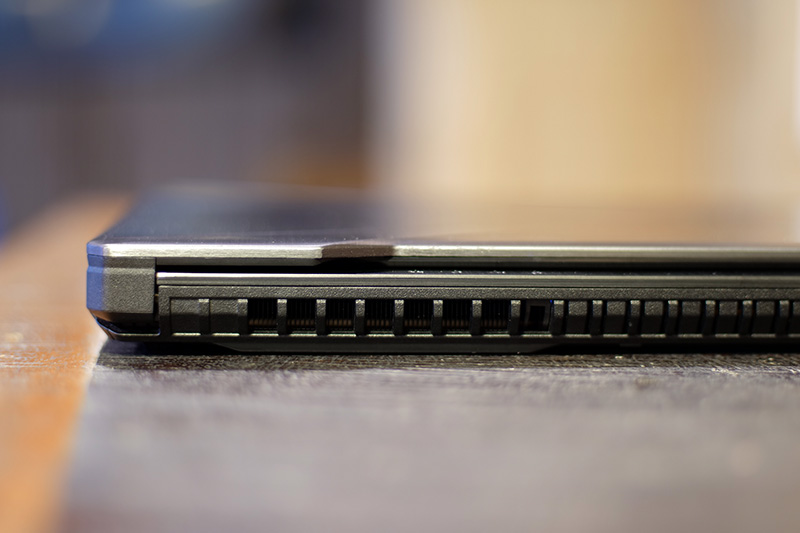 I didn't notice any signs of thermal throttling on the laptop, so I'm pretty sure you wouldn't either. However, with 8GB of RAM, don't push the laptop too far as it might start lagging out on you purely because it's running out of resources — I doubt it'll overheat even then, though.
Battery Life
As far as battery life is concerned, I'm not disappointed by the Asus FX504. The laptop features a 3-cell 48Whr battery, and it lasts a decent amount of time, if not very long.
With 'Best Battery Life' selected in Windows' battery optimization settings, and the brightness set to around 70%, I was able to get around 5 hours of usage from the laptop doing stuff like browsing the internet with around 8-10 tabs open on Google Chrome, editing some images, and watching a couple of YouTube videos.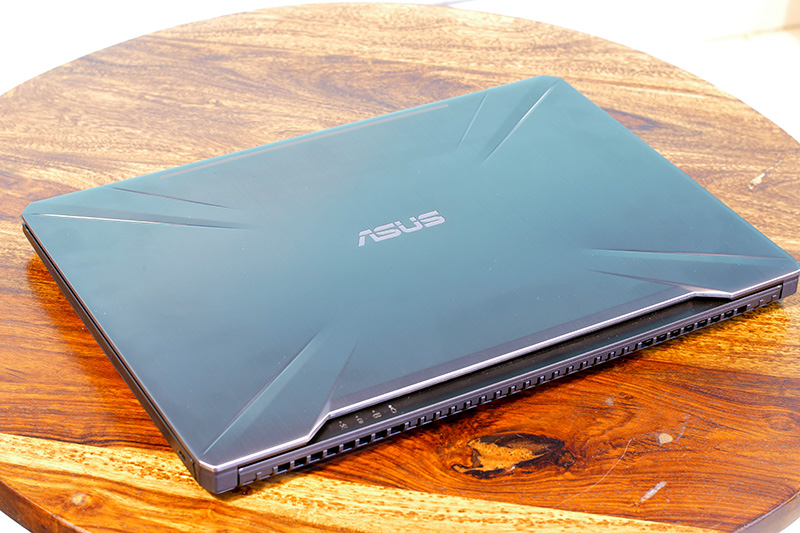 Switching over to 'Best Performance,' the difference is visible. With the same kind of workload as with the previous test, the laptop lasted around 3-3.5 hours at 70% brightness. That's pretty good as far as I'm concerned.
I know, for most gamers, battery life isn't much of an issue since they connect a power-source to their rigs anyway. However, the FX504 is aimed at people who want some semblance of portability with their gaming laptop, and for those, I'd recommend sticking to 'Best Battery Life,' until you reach a place where you can reliably charge your laptop should the need arise. Then you can switch to best performance if you want.
Pros and Cons
The Asus TUF Gaming FX504 is a pretty great gaming laptop, but it does have its very own set of pros and cons.
Pros:
8th-gen processor
Great performance
Nice keyboard and trackpad
Decent battery life
Cons:
Only 8GB RAM
Not enough ports for most gamers' needs
SEE ALSO: Mi Gaming Laptop Review: The Budget Gaming King You Probably Can't Buy!
Asus TUF Gaming FX504 Review: A Stealthy Gaming Laptop That's Also Portable
In conclusion, the Asus TUF Gaming FX504 laptop (Rs. 1,07,990) is definitely a pretty great laptop. At it's price, the laptop brings in an 8th-gen Core i7 processor, a pretty great build and design, a 120Hz display, and more. I would've liked it even more had Asus put in 16GB RAM inside this variant. That said, the FX504 won't leave you wanting in terms of performance, looks, or battery life (at least not much). It can run every game out there right now with a mixture of medium to high settings, it doesn't heat up enough to be a nuisance, and when it does, it cools down pretty damn quickly.
So, if you're looking for a gaming laptop that you can carry around to work, the Asus TUF Gaming FX504 is definitely one I'd recommend you check out.
---
Load More