For the longest time, I've held out on buying a smart TV to replace the 43-inch plasma TV I have at home for the last 7 odd years. I just couldn't justify discarding a perfectly good TV just to get the latest one available, and so I never did it. Plus, there's the value proposition. However, an Android TV box? That has always sounded like a good idea to me. It adds the smarts you want, but it also brings those smarts in a more modular way. So two years down the line you can simply replace the box for a better one instead of buying a whole new TV.
So, when Xiaomi sent over the Mi Box 4K to me I was more than just excited to use it. At Rs. 3,499, the Mi Box 4K undercuts the most other, most obvious choice for a smart TV stick out there — the Fire TV Stick (Rs. 3,999). So, if you are confused whether the Mi Box 4K is worth the money, read on.
What's in the Box
First up, let's take a look at everything inside the box.
Mi Box 4K
Remote
HDMI cable
Power cable
User Manual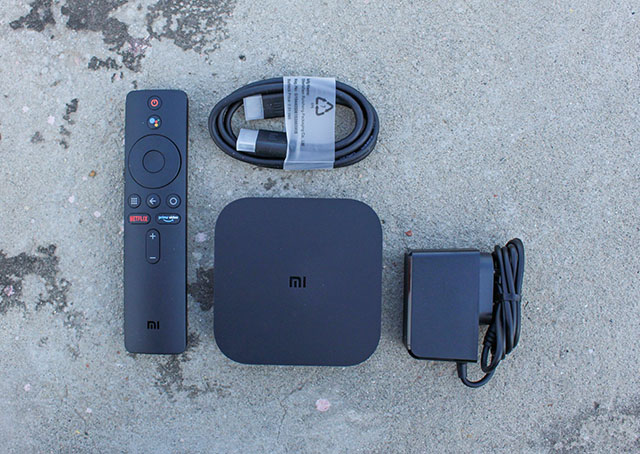 The remote requires two AAA batteries to work. These are not included in the box, so make sure you have them at hand.
Design and Build
Starting off with the design and the build, the Mi Box 4K comes in a matte black plastic body. This ensures that it's lightweight, and pretty stealthy to keep under your TV. I appreciate both these things about the device. It's also fairly sleek, which means it doesn't have much of a profile when you look at it on your TV cabinet.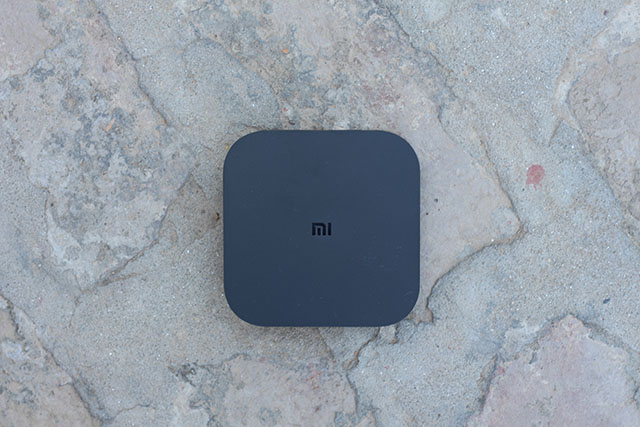 There's an indicator LED up front which glows white while the Mi TV Box is on. It's a very faint glow, and the way the box is designed, it's barely visible if you're looking at it from an angle. That's usually how you'll be looking at it, by the way, because your TV will likely be at eye level, and the Mi Box, underneath it.
It's not an issue however. If anything, I actually admired this when watching TV late at night with all the lights turned off. This light doesn't cause distractions.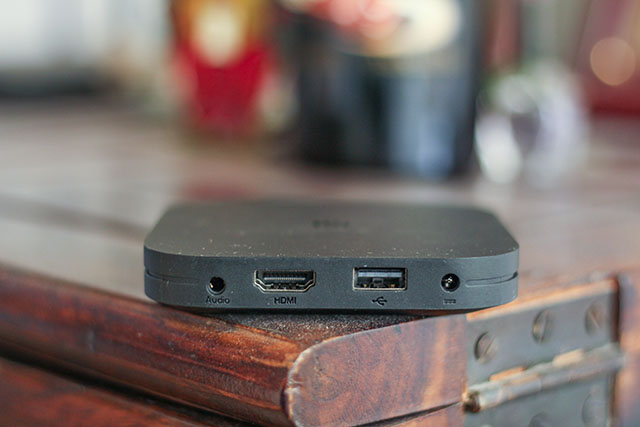 On the back you'll find some ports. There's the usual power and HDMI out port here, but the Mi Box 4K also brings in an audio out, and a USB Type-A on the rear. This way you can connect the Mi Box 4K directly to your sound system if you want.
I also appreciate the low-key branding on the Mi Box 4K by the way, it's black on black and very minimal. Xiaomi's aesthetics here are on point.
Setting Up
Setting up the Mi Box 4K is fairly straightforward. You plug in the HDMI cable, the power cable, and follow the instructions on screen to get it all set up. I prefer setting up the Mi Box 4K using an Android phone, but you have the option to set it up from scratch if you want.
That said, I did encounter an irritating issue while pairing the remote with the Mi Box 4K. I've discussed the possible solutions to that in my article on how to set up the Mi Box 4K, and I'd recommend you give that a read.
Android TV UI, Pre-installed Apps
As you might already know, the Mi Box 4K comes with Android TV. However, Xiaomi doesn't coat it up with its Patchwall UI here. This is pure Android TV based on Android 9 Pie.
Now the Android TV UI is something I don't like much. It doesn't feel all that intuitive, and it doesn't feel like it's suited for navigation with a remote. Also text entry is a downright pain. However, that's my very subjective look at Android TV's UI. Rupesh, who uses an Android based smart TV at home says that he's totally fine with the UI here. My point is, if you have used an Android TV in the past, the UI here is exactly the same. So bring your own judgement about it if possible.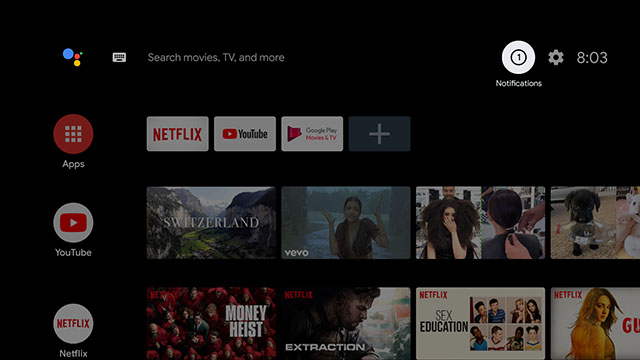 If you haven't ever used an Android TV before, here's what the UI is like. You get rows of content, with each row focusing on a different app. Usually these rows will be populated by the likes of Netflix and YouTube. You can configure this, by the way, so if you don't want recommended videos from YouTube flooding your screen, that's easily rectified.
The issue really pops up when you need to go into settings, or view notifications, or god forbid, enter text. In these cases, the remote is a slow way of making your way around the system. Part of this is likely because Android TV just wants to keep animations slow and smooth. That can result in the process seemingly taking forever.
Maybe I'm spoiled by that relatively faster feeling UI, or maybe it's just because I'm not used to Android TV's implementation, but I'm not a big fan.
See, I use a PS 4 with my TV at home. It's pretty much my entire entertainment system — both for games and for Netflix and Prime Video. However, the PS UI is easier to navigate and feels more snappy and responsive. Maybe I'm spoiled by that relatively faster feeling UI, or maybe it's just because I'm not used to Android TV's implementation, but I'm not a big fan.
However, it's important to remember that the UI is not really the Mi Box's fault. In fact, the Mi Box 4K is really good at performance as I'll discuss in the next section.
UI aside, there is one thing I really appreciate from Xiaomi here — no bloatware. Yup. The Mi Box 4K comes with the bare necessities of TV. There's the Play Store (obviously) and there's Netflix and Prime Video pre-installed. That's not even bad, that's just time saving because I'm fairly certain you're using both of those services anyway.
I'll be honest, I didn't expect Xiaomi to skimp out on bloatware. However, the company pleasantly surprised me with the Mi Box 4K. So good job there, Xiaomi.
Performance
Coming to the performance, there are two real aspects to consider here. One is the usual day-to-day performance of the Mi Box 4K, and the other is for things like gaming. I did not try to run benchmarks on this thing because honestly, that felt stupid.
In normal day to day usage, the Mi Box 4K blows right through everything. Launching apps is fast, navigation around the Android TV UI is as fast as I've seen in any Android TV powered smart TV (except the OnePlus TV which is just… wow). The Mi Box 4K doesn't really feel sluggish even after installing a bunch of apps on it. All good stuff.
If you're the kind of person who wants to play Asphalt 8 on their TV, you can do that as well. You will need a controller, obviously, but the game runs well enough. There are no major hiccups although I did notice some dropped frames occasionally.
Overall though, the performance here doesn't really leave you wanting.
Remote
Considering all the things I said about navigating the Android TV UI with a remote, I was expecting to not really enjoy using the remote here anyway. However, Xiaomi's remote is actually a pretty nice one. It has the most common buttons you will use, and a nice curved design that fits well in the palm.
There are dedicated buttons for Netflix and Prime Video, which I think is awesome because those are the two services that I use most often. That's likely true for most people out there as well. There's also a Google Assistant button here, which is good to have, but I personally don't like the experience Google Assistant offers here. I said as much in my comparison between the Mi Box 4K vs Fire TV Stick and you should go give that a read if you want more detail about this.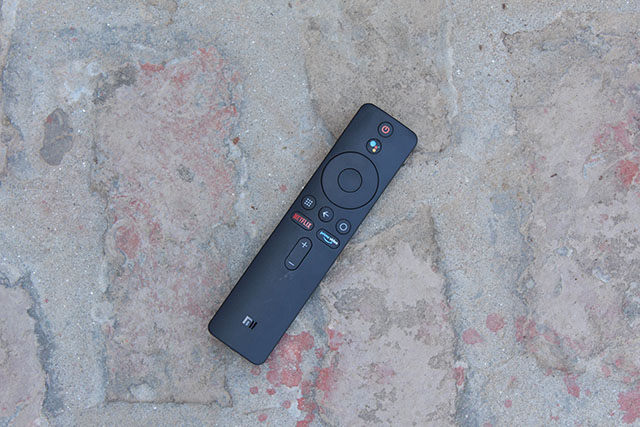 There's also the volume control, and other common buttons you'd find in most smart TV remotes here.
As I said before, the remote uses two AAA batteries for power and you absolutely need the remote to even set up the Mi Box 4K so make sure you buy AAA batteries for it.
Pros and Cons
Pros:
Sleek and stealthy
Great performance
Stock Android TV
No bloatware
Cons:
No batteries included. Really Xiaomi?
Pairing the remote can get annoying
Android TV UI isn't the best out there
Mi Box 4K Review: Should You Buy It?
So, the question here remains whether the Mi Box 4K is something you should buy. Honestly, yes. There's no question about it. The Mi Box 4K does more than what any other option in the market does at this price point. It has Netflix and Prime Video, it has 4K playback support, USB Type-A port, and stock Android TV. Its only real competition in the price is the Fire TV Stick, which at Rs. 3,999 offers only Full HD playback, and no additional ports.
Moreover, the Mi Box 4K comes with Chromecast as compared to Miracast on the Fire TV Stick/Fire TV Stick 4K (Rs. 5,999). That said, if you use Apple TV+, that app isn't available on the Mi Box 4K. However, it is available on the Fire TV Stick so that's something you might want to consider.
All in all, the Mi Box 4K is a value for money proposition for anyone looking to add some smarts to their old TV. It brings a lot of good stuff, and that too at an impressive price point.
Buy the Mi Box 4K (Rs. 3,499)
REVIEW OVERVIEW

SUMMARY

The Mi Box 4K is priced like an entry-level Android TV box but it brings along features along the lines of products that are priced almost twice as much. At Rs. 3,499, the Mi Box 4K makes an impressive choice for anyone looking to add smarts to their TV. It looks good, brings 4K support, and is way better than its competition.