Launched in May 2003, LinkedIn has emerged as the most popular social media platform for professional networking, with more than 500 million registered users from over 200 countries. However, while most of the features are available to users for free, one of the things that many users absolutely detest is the $50 subscription fee that has to be paid to make use of some of the more advanced features of the site. While that in itself isn't making people leave LinkedIn by the droves, many are starting to look for other platforms to forge professional connections. So in case you belong to that group as well, you should take a look at our list of the top 8 LinkedIn alternatives you should check out:
Best Professional Networking LinkedIn Alternative Sites
1. Xing
Xing is generally considered to be one of the biggest challengers to LinkedIn in continental Europe, although, the site a long way to go before it can be considered to be a true LinkedIn alternative globally. Like its more illustrious American counterpart, Xing is a platform that brings together job-seekers and headhunters in dozens of countries around the world. With over 14 million users worldwide, the site now claims to be the largest business network in Germany and German-speaking regions across Europe.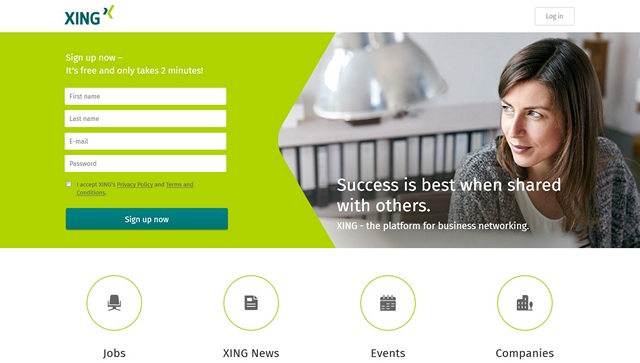 Like LinkedIn, Xing also operates on a freemium model, which means that the basic membership is free, but most of the premium features are hidden behind a paywall. So as an employer, if you want to search for people with specific qualifications, you'll need to pay up for that. Some of the other features include discussion forums and event coordination. The site is also available in at least 17 different languages at last count including, but not limited to English, German, French, Korean, Chinese and Turkish. Xing is also available as a mobile app on Android and iOS.
2. Meetup
Meetup is an online social networking website that claims to facilitate "offline group meetings in various localities around the world". Like Linkedin and most of the other platforms listed on this list, Meetup also started off as a web-only platform, but is now also available as a mobile app on Android and iOS. One of the cool features of Meetup is that its users can join groups based on common interests, which may include movies, music, sports, politics etc. According to the company, the platform is currently available in over 280 countries with over 32 million members in 280,000 groups. While individuals can join any group for free, organizers of these groups have to pay a subscription fee to the company.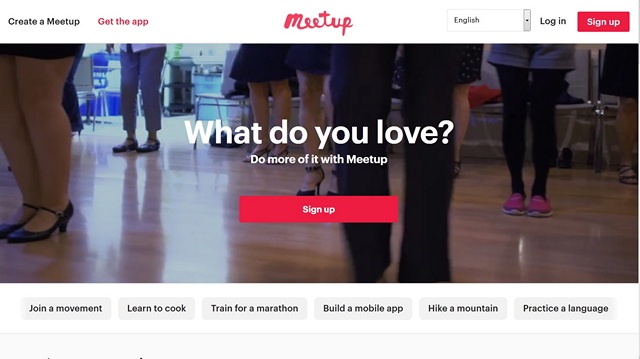 Meetup is a great tool for people to network in the real world, so if you need to arrange meetings or host events offline, this is one LinkedIn alternative that you simply have to check out. Overall, Meetup is a great place to network with like-minded people in the real world irrespective of whether you're looking to network professionally or personally.
3. Opportunity
Opportunity describes itself as an "online business network that uses a matching algorithm to find you business opportunities happening all around you and beyond". It is currently one of the best LinkedIn alternatives, matching  jobseekers with sales leads and like-minded professionals not just within a given locality, but from around the world. The site finds millions of new jobs every month from around the web and shares them with members who match the particular skills, interests and experience.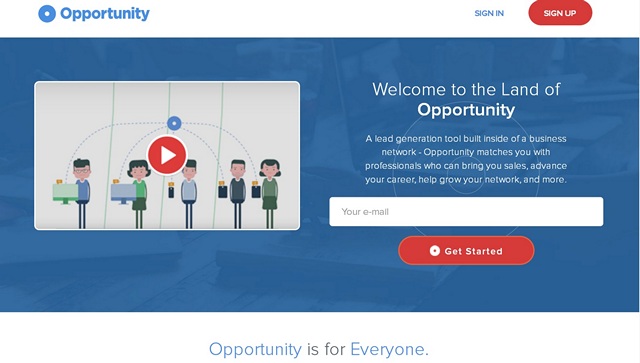 As you'd expect with any serious networking platform these days, Opportunity also has mobile apps on both Android and iOS to help jobseekers and headhunters conduct their business on the go. The app can be configured to send notifications to users every time a new, matching job is listed in the locality. Opportunity claims to have discovered over 380 million jobs from various online listings, while connecting over 50 million professionals in more than 190 countries.
4. Connect (Data.com)
Owned and operated by Salesforce, Connect.Data.com is a great LinkedIn alternative because it gives employers and job aspirants a great platform to interact with each other. Unlike LinkedIn, however, it comes with an unique proposition: it will provide its users with the contact number and e-mail ID of individuals from the targeted companies irrespective of their designation. Of course, the website can't help you if that info isn't already there in the company's business directory, but if it is, Connect promises that all the details are regularly updated to reflect the latest changes.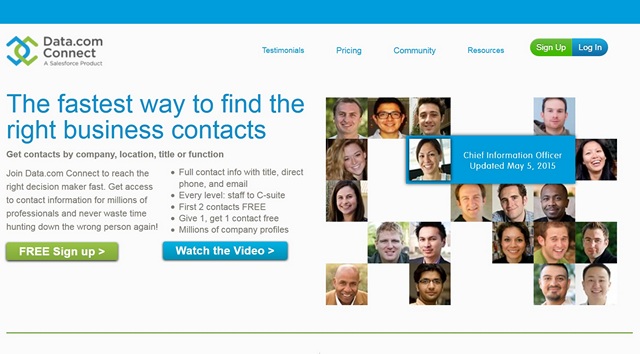 The website also allows users to search business directories by name, company name or by industry-type, so it should be really easy to start networking with individuals from the same industry in any given locality. While you can use some of the features of the website for free, the premium features will cost you as much as $250 per year.
Best LinkedIn Alternative Platforms For Freelancers
1. Upwork
While not strictly a 'networking' site unlike LinkedIn, Upwork offers a wide array of job opportunities for freelancers around the world. The site is a product of the mega-merger between Elance and oDesk in 2013, although, the merged entity only launched as Upwork a couple years ago. The site acts as an intermediator between freelancer and employers looking to hire professionals on a contract rather than on a full-time basis. Users can choose to hire or get hired either on a short- or long-term basis, so whether you're looking to pay per hour or per project, Elance has got you covered.
Listings include jobs for software developers, content writers, legal consultants, marketing experts, PR consultants and more. The platform now also has a real-time chat service that was described by the company's CEO Stephane Kasriel as a "Slack Killer". Like most of its competitors, Upwork also has new mobile apps on Android and iOS to make it easier to browse for opportunities online, irrespective of whether you're searching for work or looking to hire somebody.
2. Freelancer
Like Upwork, Freelancer is also not an exact like-for-like LinkedIn replacement, but unlike LinkedIn that works great for people looking for full-time employment, Freelancer is the place you'd go to if you're looking for jobs on a contractual basis. The website is one of the oldest surviving online platforms that brings together independent professionals and employers who're looking to hire freelancers on a contract. The platform has over 15 million registered freelancers and over 5 million registered clients who, between them, have completed a whopping 7 million projects.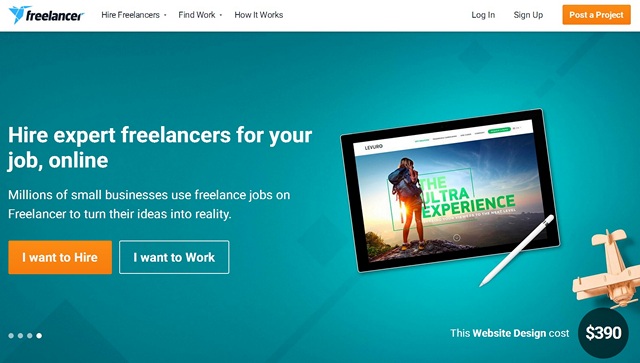 The one unique thing about Freelancer is that allows its members to bid competitively for each job, although, the number of bids are restricted for free members. In order to remove those restrictions, users need to sign-up for pro subscriptions that range from a nominal $0.99 per month to as much $49.95 per month if you need all the bells and whistles. The site also allows its users to host and enter contests for which prize money is offered as a reward. In addition to subscription charges, Upwork also earns revenues from commissions that range from 10% at the higher end to as low as 3% for premium account holders.
The Best LinkedIn Alternative Sites For Job Seekers
1. Indeed
Indeed.com is not an exact replacement for LinkedIn either, but it is generally considered to be the gold standard of job search websites with millions of job listings from thousands of sites, job boards and classifieds. The company posts thousands of new job listings every week, and claims to accommodate over a billion job searches every month. Users can create a free profile, upload a resume and search from job postings aggregated from around the web. As with other job search websites, you can filter your results via category,  location or salary. Like LinkedIn and many of the other sites mentioned on this list, Indeed has mobile apps for both Android and iOS, which makes it easy to search for jobs on the go.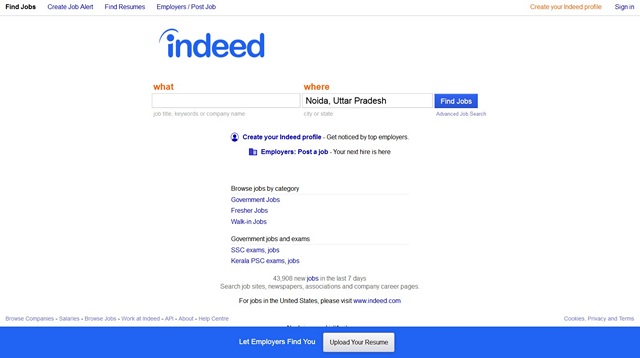 While Indeed.com is a great tool for jobseekers looking to find employment, it is also a highly resourceful tool for employers and headhunters, allowing them to browse through tons of resumes and get in touch with job aspirants who fit the profile. One thing that many first timers on Indeed find off-putting is the spartan layout of the home page, but that minimalist UI seems to be doing pretty well for the website, seeing as it is currently within the top 200 most-trafficked sites in the world according to Alexa.
2. Monster
Monster.com is one of the largest and most popular portals for jobseekers looking to catch the attention of headhunters from around the world. Founded way back in the nineties, the site has grown to become one of the most heavily-trafficked employment websites in the world according to Alexa. Like LinkedIn, Monster.com also has Android and iOS apps that you can download from the Play Store and the App Store respectively. While the site was once the leading platform for job-seekers worldwide, it was overtaken by Indeed.com in 2010 and has played second fiddle to its younger competitor ever since.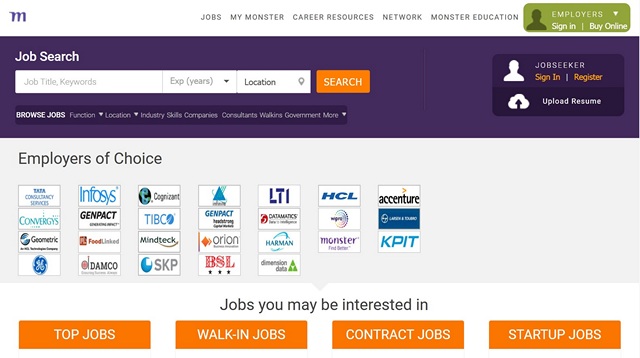 While you normally get to search, view and apply for jobs in and around your locality, the site also has a cool "International Search" feature that presents you with a list of job opportunities from around the world based on your skills. You can also save your job searches for future use, set e-mail job alerts, and edit cover letters, making Monster.com an easy recommendation for anyone looking to net a job online.
SEE ALSO: 15 Best Freelancing Websites 2017
The Best LinkedIn Alternatives You Can Use
While LinkedIn remains the leading professional networking platform in the world (and is likely to remain so for some time to come), there are many other options available on the net to help you make meaningful connections. The websites mentioned above generally work very well from what we've seen and experienced, so even if you have no intention of jumping off the LinkedIn bandwagon any time soon, you should still check them out if only as additional resources, because you never know where the next big break will come from. So, are you currently on LinkedIn, and if so, are you happy or looking elsewhere? Whatever be the case, do let us know about your thoughts, because we love hearing from you.
---
Load More