For the most part, truly wireless earphones feel very much alike. True, you can get them in a variety of price ranges with a bunch of features, but they are essentially similar features with improvements as you go up in price. The LG Tone Free HBS-FN7, however, are different. These TWS earphones from LG come with a unique UVnano case that kills bacteria on your earphones to keep them clean and sanitary. Something that's becoming even more important during this pandemic.
That said, they are also priced incredibly high at Rs. 29,990. A price point where you end up knocking heads with the AirPods Pro and the Sony WF-1000XM3. So, if you're thinking of buying a pair of new truly wireless earphones and the LG Tone Free have caught your eye, here's our review of the LG Tone Free HBS-FN7.
Design and Build
First things first, I'm really quite impressed by the design and the build of these earphones. That started off pretty much the moment I took these out of the box. The earphones come in a really pretty looking, compact charging case that's probably one of the nicest looking cases I've seen on TWS earphones that aren't AirPods.
It's also built really well, with high quality plastic and while the glossy body does make me wonder if it will be as much a scratch magnet as my AirPods case is, there's no denying it looks pretty.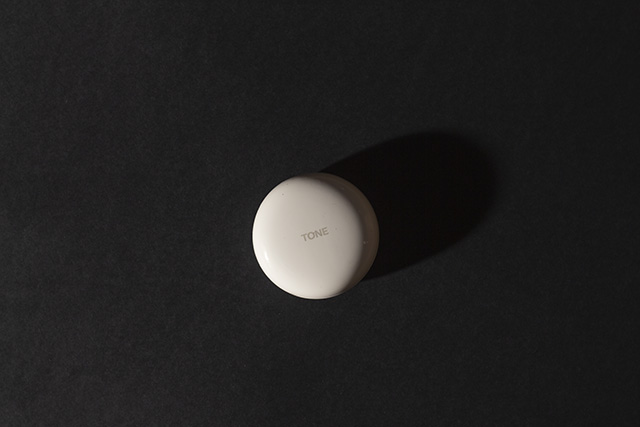 There's not a lot of unnecessary design flair on the case, though I would have liked to not have the 'TONE' branding on the lid either, but it's a fairly minimal looking design and I appreciate it. You get a single button on the side for pairing, and two LED indicators up front: one for the charge status, and one for UVnano.
Opening the case isn't as satisfying as I had hoped it would be, but it closes with a nice thump that is weirdly satisfying. Inside, the earphones lay really nice, with mood lighting that turns on the moment you open the lid.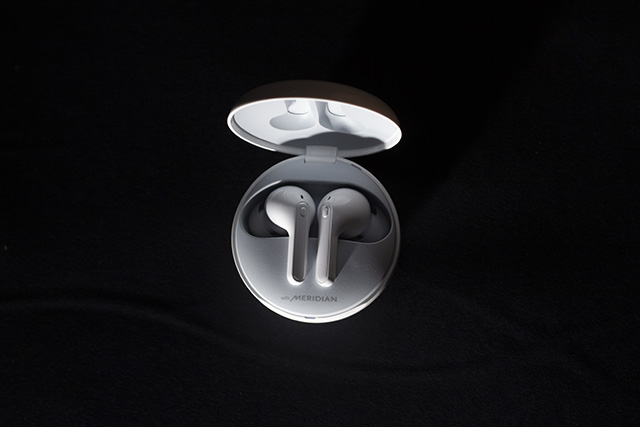 The design of these earbuds reminds me of AirPods Pro to some extent. While I don't hate that because I do like the design of the AirPods Pro, these look relatively less well built than their Apple counterparts. That's a little disheartening, especially considering these earphones are pricier than the AirPods Pro are.
Other than that, the earphones come with IPX4 splash resistance so they are well suited for working out.
Comfort and Fit
Other than the sound quality, which we will discuss later, one of the most important things with a pair of earbuds is the comfort and fit. And these earphones are just really comfortable to use.
I have been using them constantly for hours on end, without any issues with the earbuds hurting my ears, or feeling uncomfortable in any way. That's definitely a win.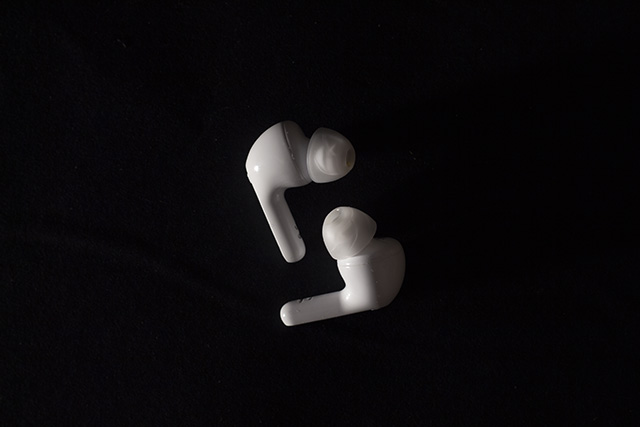 Since these are in-ear earbuds, they have silicon ear-tips, and while the pair that came attached to the earbuds out of the box fit my ears perfectly, if you have smaller or larger ears, you can use the replacement tips that LG includes in the box.
Overall, I really appreciate how well these earphones fit in my ear, and how comfortable they are. Surprisingly, these fit better than the AirPods Pro do. However, you do miss out on the AirPod Pro features such as pressure balancing which really makes a difference to how comfortable earphones feel in the ear.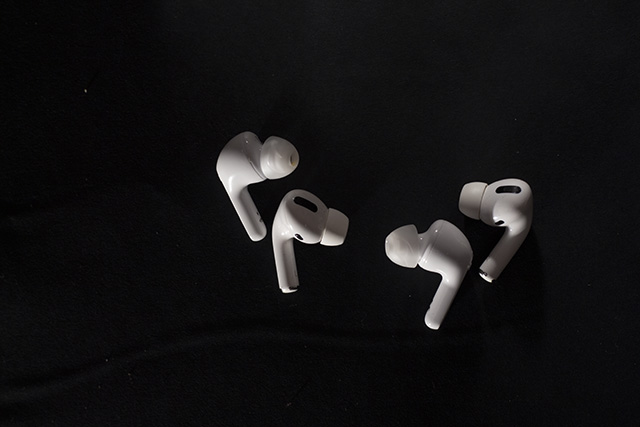 That's not too big a deal, especially if you've never used AirPods Pro. However, if you have, and you're used to the pressure equalization that they do, you'll definitely want that here as well.
Sound Quality
Moving on, as I mentioned earlier, sound quality is extremely important on a pair of earphones. And at Rs. 30,000, the LG Tone Free HBS-FN7 have a lot to live up to. They are competing outright against industry standards like the Sony WF-1000XM3 and the AirPods Pro.
To be fair, the LG Tone Free HBS-FN7 sound incredibly nice. Truly, they do a great job of instrument separation, and they have a wide soundstage, which I really appreciate because it's quite difficult to do that well on earbuds. They also do a solid job of ensuring that the highs, mids, and lows all remain well balanced and don't get overpowering.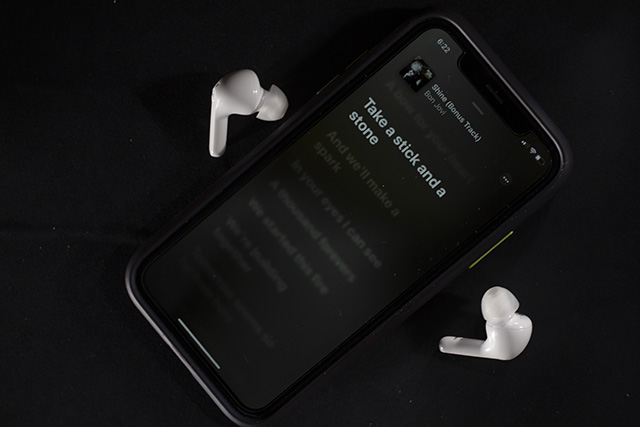 In fact, I think these sound just as good (if not slightly better) than the AirPods Pro in most cases. Ranking wise, I'd say the Sony earbuds are still the ones to beat in the premium TWS segment, but these are definitely second, with the AirPods Pro coming in at third in the sound department.
Music Control and Interactions
Obviously, with wireless earphones, you need some way to control the music, volume, skip tracks and more. The LG Tone Free HBS-FN7 let you do almost all of that with ease.
The earphones come with touch sensors, similar to the AirPods, instead of pressure sensitive stems like the AirPods Pro. Whether that's a good thing or not is definitely subjective. However, in my personal opinion, I prefer the pressure sensitive stems.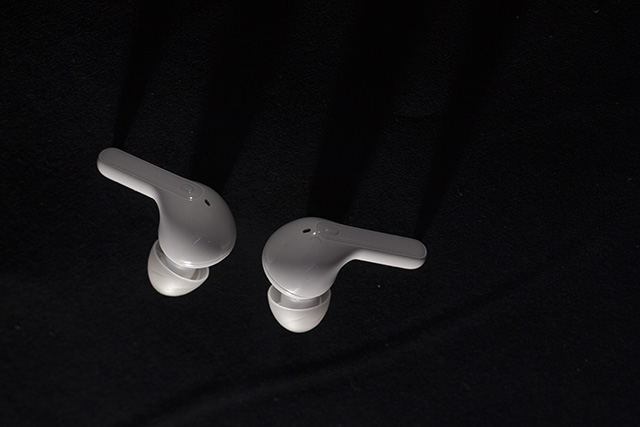 With the Tone Free, I often end up playing/pausing music when I'm inserting the earphones into my ear, or simply adjusting them for a better fit. That's not an issue with pressure sensitive stems on the AirPods Pro.
Anyway, here is everything you can do with the touch sensors on the LG Tone Free HBS-FN7:
Single tap on either earbud: play/pause music; answer call
Double tap on right earbud: increase volume; end call
Double tap on left earbud: decrease volume; end call
Triple tap on either earbud: play next song
Long press on either earbud: Toggle noise cancellation/ ambient mode
You can also customise these functions if you desire, with the Tone Free app that's available for both Android and iOS devices.
App Control
To be honest, you can use these earphones without ever downloading the LG Tone Free app on your smartphone. However, if you want access to all the features and customisation for these earphones, I'd recommend you use the app on your phone.
Within this app, you get a nice visual display of the battery levels for your earphones and the charging case which can be really helpful because the battery indicator LED only shows ranges of values.
The app is also where you can check (or customise) the various functions performed by tapping, double tapping, as well as holding the earphones' touch sensor.
You can also toggle between Noise Cancellation on, ANC off, and Ambient Sound mode from the app if needed.
There are a bunch of other features here as well. There's an equalizer with some useful presets (although for most cases the 'bass boost' EQ seems to sound best). You can also create custom EQ presets for your listening preferences here.
Moreover, you can enable notification readouts from the app, find your earbuds if needed, and update the firmware when LG pushes out new updates for the HBS-FN7.
Noise Cancellation
At Rs. 30,000, you'd obviously expect these earphones to come with noise cancellation support, and they do. Once again, they are competing against industry standards set by the Sony WF-1000XM3 and the AirPods Pro, and these don't hold up as well.
Noise cancellation on the LG Tone Free HBS-FN7 works quite well, don't get me wrong. However, if I was to compare the ANC here with that offered on the AirPods Pro, or Sony's offerings, these are definitely not as good as those earphones.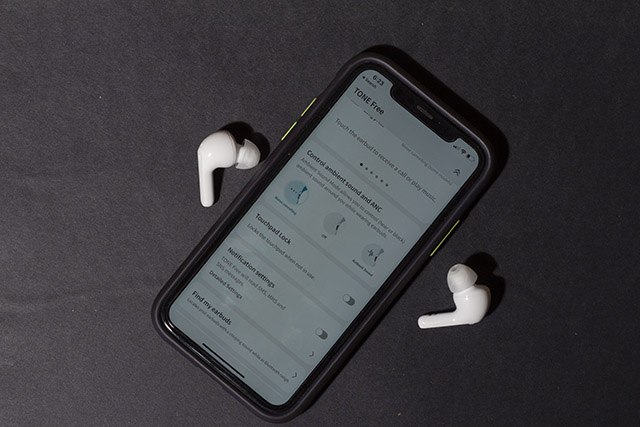 If you increase the volume to a relatively higher volume on these earphones, you will probably not hear outside sounds. However, at lower volumes, the noise cancellation doesn't seem to be that effective. I could even hear myself typing through these earphones – something that's never been the case with the AirPods Pro.
If I were to rank these earphones, I'd say these come in third behind the Sony WF-1000XM3 and the AirPods Pro.
UVnano
One of the standout features about these earphones is the built in UV sterilization within the charging case. LG claims that this can kill 99% bacteria in just 10 minutes.
Obviously I have no way of testing this claim, but there's really no reason to doubt LG's claims either.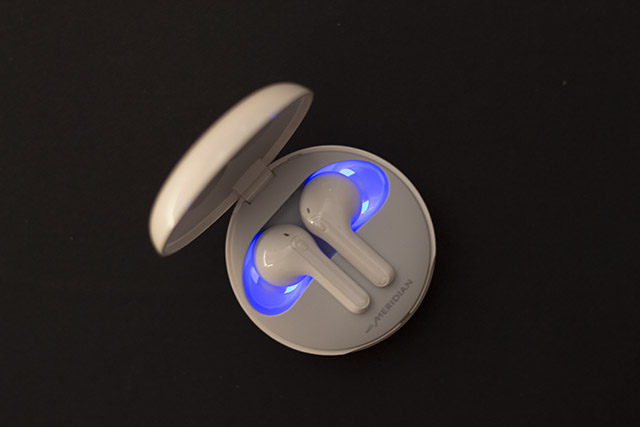 It's noteworthy, however, that the UVnano feature only gets activated when the charging case is being charged. You can't use the feature while you're out and about, which sort of defeats the purpose a bit, but it's not an issue. After all, other earphones don't even have this feature, and in these times when we're compulsively washing hands and sterilizing everything that comes into contact with our bodies, this is a feature I appreciate having.
Connectivity
For connectivity, the earphones use Bluetooth 5.0, which isn't anything to complain about. Plus, they support Google Fast Pair so they can pair quickly with supported smartphones.  They also support AAC and SBC codecs in case you're wondering about that.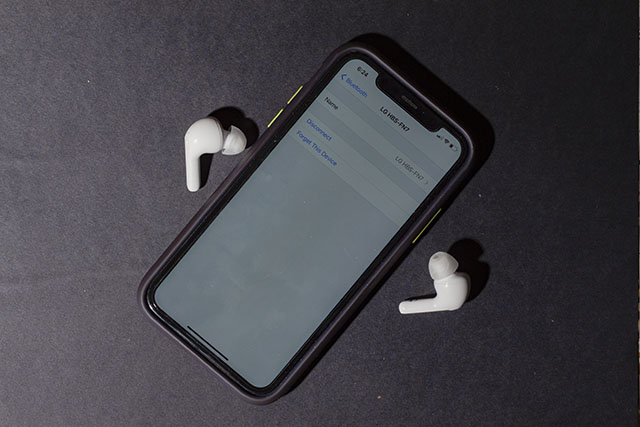 I don't usually like earphones in just one ear at a time, but I did test that out, and it's entirely possible to do that with the LG Tone Free HBS-FN7. So if that's a use case you need, it's there for you.
Battery
LG says that the earphones have their own 55mAh batteries, and the charging case comes with a 390mAh battery to charge the earphones a couple of times over. That's a good thing to have, especially considering the battery life of these earphones comes in at around 4 hours with ANC turned on.
In my usage, I was getting around 4 hours of use with ANC turned on. That's not shabby, but yeah, if you're on a trip or in a long flight, you will need to charge them with the case. Fortunately, you can do get an added two charge cycles with the charging case.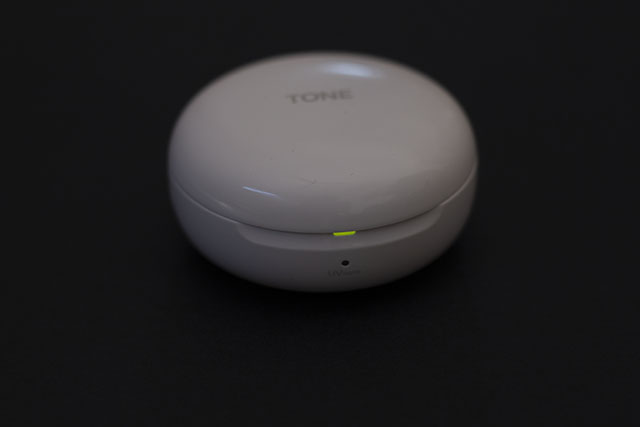 As for charging, the charging case itself can be charged with a USB Type-C cable (included in the box) or wirelessly as well. The case takes around 2 hours to charge completely from 0%, while the earbuds themselves can be charged by the case in around an hour.
Pros and Cons:
Pros:
Great sound quality
Excellent design and build
Built in UV cleaning
Cons:
Noise cancellation isn't at par with competition
Pricey
LG Tone Free HBS-FN7: Should You Buy?
At Rs. 29,990, the LG Tone Free HBS-FN7 are a pricey offering, even compared to the Apple AirPods Pro which come in at Rs. 24,990. At this price, recommending these earphones seems incredibly difficult, especially considering that Sony's industry leading WF-1000XM3 come in at just Rs. 19,990 and offer better noise cancellation and sound quality.
I really want to recommend these earphones, because they are quite impressive really. However, at this price point, I don't think LG has enough on offer here to make a compelling argument. If you ask me, I'd recommend you go with the Sony WF-1000XM3. Those will save you Rs. 10,000, and bring better sound quality and top of the line ANC.
The only reason to consider the LG Tone Free HBS-FN7 against offerings from Sony and Apple is if you're really looking for the UV feature, or the incredibly tiny (in comparison) carrying case, and I don't think those are features worth spending Rs. 10,000 extra.
---
Load More