If you are a gamer who travels around, you might find yourself in a tight spot. Most gaming components perform but do so after weighing in a few kilos at the least. Well, laptop makers in 2022 recognized the need for portability and are coming out with their own lightweight gaming laptops. One such company is Lenovo, which released the Lenovo Legion 7 Slim in India nearly a month ago. And this is a gaming laptop that you can actually carry around without it feeling like a brick. But how does the Legion Slim 7 gaming laptop perform, are there any compromises, or does it actually live up to its promises? I was curious about the same, so I decided to test out the Legion Slim 7 for a few days and see for myself. Here's what I think about it.
Lenovo Legion Slim 7 Review (2022)
Since I talk about the finer aspects of this laptop in great detail, I have divided the review into various sections, including design, display, performance, build quality, and more. To quickly check out a particular section you're interested in, use the table below.
Lenovo Legion Slim 7: Specs Sheet
Before I share my opinions on this gaming machine, here's a quick look at the specs sheet of the Legion Slim 7:
| Dimensions | 35.6 x 25.2 x 1.9 cm |
| --- | --- |
| Weight | 4.2 pounds (1.9 kg) |
| Display | 15.6- inch WQHD (2560 x 1440), 165Hz |
| CPU | AMD Ryzen 7 5800H |
| GPU | NVIDIA RTX 3060 Laptop GPU, 6GB GDDR6, 100W TDP |
| RAM | 16GB DDR4 Hybrid [2x 8GB 3200Mhz] |
| Storage | 1TB NVMe PCIe 3.0 SSD |
| Ports and I/O | 4-in-1 SD Card Reader, Headphone/ Mic Jack, 2 x USB Type-C (DisplayPort, USB 3.1 Gen 2), 2 x USB-A 3.2 Gen 2 (1x Always On) |
| Wireless Connectivity | 11AX (2x2) & Bluetooth 5.1 |
| Software | Windows 11 out-of-the-box |
| Battery | 71Wh |
Design and Build Quality
A big part of a portable machine is the design language that goes with it. Lenovo opts for an intricate combination of sleek and professional design. While a first look at the laptop may have you mistaken it for a work laptop, the gamer-esque aesthetic when you open the lid quickly corrects that assumption.
The entire body of the Legion Slim 7 has been crafted from high-grade metal that feels premium to the touch and boasts a sturdy build. The top exterior has been divided into two sections at the hinge. The A-panel (or lid) carries an iridescent Legion logo at the top left and the Lenovo tag at the bottom right. It offers a minimal aesthetic, which I really like, but the lid is also a bit of a fingerprint magnet.
The hinge separates the lid from a small section with light-up icons for the charging and I/O ports that you can use to plug-in devices. The I/O ports are flanked by air cooling vents on either side.
The bottom of the laptop follows the same premium aesthetic and has a large rectangular vent for ventilation with rubber feet for stability. While the overall design does sport rounded corners, they still feel a bit sharp and might be a source of discomfort from time to time.
Opening up the lid through the inner cut-out reveals the interiors that look as amazing as the exteriors. The inner body follows the same language and has smooth metal as the base for the keyboard and trackpad, which is of ample size. The display itself has little to no bezels, except for the bottom bezel, which is a bit large. I feel Lenovo could have done away with that and perhaps added a bigger display with a 16:10 aspect ratio. However, the laptop compensates for that with a cool Legion logo and a power button below it, which doubles up as a fingerprint sensor. The hinge of the Slim 7's display is thin yet strong.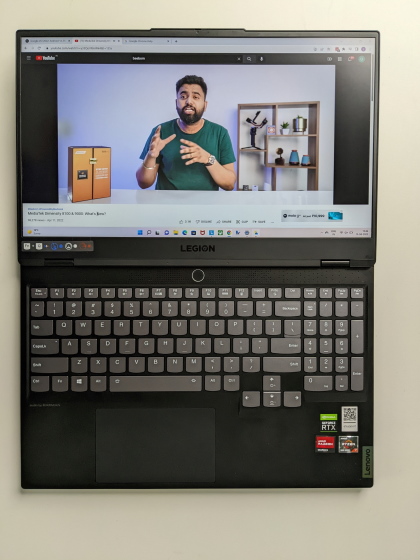 The build quality of the laptop itself is fantastic, and it is durable both in looks and feel. There is little to no body flex even when trying to intentionally do so. While the display itself does wobble around just a bit, I can hardly see a situation when that could be a problem. Plus, for those who might be inclined, the display has a 180-degree hinge and can be opened with just one finger.
With the clue in the name, I decided to pick up the laptop and it stands true to its name. Weighing in at 1.9 kilograms, the Legion Slim 7 is a lightweight gaming laptop that is easy to hold and carry around. With an overall body thickness of 15.9mm, this laptop is extremely slim and even beats the Infinix INBOOK X1, which is an affordable and lightweight work laptop.
Combining a simple yet professional design, robust build quality, and portability that is no-nonsense, the Legion Slim 7 really impressed me when it came to the overall design. If you're a gamer who travels around a lot and wants a laptop that's lightweight and also looks the part, the Legion Slim 7 will do it for you.
Display
A laptop with good components, but a bad display may as well have nothing at all. Fortunately, the Legion Slim 7 has the display to back up its design and hardware. The laptop features a 15.6-inch WQHD display with a resolution of 2560 x 1440 pixels and a refresh rate of 165Hz. While you may think color accuracy will be neglected, the display also has 100% sRGB support. Paper specs aside, I decided to test this laptop's display through a combination of daily media usage, work, and play.
I am happy to say that the Legion Slim's 7 display thoroughly impressed me in all aspects. Be it watching 4K shows, movies, and videos on Netflix and YouTube or playing Apex Legends every day, the laptop delivered a fulfilling viewing experience. Also, the high resolution made sure more detailed content was supported on the display, which made it all the more fun.
A big doubt I had with the display was the peak brightness of 300 nits. However, it proved to be enough and I did not find myself wanting to turn the brightness up while consuming content indoors. The matte display here also helped matters as glossy displays always annoy me. But keep in mind that the display naturally has no HDR support.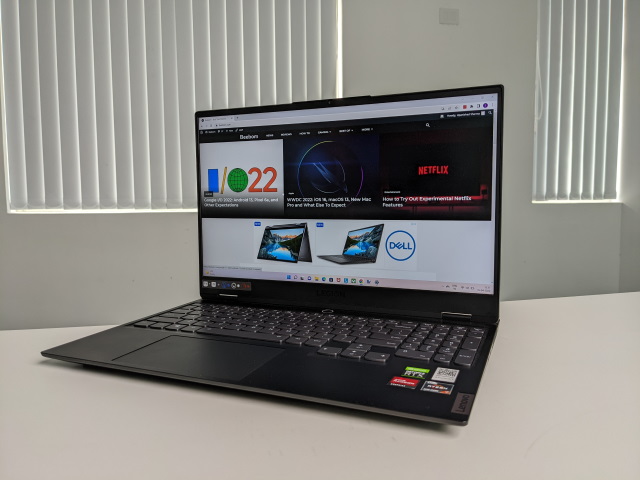 The color accuracy of the display itself is stunning with colors appearing extremely vivid while not being oversaturated. The black tonality matches the same note and I saw deep rich blacks with minimal graying around the display. The same color accuracy was met, no matter whether I was working, gaming, or doing anything else. And if you are someone who wants to mess around with color profiles, the X-Rite Color Assistant lets you select different color profiles for that perfect pick.
If you are someone concerned just about daily work, the Legion Slim 7's display has your back here too. The text is sharp and legible, while the overall evenness of the display means you can go on working long hours without eye strain.
The Lenovo Legion Slim 7's display gets a lot of things right no matter which usage case you want to use the device for. While the 300 nits of brightness and no HDR might irk some users, there are more than enough perks on offer to downcast these.
Performance
Packing an AMD Ryzen 7 5800H CPU with an Nvidia GeForce RTX 3060 GPU in a lightweight laptop is no small (pun intended) feat. This is further bolstered by dual-channel 16GB RAM running at 3200Mhz. In terms of storage, you have a 1TB NVMe PCIe 3.0 SSD with read/ write speeds of 3571 and 2969 MB/s, respectively.
With specs like these, one would assume that everything would be a breeze. The Legion Slim 7 review unit I tested had these same specs, but I decided to check the performance for myself. I tested out this laptop in different scenarios to see how it actually performs. Read on and find out for yourself.
Daily Usage
My daily usage as a writer is not too heavy when it comes to hardware. However, there are times when stuff ramps up, and I find myself with 20 different tabs open while multiple videos/ songs play in the background. I decided to test out the Lenovo Legion Slim 7 with the same usage, and it impressed me a lot.
The Ryzen 7 5800H-powered laptop handled all the browser tabs and apps I threw at it on the chin. Even while editing images on Paint.net with multiple 4K videos playing ion YouTube n the background, the CPU usage only went as high as 22%. I encountered absolutely no lag or stutter while using the laptop, and the performance was the same on the battery as on the adapter. The RAM too showed the same resilience with the system handling everything perfectly. Even in times when RAM-hungry Chrome used as much as 4GB in one session, I had plenty more to spare of this 16GB 3200Mhz setup and had no problems.
Even though I do not use software like Premiere Pro normally, I decided to test it out on this laptop. The same result came through as there was no lag while editing and rendering videos. While the CPU did accumulate some heat, it was automatically and dissipated via Lenovo's smart cooling tech, which I will talk about below.
If you're a gamer who is concerned their laptop won't be able to handle daily usage, you have another thing coming. The Legion Slim 7 can not only handle daily usage, but crush it easily.
Benchmarks
While practical use is always a better indicator compared to benchmarks, I ran them all to see how the Slim 7 handles it. I decided to run the ever-popular Geekbench 5, Cinebench R23, and 3DMark Fire Strike to see how the machine fares. This is what I found.
Geekbench 5

Running Geekbench 5 was a quick process and gave out some impressive scores. With single-core scores coming at 1415 in the result, the Legion Slim 7 comes right below the Ryzen 9 5900HX, which is a higher-end chip. The multi-core score is equally impressive at 7064, and the CPU is close with the Intel Intel Core i7-9700K which is an unlocked desktop chip.
Cinebench R23
Another intensive benchmark on the CPU, Cinebench R23 is a benchmark that stresses the CPU a lot. I ran the single and multi-core scores to see how it fares. The results were again impressive as the scores surpassed the threshold for daily use and even performance laptops.
Cinebench R23 scored 1274 and 12212 in single and multi-core scores, respectively. Both the scores are pretty high and go against slightly older desktop chips like the Intel i9-9960X and Ryzen 9 3950X when it comes to single and multi-threaded performance. Yeah, no matter if you're someone running a single app or using up all the cores of the Ryzen 7 5800H, these scores translate to great performance.
CrystalDiskMark
The Legion Slim 7 features a fast 1TB SSD that can give and sustain high levels of read/write speeds. I tested the company's claims with CrystalDiskMark. Running through 5 passes of an 8GB file, the disk gave out read speeds of 3571 MB/s and write speeds of 2969 MB/s, respectively.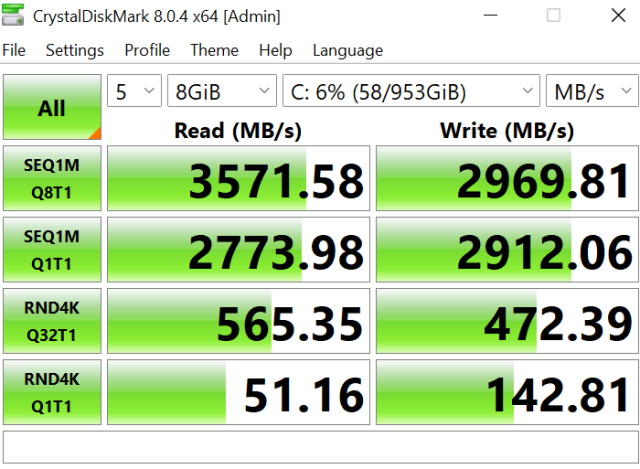 While the SSD speeds are not as fast as the latest Gen 4 speeds, that makes little to no difference as performance is still exceptionally high. Besides the high score, all my copy and paste work was almost instant and same was the case for loading time in games and applications.
3DMark Fire Strike
The Fire Strike benchmark is an intense one and is designed to test out the system's GPU and see how well it runs. The RTX 3060 laptop GPU has a 6GB GDDR6 VRAM with wattage that can go as high as 100Watts. While that is naturally not the best of what is out there, I can see why Lenovo would cut out TGP in exchange for making the entire setup lighter.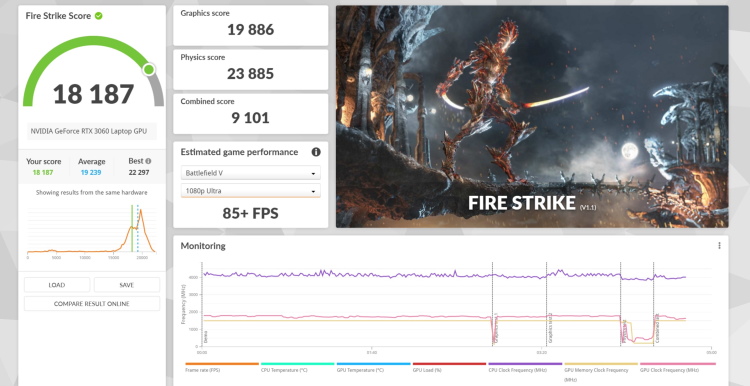 Nevertheless, 3DMark Fire Strike rendered out an impressive score of 18187, which turned out to be better than 82% of all results. Checking further, the results indicate that the Legion Slim 7 can easily run AAA titles at varying resolutions of 2K and FHD with ease and get 65+ and even 100+ FPS in well-optimized games.
As you can see for yourself, all the benchmark results are impressive and point towards a laptop that can handle much more than its light construction. While usage proved the same, it's time to see how the Legion Slim 7 performs in the area it's made for – gaming.
Gaming
Coming to the centerpiece of what the Lenovo Legion 7 is made for, gaming is something the machine should be able to handle easily. The RTX 3060 laptop GPU with a TGP of 100Watts is capable of pushing its full 6GBGDDR6 memory easily. However to get actual metrics, I decided to run a few games like Rainbow Six Siege, Elden Ring, and GhostWire: Tokyo. I decided to use the native 2K and FHD resolutions on Ultra settings to see a varying range of performance. This is what I found:
Rainbow Six Siege
R6 Siege itself is a well-optimized game in 2022. Nevertheless, it is also a game that utilizes a lot of CPU/ GPU power when run on high settings. Being a Siege player with over 3000 hours clocked in, I am no stranger to playing this game. I decided to test it out in varying settings and the results were very impressive.
Runnning on 2560×1440 resolution with everything set to Ultra, the game outputted an average FPS of 137. The frame performance remained constant on different maps. Detailed textures like environment destruction, uniform and weapon details, and map textures were all vivid and without break.
As I went roaming around while playing Caveira through Clubhouse, the FPS jumped as high as 159. While the GPU did reach the 80 degree Celsius mark, it didn't go a step further as the Legion 7's excellent cooling didn't let it.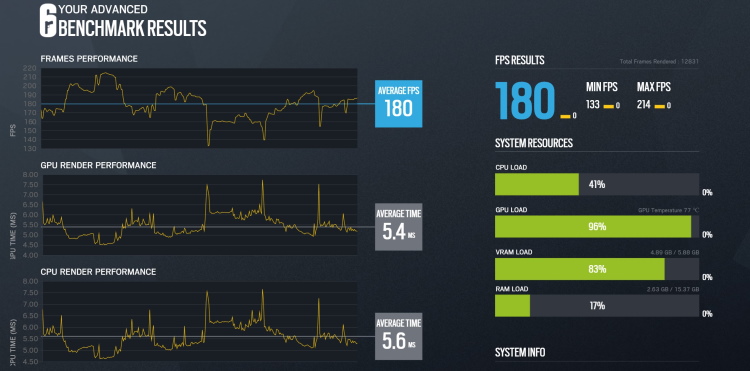 Lowering the resolution to 1920 x 1080, the FPS averaged at 180 frames and went above the screen's refresh rate. While the textures were naturally downgraded by a bit, the higher FPS delivered even smoother gameplay. As before, the Legion Slim 7 even pushed the FPS as high as 214 which is simply insane.
The overall performance at both resolutions was extremely impressive, and I had lots of fun pixel peeking spawn peekers in Siege.
Elden Ring
Elden Ring is making waves as of late, and it was obvious I had to try it out on this machine. However, the devs have also implemented a 60FPS lock PC. Finding a way around that, I tested the game out in various settings.
Running the game on Native 2K with Ultra settings, Elden Ring dished out a constant 70+ FPS. While this might sound low compared to Siege, keep in mind Elden Ring is extremely vivid and features maps that are highly detailed. Even with all the add-on stress, Elden Ring maintained its high FPS, and I had fun dying over and over again.
I further pushed the game down to 1080p on Ultra, which gave me over 100+ FPS and even reached around 120 in certain scenarios. Like before there was no lag or micro stutters and the overall experience was very enjoyable.
GhostWire: Tokyo
While audience reception of GhostWire: Tokyo has been divided, I simply loved finishing this game. Also knowing that the game itself is demanding because of its effects and Ray Tracing, I tested it out.
The standard 2K Ultra pre-set rendered around 55+ frames with certain situations pushing it over 60. While sub 60 FPS might sound terrible to you, remember that GhostWire is an extremely demanding game that is not that optimized. However, despite that I had an enjoyable experience.
Ray Tracing on 2K, however, was not a smooth experience. With RTX on at low, the GPU could manage was 35+ FPS on normal gameplay. While there were no stutters, this low FPS took away from the experience, and I didn't have fun. I still wanted Ray Tracing at medium, so I turned it down to 1080p resolution. The experience there was better as I got 50+ FPS which is still a huge boost. If you're a stickler for Ray Tracing, I recommend keeping the game at Low/Medium graphics on FHD resolution to get the best performance.
Ultra 1080p performance as expected didn't break a sweat as I got over 100+ FPS while I battled away multiple Slendermen with KK. So, I found gaming on the Legion Slim 7 an enjoyable experience. While the low Ray Tracing performance is a concern, it is obvious that the low 100Watt TGP is partly a cause for it.
While Lenovo could have gone a bit further with the wattage, it is a compromise that comes with a lightweight gaming laptop. Despite this, however, the Legion Slim 7 stands tall when it comes to high-performance gaming and offers solid performance to wattage ratio.
Software and Lenovo Vantage
Almost every laptop manufacturer these days provides specialized software that acts as a control center for the machine. The Legion Slim 7 is no exception, as the built-in Lenovo Vantage software is the command hub for the device, which comes with Windows 11 out of the box. Featuring real-time CPU, GPU, RAM, and SSD usage, Vantage allows a user to monitor their laptop's performance constantly.

However, that's not where its merit lies. Vantage also serves as the home to Lenovo's custom-tuned thermal profiles that kick in when the laptop needs them. Classified under Performance, Balance, and Quiet Mode, these thermal modes automatically adjust the laptop's performance and fan speed to fit the situation.
Besides this, Vantage holds an immense number of settings, including one to turn on/off Hybrid mode to your liking. Lenovo Network Boost prioritizes your game whereas overdrive minimizes the response time of the display even further. You can also fine-tune many other settings, including webcam, mic, keyboard, battery optimization, and more.
Thermal Performance
While I've already explained the laptop excels at gaming, I want to quickly talk about thermals. The Lenovo Legion Slim 7 features a turbo dual fan design with multiple exhausts on the sides and back. While mistaken for something small at first, the Slim's 7 cooling system is surprisingly efficient.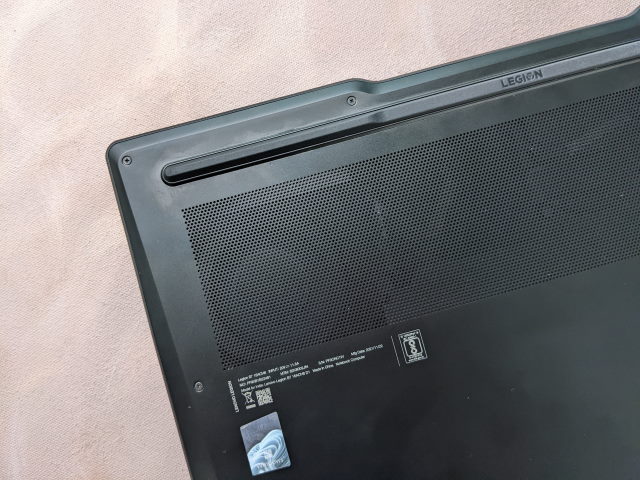 During my hours of playing through various games, the Nvidia GeForce RTX 3060 consistently remained under 80-degree Celsius. Considering the fact that the GPU usage was always 99%, this is seriously impressive. Lenovo's smart Coldfront Cooling essentially looks the hard work away as the system started its boost cooling as soon as the temps went up. I only needed to put my hands near the vents to see how hard the fans were working.
If you're a gamer who likes to ramp the settings up for eye candy, you will appreciate the Slim 7's cooling as it keeps the temps down and the performance high.
Keyboard, Trackpad, and Fingerprint Sensor
While the Lenovo Legion Slim 7 is a gaming laptop, that does not mean its keyboard shouldn't be a nice one to type on. The Legion Slim 7 features an RGB backlight keyboard that is compatible with Corsair iCUE technology. There is also a dedicated numpad that sits snugly on the right side of the laptop.
Typing on the Legion Slim 7 keyboard itself is a nice experience. Hitting the keys give off an impact that while not too tactile hits the right notes and feels good to the fingers. The key travel itself is quite low, so I did not find myself waiting to push the entire key down repeatedly. The keycaps have a U-shape, which makes maintaining good typing form easy. It helped eliminate fat fingering for me, no matter in work or gaming. While I am already accustomed to typing, my typing test results went even further with 70WPM.
Gaming on the keyboard itself is as fun as typing. The WSAD keypresses are swift and responsive and all games registered my movements quickly. For the times I felt like having RGB effects on my keyboard, I opened up the Corsair iCUE app and cycled through the various keyboard light effects to add more fun to my gaming experience. I also appreciated the fact that pressing Fn only highlights the function keys on the keyboard, which is handy and cool.
The Legion Slim 7 features a glass surface multi-touchpad that works well. The trackpad itself lacks any texture, which means your fingers easily slide across it. It naturally supports precision gestures that are easy to perform repeatedly. While the clicks on the trackpad do feel a bit rough, I got used to it quickly enough. However, the trackpad is placed in an awkward position to the left which sometimes had me registering annoying misclicks on the laptop. This, I suppose, will take more time to get used to.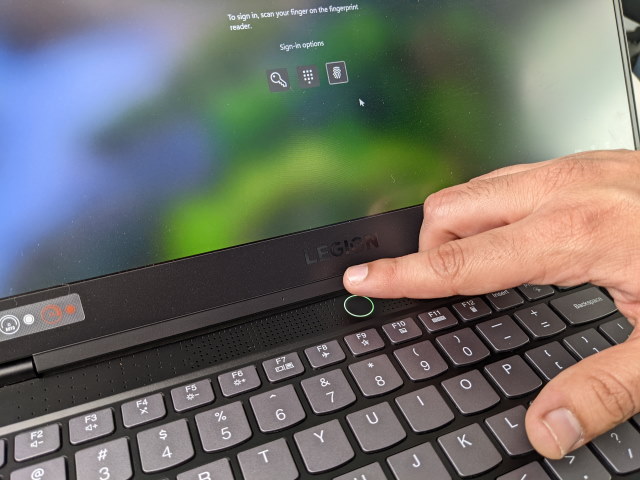 If you're someone who values their security and privacy, the power button houses a fingerprint sensor that works really well. Once registered, the sensor registered my fingerprint in microseconds and the laptop unlocked easily. The power button too has a cool ring light around it that looks nice.
Despite that, however, both the trackpad and keyboard are impressive and will see a gamer/ casual user through their daily flow easily.
Ports and Connectivity
The Legion Slim 7 features a modest set of I/O ports that will work for an everyday gamer. The left side of the laptop houses a 4-in-1 SD card reader with a mic/ headphone jack. That's it. The right side of the Slim 7 has 2 Type-C ports, which are both DP and USB 3.1 Gen 2 compatible. And those looking for more, the laptop's back has a pair of USB Type-A ports, with one port having an always-on function, and Power In.
You will immediately notice that the laptop does not have an HDMI or Ethernet port. However, given the focus Lenovo has for the Slim 7, this is hardly a surprise. Given how both the ports will increase the overall thickness of the laptop, the company decided to do away with them. While I can still substitute the HDMI with the DP, I found the lack of a LAN port disturbing.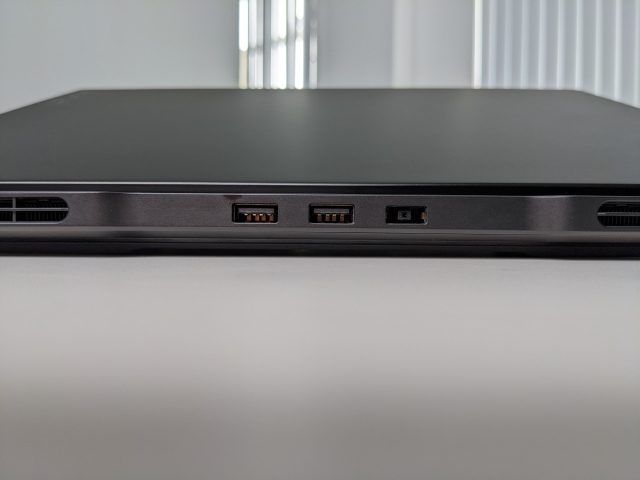 In terms of wireless connectivity, the Legion 7 Slim does come with Killer Wi-Fi AX1650 and Bluetooth 5.1. However, there are times when one just needs a good old ethernet connection to hook their PC up and download games quickly. Having no port as such means I now have to carry around a USB dongle for the same thing. Depending on what kind of user you are, this may be a problem or a blessing. That I leave up to you to decide.
Audio
I don't expect much from laptop speakers as most models deliver sub-par audio performance and barely get the job done. Even though it's all crammed in such a small design, the Lenovo Slim 7 has speakers that surprised me. The dual speaker set-up sits at the bottom of the laptop. The speakers are tuned by Harman Kardon and also feature support for Nahimic audio. I tested out the speakers using my daily Spotify/ YouTube playlist and was left impressed.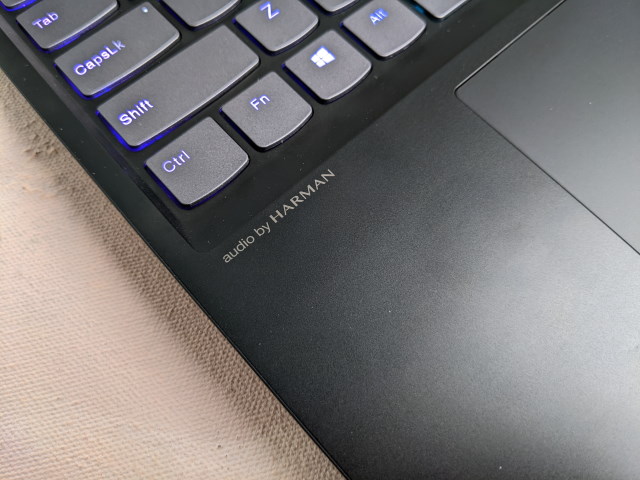 For starters, the speakers on the Slim 7 can get quite loud for their size. The two bottom firers, when run on 100% volume, have what some would call room-filling sound. There is no audio distortion or crackling even at max volume. The bass, as is usual, cannot be really felt but you do hear some thump from time to time.
The built-in Nahmic software does help amp up the audio experience, making it louder and a bit richer. The software also has other pre-set modes like Music, Movies, Games, and more to help you find that perfect profile. While the speakers on the Slim 7 are not loud enough for big parties, they will easily get you through your entertainment sessions.
Webcam and Microphone
The webcam and microphone on the Legion Slim 7 are as standard as they come on laptops. The 720p webcam captures images and videos decently with little quality loss. There is grain here and there as I was expecting. However, combined with its physical privacy shutter, the webcam does a good enough job and will get you through your day-to-day video calls.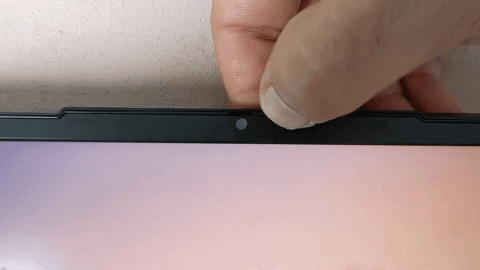 The microphone onboard is also average at recording sounds. The recorded sound is clear most of the time but sometimes gets muddy, which is annoying. I also sat in an Echo room to see how well Nahimic Echo cancellation works, and it sadly didn't make a difference at all. For gamers and users who want to quickly get on video calls, the camera and mic are okay at best. Professional users should get their own gear to connect with the laptop. Check out the best 4K webcams to buy right here.
Battery and Charging
As a laptop user who loves high screen brightness, I sense the Legion 7 Slim was scared of me and my extensive use. However, the laptop's 73Wh battery did a decent job of maintaining its life while I worked away. Setting the brightness to 100%, the laptop's battery at the best power efficiency and moderate use lasted me around 4.5 hours before I had to plug it back in.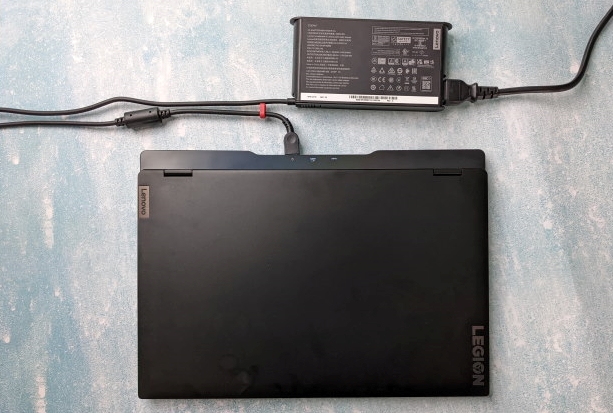 While Slim 7 does not offer the best battery life, it was cut short by me watching YouTube videos and occasionally playing with the RGB lights on the keyboard. Lenovo's Rapid Charge that you need to enable via Lenovo Vantage was helpful as it helped the system charge up quickly and without delay. The provided 230W charging adapter, while not the most lightweight, is slim enough. And I doubt that you will get up to the advertised 8 hours of battery life, but you can stretch it to 6 hours, given you take it easy on the system.
Lenovo Legion Slim 7: Pros and Cons
| PROS | CONS |
| --- | --- |
| Beautiful display that works well for gaming and work | 100Watt GPU cap might concern power gamers |
| Ryzen 7 and 3060 work well together without bottleneck | Microphone is average at recording sound |
| Slim and lightweight laptop; easy to carry around | The trackpad is in an awkward position |
| Lenovo Rapid Charge is extremely handy | |
Lenovo Legion Slim 7 Review: Portable Gaming That Doesn't Compromise
The pursuit of a lightweight gaming machine is one that can get difficult quickly. While you may appreciate the extra power in a laptop, it may be bogged down with extra weight. Others offer lighter chassis but don't give the GPU wattage required to deliver the best experience in today's AAA titles. However, the Lenovo Legion Slim 7 manages to hit the sweet spot between portability and performance. With a solid combination of CPU, GPU, and a display that actually performs, the Legion Slim 7 is a lightweight machine capable of a lot.
While the average GPU wattage may deter gamers who want the best of everything, what they get in return is a machine that doesn't break your back while carrying it. Starting at a price of (₹144,990), the Slim 7 is a laptop that does not come cheap. But, the benefits outweigh the price tag. However, if you are a gamer with a tighter budget, alternatives like the MSI Stealth 15M (₹1,19,000) or the ASUS TUF Dash F15 (₹114,990) might interest you more. However, note that these laptops have their own compromises (and positives) that you will have to weigh in.
However, for a gamer out and about and willing to spend a dime extra for portability, the Lenovo Legion Slim 7 strikes a good balance of portability, performance, and price. And well, that's all for this review. What are your thoughts on this gaming laptop? Do you think it's worth dropping GPU wattage/ some ports to make the machine lighter? Give us your two cents in the comments below!
REVIEW OVERVIEW

SUMMARY

the Lenovo Legion Slim 7 manages to hit the sweet spot between portability and performance. With a solid combination of CPU, GPU, and a display that actually performs, the Legion Slim 7 is a lightweight machine capable of a lot.