As far as gaming laptops go, the Asus ROG Strix SCAR II doesn't really look like it's very different from the breed of high-end laptops we've come to expect from major gaming brands. However, it does bring the latest RTX GPUs from Nvidia, and boasts of top-of-the-line specs. So, at it's price point of Rs. 1,64,990, is the ROG Strix SCAR II worth your money? We'll take a look at exactly that, in this detailed review of the ROG Strix SCAR II.
Asus ROG Strix SCAR II Specs:
First off, let's get the specs out of the way. Asus was kind enough to send us the base configuration of the SCAR II and these are the specs it comes with:
Processor
8th-gen Core i7 8750H @ 2.2GHz
RAM
16GB DDR4
GPU
Nvidia RTX 2060 6GB
Storage
256GB SSD + 1TB SSHD
Display
15.6-inch FullHD 144Hz
I/O
1 x USB 3.1 Gen 2 (Type-C)
2 x USB3.1 Gen1 , 1 x USB3.1 Gen2
1 x mDP 1.2
1 x HDMI 2.0b
1 x RJ-45 Jack
1 x SD card reader
1 x 3.5mm headphone and microphone combo jack
1 x Kensington lock
Connectivity
Intel® 802.11ac (2x2) Gigabit Wi-Fi; Bluetooth 5.0
Price
Starts at Rs. 1,64,990
While these specs themselves are pretty great, the higher end variant of the ROG Strix SCAR II (Rs. 2,09,990) comes with the RTX 2070, and a 512GB SSD along with everything else that this variant brings.
Design and Build
As far as the design and build of this laptop is concerned, Asus hasn't left a lot to be desired here. The laptop is pretty thin for the hardware it's packing, which is always appreciated, and it also feels really well built. The chassis is made out of plastic, but seriously, metal would make this laptop insanely heavy, and it's of a really good quality.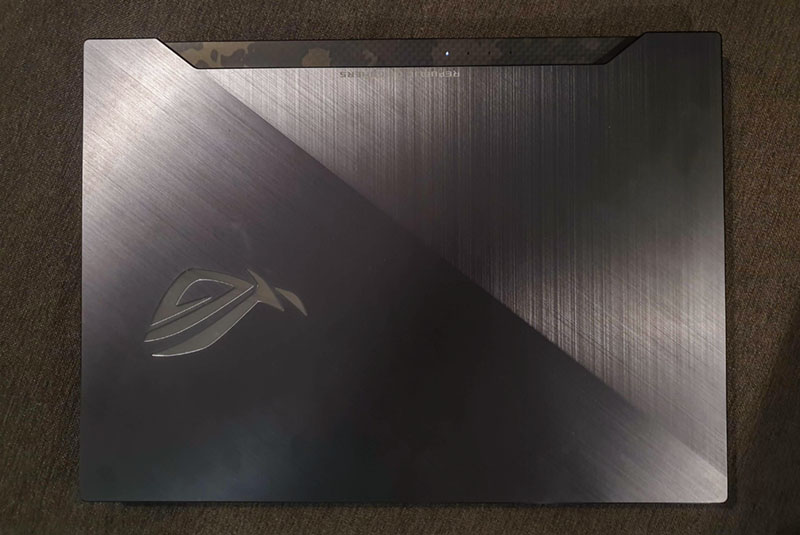 The SCAR II doesn't feel cheap to the touch at all, no matter how picky you want to be with it. It also comes in this dual-tone design with a camo-print covering up half of the base of the laptop, and while I'm not really a fan of this particular design choice, quite a lot of people like it; it's basically all about personal preference.
Other than all of that, the hinge here feels pretty solid, which is great since it's most often the point of failure in laptops, and the design is rounded off pretty well with a stunning looking back-plate on the display, complete with a glowing ROG logo (which is RGB, by the way).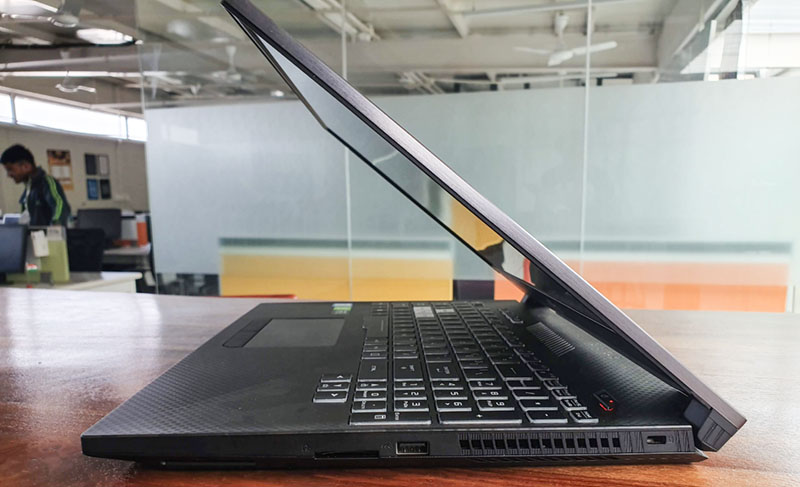 Speaking of RGB, gaming laptops tend to go overboard with that sort of thing, but the SCAR II seems like it hits the right balance between boasting itself as a gaming laptop, and being something you could bring to work without looking like you'll probably just end up gaming all day long. There's RGB in plenty of places, but it still manages to stay subtle with it, and I kind of dig the design of this laptop.
There's also a full-size keyboard, complete with the numpad, and the arrow keys aren't the condensed ones either. These are full sized arrow keys, and even though they are thinner than I would've liked, they're a lot better than the compact arrow keys a lot of laptops come with these days.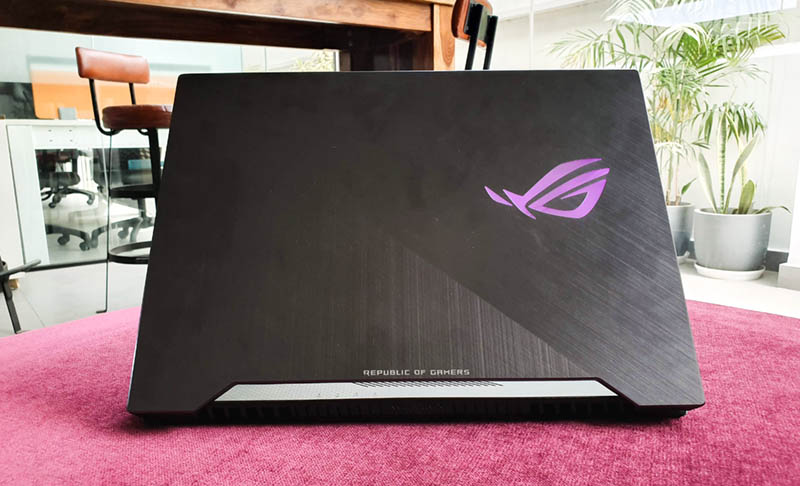 The only complaint I have with the overall design of the laptop is the fact that there's a huge, and I mean giant, bezel on the bottom of the display and it looks really weird and ugly. Most of it is probably only to fit the ROG logo right there, but that doesn't make a lot of sense to me. It could be to fit all of the display circuitry as well, but regardless of the reason, and from a solely design perspective, that massive bezel confuses me and I don't like it. Oh, and did I mention, the webcam is not only on the bottom bezel, it's also offset to the side, so video calls will be awkward as all hell with this.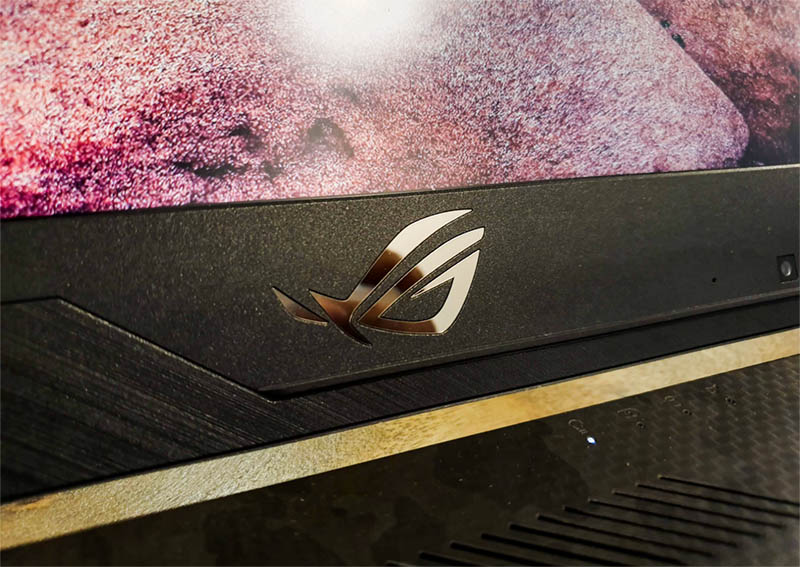 Display
Since I'm on the topic of bezels, I do have to give credit to Asus for really shrinking the bezels on all of the other three sides of the display. It's a 15.6-inch FullHD display, with a 144Hz refresh rate, and 3ms latency — things that might not matter much to you if you're a casual gamer, but if you're looking for an experience with minimal input lag, and smooth visuals without motion blurring, this sort of thing is probably pretty important to you.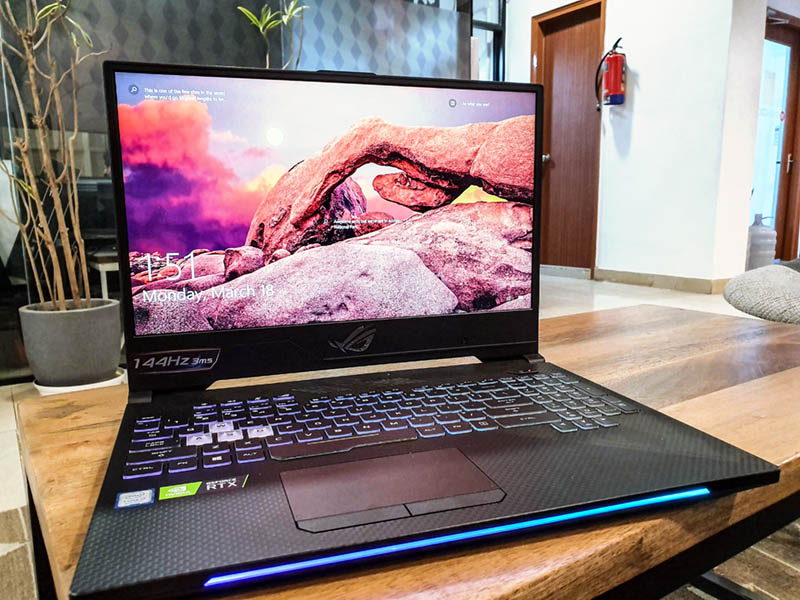 Anyway, the display itself looks pretty good. It's bright, even though it's not as bright as some might like, but it's a matte panel, so it should be decent outdoors as well. Still, there are little to no chances that you'll be playing games sitting in the sun. If you do tend to do that, this might be somewhat problematic for you.
Gaming on this display is fun. I won't call myself a professional gamer, but in my experience playing games like PUBG, Battlefield V, Apex Legends, and Far Cry 5, I've not found reason to complain about the display. Things look quite good here, and I don't think you will need to worry about the quality of the display, or the colors much on this laptop.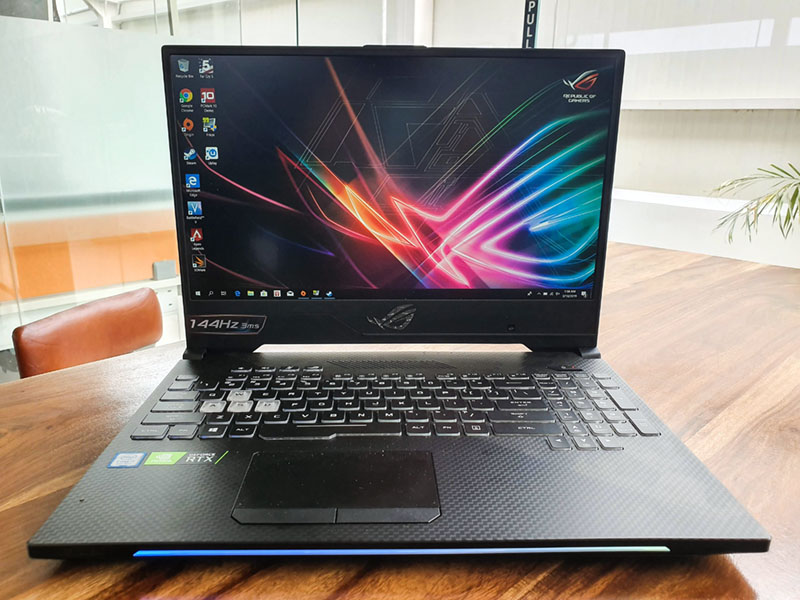 What might concern you a little, is the flex in the display, and in my experience with Asus gaming laptops, this has been quite common. Not that it would hinder your experience, or that it's likely to break, but for a laptop of this price, I would've expected slightly better in terms of display flex. Then again, to be fair, most gaming laptops have displays that bend a lot for some reason.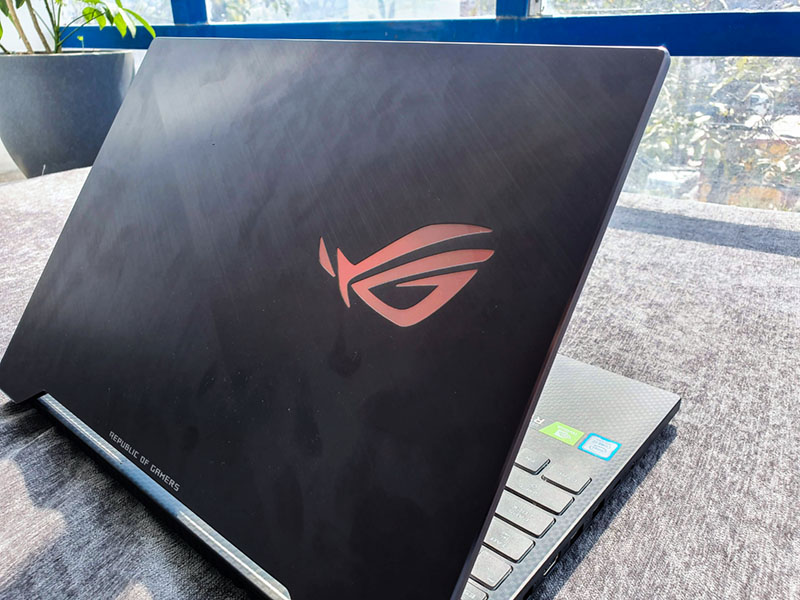 Performance
Speaking about 'most gaming laptops', the performance is probably one of the most important things when considering a gaming laptop. After all, why else are you buying it in the first place? In my experience with the ROG Strix SCAR II, the performance has been pretty damn good.
Like I said earlier, I played a lot of games on this laptop, and the performance has been pretty great. Top-notch, I'd say, for a laptop in this price range.
In Battlefield V, the laptop easily pushed out 80-90 FPS on Ultra settings, even during intense gunfights, which is awesome, and switching the graphics to Medium resulted in well above 100-110 FPS at all times.
Far Cry 5 pushed the laptop quite a bit too, but the SCAR II easily pushed out 80-90 FPS at Ultra settings in the game as well. With graphics set to Normal, the game got around 100+ FPS at all times which is just awesome.
I also tried playing PUBG on the laptop, and well, obviously, it was able to run the game pretty well. At Ultra settings, the game ran comfortably at over 130FPS; I didn't really try it any settings lower than that since 130FPS is awesome anyway, and getting more than that wouldn't have helped me anyway.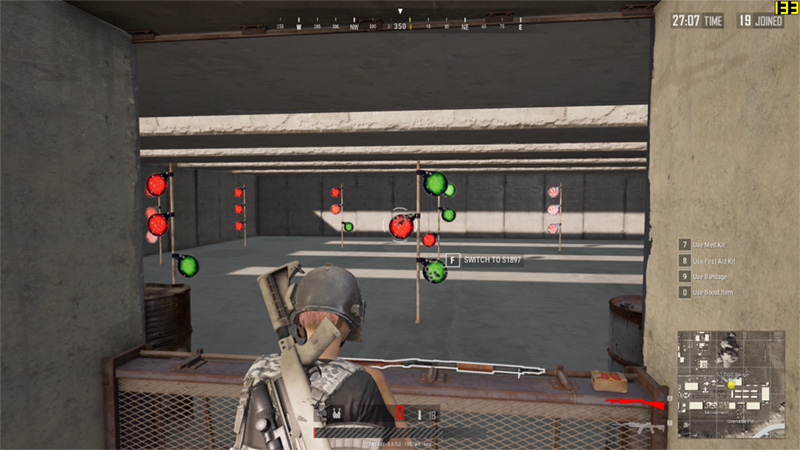 I even tried a bunch of benchmarks on the laptop, and the scores were impressive there as well. In 3DMark TimeSpy, the laptop scored 5,825 points, whereas in PCMark 10, we got a score of 5,372. In Cinebench, the laptop scored 2726cb in the CPU test.
So yeah, as far as the performance of this laptop is concerned, it's very impressive, and I don't see any cause for complaint here. It can easily handle all the games thrown at it, and it should be solid for games coming out this year as well.
Keyboard and Trackpad
Like I said earlier, the ROG Strix SCAR II comes with a full sized keyboard, complete with a proper set of arrow keys. However, Asus has made subtle changes to the keyboard's design to make it better suited for gamers. For starters, the WASD keys are accented, by which I mean they are transparent, so they're easier to spot. There's also a small marker on the 'W' key that is easily felt by a finger, so you can quickly position your hand without even looking at the keyboard.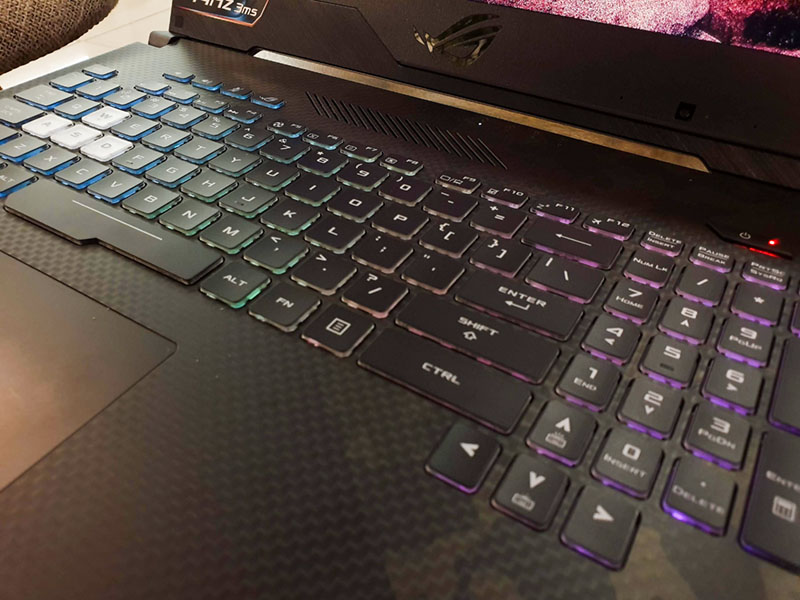 Then there's the fact that the volume up/down, mic mute, and ROG Armoury Crate keys are positioned separately, above the rest of the keyboard for easy access. So while you're in a game, you can quickly adjust the audio level, mute/unmute your mic, and even access the ROG armoury crate so you can quickly adjust system settings, including the RGB lighting on your laptop, the fan speeds, and a lot more.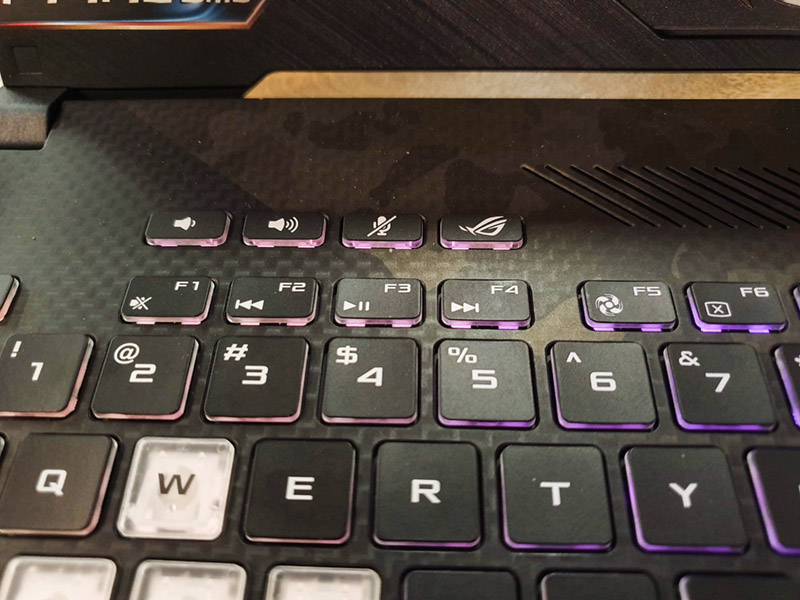 It's not a mechanical keyboard, by the way, but it feels really good to type on. There's considerable travel here, but not so much that it would cause fatigue while typing for long, and the keys are quite tactile and bouncy — something you'll be quick to notice if you tend to sometimes hit the keys harder than you probably should.
As it is with most things about this laptop, the keyboard here also doesn't leave a lot to be desired. True, a mechanical keyboard would've been awesome, especially for gamers, but this chiclet keyboard is pretty damn good in itself, and I quite like it, be it for gaming, or for everyday usage.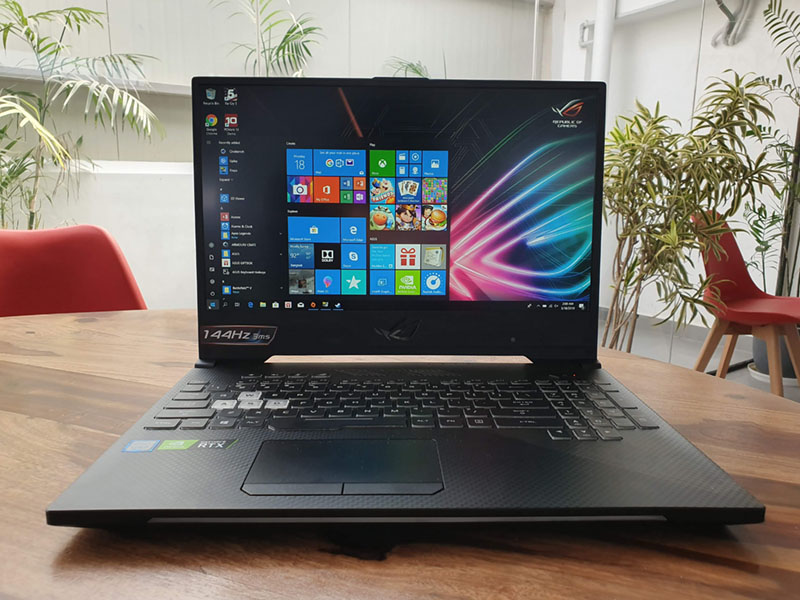 The ROG Strix SCAR II comes with a pretty big trackpad as far as most gaming laptops (or even most Windows laptops) are concerned, and I really appreciate the extra space it allows for making use of things like Windows gestures, and just general cursor movement without having to constantly reposition your hand.
The trackpad does support left and right clicks with the usual one-finger/two-finger tap, but there are dedicated left and right click keys on the bottom of the trackpad if that's more to your liking. Personally, I didn't use them much, but on times that I did, the keys felt really good and tactile to the press.
I/O and Ports
As it is with most gaming laptops, the ROG Strix SCAR II comes with a whole army of ports in tow. The laptop has a USB-C port, 2x USB3.1 Gen 1 ports, 1x USB3.1 Gen 2 port, a miniDisplay port, an HDMI 2.0b port, RJ-45 ethernet port, card reader, and a headphone/mic combo port.
So yeah, I don't think you'll run out of ports while using this laptop, and it pretty much has you covered on all fronts, I/O wise.
Battery
The ROG Strix SCAR II comes with a 66Whr battery, and with that, the laptop does struggle with running the Core i7, and the RTX2060, if you're doing intensive tasks, that is.
In normal, day to day usage, the laptop manages to last around 4 hours with some web browsing, and general text-editing. However, if you try to do intense gaming on the laptop, it pretty much ends up dying in around an hour and a half of usage. Still though, I wouldn't expect anyone to be gaming without connecting the power cord in, so that shouldn't really be an issue.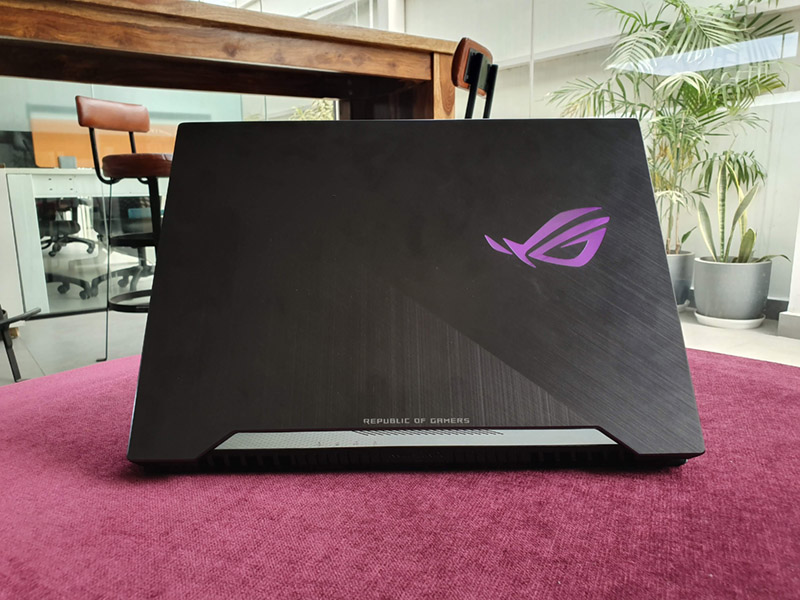 Anyway, 4 hours on regular usage is definitely decent, but obviously, if you're planning on using it for your work as well as for gaming, you will definitely need a charger a couple times a day.
ROG Strix SCAR II: Worth the Money?
Overall, the ROG Strix SCAR II is definitely a pretty impressive gaming laptop for its starting price of Rs. 1,64,990, especially considering the fact that it packs in the latest RTX-series of GPUs from Nvidia. Most other laptops in this price range are still packing last generation's GTX10-series GPUs which aren't bad by any means, but I'd really suggest getting an RTX GPU instead, if not for the ray-tracing, then for the future proofing it brings.
At the end of the day, I'd definitely suggest the ROG Strix SCAR II as a laptop that you can get if you're looking for a gaming laptop in this price range that can handle everything you throw at it, and comes packed with the latest GPUs you can get right now.
Buy the ROG Strix SCAR II from Amazon (Rs. 1,64,990)
---
Load More