Most football fans around the world claim that the English Premier League or EPL is the best top-tier football league, but for a small minority, La Liga remains the pinnacle – I won't get into why right now since we are not a sports website. I fall in that minority, so I was surprised to hear that Facebook would be streaming La Liga matches this year. However, based on the opening weekend, that's not a good thing.
Whereas EPL matches are everywhere and easier to watch with every passing year, keeping up with La Liga is a challenge. To rephrase a meme, you don't simply watch La Liga in India. Somehow I have managed that for 20 years, through the late-night fixtures and horrible live broadcasts, i.e if they showed the matches at all. And it just got worse this year, more so if you have given up on DTH, like I have.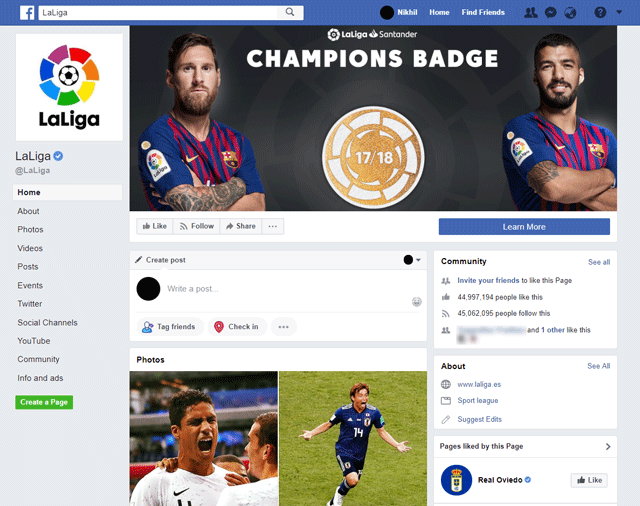 For a cord-cutter in India, SonyLIV had been the app for La Liga matches for the past few years. This year Facebook grabbed the rights for the entire Indian subcontinent. While I had assumed nothing could be worse than SonyLIV, Facebook has managed the feat.
There were some cracking matches, a Lionel Messi masterclass and an unexpected André Silva hat-trick this weekend, but you may have missed it all. Real Madrid lined up without Cristiano Ronaldo for the first time in years, but if you were looking to watch that match, tough luck to you. Because Facebook Watch's debut weekend in India was a disaster, and here's why:
Poor Discovery
On Facebook, you won't find a clue that La Liga matches are being streamed live. A search will show you umpteen unrelated groups and pages, but it would have been much better if Facebook had pinned the live matches on top, or added a section which introduces the feature to users.
Only if you knew that Facebook had the rights, would you have actually known where to look for the matches. And that's on the official La Liga page.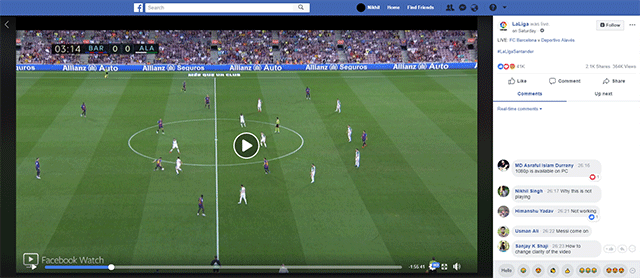 Cluttered design
The La Liga page — like most other Facebook pages — is horribly designed. I had to scroll down below the pinned posts, the photo albums and the discussion box to see the post with the live match I wanted to watch. For multiple matches in a day, this could become an issue because Facebook posts all previous highlights in one go, which could bury live match posts. Would it have been too much to ask to pin the live match instead of a random promotional post?
Laggy Video Player
Yes, I found the live match eventually. Barcelona had started off in a rusty manner against a plucky Alaves, but so had Facebook. It took around 5-10 minutes for the stream to actually pick up momentum. Before that it was just blurry stills from the match that kept changing as the stream tried its best to catch up to the live action.
When it did start, the stream was stuck on 144p – why is that even an option for live streams in the first place? Adjusting the video quality takes three clicks on Facebook Watch, but mercifully there was a 1080p option. Of course, I should have expected that clicking on it would simply freeze up my whole system, send fans into a frenzied action and generally make me regret having opened Facebook. Mind you, I had just two tabs open, and no other apps which were using the internet.
Speaking of internet, I must add that this is on a 100Mbps connection. Your mileage will definitely vary on a slower connection.

Emoji Reactions and Chat Hell
For some bizarre reason, Facebook thinks those who want to watch a live match want to be greeted by an array of emojis flying on the screen before the video has even loaded. As soon as the stream is opened, emojis are flying off the bottom of the screen – at least something was moving, as the stream itself wouldn't progress. Thankfully, you can turn off the emoji hell but that's not the default setting.
Facebook also has a chat window next to the screen. The setting to turn this off is also hidden behind a menu. The chat window is your typical Facebook comments stream – which means you shouldn't expect intelligent analysis, funny memes or interesting stats from other watchers. You can, however, expect a ton of trolling and inane banter.
When I did get to watch about 2 minutes of the match at 1080p, it was fine, but of course a football match lasts ninety minutes, so I had to find an alternative. Thankfully, there's a r/soccerstreams on Reddit, which is a lot more reliable, more organized and you can even choose which illegal stream you want to watch. Of course, you are all welcome to judge me for using a pirated stream, but if anyone's to blame for this weekend, it's Facebook.