The freelance job market has seen an exponential rise with the increasing popularity of the gig economy. As more and more professionals are taking the freelancing route, the freelance job market has evolved to serve the ever-increasing community of buyers and sellers of services. However, one big problem surrounding the freelancing industry is the fact that the popularity of freelance work has given birth to a myriad of sub-standard freelancing platforms which is bad for both service providers and users. That's why we are always on the lookout for the best freelancing services in the market and today we are going to tell you about a new freelancing platform which promises to make freelancing services enjoyable, profitable and effective for all parties involved. The service that I am talking about is called Kwork, and in this article, we are going to take a deep look at what it offers:
Key Features
We will start by taking a look at the main features that Kwork offers as it will help us determine if the service is worth spending your time and efforts or not:
Big Catalog of Offered Services
I always find it hard to recommend new freelancing platforms as initially, they offer only a few services. However, Kwork has differentiated itself from the crowd by offering a huge catalog of services. The service categories include design, digital marketing, development & IT, writing & translations, audio & video, business, and lifestyle. All of these categories, in turn, offer tens of different services thus covering all the major services. For example, if you are a business, you can get your webpage developed, logo designed, and content created, all at Kwork.
As a buyer of services, I hate freelancing websites which use a bidding platform as it makes it way harder for me to pick the best person suited for my job. Thankfully, Kwork refrains from that and offers a curated list of sellers and services which can be sorted using ratings, recommendations, and novelty. The best part about using Kwork is that the seller page also hosts demo work which makes it really easy to get a feel of the type of output a buyer can expect. Different sorting abilities along with ratings, pricing, and demo of work allow buyers to quickly select the seller that they want for my job. If you are a buyer, you will have a much productive time on Kwork than most of the popular freelancing platforms on the web.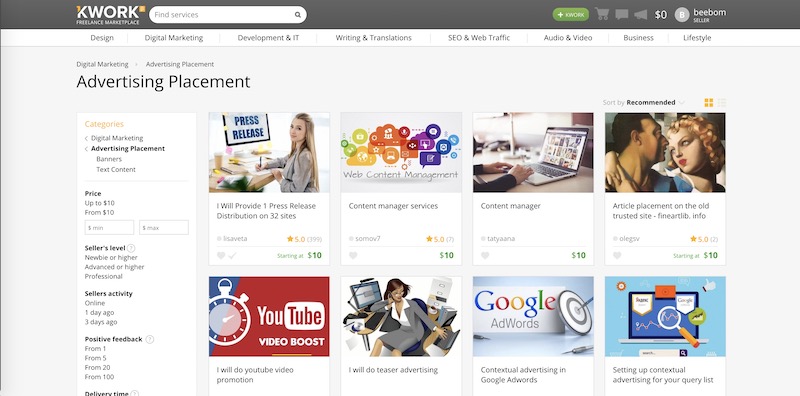 Since Kwork allows sellers to dictate the price for the services they are offering, sellers don't have to compete with other sellers on pricing. Of course, a bit of price manipulation is still necessary if you are new, but it's far better than bidding on hundreds of jobs and then keeping track of your bids to gain an advantage. On Kwork, if you create a professional looking profile with quality demo work, the jobs will come to you. So, once you have invested time in creating an initial profile, you don't have to spend time bidding on projects and can just complete the projects that you have received. That means sellers can spend more time working on jobs and earning money than on finding new jobs.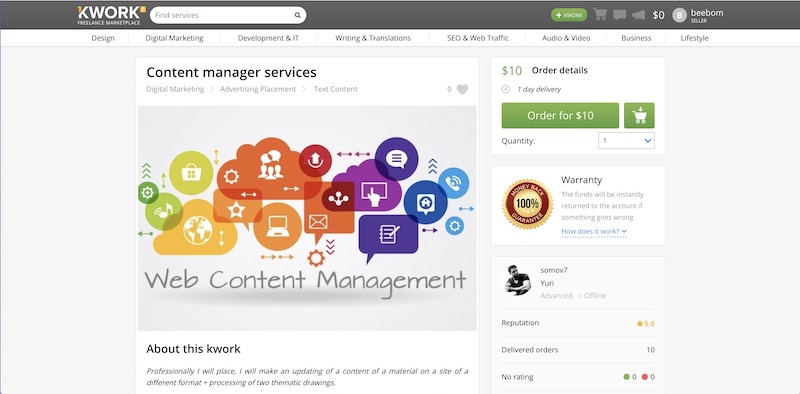 If you are a seller, this is the right time to join Kwork. Since the service is new, you have a better chance of getting attention here than on any other such platform. Kwork is growing pretty fast and if you join right now, you will grow alongside it. Making your career as a freelancer is not that easy so you shouldn't let this opportunity go to waste.
Kwork also offers fraud protection for both buyers and sellers. Once a buyer hires a Kwork seller, the money paid to Kwork and remains there until the project is completed. The payment for the order is automatically credited to sellers' balance as soon as the buyer confirms the order fulfillment. Kwork charges a 20% flat fee for its services so sellers also know the exact amount they stand to receive when they withdraw the money. Kwork has made the payment process very easy and it stands to benefit both the buyers and sellers.
User Interface and Ease of Use
Kwork brings a fairly easy to navigate user interface for both buyers and sellers. As a buyer, your homepage shows you a list of popular services and a big search bar which allows you to search for offered services. Buyers can also take a look at the service category menu at the top if they themselves are not sure about the exact keywords for search. Once they find the right service, buyers are presented with a list of sellers which can be sorted using ratings, recommended, or newness. Once a buyer likes a seller profile, they can order the work directly from their page. The whole process is pretty smooth and it takes no more 15 minutes to find a perfect seller for your job.
When it comes to sellers, they will have to invest time when they are creating their Kwork page. Creating a Kwork page is very easy. You just need to add a title and cover photo, choose the service category your skills belong to, add a description, and determine your prices. Do note that sellers can create multiple Kwork page offering different services if they want to. Overall, I found Kwork to be pretty easy to use and had no problem when navigating its user interface. Whether you are a seller or a buyer, Kwork has ensured that you will have a nice time while using this service.
Pricing and Availability
Kwork offers a web platform for buyers and sellers. You can signup on their website  for free and register as either a buyer or seller. It doesn't matter which profile you use as you can both offer services and higher other people from the same account. There's a flat 20% platform charge for sellers and other than that the platform doesn't cost any money.
You can also use the promocode "Kwork995881", which gives users an extra $5 in the account balance, and the user can spent it in the next 3 days after the promocode's activation.
Pros:
Huge catalog of offered services
No bidding involved
No hidden charges
Easy to navigate UI
Fraud protection
Cons:
Seller dashboard needs a bit of work
Kwork: Freelancing Platform Done Right
Whether you are a buyer or seller, if you want a place which takes the headache out of freelancing and just focus on quality jobs, Kwork is surely a place to visit. Do visit their website by clicking on the link below and let us know your experience by writing in the comments section below.
Visit Kwork here