Imagine this: you've accidentally deleted something from your iPhone only to later realise you actually needed it. We've all been there, haven't we? Whether it's to clean up an over-filled gallery, or while deleting all those junk SMS, everyone has, at some point in their life, accidentally deleted things they didn't want to (or they shouldn't have), and later regretted it.
If you're in the same boat, and are planning on going to a data recovery professional to get your data back, well, what if you could restore that data on your own? Enter Joyoshare iPhone Data Recovery. A data recovery solution that will let you recover almost all types of lost data from your iPhone. Let me take you through the features of this nifty tool.
Key Features
1. Supports Over 20 Different File Types
Joyoshare supports over 20 different file formats, which means regardless of the type of file that you've accidentally deleted, the software will be able to help you recover it with ease. With Joyoshare you'll be able to recover lost messages, attachments, contacts, call history, voice mails, camera roll photos, photo stream photos, notes, calendar, Safari bookmarks, and even voice memos.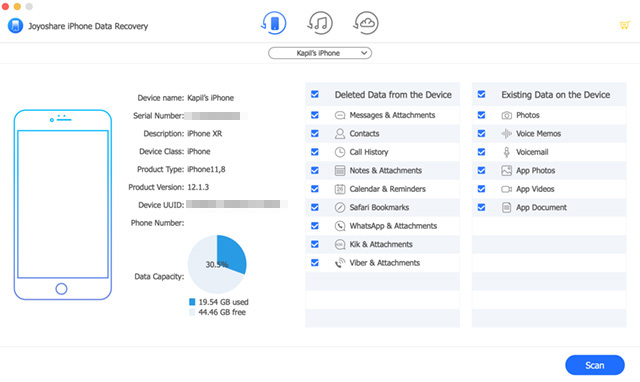 2. Recover Data from Device, iTunes Backups, or iCloud
With Joyoshare, you're pretty much covered on all fronts. The software supports recovering data using three different methods. So you can recover data by simply connecting your iPhone to your PC, or, if you've lost your device or don't have access to it, you can recover data from an iTunes backup (if you have one), and if you use iCloud backups instead, Joyoshare can even recover data from an iCloud backup. No matter what your situation is, Joyoshare has your back.
3. Preview Files Before Recovery
You know what's a bummer? Recovering a file and finding out it's not what you were looking for. Well, not with Joyoshare. The software comes with a preview feature that lets you easily preview a file before recovering it, so you can be sure that you're recovering the right files.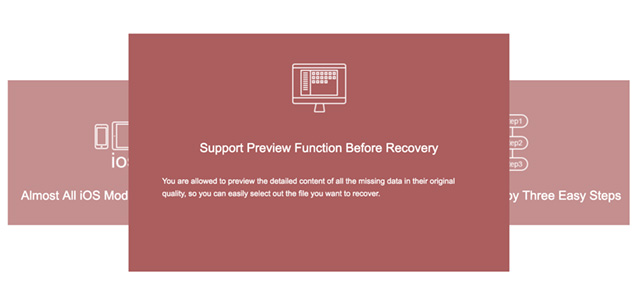 4. Support for a Wide Range of iOS Devices
Joyoshare iPhone Data Recovery supports a very wide range of iOS devices, so no matter which device you're trying to recover data from, Joyoshare will be able to do it for you. The software supports iPhones all the way from the old iPhone 4, to the latest iPhone XS, iPhone XS Max, and iPhone XR. If you're using an iPad, the software supports all models of the iPad, iPad mini, iPad Air, and iPad Pro. Heck, it even supports the iPod Touch 4 and iPod Touch 5.
5. Flexible Data Recovery
With Joyoshare, you get flexibility in data recovery. So you can either select a few files that you want, and recover them, or recover all the files that Joyoshare has dug out for you. It's completely up to you, and it's definitely a pretty handy feature to have.
6. High Recovery Rate, and Completely Safe
Joyoshare iPhone Data Recovery boasts of the highest success rate at finding accidentally deleted files on your iPhone, iPod Touch, or iPad, and you'll be able to retrieve lost data even if you don't have a backup. Plus, the software is complete safe, and none of your existing data will be overwritten when you recover deleted files using Joyoshare, so you can rest easy.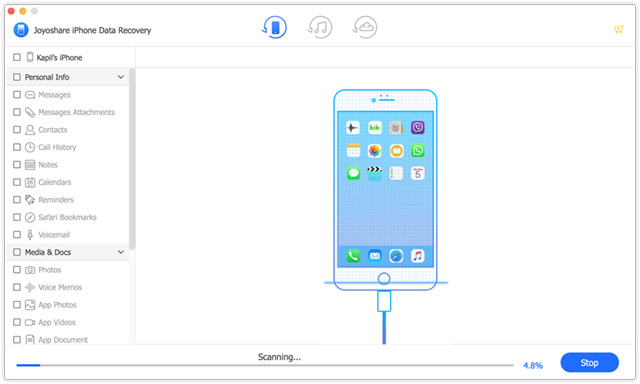 7. Free Lifelong Upgrades
Another great thing about Joyoshare is that you only have to buy the software once, and Joyoshare will provide you with free lifetime upgrades of the software, so you'll always be able to recover files on your iOS devices.
Pricing and Availability
Now that you know about all of Joyoshare's exciting features, chances are you're itching to give it a shot and recover files you may have accidentally deleted. Joyoshare iPhone Data Recovery is available for both Windows and macOS systems, and is priced at $49.95.
Plus, if you're still unsure about Joyoshare's capabilities, there's a free trial that you can check out before you commit to buying the paid version of the software. The software is compatible with Windows machines running Windows XP, Vista, 7, 8, 8.1, and Windows 10, and if you're a macOS user, Joyoshare is compatible with Macs running macOS 10.14, all the way to OS X 10.6.
Check out Joyoshare iPhone Data Recovery ($49.95, Free trial available)
Recover Your iPhone's Data with Joyoshare
So, the next time you find yourself in this situation where you've accidentally deleted important files, contacts, images, or basically anything off your iPhone, give Joyoshare a try and you'll not be disappointed with the results.