After announcing a few interesting tidbits about its 10th-gen 'Ice Lake' laptop processors earlier this year, Intel finally disclosed some of their key technical specifications on Thursday. The upcoming hardware, which is expected to hit the market in the coming weeks, is being described as a 'huge leap forward' for the company after its previous-generation CPUs failed to enthuse consumers by offering only incremental upgrades over their predecessors.
The company says it will offer 11 different Ice Lake processors to start off, ranging from a couple of dual-core Y-series Core i3 chips designed to offer extreme efficiency (9W TDP) in ultrabooks, to a more robust and powerful quad-core U-series Core i7 chip with a 28W TDP for more powerful machines. Overall, the company announced five new power-efficient Y-series chips and six new CPUs in the more powerful U-series lineup.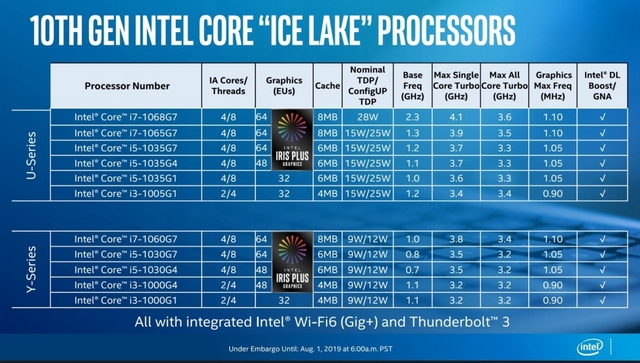 While the new processors can only reach up to 4.1GHz in boost speeds as opposed to the 4.6GHz of the 8th-gen chips, Intel claims that the new CPUs work out to be faster than all its predecessors. That's because not only can they handle 18 per cent more instructions per clock than before, they also come with significantly larger L1 and L2 cache, making them better suited for regular day-to-day work.
As for the graphics capabilities of these CPUs, all of them come with Intel integrated graphics processors (IGP), but while the G7 and G4 models come with the faster, more capable 'Iris Plus' graphics chips with 64 execution units (EUs) and 48 EUs, respectively, G1 now denotes the older and slower Intel UHD graphics with 32 EUs.