Windows Essentials, as we all know was a suite of exciting Microsoft apps bundled together. It had almost everything a user needed to get started with Windows OS. However, Microsoft discontinued Windows Essentials in 2012 and decoupled the suit into standalone apps. While users can still use Windows Essentials on older operating systems, there are a few features which are broken and doesn't work at all. So if you are looking to make Windows Essentials work on the latest Windows 10, you have come to the right place. In this article, I have tried to deconstruct Windows Essentials and have shared the steps to get it working on Windows 10. Also, I have provided a few alternatives to the popular Windows Essentials apps.
Install Windows Essentials on Windows 10 PC
Before we get to our tutorial, let us first learn a little about Windows essentials and discuss some of the reasons as to why Microsoft deprecated the beloved suit of applications.
What Happened to Windows Essentials?
Windows Essentials was released in 2006 with the launch of Windows XP. Windows Essentials became quite popular because it had the most fun and exciting apps Microsoft was developing at that time. For example, there was Live Messenger for instant messaging; Photo Gallery for viewing and sharing photos; Mail for email communication; the hugely popular Movie Maker for creating some great movies; Live Writer for blogging and OneDrive for uploading files to the cloud.
However, Microsoft deprecated Windows Essentials in 2012 and it's no longer in development. The reason behind discontinuing Windows Essentials is that Microsoft is putting all its focus on Windows 10. At present, Windows 10 comes pre-installed with modern apps having similar functionality to the earlier ones. While it's understandable that Microsoft is moving forward with modern apps, users still want to use the no-frills suite of Windows Essentials. So if you want to install Windows Essentials on your Windows 10 PC, follow the steps in the below section.
Steps to Install Windows Essentials in 2020
In this section, we will learn how to install Windows Essentials on Windows 10. While the Windows Essentials is officially deprecated, archive.org has archived the last stable build of Windows Essentials 2012. We will be using the same build to install it on our Windows 10 PC. So here is how it goes.
1. Download Windows Essentials 2012 from here. Click on "wlsetup-all.exe" file to download the setup file.
2. Now run the setup file. It's an offline installer so you will not need an internet connection. However, if the .NET framework is not updated to the latest version on your PC then it will download and install the framework from the internet first.
3. After that, you will be provided two options. Either to install all of the apps included in Windows Essentials or choose the programs you want to install. Click on your preferred choice and proceed ahead.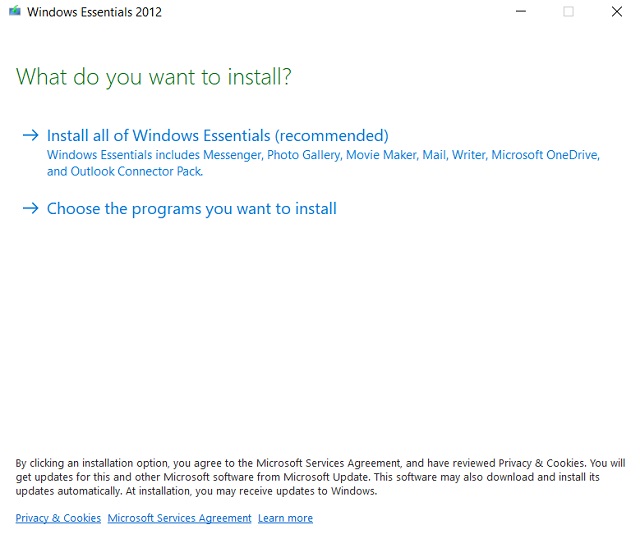 4. If you want to choose the applications, you will find this screen. Select your choice of applications and click on the "Install" button.
5. Windows Essentials 2012 will start installing the selected programs. So keep patience as it will take some time. After the installation is complete, you will be prompted with this dialog.
6. Now you can go ahead and use Windows Essentials applications as you want. Here is Windows Movie Maker running on Windows 10.
Note: Integration with various sites like Facebook, Vimeo, etc. are broken due to API changes. So you will not be able to interact with other services right from the application.
Windows Essentials Alternative
In this section, we will get to know about all the Windows Essentials alternatives. While Windows Essentials was great, there are a few features which are broken due to API changes. Also, the user interface looks dated and doesn't blend well with the Windows 10 design language. Anyway, if you have moved to Windows 10 and want to discover a new suite of apps which can replace Windows Essentials, then read on and find out the alternatives.
1. Windows Movie Maker Alternative – Microsoft Story Remix
I want to talk about Windows Movie Maker first because it was the most popular application among all the Windows Essentials apps. For the time, Windows Movie Maker was really great and feature-rich. I loved creating short movies with images, videos, and audio synced in the background. However, with Windows 10, Microsoft has replaced Windows Movie Maker with a new feature called Microsoft Story Remix. The feature is part of the Photos app on Windows 10 and you can use it to create stunning videos. Similar to WMM, you can import images, videos, audio and a lot more. Also, you have a new set of 3D effects, video filters, and transition effects which are really cool and brings a pleasant look to the videos. While WMM was good for its time, Microsoft Story Remix is a modern app with new features and enhancements. You should give it a look.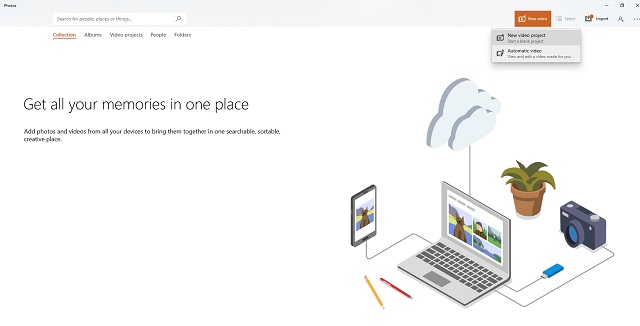 The Photos app comes pre-installed on Windows 10 so look for Photos and open it. Now, click on "New Video" on the top-bar to get started with Microsoft Story Remix. If you are unable to find the Photos app, here is the direct link.
Install Photos (Free)
2. Windows Live Mail Alternative – Mail
Windows Live Mail was a pretty good email client, but there were some issues with automatic deletion of emails. Nevertheless, Windows Live Mail has been replaced with a modern-looking Mail app on Windows 10. It has almost every feature of Windows Live Mail and I would say it brings a ton of improvements. On the plus side, it supports notifications, multiple email protocols, has a nice user interface and brings a stable experience. Also, Calendar and Tasks are now integrated with the Mail app so you will always be up to date with your schedule. If you are looking to replace Windows Live Mail, the new Mail app is worth the look.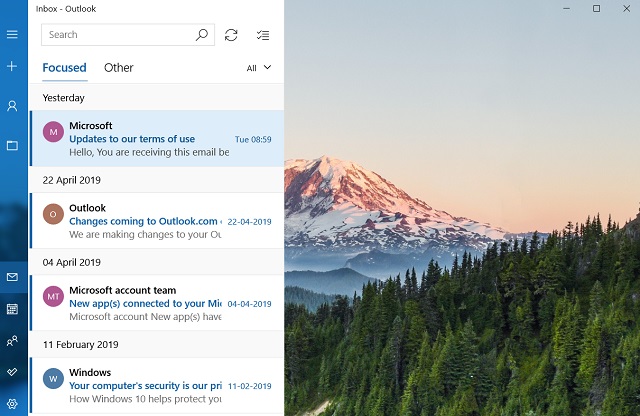 The Mail app comes pre-installed on Windows 10. Just search for the Mail app and you will have it. In case you are unable to find it, here is the direct link to the Mail app.
Install Mail (Free)
3. Windows Photo Gallery Alternative – Photos
Windows Photo Gallery was surely a hotshot among the Windows Essentials apps. You could organize all your photos on the PC and edit them without leaving the window. There was also a photo-sharing option through OneDrive and Facebook. Nevertheless, Windows 10 has a standalone Photos app which can do everything that Windows Photo Gallery could do. You can organize all your photos and videos, create albums and edit them within a single application. The great part is that the Photos app can detect identical human faces and organize them in separate folders. It can also organize photos and videos based on similar locations. As you can see, the new Photos app on Windows 10 is quite capable and can be a great alternative to the Windows Photo Gallery.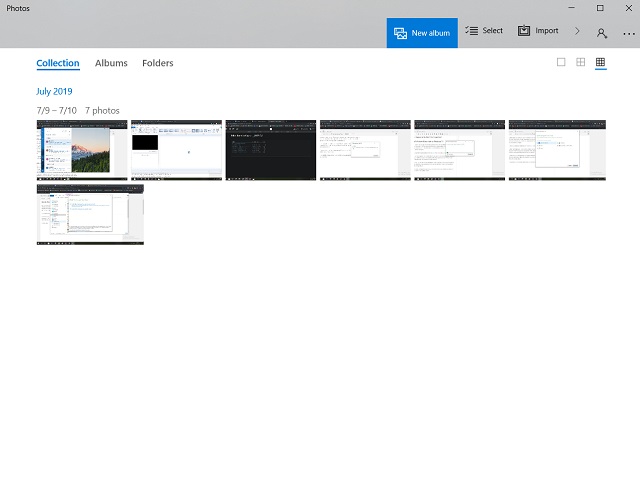 The Photos app comes pre-installed on Windows 10 so search for it and you will get it. If you are unable to find it, here is the direct link for the Photos app.
Install Photos (Free)
4. OneDrive
The OneDrive application bundled with Windows Essentials 2012 is outdated and you should use the latest version of OneDrive on Windows 10. OneDrive has gone through many iterations of active development and now it supports seamless sync without any latency issues. You can upload photos, files, folders and huge volumes of data instantly. The great part is that any changes in local files are reflected in real-time on the cloud. So to sum up, if you are using the old OneDrive that came with Windows Essentials, you should install the latest version.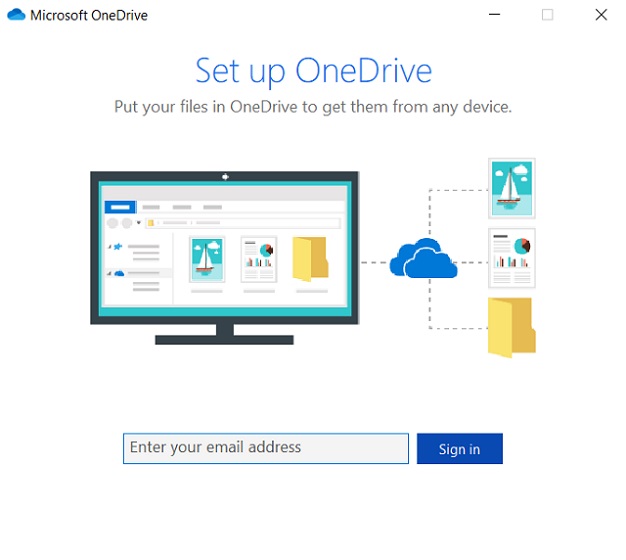 OneDrive comes pre-installed on Windows 10. Anyway, here is the direct link for the latest OneDrive build.
Install OneDrive (Free)
5. Family Safety Alternative – Family Group
Family Safety was part of Windows Essentials in Windows 7. It had a few options like web filtering and access to activity history of family members enrolled in Family Safety. However, after 2012, Microsoft decoupled Family Safety from the OS to a unified portal on the web called Family Group. If you are a parent, you can access your kids' activity history from the Family Group dashboard. You can also set screen time limits, filter content, share your Office 365 subscription, access your kids' location, and a lot more. We can see that the new Family Group is a much robust management center to control and access various aspects of your family members. I would recommend you to go with Family Group instead of the limited Family Safety app.

You can access the Family Group dashboard on the web from here. 
6. Windows Live Writer Alternative – Open Live Writer
Windows Live Writer was one of the popular Windows Essentials apps for bloggers and publishers. It supported many blogging platforms including WordPress, Blogger, Squarespace, etc. For writers, it was truly a great application with various features and integration with many blogging platforms. However, Microsoft chose to discontinue Windows Live Writer and currently there is no official alternative on Windows 10. But there is nothing to worry as the .NET foundation has forked Windows Live Writer and created Open Live Writer. The new Open Live Writer looks and works very similar to its old predecessor. The integration with various blogging platforms have been fixed and now you can use Open Live Writer without any issues. The application is available on Microsoft Store so you can easily grab it.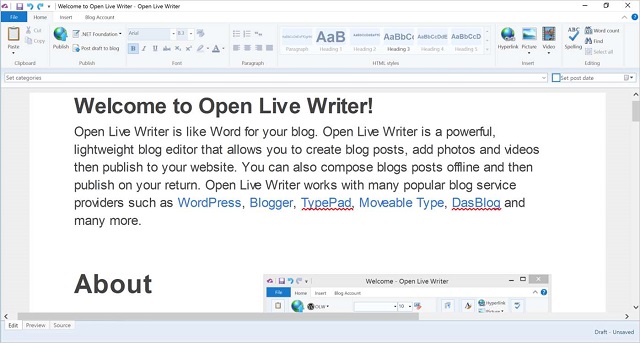 Install Open Live Writer (Free)
Install Windows Essentials 2012 and Get Productive
So that ends our article on Windows Essentials and how you can get it working on Windows 10. However, I would recommend you to go for the alternatives as I have mentioned in the article. The alternatives are quite good and polished with familiar features and great performance. But if you are someone who is well-versed with the old interface and features then you can very well install all the Windows Essentials apps on your PC. Also, don't forget to check our list of best Windows 10 apps. You will discover some new apps there.  So to wrap up, if you liked the article and want to share your thoughts about Windows Essentials, do comment down below and let us know.