After beating its arch-rival Snapchat at its own game, Instagram has been adding brand new features to Stories to further enhance the user experience. The photo-sharing giant has already debuted Superzoom and funky facial masks to celebrate the holidays, which are updated on the regular to present users with new choices.
Now, as spotted by renowned WhatsApp leakster WABetaInfo, the company is now said to be working on a new Stories format and a privacy-focused screenshot notification feature. The former is similar to the text-based Status feature on WhatsApp, whereas the latter's functionality has yet again been lifted from Snapchat itself. Let us take a closer look at how these two features will operate:
Text Stories
Since users are not always up for sharing real-life photos and need a blank canvas to pen down their thoughts, WhatsApp greatly simplified its Stories experience with a text-based Status feature earlier last year.
Now that one Facebook-owned company succeeded in implementing the text statuses, another is planning to bring the feature to its huge user base. It has been found that Instagram is testing a text-based "Type" Stories feature within its app internally.
As you can see below, you'll be able to access the Type feature by swiping right from the normal camera mode. The default background is certainly the trademark Instagram's hue but you'll have a variety of background colors and fonts to choose from. All screenshots are from WABetaInfo.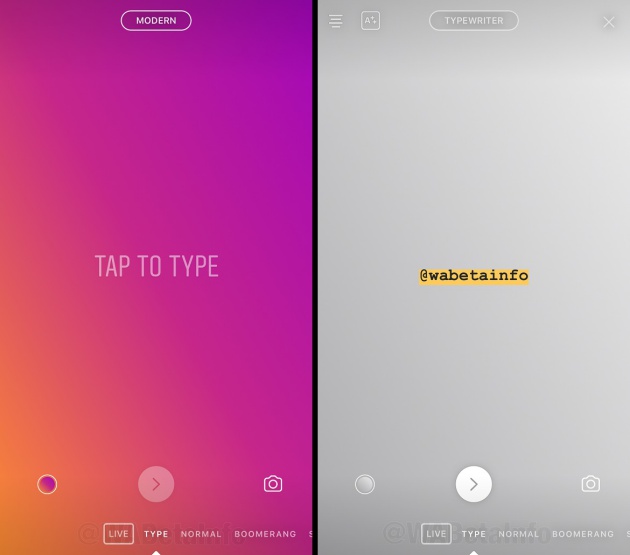 Instagram will apply a random colored background under the text-based Stories but you'll be able to change it to your liking. You'll also have four different fonts, namely modern, strong, typewriter, and neon.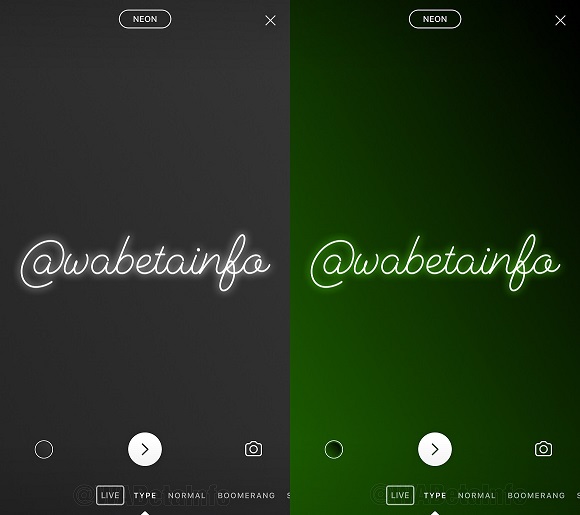 I've always been quite a frequent user of the text status feature on WhatsApp and feel the addition of a similar functionality to Instagram will only work very well as it allows users to quickly add a new status. The users will no longer have to show pictures, but can share just words to their Stories.
Screenshot Notifications
This is possibly one of the biggest and most important change coming to Instagram Stories. It has been more than a year since the launch of this Snapchat Stories clone, but the company hadn't implemented the functionality to notify the users when a screenshot of their Stories was captured.
Well, better late than never, WABetaInfo suggests that Instagram is currently testing the much-requested "screenshot notification" feature, where users will be notified when someone screengrabs their Stories.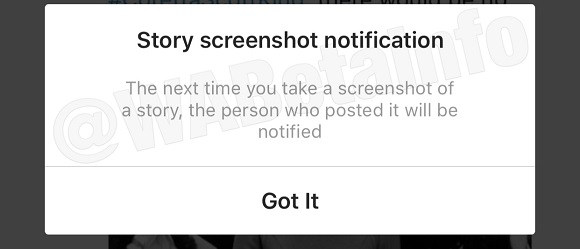 Instagram will make you aware of the availability of this new feature once you capture a screenshot of someone's story for the first time. It won't notify the user when of this first capture but will do so going forward. So, you'll have to careful of what you screenshot as the user will now know about it.
Have you been eagerly awaiting any of these features? Will it improve your Instagram experience, or not? Let us know your thoughts in the comments below.