Gaming laptops can be a complicated sort of beast to opine upon considering the immensely huge variations in configurations at different price ranges. So when we first got the HP Omen 15 at our office, and I got the chance to use it, I was expecting a similarly difficult task ahead. However, I was pleasantly surprised by the HP Omen in almost every single way possible. At Rs. 1,54,490 the HP Omen 15 is somewhere between the mid-range and premium segment of gaming laptops, so if you're confused about the HP Omen as a gaming laptop worth its price, here is my review of the HP Omen 15.
HP Omen 15 Specifications
Before we get into the nitty-gritty details about this laptop, let's get the on-paper specifications out of the way. Here's what the HP Omen 15 comes packing:
| | |
| --- | --- |
| Dimensions | 36 x 26.3 x 2.6 cm |
| Processor | 8th-gen Core i7-8750H @2.2GHz |
| Memory | 16GB DDR4 RAM @2666MHz |
| Storage | 128GB NVMe M.2 SSD + 1TB SATA HDD 7200RPM |
| Display | 15.6-inch FullHD 144Hz |
| Graphics | Nvidia GeForce GTX 1070 with 8GB GDDR5 |
| I/O | 1 HDMI 2.0; 1 headphone/microphone combo; 1 microphone-in; 1 Mini DisplayPort™; 1 RJ-45; 1 Thunderbolt™ 3 (Data Transfer up to 40 Gb/s, DP1.2, HP Sleep and Charge); 3 USB 3.1 Gen 1 (1 HP Sleep and Charge), SD Card reader |
| Networking | Intel Wireless-AC 9560 802.11 b/g/n/ac, Bluetooth 5.0 |
| Battery | 4-cell, 70Wh |
| Weight | 2.25 kg |
| Price | Rs. 1,54,490 |
Okay, now that we have the specifications all out of the way, let's see what this laptop is like in real life.
Design and Build
The first thing I noticed with the HP Omen 15 is that it looks exceedingly beautiful. There's no other way to put it. It's sleek (as far as gaming laptops go), it has those sharp edges and low-poly cuts so often found in gaming laptops along with vents that (as is usual with most gaming laptops) look like they belong on the exhaust of a sports car.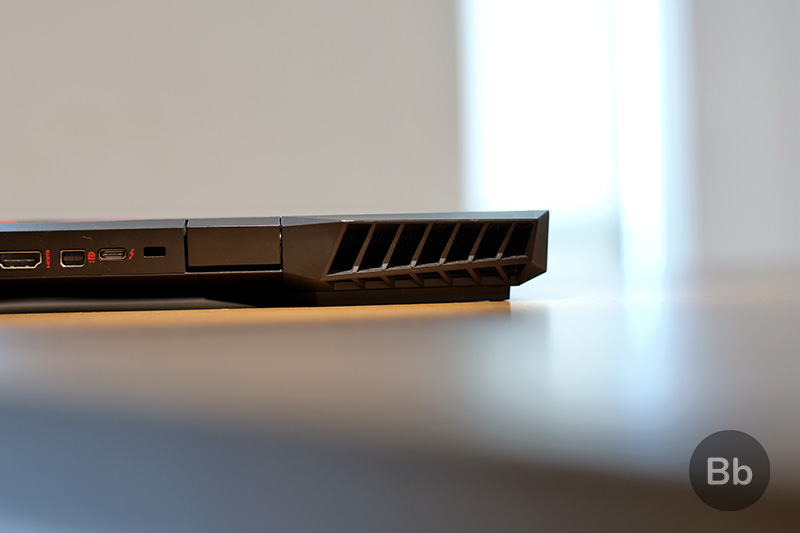 Add to that the black and red aesthetic that HP has chosen to go with here, and this laptop is definitely one of my favorite gaming laptops as far as looks go. The body is built out of high quality, strong feeling plastic and I don't mind it at all. The back of the lid has a dual carbon-fiber and brushed metal patterning on it with the Omen logo inlaid in red. Everything here looks really cool, making the HP Omen 15 one of the few laptops that scream gaming without having the bulk of other gaming rigs.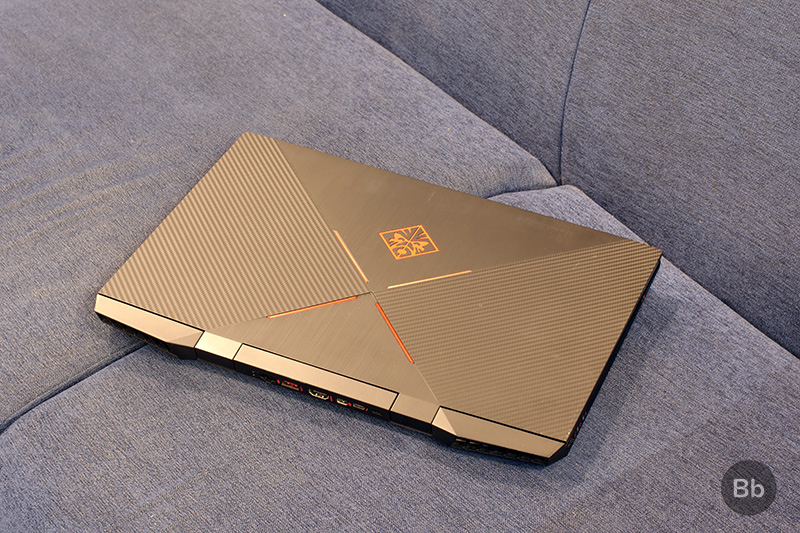 Once the lid is open, the laptop looks, if possible, even better. It's all black with a brushed metal finish on the base, and the display is recessed into the lid to make sure there are no issues with the keys getting imprinted on the screen (it happens with a lot of laptops). There are tiny bezels wrapping the display, which I like, except the bottom bezel which is ginormous and holds the Omen logo along with the 144Hz sticker. One problem I do have with the display here is that there's a lot of flex in the screen. A LOT. It bends so much it's kind of scary and I fail to understand how laptops at this pricing fail to get this right so often.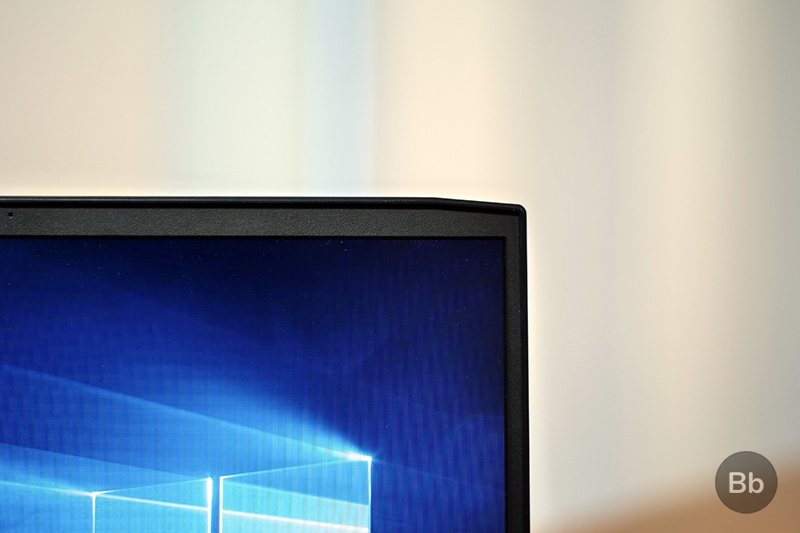 The power button is placed on the top left corner of the laptop and looks amazing, it lights up with a sleek red light when powered on, and looks really awesome. I don't even mind the Omen branding above the keyboard even though it's quite unnecessary (and so is the Bang & Olufsen branding on the top right). The laptop doesn't have biometric authentication, not that I blame it, not a lot of gaming laptops do, however, I would've liked to see a fingerprint scanner on the laptop, and considering how much space is available on this thing, I think HP could've fit one in it.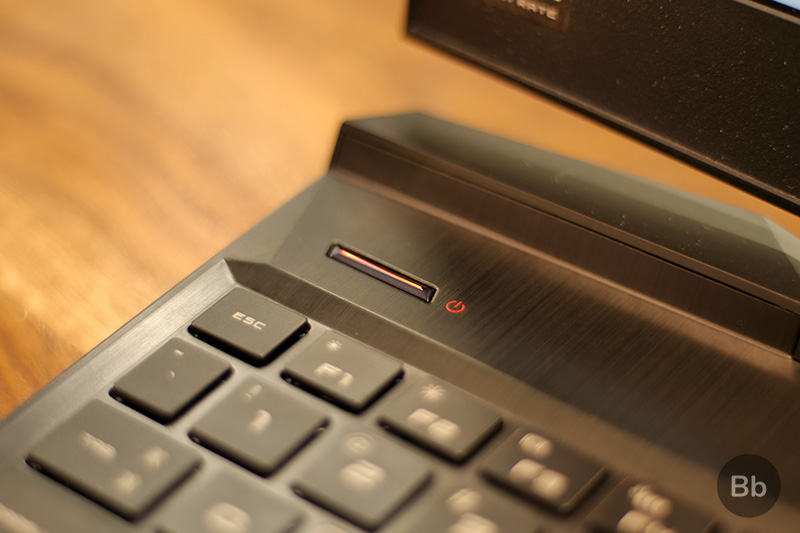 I/O and Connectivity
As far as I/O and connectivity is concerned, the Omen 15 will not leave you wanting. It has a lot of ports, and boasts of top of the line connectivity. On the sides you'll find 2x USB 3 ports along with an SD Card reader. Plus, there's a headphone+mic combined port along with a dedicated mic port as well. There are even more ports on the back – there's a USB-C port, an ethernet port, a mini display port, an HDMI out, and a USB 3 port as well.
For wireless connectivity, the laptop comes with Intel Wireless-AC 9560 and supports WiFi 802.11 b/g/n/ac, so it's ready for the future for sure. Along with that it features Bluetooth 5, which is something not even some very expensive gaming laptops come with. Kudos to HP for not taking connectivity lightly and going with something like Bluetooth 4.1.
Display
The display here is a 15.6-inch FullHD panel that boasts a refresh rate of 144Hz – that's pretty impressive I must say and definitely makes the experience of using the laptop a lot better. With 144Hz, not only will your gaming experience be better, but even while simply using the laptop day-to-day, you'll notice a massive difference in the smoothness of animations, scrolling… everything. Basically, a 144Hz display will spoil you, in a good way.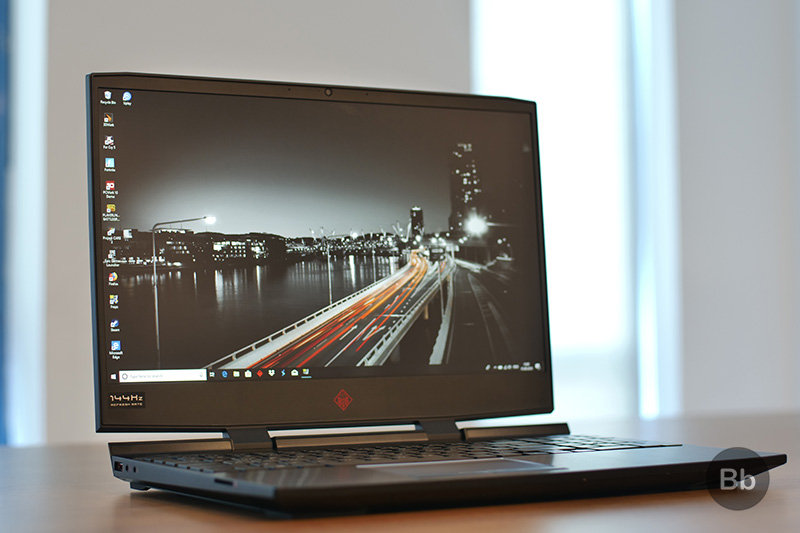 Other than that, the display has a really impressive color reproduction and manages to render colors very accurately. In our test I was able to differentiate between a background at RGB values 255,255,255 with a rectangular portion of the display set to color 253,253,253 – that's seriously impressive. The viewing angles here are great too, especially from top to bottom, moving side to side does slightly affect the colors, but that change is so minimal it's barely even noticeable in normal usage. I only noticed it while running the test for viewing angles.
The display is remarkably sharp and can also get quite bright, and on top of that it's a matte display which makes it even better if you're trying to use it outdoors in sunlight, or indoors with lights behind you (as I am right now). Reflections are a non-issue with this display and I love it.
Audio
HP's laptops have long had speakers from Bang & Olufsen, and that holds true with the Omen 15 as well (that branding isn't just a placeholder, after all), and the B&O legacy really shows with this laptop.
Even with speakers placed on the bottom of the laptop underneath the palm rest, the speakers are incredibly loud and clear. I tried listening to a lot of songs on the Omen 15, and not once did the speakers let me down. There's excellent sound representation, the bass is decent, the highs and mids are remarkable, and the loudness of the speakers is enough to fill a medium sized room full of talking people. I love it, and it's the first laptop I've used other than the MacBook Pro that has made me appreciate the depth of the sound from its speakers.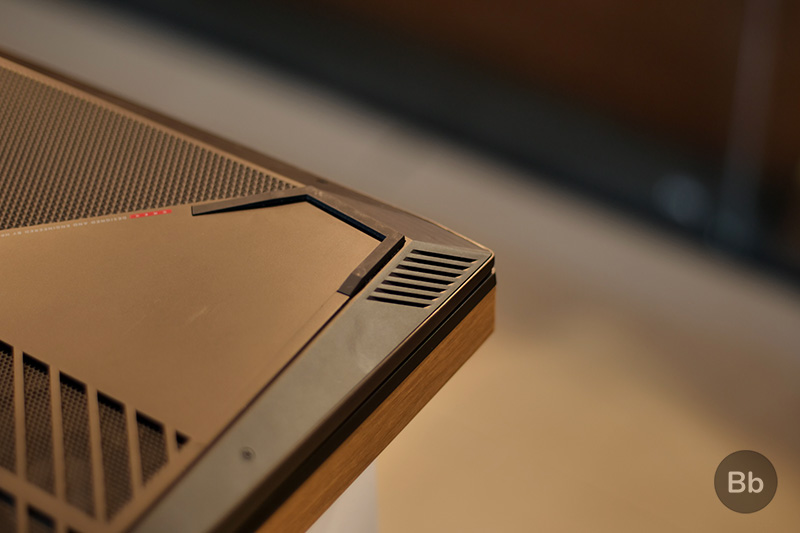 There's also a headphone jack just in case you need to plugin external speakers, or a headphone, but for stuff other than gaming, I don't think you'll need a headphone with this laptop. It's pretty loud and clear on its own.
Keyboard
The Omen 15 also packs in a standard membrane keyboard, complete with a numpad. Obviously, I would've loved a mechanical keyboard here, but the keyboard HP has gone with is pretty damn good on its own, and I don't think there's any cause to complain here. Since this is a gaming laptop, RGB lighting is present on the keyboard. However, unlike some MSI gaming laptops, the HP Omen doesn't have individual RGB lighting on each key, opting instead for a more traditional 4-zone RGB backlit keyboard which can be configured from the Omen Command Center.
The WASD keys are outlined in white, because most gaming laptops tend to make them as easily differentiable from the rest of the keys as possible, however, HP went one step ahead and added one of those bumps you find on the 'F' and 'J' keys on a keyboard to the 'W' key as well, making it easier to find the key by simply feeling around without looking at the keyboard.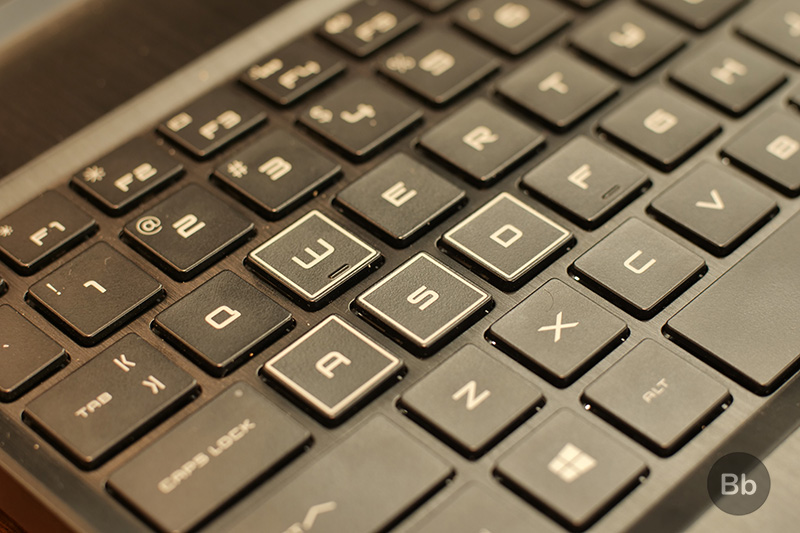 There are no customisable macro keys here, as you might find on some other gaming laptops, but HP does include a dedicated key to launch the Omen Command Center. There's also a full sized arrow-key layout here that I'm especially fond of.
Basically, the keyboard here is a pretty great choice from HP. Without going with a mechanical keyboard that would've raised the price by a bit, HP has put in a keyboard that offers ample travel, is comfortable to type on, and doesn't make a lot of noise — all of which are great things.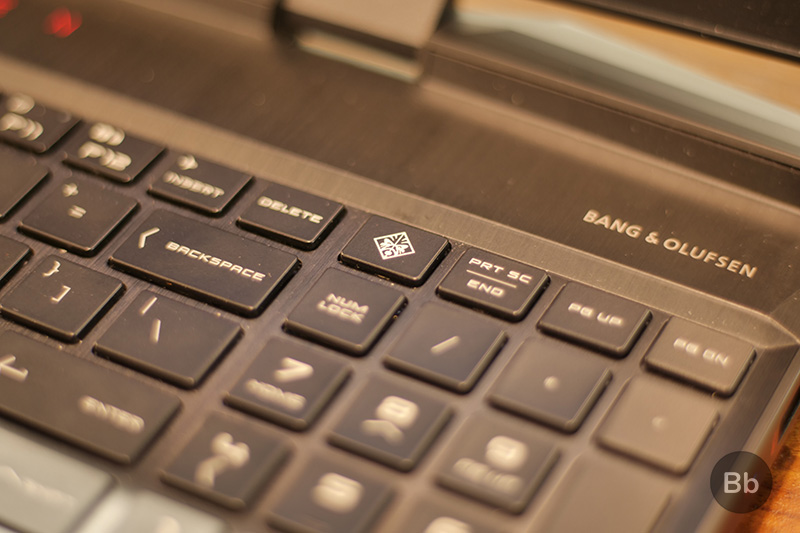 Trackpad
The trackpad on the HP Omen is, dare I say smaller than I was expecting, and not made out of glass (something I've come to expect from more expensive laptops these days). Maybe I'm used to laptops with larger trackpads thanks to my years of using a Mac, or maybe gaming laptops like the Mi Gaming Laptop have spoiled me when it comes to trackpad sizes, but the trackpad on the HP Omen feels rather small to comfortably make use of Windows' gestures.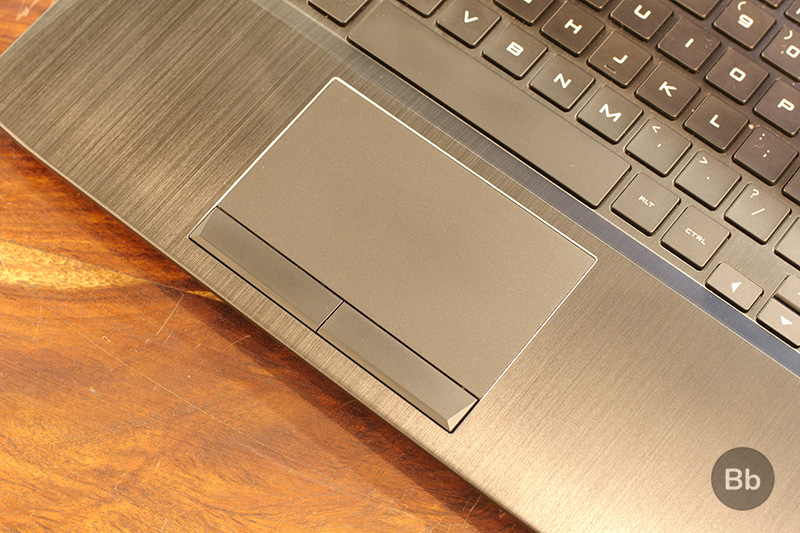 It's not a tiny trackpad like the one you'd find on the HP Envy, but it's not big either. Some people might find it to be the perfect size, and I was, at one point thinking that it might just be. However, while using gestures to swipe between desktops, or for multitasking, I quickly realised that the trackpad didn't offer enough real-estate to comfortably and naturally perform the gestures. Add to that the fact that it has dedicated left-click and right-click buttons on the bottom and I feel like HP could've made a much bigger trackpad if they had just opted to not include the buttons here.
To be fair, if you like having dedicated click-buttons on your laptop, you'll probably like these. They are nice and clicky, but if you're like me, you'll probably end up not using them at all.
Performance
Talking about the performance on this sleek beast, with specs like an 8th-gen Core i7, 16GB of RAM, and an Nvidia GeForce GTX 1070 GPU, you would obviously expect great things from this laptop, and that shows in both benchmarks and real world performance.
In terms of benchmarks the laptop performs quite well, scoring impressive numbers all across the board. In Geekbench, the laptop scores 4,800 in the single-core test, and 18,836 in the multi-core test. It also manages 4,089 on PCMark 10, and in 3DMark the HP Omen scored 4,993 in Time Spy, and 12,856 in Fire Strike. In the Cinebench R15 OpenGL test the laptop scores 109.08fps, and 1038cb in the CPU test.
The laptop even handles stress tests well, scoring 97.6% on the Fire Strike stress test.
As far as real world performance is concerned, the HP Omen will not let you down. I've used the laptop extensively, for everything from my usual work related tasks, to intensive and long gaming sessions, and the laptop handles everything like a champ. Multi-tasking is a breeze with the i7 and ample amounts of RAM in the system, and normal everyday tasks are no challenge for the laptop.
However, the Omen 15 is a gaming laptop at the end of the day, so real world performance should really be tested out with games; and so I did. I played a bunch of games on the Omen 15, including the likes of PUBG, Project Cars 2, Far Cry 5, and Fortnite, and the laptop handles everything easily.
In PUBG with Ultra settings and motion blur turned off, the game hovered around 70 to 80 FPS throughout my gaming sessions which is incredible. I don't think there's any call for reducing the graphics settings to High or anything, because 70+ of Ultra is pretty amazing, and completely playable.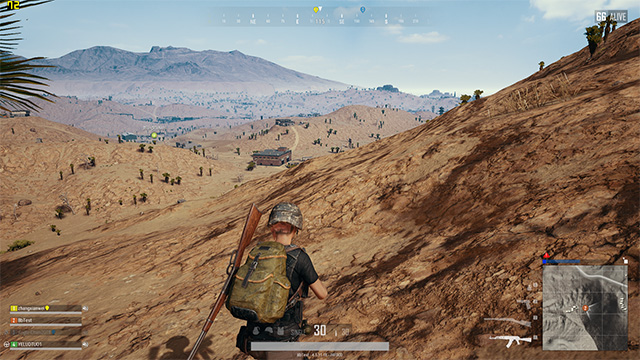 In Far Cry 5, the laptop was pushed a bit, but still managed to easily handle the game. With all the graphics set to Ultra, the game's benchmark showed an average frame rate of 75FPS, with the minimum and maximum frame rate being 64FPS and 86FPS. That's pretty damn good. However, while actually playing the game, I did notice that at certain points the frame rate dropped to ridiculously low values. However, those occurrences were few and far in between, and the laptop quickly picked up the pace in less than a second or two, otherwise maintaining around 60FPS with ease.
Project Cars 2 also runs like a charm on this laptop, and with everything set to maximum, and motion blur turned down to low, I experienced absolutely no issues with playing the game. I did crash quite a bit during the many many custom races I tried to play, but I crashed in a sweet 70+FPS, so there's that.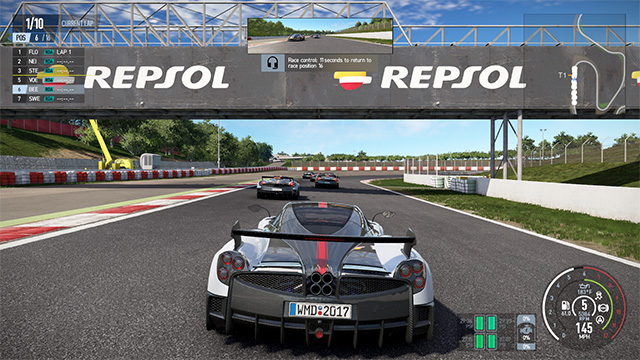 I also played Fortnite, because I love it, and needless to say the game ran 'Epic' — both in terms of settings and in terms of the frame-rate I got. I set the FPS limit to unlimited, and the game hovered around 100+FPS throughout, and that's wonderful even if not surprising with a laptop of this caliber.
Thermals
We can't talk about gaming without talking about thermals because as impressive as it may be to have a gaming laptop with such horsepower in a form factor as sleek as this, slimmer laptops usually suffer with thermal issues. The HP Omen, however, isn't your regular sleek laptop at all.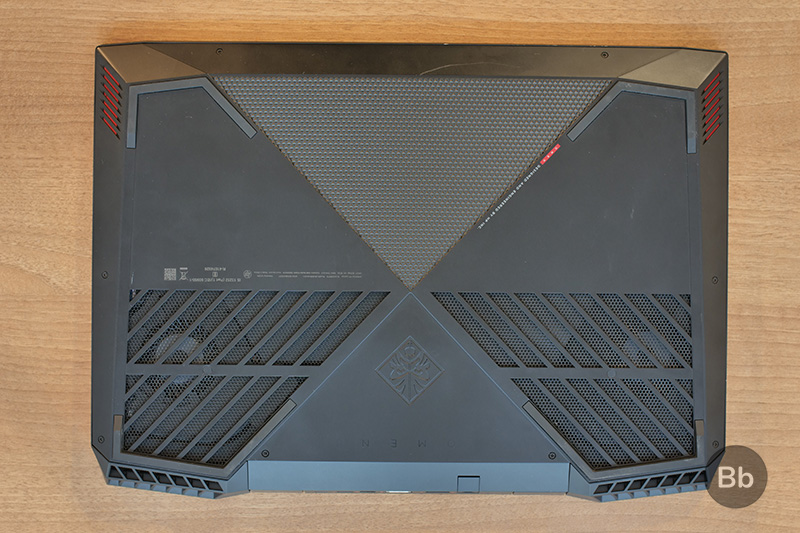 The Omen 15 doesn't come with an overload of heat pipes — there are only 2, but what it does come with are extremely efficient fans, and large vents on the back to effectively push the hot air out of the system which is why throughout my long gaming sessions, the laptop didn't thermal throttle (or get hot to touch) even once. The keyboard doesn't get warm to the touch at all and that's impressive. The only place that I did notice the laptop getting a little warm from was the back (obviously), and the portion that says 'OMEN', which is expected because that's directly above the heatpipes and the fans. Even then, though, the laptop wasn't too hot, not even uncomfortably warm.
Battery
In terms of battery, the HP Omen 15 comes with a 4-cell 70Whr battery that lasts decently long enough. In best battery life mode with the brightness set to 50%, the Omen 15 lasted me an easy 3 hours which is pretty decent by gaming laptop standards. During that time I used the laptop as my normal work laptop which means writing some articles, having around 15-20 tabs open of Firefox Quantum at any given time, and Adobe Photoshop CC running alongside for the featured images and stuff… along with a YouTube tab playing songs in the background.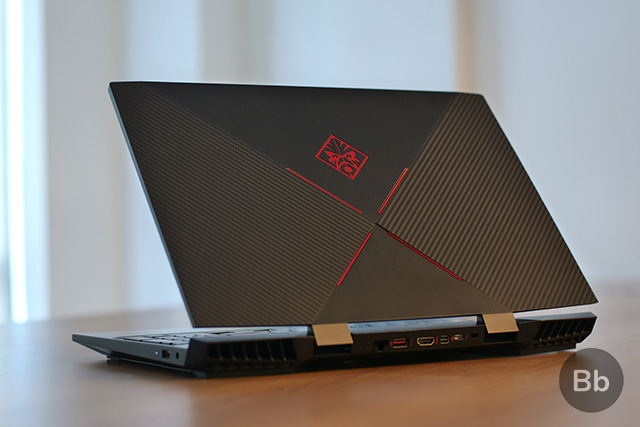 In best performance mode the battery lasts for a considerably less amount of time, which is expected, but still under the same workload I was able to push the laptop to around 2 hours of usage before plugging it.
I think it's a pretty decent battery. Obviously, it doesn't last even close to what you'd get from ultrabooks, but that's because this is not an ultrabook. This is a gaming laptop with a GTX 1070 inside it, and 3 hours of battery is a pretty decent number to get with that. Also, as a gamer, you'd not be using it without plugging it in so it really won't make much of a difference.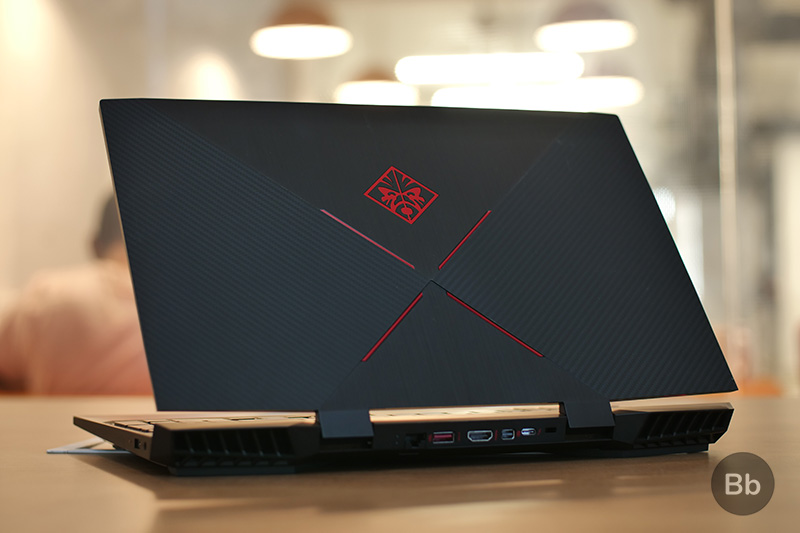 Charging up the laptop takes considerable time, with it taking around 2 hours (give or take) to get from 10% to a 100% charge when plugged in and not in use. That's quite a lot, but considering that it has a much bigger 70Whr battery, I'd say it's okay.
Overall, the battery performance of the Omen 15 is pretty satisfactory, and much like almost everything else about the laptop, I don't have anything bad to say about it.
HP Omen 15: Pros and Cons
The HP Omen is a pretty great gaming laptop with a nice, sleek design and performance that will not let you down. However, it does come with its own set of pros and cons.
Pros:
Great design
Amazing performance
Decent battery life
Plenty of I/O options
Cons:
Small trackpad
Display has a lot of flex
SEE ALSO: MSI GE73 Raider 8RF Review: Gaming Without Compromises!
HP Omen 15 Review: Form and Function In One Sweet Package
All things considered, the HP Omen 15 is definitely a laptop that's worthy of its Rs. 1,54,490 price tag. That said, the Omen 15 isn't the only option you can go with. As far as sleek gaming laptops with great specs are concerned, there's the MSI GS65 Stealth that comes with similar specs, but 1TB of SSD storage for $2,499 (launched in India for Rs. 1,89,990). Also, if you're looking for a laptop that's drastically cheaper than the Omen and you're willing to sacrifice performance and looks, there's the Asus TUF Gaming Laptop that comes with 1050Ti, 8GB of RAM, and a 120Hz display for Rs. 73,990.
However, the HP Omen 15 is a particularly great laptop at this price, and it manages to check a lot of the boxes for a great gaming laptop. It has a great design that manages to hit a certain sweet spot between being flashy and being stealthy, it has great specs, a display that's 144Hz, really sharp and accurate, a nice keyboard, and performs like a champ. So, if you're looking to buy a gaming laptop in the Rs. 1.5 Lakh price range, I'd suggest the HP Omen 15 for sure.
REVIEW OVERVIEW

Design and Build Quality

8.5

I/O Ports and Connectivity

9

SUMMARY

The HP Omen 15 is one of the few gaming laptops I've come across that check almost every box for a great gaming laptop in their price range. It has specs that'll put every AAA title within your reach at the highest of settings, a design that will make your friends envious, and a display that, with 144Hz, looks buttery smooth no matter what. At Rs. 1,54,490, the HP Omen 15 is definitely a laptop that's worth your attention, and most likely your money.