When updates for an app roll out, most of us don't wait to download it. For us, the basic thinking is "new is better", but many times it turns out to be exactly the opposite. We update an app thinking it's going to improve things and bring features but at times, app updates bring bugs or remove features you loved and overall, feel like a downgrade. For instance, the recent updates to ES File Explorer and App2SD, apps which worked perfectly fine before, but are now filled with pesky ads. For some people, it may also be a matter of how the apps interface feels, many people did not appreciate the changes made to Instagram with its recent update.
With time, most people adjust with the new updates or revert to other apps but we are here to tell you that you don't have to compromise. There is a way to simply go back to using the older version of an app, the version were comfortable with and never update it again. So, here are the steps to download the older version of an app and avoid updating them on your Android:
Download And Install Older Versions Of Apps
1. Download the APK file for the app from third-party sources like apkpure.com, apkmirror.com etc. These sites provide unpatched, safe to use APK files for the apps.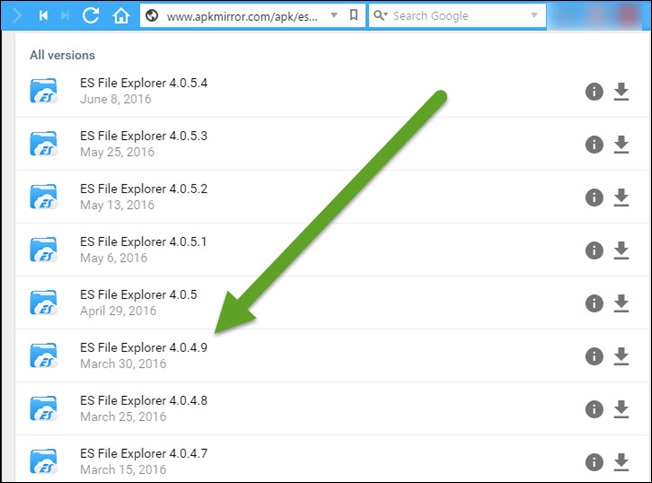 You can download the file directly on your Android device using a browser or download it to your PC and then transfer it to your device.
2. Once you have the APK file saved on your phone's internal storage, the next thing you should do is enable installation of apps from unknown sources. To do so, go to Settings –> Security  and turn on "Unknown Sources".
You may see a message telling you that such an action might be dangerous to your device, which would be correct if the APK file source isn't reliable. But, the sites we have mentioned above are secure and present no risk to your device, so you can go ahead without worrying about it.
3. Open the APK file you had downloaded earlier on your Android device and go forward with the installation process.
The process is exactly the same as it is when you download apps from the Play Store, you just need to accept the permissions the app is requesting and that's it. Once done, the app will be ready to use on your device.
However, just downloading and installing an older version of the app is not enough. If you are not careful, you might accidentally update the app and end up with a newer version which puts everything we did, to waste. To avoid this from happening you just have to keep a few things in mind:
Prevent Updating Of Apps
1. Turn off auto update apps
The first thing you need to do is turn off auto update of apps in the Play Store. To do so, go to Play Store Settings and tap on "Auto-update apps" and choose "Do not auto-update apps" from options. Well, that should cover automatic updates for the future. However, there's this one last thing you should check as well.
2. Avoid updating all apps
The second thing you need to keep in mind is to avoid updating the app yourself. Whenever you are connected to the internet, you will get notifications from the Play Store for available app updates. You can choose to turn off these notifications completely through settings in the PlayStore, which will make sure you don't update the app by mistake. But, even if you have update notifications turned off, make sure never to tap on "Update all" when you open the Play Store's "My apps & games" section.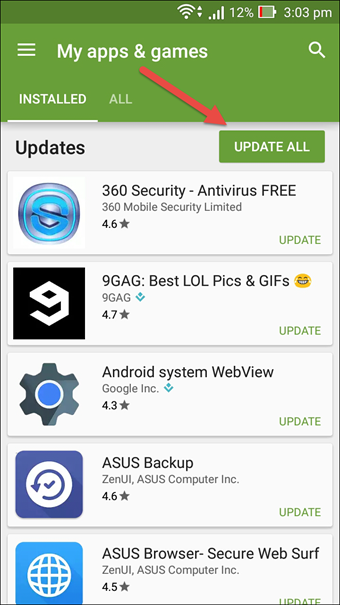 If you want to update any other apps you can do them individually instead of updating all at the same time.
Just following these two precautions will make sure you don't unknowingly update the app. Also, if the app itself notifies you about an available update, do not choose to update it. If you do update an app by mistake, do not worry, you can simply uninstall that app and then use the APK file you downloaded earlier to reinstall the older version of the app.
SEE ALSO: How to Check Google Account Permissions for Third Party Apps
Don't let bad app updates ruin your experience
There it is, a few steps and even fewer precautions and you can use the older version of an Android app you love. One thing you need to keep in mind is that some apps require regular updates to function, apps like WhatsApp, Clash of Clans etc. might show an error saying an update is necessary to open the app. In such a situation you have no choice but to oblige since older versions have been rendered inoperable by the servers themselves. For all other apps that do not have to be updated to run, you can easily use the above mentioned steps to download an older version that you are comfortable with. Whether it's the ads bothering you or you just don't fancy the new interface, don't compromise, simply go back to the version that worked best for you. Let us know how this method worked out for you. Sound off in the comments section below.