After quite a wait since its announcement at the Google I/O conference, Google Allo has arrived for Android smartphones and iPhone. The smart messaging app is Google's another attempt to make an impact in the world of instant messengers. The smart messaging app comes equipped with the brand new Google Assistant, which should make sure that you never need to leave the messaging app to look for places, news, weather or any other queries. Also, there's the cool smart reply, which makes the app a lot more fun. Sounds interesting, right? Well, let's dive on how you can use Google Allo on your smartphone:
Getting Started
After you've installed Google Allo from the Play Store or the App Store, the first thing that Allo will ask you, is permissions. Then, you will have to register your mobile phone number, just like other messaging apps.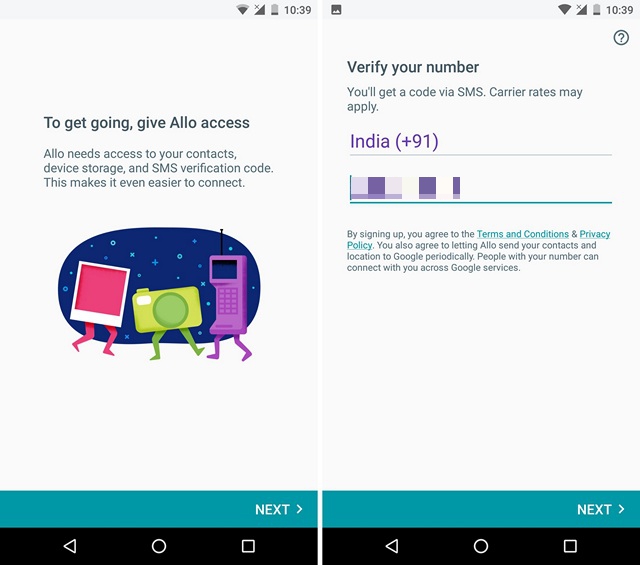 Once done, the app will ask you to put up a profile picture. You can take a picture or you can select one from the Gallery. Then, enter your name and you are good to go. You will be welcomed by the brand new Google Assistant.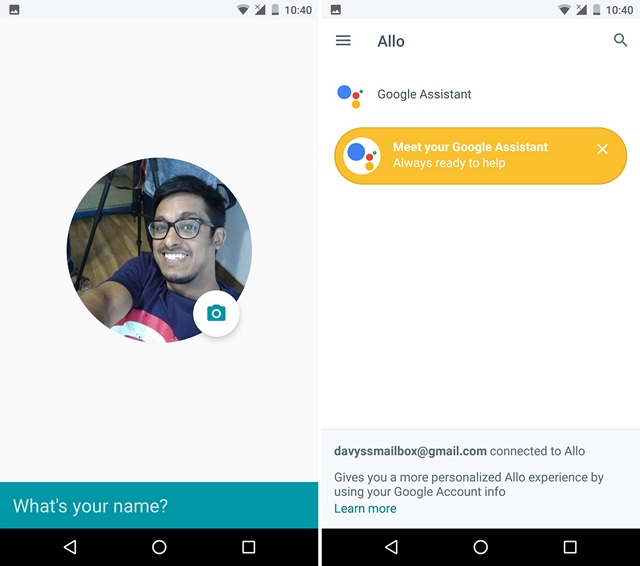 Before we get onto features like Google Assistant and Smart Reply, let's take a look at the basic yet important features in Allo:
Basic Features and How to Use Them
While Allo lacks end-to-end encryption like WhatsApp, it does bring an incognito chat feature, similar to Telegram's Secret Chats feature. You can start an Incognito chat by tapping the new message floating icon and then, tapping on "Start incognito chat". You can then choose a contact and the incognito chat will be started.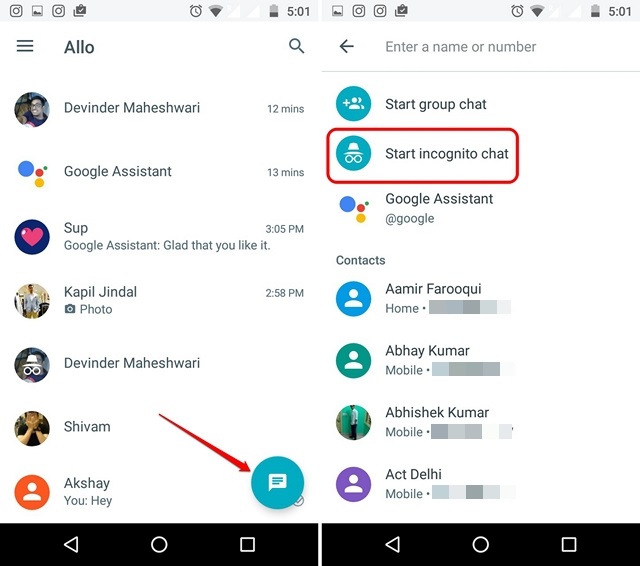 In incognito chat, the messages are end-to-end encrypted and there are additional privacy features like discreet notifications. Also, you can set an expiration aka self-destruct timer on messages. You can set the timer by tapping on the top right timer icon and selecting the time.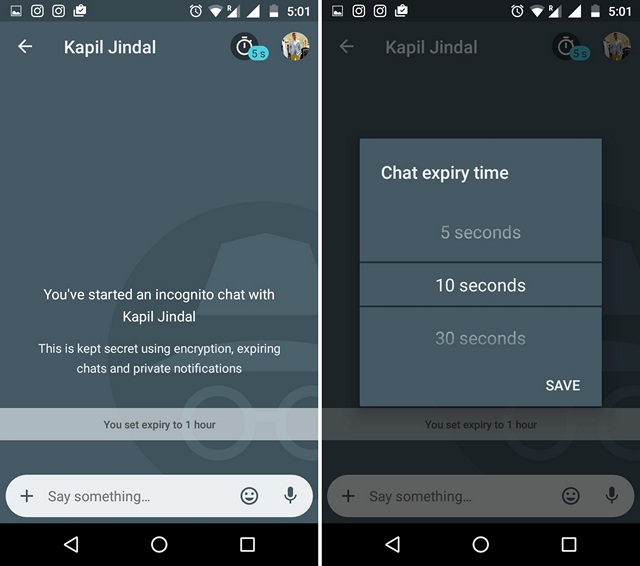 Unlike WhatsApp, Allo includes support for stickers, which is some great news for people who love conversing via stickers. You can send a sticker in a chat by tapping the plus button and then, going to the fourth option at the bottom. The messaging app comes with three sticker packs installed but you can always download more.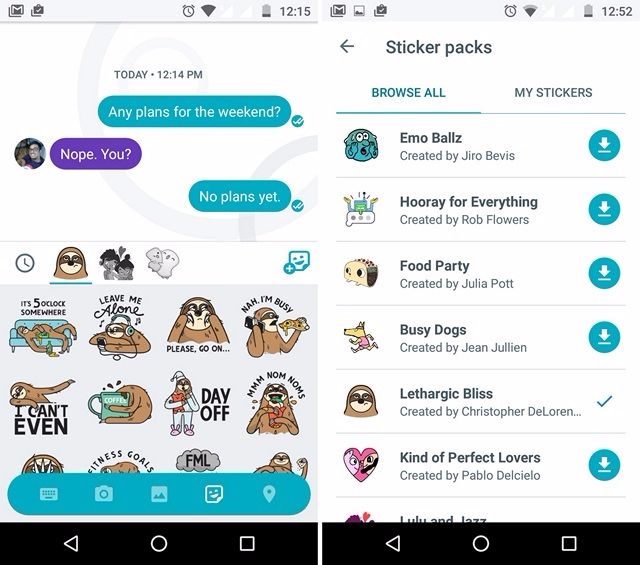 Shout or Whisper a message
Allo lets you shout or whisper a message, which is nothing but the ability to increase or decrease the font size of text before you send it. It's simple to use really. Just type in a text and press hold the send button, which will start a slider which you can use to increase or decrease text's font size. This should come in handy when you want to show how excited you are or when you are uninterested.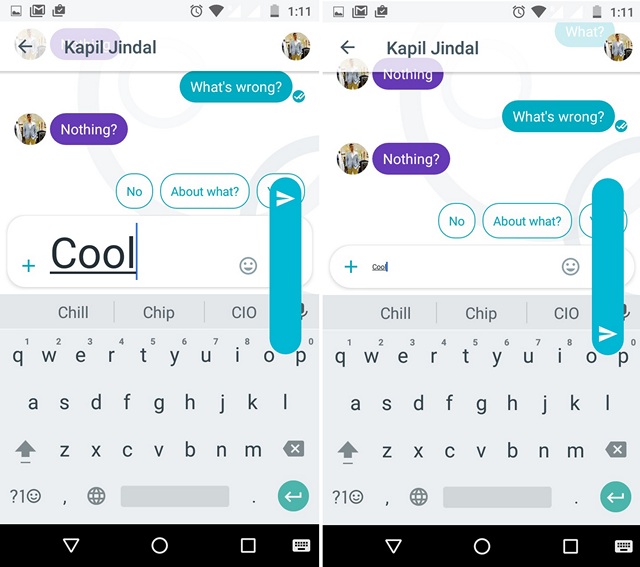 WhatsApp recently brought the ability to doodle and edit images before you send it and well, Allo comes with the feature too. After you select a photo or capture a photo to send, you can doodle on it with different colors or add text to it. A pretty simple feature but quite handy.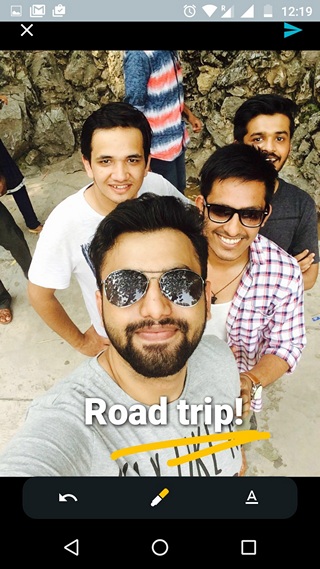 Allo also packs in the usual messaging features like group chats, voice messages, ability to share photos, videos and location. There are also features like read receipts, custom notifications, mute contacts or groups, search chats and ability to block contacts.
Smart Reply
Now, let's come to the features that are supposed to make people use Allo. One of those features is Smart Reply. It's nothing but AI-based reply suggestions to texts and photos in the app. For instance, when you get a message like "How are you?", Allo brings you reply suggestions like "Good and u?", "I'm ok, You?", "Good, u?".
It even brings you reply suggestions when a picture is send. For instance, you get receive a picture of a dog, Allo will suggest you replies like "Cute dog!", "So cute!".
Also, Google claims that Smart Reply will get even better over time, as it learns from your style of talking. Personally, I'm already in love with this feature, as it makes sending quick replies a whole lot easier and I'm surely looking forward to see its improvements over time.
Google Assistant
Allo features the "preview edition" of Google Assistant and it already seems great. There are two ways to access Google Assistant in Allo. You can directly talk to the assistant through its separate chat thread or you can trigger it any chat or group chat by typing @google and typing in your query.
It's powered by Google Search, so you can get various results like weather info, flight info, news, nearby places, navigate, play games, translate languages and more. You can even use it to set an alarm or a reminder.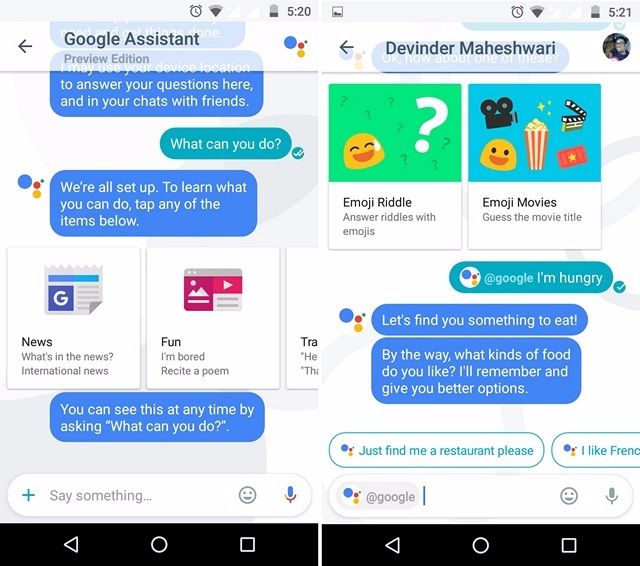 Moreover, Google Assistant also features a personality, like Siri and Cortana, so you can talk to it, ask it to sing a song, tell a joke and more. Plus, Google integrates it other services too, so if you search for a YouTube video, you can play it right inside Allo. For instance, you can just ask, "Show me some new trailers" and it'll bring YouTube videos you can watch.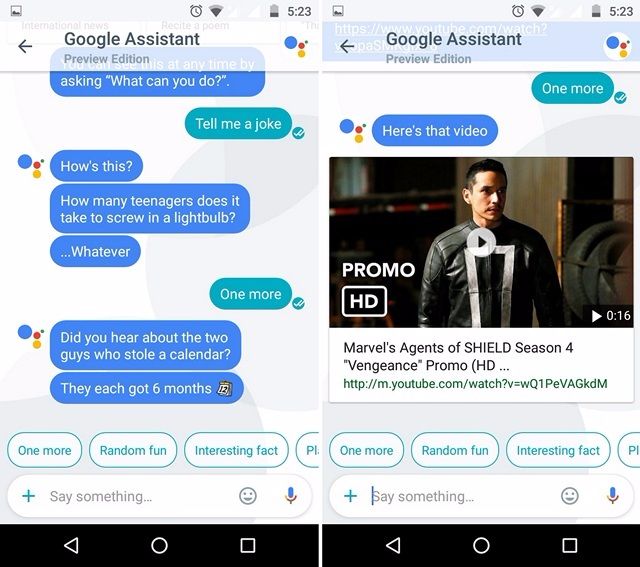 Basically, you get all of the Google power right inside Allo. Plus, it will learn more about you over time to bring you better responses. In my personal experience, I love the fact that you no longer need to leave a conversation to check flights, weather, news or anything else for that matter. It's awesome and chances are, you will love it too.
https://www.youtube.com/watch?v=VXEkoXgb4bI
SEE ALSO: What is Google Spaces and How to Use it for Group Sharing
Can Allo take on WhatsApp?
Facebook's WhatsApp is no doubt the numero uno messaging platform at the moment with more than a billion active users. However, Allo poses a serious threat to WhatsApp. While it's still a pretty budding messaging app and lacks features like calls, last seen, file sharing, to name a few, its Smart Reply and Google Assistant features are right on the money an once you use it, you will be addicted. Also, Google brings a certain simplicity to Allo, considering it has baked all of its search & AI features right into the app. While making people jump from WhatsApp to Allo will be tough, we certainly believe WhatsApp has some serious competition now and Allo is without a doubt the best messaging app from Google.
So, what are you waiting for? Install Google Allo on your Android smartphone or iPhone and let us know your thoughts about it in the comments section below.
---
Load More