If you saw the Google I/O 2023 conference, you will remember a flurry of AI-related announcements that shook everyone. However, amid all the reveals like the PaLM 2 LLM and the updated Google Bard that overshadowed the event, we saw AI generative search finally coming to Google. Capable of displaying AI results in the search results, just like the all-new Microsoft Bing, Google is bringing an exciting feature. However, you need to enable it first to use. In this guide, learn how to sign up and turn on the Google AI search feature right away!
Step 1: Sign up for Generative AI Search Using Labs
Google's new Generative AI Search Engine is a feature not available for general users. Therefore, you will need to sign up for it via Google Labs. Make sure you have one of these best VPNs for Windows and have set it to the US.
Head on over to labs.google.com to access the main page. Scroll down until you see the Google Search waitlist. Then, click on "Join waitlist."
If you're not signed in already, you must click "Sign in to continue" to proceed.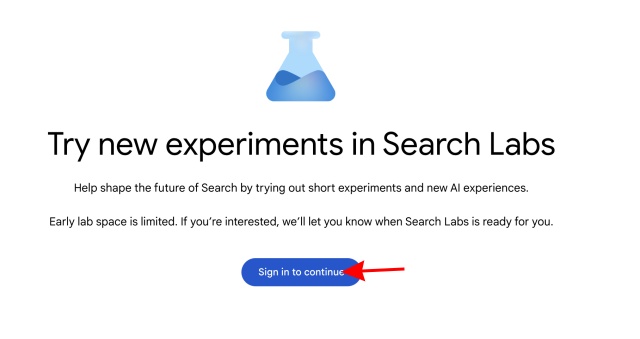 Once you are signed in, you will see the screen for the waitlist. Click the "Join waitlist" button to finish the process.
And that's it! You have successfully joined the waitlist for Google's AI Generative Search Experience.
Spots on the waitlist are few and far between, so you might take some time to gain one. However, as soon as you do, you can use Google's AI converse mode on your PC and mobile devices. Once you do, follow the steps below.
Step 2: How to Enable Google Generative AI Search
As mentioned, it might take some time, but you should get a spot soon. You will be notified of the same by email. Once you do get that mail, follow the steps below.
In the mail you receive, click on "Go to Labs" to begin enabling Google's AI generative search.
You will now see the option to turn on Google AI Generative Search Experience. Toggle it on to do so.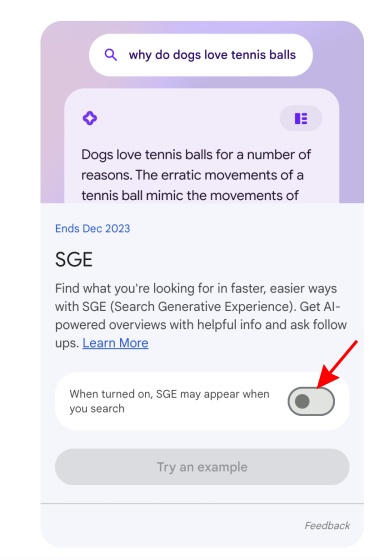 Some terms and conditions will now appear. Read through them and click "I agree" to finally enable it.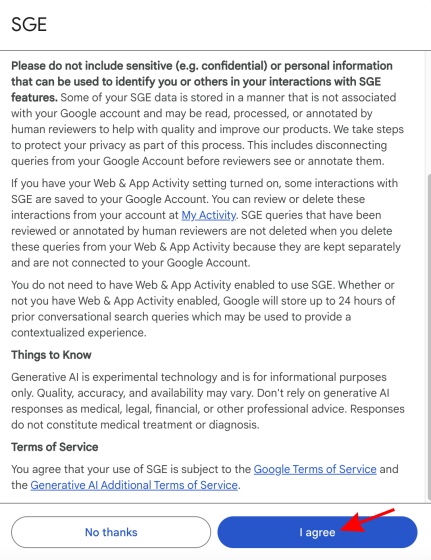 And that's it! Google's new artificial intelligence-backed search experience is now available on your devices! Let's begin using them.
Step 3: How to Use Google AI Search Experience
Now it's time to use the all-new Google SGE on desktop and mobile. Ensure your VPN is on if you do not reside in the United States. Then, follow the steps below to do so.
Head on over to google.com and type out your query. You might have already seen the Generative AI banner below.
And just like that, Google's Generative AI Search Experience scours the Internet and quickly provides an answer above the web search.

You can even ask Google SGE follow-up questions in the Converse mode easily, and it responds in kind.
And just like that, you have the all-new Google's New AI Generative Search Experience! Make sure to keep the VPN on and have fun playing around with it.