Windows 10 is one of the most widely used operating systems, second only to Microsoft's own Windows 7. While it is an advancement in almost all domains over its predecessors, it is far from being perfect. Being the last Windows version, it receives frequent updates, which can be pretty annoying. The sad part about this is Windows 10 doesn't really allow you to control these updates and at times, these updates install automatically. However, though you may not find any setting to disable Windows 10 updates per se, there are other ways to manage them. Before we discuss the different ways, let us find out why you would want to stop Windows 10 updates in the first place.
Why Would You Want to Stop The Updates
While updates do provide better security and stability to an operating system, Windows 10 delivers them at the cost of your convenience. AT times, the updates rolled out by Microsoft get downloaded and installed on your computer without any notification. This may result in Windows slowing down and requiring frequent reboots, thus doing away with your convenience. As everything happens in the background, many updates which you otherwise wouldn't have downloaded also come through. These may even change a setting or remove a feature which you loved using.
After being criticized for this from a large number of their users, Microsoft eventually rolled out a few options that you can change to stop the Windows updates. Sadly, these options are deep embedded in the Windows architecture, thus making it difficult for you to find them. Fortunately for you, we not only found but also tested them to conclude that they actually do work. So without wasting any more time, here is how to stop Windows 10 updates from installing automatically:
Note: The steps mentioned below were tested on a system with Windows 10 Pro. Some or all of them might not work with other editions of Windows 10.
Stop Windows 10 Auto Updates Using Windows Update Service
Since there won't be any more new versions releasing in the Windows series, Microsoft decided to change Windows 10 to a service. That being said, all the updates that you receive now are a part of this service. So, to stop them altogether would mean stopping one of Windows' service. To find out which one and how to stop it, read the steps mentioned below.
Open the Run command by pressing Windows + R on your keyboard. Here, type "services.msc" and click on "OK".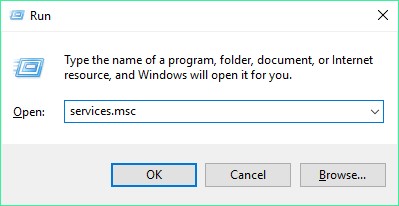 This will open the Windows Services window. From the list of services that you see, double click on "Windows Update".

You should now see its properties window pop-up. Here, in the drop-down menu of "Startup type", select "Disabled". Now you can click on OK to save these changes.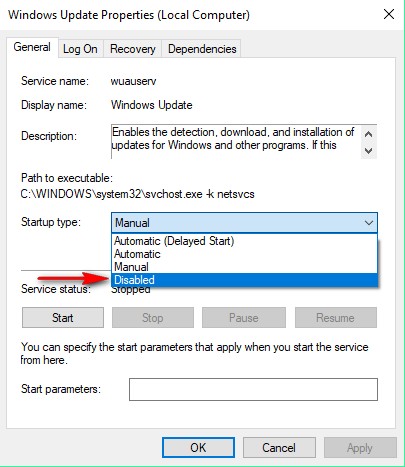 As simple as this was, you can experiment with the different options available. And in case if you ever wish to update your Windows 10 computer, you can always change the "Startup type" to "Automatic".
Disable Windows 10 Updates Using Registry Editor
Almost every single Windows settings can be altered in the Registry Editor. The story is not any different when it comes to Windows updates. With a free Registry tweaks, you can take full control of the updates. Read the steps below to find out how.
Open Run command by pressing Windows + R on your keyboard. Here, type "regedit" and hit Enter.
This opens up the Registry Editor. If you have an Address Bar enabled here, you can copy the path below, and if not, you'll have to navigate there manually.


Computer\HKEY_LOCAL_MACHINE\SOFTWARE\Policies\Microsoft\Windows

Here, in the left pane of Registry Editor, right-click on "Windows", hover to "New", and finally click on "Key".
This will create a new key. Rename it to "WindowsUpdate". Once done, right-click on this key, hover to "New", and click on "Key".
This creates yet another key – this time under "WindowsUpdate". Rename this one to "AU", double-click on it, and then right-click anywhere on the right pane. Now, hover to "New" and select "DWORD (32-bit) Value".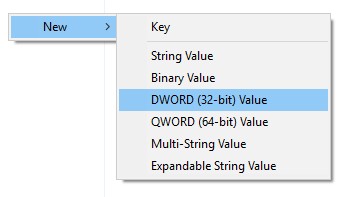 Rename this key to "AUOptions", and then double-click on it in order to edit it. Choose the base as "Hexadecimal", enter the "Value data" from any of the ones mentioned below, and then click on "OK".


'2': notify for download and automatically install updates
'3': automatically download and notify for installation of updates
'4': automatically download and schedule installation of updates
'5': allow the local admin to configure these settings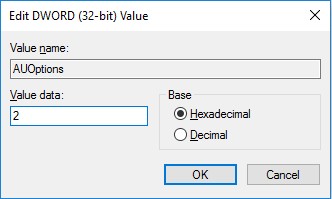 This method gives you the control over Windows 10 updates pretty much like what got in its previous version. Personally, I keep the "Value data" as 2 since I want to decide what updates I want to download.
Block Windows 10 Updates Using Local Group Policy Editor
Like Registry Editor, the Local Group Policy Editor gives you more than just a single way to manage the system updates. In fact, it is a lot easier than the former method, but can't be implemented on Windows 10 Home edition as the edition does not come with the Local Group Policy Editor. Having said that, below are the steps to block Windows 10 updates using Local Group Policy Editor.
Open Run command by pressing Windows + R on your keyboard. Here, type "gpedit.msc" and click on "OK".
This opens the Local Group Policy Editor. Here, navigate to the path mentioned below.


Computer Configuration\Administrative Templates\Windows Components\Windows Update

Under the list of settings that you see, double-click on the one that reads "Configure Automatic Updates".

In the windows that pops out, enable the setting and look for an option called "Configure automatic updating" with a drop-down menu. To stop the automatic downloading of updates, select the option that says "2- Notify for download and auto install", and then click on "OK".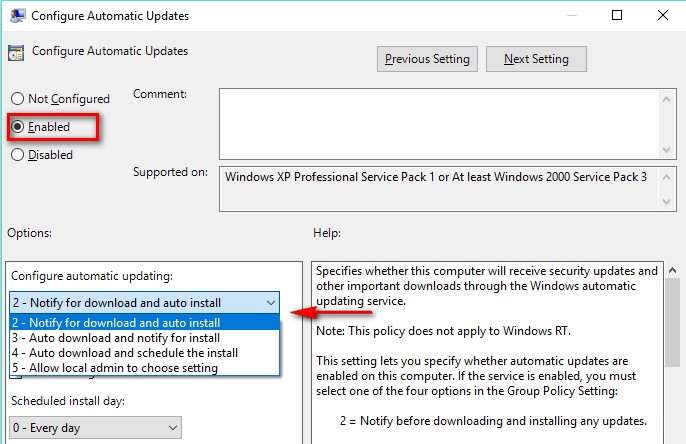 You can experiment with the different options in the drop-down menu to best suit your needs. In case you ever wish to change it back to the default one, select "3- Auto download and notify for install".
Quick Workaround to Stop Windows 10 Updates: Use Metered Connection
In this method, you will make Windows believe that your internet connection is a metered one, and then it won't automatically download all the updates over it. Note that some priority updates will still get downloaded regardless of using this method. If that is not a problem for you, read the steps below to implement this method.
Open your computer's settings by pressing Windows + I. Here, click on "Network & Internet".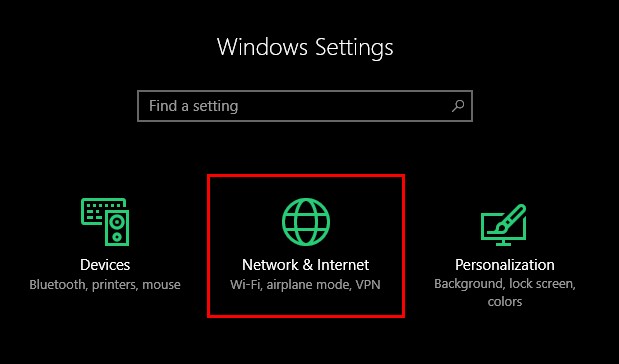 Under "Network & Internet", go to "Wi-Fi", and then click on the name of the network you're connected to. (In case you want to do this for a different network, you can find the list of the networks your computer has previously been connected to by clicking on "Manage known networks". If you take this option, click on your desired network name and then click on "Properties".)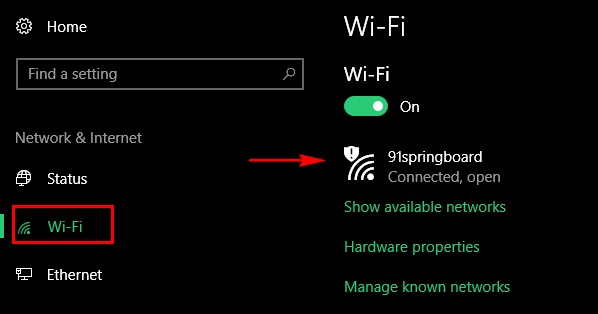 Here, under "Metered connection", you'll find a toggle called "Set as metered connection". Turn this on and you're done.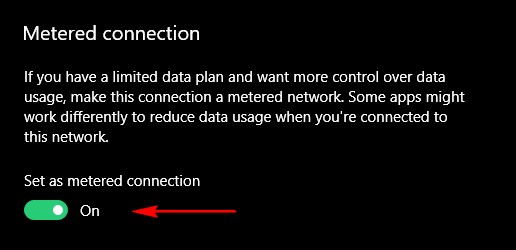 Now, Windows 10 will assume that you have a limited data plan on this network and won't download all updates over it automatically.
SEE ALSO: How to Play a Custom Voice Message on Windows 10 Startup
Turn Off Automatic Updates in Windows 10
While the automatic downloading of Windows 10 updates might bother most people, you now know more than just a single way to stop that. So go ahead and take full control over your Windows 10's system updates. Also, if there are any other ways to stop Windows 10 updates that you know of, do let me know in the comments section below.