It's fairly easy to delete a contact from your iPhone, but what if you accidentally deleted the wrong contact or lost all of them? It's probably one of the worst nightmares that could happen to any smartphone user. I've personally seen several users on my Facebook list posting status updates regarding how they lost all their contacts and then going on to request everyone to send them their phone numbers again. So, we wanted to do our part by helping you avoid running into these problems in the future and we're going to give you three ways to do it. Well, without further ado, let's take a look at how you can recover deleted iPhone contacts:
Recover iPhone Contacts Using iCloud Backup
This is without doubt, the easiest way to get back your lost or deleted contacts easily, because it doesn't require you to connect your iPhone to your computer, unlike iTunes Backup. Ever since iCloud was made available, most of the Apple users started using iCloud to organize important data, especially contacts. So, if you want to recover the deleted contacts, simply follow the steps below:
Go to your iPhone's Settings -> iCloud and disable "Contacts" if it's enabled.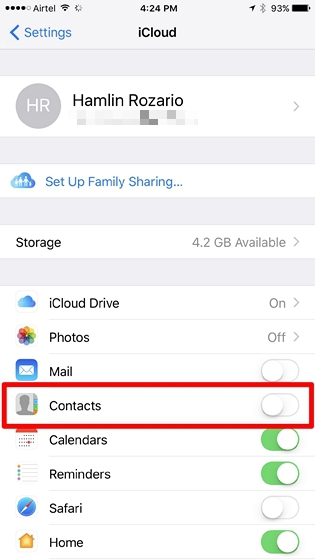 When you disable contacts, you will see a prompt on your asking you to either keep the previously synced contacts or delete them. Just tap on "Keep on My iPhone".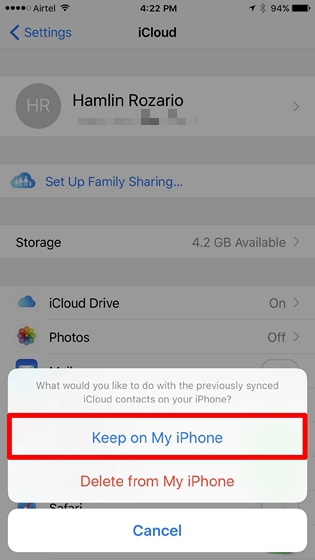 Once you're done, enable "Contacts" for your iCloud account once again and tap on "Merge".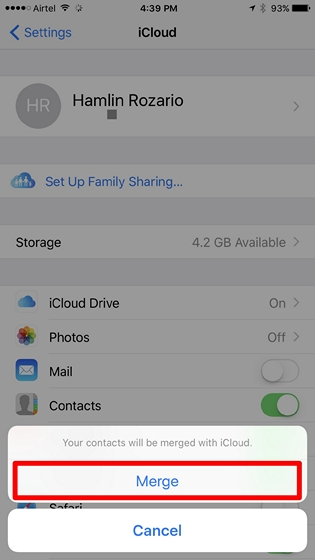 Now, you just need to wait for a while until iCloud merges all the contacts to your iPhone. The lost or deleted contacts are usually still stored on your iCloud account. So, once it gets merged, those contacts will also show up on your iPhone.
Restore iPhone Contacts Using iTunes Backup
This alternate method is for the people who want to do it the old school way, which requires you to connect your iPhone to iTunes. iCloud method is still a lot more convenient when compared to this one, but if you still prefer using this, simply follow the steps below:
Open iTunes on your computer and click on the phone icon.
Now, click on "Restore Backup" if you've already backed up data from your iPhone to your computer previously.
Once done, by using the dropdown, choose the particular backup that was done before you lost or deleted the contacts on your iPhone and click on "Restore".
Well, wait for the restore process to finish, as it will take a few minutes. Once completed, you'll be able to see all the lost or deleted contacts back on your iPhone.
Retrieve iPhone Contacts Using Third Party Software
If you don't like using either of these methods, you can download and install this third-party software from here. The software is not free and it costs approximately $48 for the full version. However, they do offer a free trial but it only shows you contacts that are available for recovery. So, you will need to the full version to recover your iPhone contacts. Well then, simply follow the steps below to recover your contacts using FoneLab:
Open the software and click on "Recover from iOS Device" and then click on "Start Scan".
Now, the scanning process will begin and will take around 5 to 10 minutes to complete.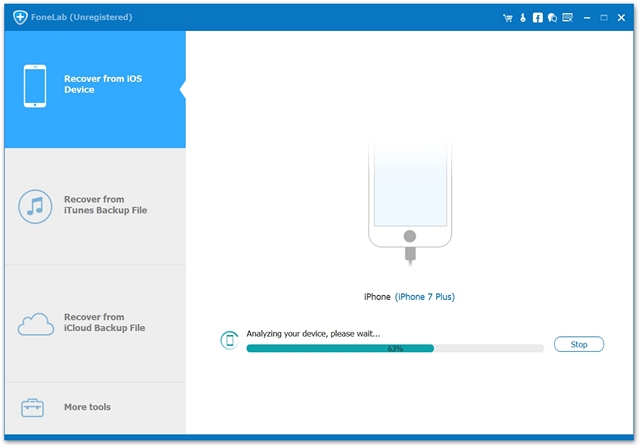 Once the scanning process is completed, click on the "Contacts" option in the left pane and go through all the deleted contacts which are indicated clearly in red. Simply click on "Recover" and wait for a few moments. Now, you'll notice that all those contacts are back on your iPhone once the recovery process finishes.
Well, these are all the three methods you could utilize to recover your deleted contacts. However, we still recommend you to make use of iCloud Backup method, as it's much more convenient and doesn't require you to connect your iPhone to the computer.
                SEE ALSO: How to Transfer Contacts from iPhone to Android
Recover Deleted Contacts on iPhone With These Methods
We're glad we could give you not just one, but three ways to recover your iPhone contacts. So, stop panicking when you lose your contacts next time. Rather, come back to read our article and follow the steps again, just in case you forget. So, are you glad you could recover all your contacts today? Do let us know how this article has helped you by simply dropping a few words in the comments section down below.