Last month, Google announced a new experimental feature that lets users follow any website within Chrome, essentially eliminating the need for a dedicated RSS reader app on their smartphone. The software giant is initially testing the feature on Chrome for Android. In this article, we will take a look at how you can enable the Web Feed feature right now and follow websites in Google Chrome.
Follow Websites in Google Chrome (2021)
Chrome's Follow feature is getting a gradual rollout right now. At the moment, it is hidden behind a feature flag in Chrome. In addition, it is rolling out for users in the United States. That said, here's how you can enable and try out the new 'Web Feed' RSS Reader feature in Google Chrome right now.
Note: As of writing this article, if you live outside the U.S., you may not see Chrome's Follow feature even after enabling the flag. If you would like to test this feature ahead of its official release, you can get a VPN app for Android and switch to a U.S. Google Play account. You can follow our guide on installing Android apps not available in your country.
Steps to Enable Web Feed RSS Reader in Google Chrome
1. Open Google Chrome on your Android device and visit chrome://flags.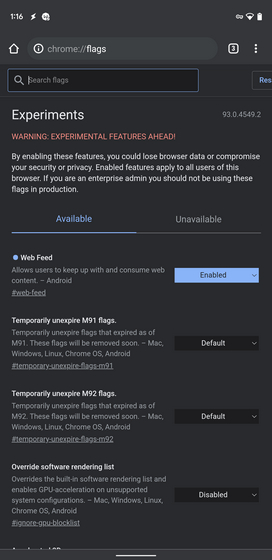 2. In the search box at the top of the page, type "Web Feed" and choose "Enabled" from the dropdown menu next to the Chrome flag. You can also directly access the Chrome flag by pasting the following address in Chrome's address bar:
chrome://flags/#web-feed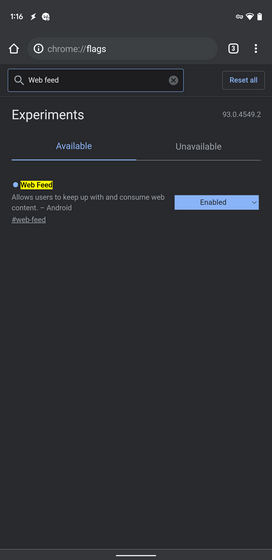 3. After enabling the Chrome flag, do not forget to restart the browser. You will now see a new "Following" section on Chrome's new tab page when you reopen the browser. For detailed steps on how to follow websites and add them to the Web Feed in Chrome, check out the next section.
How to Use Web Feed to Follow Websites in Google Chrome
Getting started with Chrome Web Feed is straightforward once you have enabled it. Here's how to add sites to your following list and manage them in Chrome:
1. Visit your favorite website and tap on the vertical three dots menu at the top right corner. On the pop-up menu, tap on the new "Follow" button that shows up along with the website's URL and favicon.
2. Go back to the new tab page, and you will now see a scrollable feed of posts from the website you just added in reverse chronological order. Notably, Chrome will show the AMP version of the website.
3. To manage websites you have followed, tap on the gear icon next to the Following tab and choose "Manage".
4. Under Manage settings, tap on "Following", and you can now choose to unfollow websites you no longer want to see in your feed. To unfollow a website's RSS feed in Chrome, all you have to do is tap on the checkmark next to the website's name.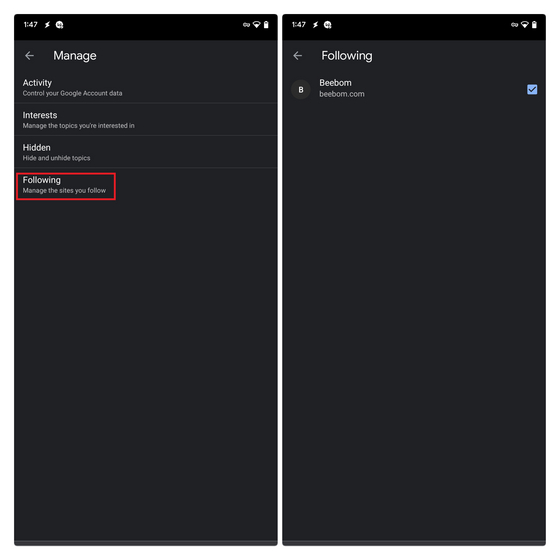 Browse a Website's RSS Feeds in Google Chrome
So, that's how you can follow websites with Chrome's Follow feature. As mentioned earlier, this is still in the testing phase and will take a while to roll out to general users. If you are looking to try out more Chrome-related features, check out our guides on how to enable the built-in price tracking tool in Chrome, disable FLoC in Chrome, and also remove your Google account from Chrome.