I can't remember how many times red eye has ruined my nearly perfect photos. Especially when shooting in low light with the flash on, the subjects end up with unwanted red glowing eyes that make the images look useless and not worth sharing on social media. The good thing, however, is that technology advancements and computation photography features have made it possible to fix red eye in any photo on your iPhone. So, if you no longer want this blemish to destroy your perfect photos, learn how to remove glowing red eyes on your iPhone.
Remove Red Eye Effect from Photos on iPhone (2021)
The modern versions of iOS, including iOS 14 and iOS 15, let you remove the red eye effect right from the Photos app. Yeah, you don't need to install any third-party apps or spend money to fix this little imperfection. If you deal with flawed images more often than not and wish to have the flexibility to process several images simultaneously, third-party tools can come in handy. Thanks to the automatic processing, they enable you to fix the red eyes effect in photos on iPhone incredibly simple. With that said, let's take a look at the steps!
Fix Red Eye in an Image Using Apple Photos App on iPhone
1. Launch the Photos app on your iPhone. Then, open the image from which you wish to remove the red eyes effect.
2. Now, tap on "Edit" at the top right corner of the screen.
3. Next, tap the "Eye" icon at the top-right corner.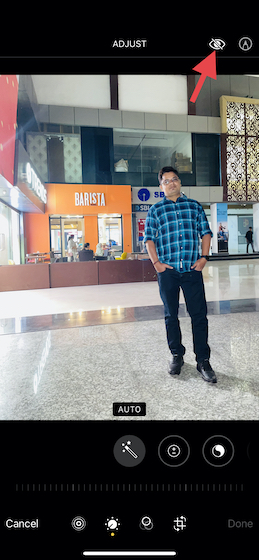 5. Next up, a prompt will appear at the bottom of the screen asking you to "Tap each red-eye". So, simply tap the red eyes in the photo to fix the issue on your iPhone. In the end, make sure to tap "Done" at the bottom-right to confirm the change.
And that's pretty much it. This is the easiest way to fix the red eye effect in photos on your iPhone. You do not require any third party for basic retouching, thanks to Apple's thoughtful approach towards software features in the Photos app. If you want to learn how to use the latest People Album feature in the Photos app, head to the linked article.
Best Red Eye Remover Apps for iPhone and iPad
Here are some reliable glowing red eye removal apps worth taking a look at on iPhone. Whether your device is running older versions of iOS or you wish to have a more proficient tool to get rid of this flaw in your images, we have compiled the best options for you. With that said, check out the apps you can use to fix the red eye effect in photos on your iPhone.
1. Quik Remove
Quik Remove is a highly efficient red eye corrector tool on iPhone. The app uses AI to spot glowing red eyes and remove them. After removing the blemish, it gives a more natural look to the eyes. Additionally, you also get the flexibility to choose from several images.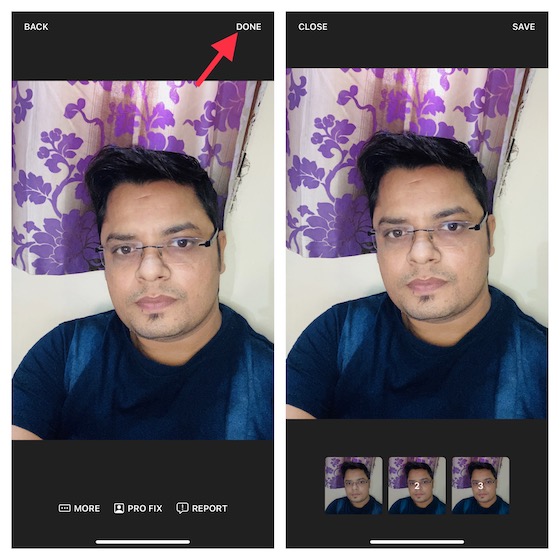 With Quik Remove, it's simple to fix the red eye effect. All you need to do is open the app and choose the photo from your camera roll. The app will automatically remove the red eyes and allow you to save the image to your camera roll. It's worth noting that Quik Remove is available for free with some limitations. And if you want to unlock all the features, including the ability to remove the processing time, you will need to upgrade to the full version. It is available for $79.99/ year.
Install Quik Remove (Free, full version is priced at $79.99/ year)
2. Red Eye Corrector: Fix Redeye
This app is equally efficient when it comes to correcting the red eye effect in photos. With automatic processing, it delivers instant results. All you need to do is select images from your photo library and let the app do its job to fix the glowing red eyes on your iPhone. Once it has processed your image, you can choose to share it right away or save it to your camera roll.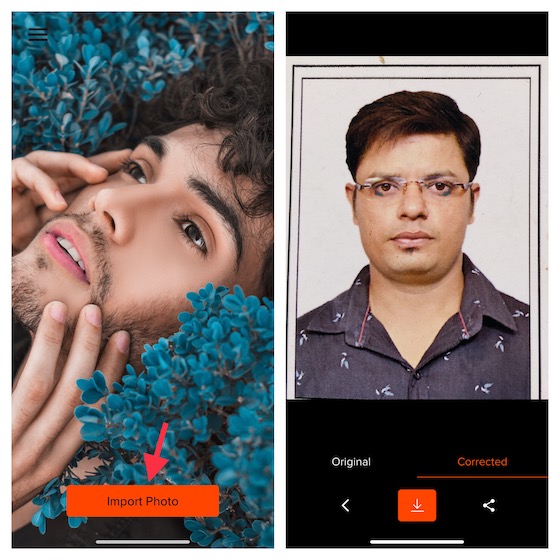 Install Red Eye Corrector: Fix Redeye  (Free, full version is priced at $4.99)
3. Red Eye Corrector & Remover AI
If you are looking for a simple and free app to fix red eye in Photos on your iPhone and iPad, the Red Eye Corrector & Remover AI app could be a preferred choice. The app automatically detects and fixes the glowing eyes in your images. What's more, you can also process multiple images at one go. After you have fixed your images, you can export them to your photo library. So overall, it has all the bases covered to be your handy tool.
Install Red Eye Corrector & Remover AI (Free)
Best Ways to Fix Red Eye in Photos on iPhone and iPad
So that's the way you can remove red eye from your photos on your iOS 15 or iPadOS 15 device. Though the stock Photos app does a great job of getting rid of glowing red eyes, third-party apps are more convenient to use. They support automatic processing and the ability to fix multiple images at once. So, if you often have to edit photos with red eyes caused by flash photography, the third-party tools could be worth having at your disposal. However, if you need to remove the imperfection only once in a while, the built-in tool is more than capable to get the job done. Anyway, we hope this tutorial helped you learn reliable ways to fix the red eye in images on iPhone. If you have any queries, do let us know in the comments below.
---
Load More