There are times when you would want to revisit your old Instagram bios and see the quotes or fonts you used. While Instagram previously offered a convenient method to view or copy your bio, that is no longer the case. However, there is still a workaround to access your older bio. In this article, we have explained how you can find your old Instagram bios.
How to Find Your Old Instagram Bios (2022)
Check Old Instagram Bios on Mobile (Android & iOS)
1. Open the Instagram app and tap on your profile icon from the bottom navigation bar to access your Instagram profile. Once you're on the profile screen, press the hamburger menu (horizontal three lines) at the top-right corner.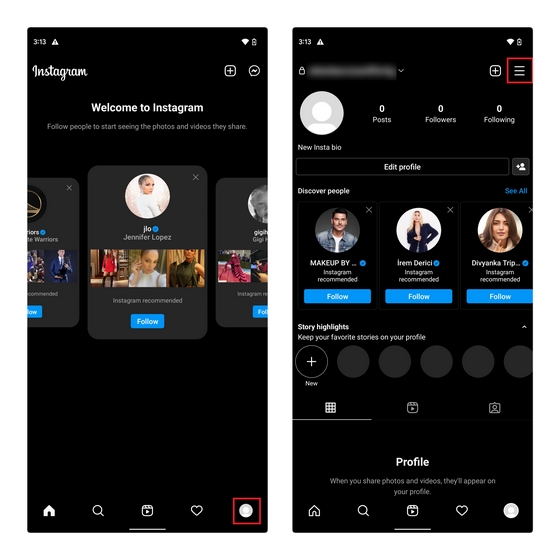 2. From the pop-up menu, choose "Your activity" and tap on "Account history" to find your Instagram bio. Do note that Instagram previously allowed you to view all your old bios from Settings -> Security -> Access data -> Former bio texts, but it is no longer available.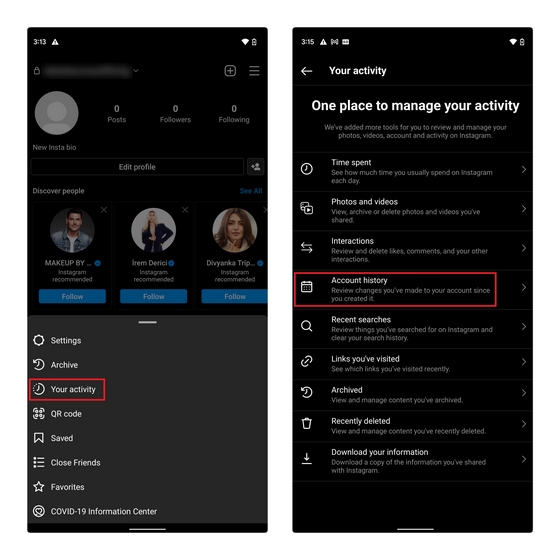 3. You will now see a historic view of key changes you have made to your account. Browse through the history, and you will see your old bios under the "Bio" heading.
4. While you can no longer copy the text in your Instagram bio, here's a workaround. Take a screenshot of the bio that includes the text or quote you wish you revisit. Then, head to the Google Lens app (Free, integrated into some camera apps on Android phones) and select the screenshot. This will enable you to easily select the text and copy it.
Note: You will need to use the Google Photos on iOS (Free) to use the Lens feature. Else, you could use the Live Text feature in iOS 15 to extract the bio text from the screenshot.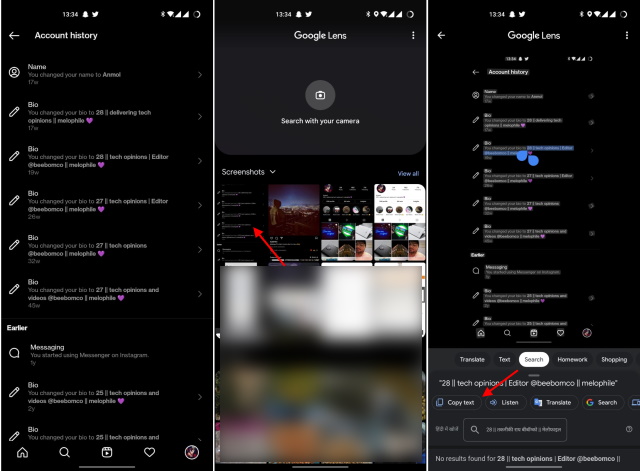 5. Finally, head back to the Instagram app. Tap on your profile picture in the bottom navigation bar and select "Edit Profile". You can now paste it into Instagram and update your current bio.
Frequently Asked Questions
Q: Can I check old Instagram bios on the web?
No, it is no longer possible to view your old Instagram bios from the web version of the Meta-owned social media platform. You will have to use Instagram's mobile app to check your old bios.
Q: How to delete old Instagram bios?
You can't delete your old Instagram bios from the company's database. However, you can always change your current bio to replace the old one in your profile.
Q: How many times can I change my Instagram bio?
There's no limit to the number of times you can update your Instagram bio. You can change your Instagram bio as often as you prefer.
View Your Previous Instagram Bio Texts
That brings us to the end of our guide on finding old Instagram bios. While the previous implementation for viewing old bios was way more convenient, the new approach works just fine as long as you're ready to browse through your account history. Meanwhile, if you are looking for more Instagram-related tips, do not forget to check out our articles on how to avoid Instagram shadowban and how to know if someone blocked you on Instagram.