Face Swapping is the new trend on social media these days, what with tons of hilarious face swap images all over the internet. The trend has resulted in a spike in the number of face swap apps available and Snapchat too doesn't want to be left out on all the fun. Snapchat recently updated its Android and iOS app to bring a number of cool new features, which included face swap lenses. However, as many users have been complaining, finding the face swap lenses and using them isn't as easy as it sounds. So, if you have been facing problems, here's how to face swap on Snapchat:
Before you go ahead, make sure that your Snapchat app is updated to the latest version because the new lenses are part of the latest app versions only. As we've mentioned, there are new face swap lenses that let you capture face swap images on Snapchat, so if you are new to Snapchat, you will have to start using lenses first.
Start Snapchat Lenses
If you haven't used Snapchat lenses, you are missing out on a lot of fun. The lenses only work with your device's front facing camera, as it masks your face with various fun filters. To start using Snapchat lenses, first make sure that the camera is in selfie mode and your face is at the center of the viewfinder. Then, press hold at the center of the display, which will bring out all the lenses.
If you are using it for the first time, some lenses will be downloaded, so it might take a little time. Once done, you can choose among the various funny lenses and follow instructions like "Open your mouth" to get going. Also, make sure to keep your face up, so that the lenses can work properly. Now that you know about lenses, let's talk about the face swap Snapchat lenses. There are a couple of lenses that let you face swap on Snapchat:
1. Face Swap real time lens
You will find the face swap lenses at the end of the lenses list and the first face swap lens lets you swap faces with anyone in real time, similar to Face Swap Live. All you need to do is start the lens and make sure that you and your friend are getting equal footage in the camera viewfinder, to get the lens working. Once the faces are swapped, you can tap to take a picture or press hold to start taking a video. You can expect the face swap results to range from funny to scary.
2. Face Swap from picture lens
The other face swap lens on Snapchat lets you swap your face with a face from one of the pictures on your device. The app automatically collects faces from your Gallery's pictures and recommends them for your face swapping fun. You can then tap on the faces and see which face looks the most hilarious swapped with yours.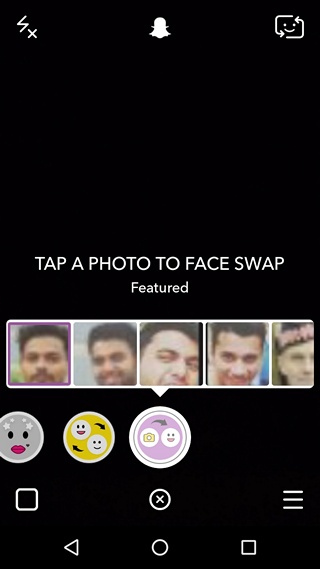 These face swap lenses work not only with people but even animals, so there's an idea for you to have fun.
Use Other Face Swap Apps
These Snapchat lenses are indeed very cool and easy to use but if you don't use Snapchat and still want to get on-board with the face swap trend, there are quite a few good face swap apps available. So, check out the the top 6 face swap apps you should download to make your photos hilarious.
SEE ALSO: How to Take Screenshot on Snapchat Without Notifying Sender
All set to send hilarious face swap images through Snapchat?
The Snapchat app is regularly updated with new lenses, so we can expect more face swap lenses in the future. Don't worry, as we will keep this page updated with other face swap lenses. So, now that you know how to face swap on Snapchat, what are you waiting for? Open Snapchat and start face swapping!
---
Load More