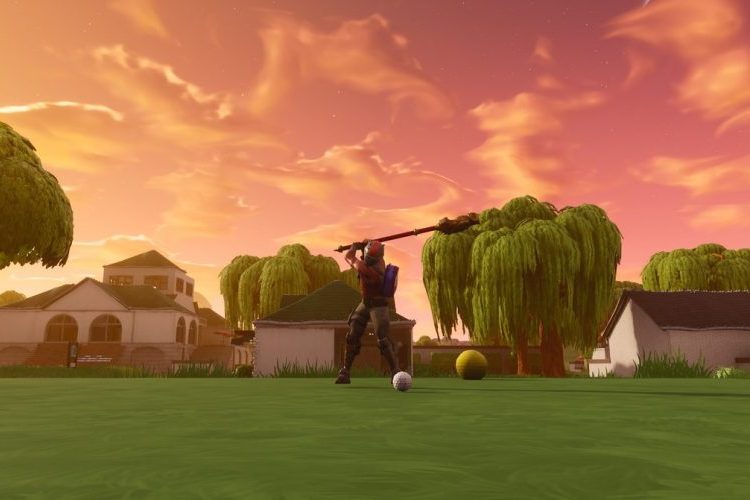 Epic Games' massively popular battle royale game, Fortnite, is finally available on Android. However, prior to its release, Epic Games' CEO announced that the company will not launch the game on Android via the Play Store, opting instead to distribute it from their website to maintain a direct relationship with the players (and also to not give Google 30% of every in-app purchase). Expectedly, this created a lot of flurry with people worrying about fake Fortnite apps spreading like wildfire. We tend to agree with those potential problems.
However, now that Fortnite is actually here, and slowly rolling out to devices other than just the Samsung flagships, both Epic Games and Google are trying to ensure that people don't fall prey to fake Fortnite apps, and that their smartphones' security isn't breached.
What Google Is Doing
For the most part, the responsibility to ensure that users don't fall prey to fake Fortnite apps lies on Epic Games. However, Google is aware that the Play Store might actually be the biggest place where fake Fortnite apps come up, and from where users might install it thinking it's the real thing. I mean, Fortnite's player-base comprises of a lot of kids, and has been known to fall prey to some pretty silly V-Bucks scams in the past, so this isn't too huge a leap to take.
While Google can't ensure that no fake Fortnite apps ever make it to the Play Store, I have to hand it to them because the Play Store is so far clean of any fake Fortnite apps that look real enough to be confused with the actual game. However, Google isn't just relying on Play Protect to ensure that malicious apps don't make an appearance on the Play Store.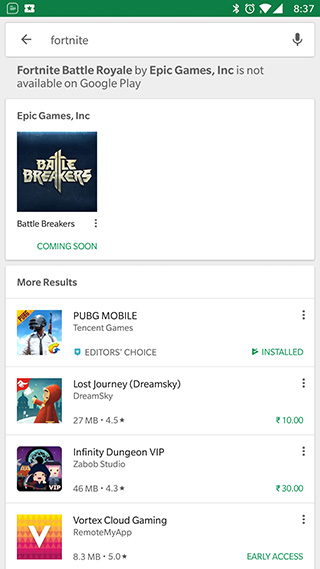 If you search for 'Fortnite' on the Play Store, you'll see a notice right on top that reads "Fortnite Battle Royale by Epic Games, Inc is not available on Google Play."
Right below it is the only game from Epic Games, Inc that is actually available (or will be soon) on the Play Store, followed by results like PUBG Mobile, Lost Journey and others. That might not sound like much, but is a pretty great way of informing users that any Fortnite app they might find on the Play Store is not the real thing.
It's weird that this same notice does not pop up if searching for Fortnite on the Play Store on web, but maybe that'll change too.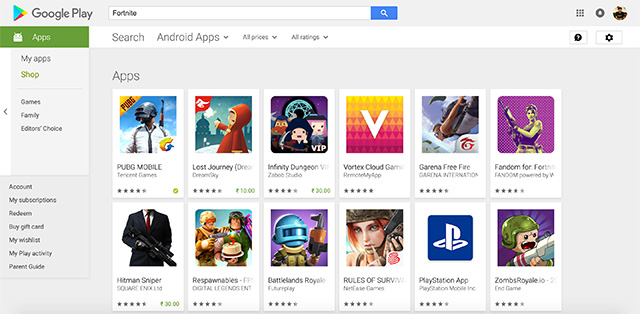 What Epic Games Is Doing
Like I said earlier, the onus of ensuring that players don't end up installing fake Fortnite apps from the web (or anywhere else) falls majorly on Epic Games. I'm sure the company is keeping an active eye out for fake Fortnite installers and other malicious apps, however, what Epic Games is doing that is visible to us as players of its battle royale game, is trying to ensure people keep their smartphones' permissions tight and secure.
Basically, when you download the Fortnite Installer on Android, you have to give it permission to install an app on your phone because it's an 'unknown source.' However, in order to ensure that users' smartphones don't remain vulnerable to malicious apps, once the game has been installed, Epic sends a notification asking users to revoke the permission in order to keep their phone secure.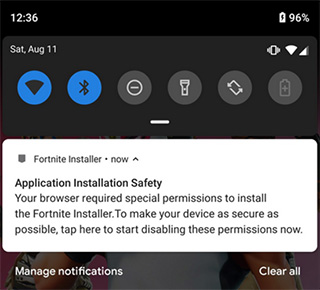 It can be argued that what Epic is doing is something that would've been unnecessary had they gone with the Play Store for Fortnite on Android. It can also be argued that what Epic is doing right now is too little to ensure security in an operating system that has historically been more vulnerable to attacks than competing operating systems. However, regardless of Epic's intentions behind releasing the game via their own website instead of the Play Store, it's good to see the company at least trying to ensure that people keep their phones secure. I, for one, have never seen any app ever asking users to revoke permissions.
By the way, if you've not yet been invited to try the game on your phone, here are our first impressions of Fortnite on Android.
---