Microsoft has been infamous off late for logging a lot of user data and injecting ads into various parts of Windows 10. Well, that trend's not dying anytime soon. With its latest move, Microsoft is promoting OneDrive, Microsoft's cloud storage solution, right in the Windows 10 File Explorer. The ad prompt reminds you that for about $6.99 a month, you can get Microsoft Office 365's monthly subscription and 1 TB of cloud storage.
The ad itself isn't very obtrusive, but obviously, nobody likes being bombarded with ads when they are in the middle of browsing their files, especially when you have paid for your Windows copy. Well, if the ads in Windows 10 File Explorer annoys you, here's how to disable ads in Windows 10 File Explorer:
Disable Ads in File Explorer
Open File Explorer on your Windows 10 PC and navigate to "View" > "Options".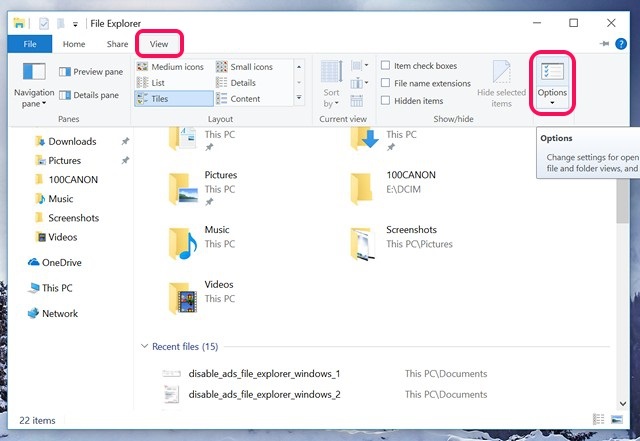 In the "Folder Options" window that opens up, switch to the "View" tab, uncheck the box where it says "Show sync provider notifications" and click "OK".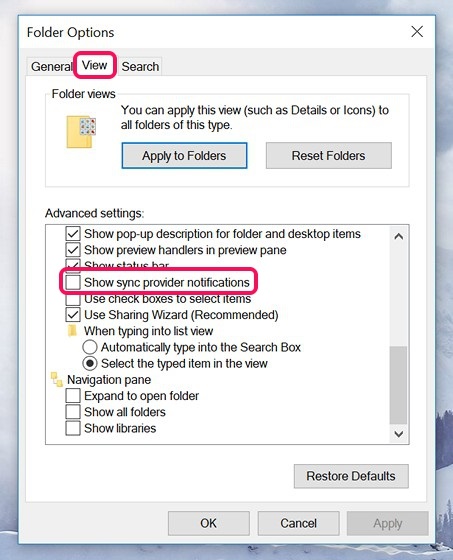 That's it. Easy, wasn't it? You will be no longer be bothered by those OneDrive advertisements. However, if you use OneDrive on your Windows 10 PC, you will not receive any sync notifications after you have disabled the aforementioned option. Other than that, this should make sure that there are no OneDrive ads in your PC's Windows 10 File Explorer. While this is an extremely simple fix, I believe that Microsoft should have disabled the option by default or at least prompted a dialogue box asking whether a user wants to turn it on.
In its defense, Microsoft claims that "The new tips notifications within the File Explorer in Windows 10 were designed to help Windows 10 customers by providing quick, easy information to enhance the experience relative to storage and cloud file management". I certainly do not feel that these are "tips" designed to help users. There's no denying that it feels more like a way of promoting OneDrive.
After all, this is not the fist time that Microsoft is accused of using such tactics. Back in 2015, Microsoft debuted a new lock screen for Windows that can customize itself based on the user's habits. Unfortunately, this way Microsoft got a free-pass to inject ads of its own apps into the lock screen. But that's not it. It also shows advertisement of its in-house apps in the Start menu. Users certainly do not seem to be happy with Microsoft turning to such "shady" tactics to promote its services.
SEE ALSO: How To Disable Data Logging in Windows 10
Stop Ads in Windows 10 File Explorer
Meanwhile, you easily disable the ads in the File explorer using the aforementioned method. Hopefully, Microsoft ceases to use such techniques in the future and prevent themselves from getting backlashed by the community. Do you think that Microsoft is right in promoting its products and services inside Windows? I'd like to hear from you in the comments section below.