Amazon Pay is Amazon's own payment solution which was launched in 2007 to provide a better, faster, and more secure way to make online payments for its users. In its initial phase, the service allowed users to make purchases on Amazon's website with saved addresses and credit/debit card credentials, resulting in quick and hassle free transactions. However, now that the service has seen a lot of upgrades, it does a lot more than that. Now, Amazon Pay offers a plethora of services for merchants and shoppers alike.For example, while the Merchants can use the Pay Express service to integrate payment processing capabilities on their own website, the shoppers can purchase Amazon Gift and Store cards.
Initially launched in the US, now the service has expanded to 7 more countries, with India being the latest inclusion. In India, Amazon also allows you to add and keep money in its digital Amazon Pay wallet. This is very good news, as now shopping on Amazon will be even more easier than before. So, if you are confused, let me show how you can add money in Amazon Pay:
Note: I have used Amazon's India website (Amazon.in) and the Amazon India version of the app to demonstrate the tutorial.
Adding Money in Amazon Pay
You can add money in your Amazon Pay account using either the Amazon app or website. The steps are very easy to follow and you should be able to add money to your Amazon Pay balance account in no time. We will check out both the methods below.
Add Money to Amazon Pay using Amazon Website
1. Visit the Amazon webpage and log in with your credentials.
2. Now click on the "Your Orders" menu or hover over it and then click on "Your Account" on the drop down menu.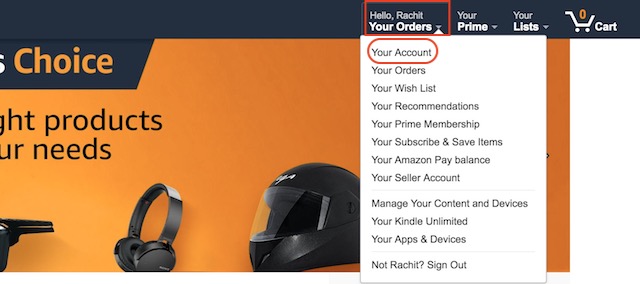 3. Here, in the "Your Account" section, click on the "Amazon Pay balance" button.

4. In this page, you will see the option to add money in your Amazon Pay balance account. Fill the amount or select an amount you want to add and click on the "Continue" button.
5. Now choose your payment option and then click on continue to complete the process.

6. To see your total balance hover over the "Your Orders" menu and click on "Your Amazon Pay balance" option.
Here, as you can see, you can find your balance as well as all your transaction history.

Add Money in Amazon Pay using Amazon App
1. Open the Amazon app and tap on the hamburger menu to reveal the side menu. Here, tap on the "Amazon Pay" option.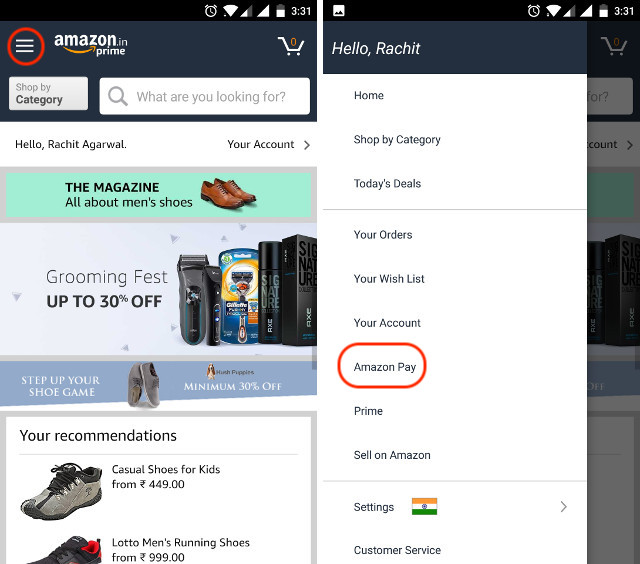 2. Here, tap on the "Add Money" button and enter the amount you want to add. Now, tap on continue.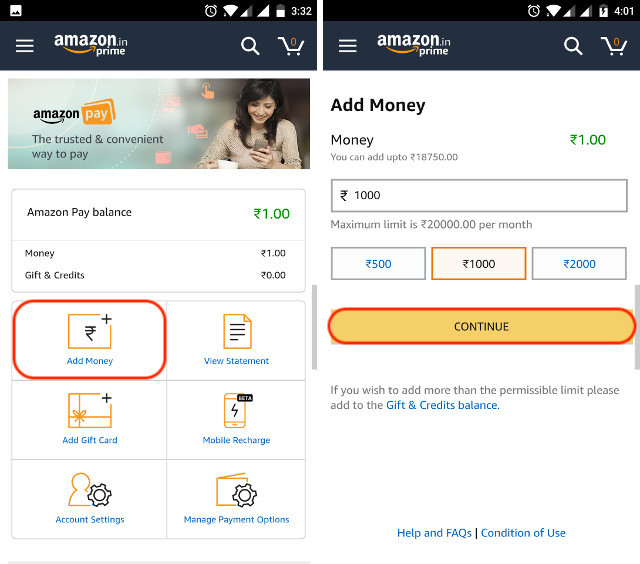 3. Just like before, select your payment option and then click on continue to complete the process.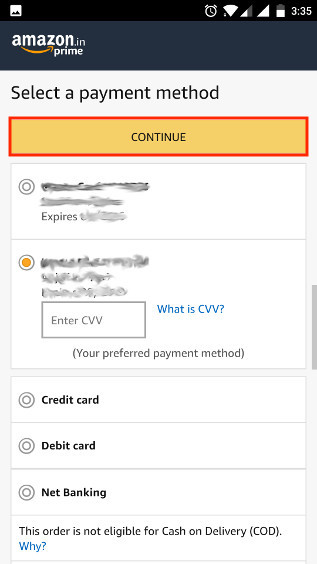 4. To view your balance, just perform the first step. If you want to see your transaction history, tap on "View Statement" button.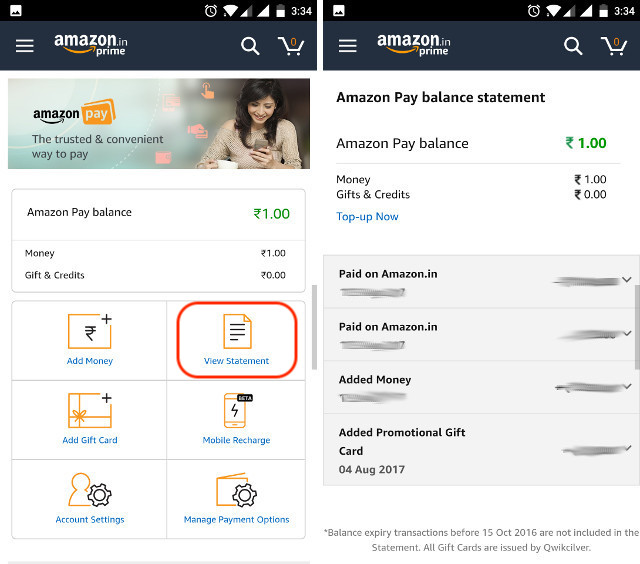 SEE ALSO: Amazon Prime Video vs Netflix India: Which is Better?
Recharge Your Amazon Pay Balance With Ease
Amazon Pay balance allows you to hold money in Amazon's own digital wallet, allowing you to do faster check outs when purchasing something on Amazon. Apart from the simplicity, there are other important reasons which make the whole adding money thing seem more viable. Firstly, Amazon gives various cashback offers which are exclusive to its Amazon Pay balance users. Also, in countries like India, Amazon is also testing other usages for its digital wallet, such as mobile recharges and bill payments. When these features have been integrated, adding money in Amazon Pay Balance will become even more attractive for consumers. If you found this tutorial to be helpful, let us know in the comment section below. If you didn't, do the same.