The boom in the wearables market isn't expected to come to a standstill anytime soon. Apple may be sitting at the top in the smartwatch segment, but Xiaomi has now been leading the fitness bands segment for quite some time now. The Mi Band 3 was surely Xiaomi's biggest-selling fitness tracker, thanks to the addition of a touchscreen and its affordable price tag.
The Mi Band 4 recently arrived with a much-awaited upgrade – a color display and this directly pits Xiaomi's fitness tracker against the newly launched Honor Band 5. Both of these fitness trackers now offer a pretty similar feature set, but how do they differ? Is Honor Band 5 better than the Mi Band 4? Well, let's compare the two and find out the answers to your questions:
Honor Band 5 vs Mi Band 4: Specs
Like always, we would love for you to first check out the specs sheet of Mi Band 4 and Honor Band 5 next to each other:
Honor Band 5
Mi Band 4
Dimensions
43 × 17.2 × 11.5 mm
32 x 17.9 x 12 mm
Weight
22.7 grams
22.1 grams
Display
0.95-inch OLED
0.95-inch AMOLED
Sensors
6-axis inertial sensor; PPG heart rate sensor; IR wearing detection sensor
3-axis accelerometer, 3-axis gyroscope,
PPG heart rate sensor, proximity sensor
Connectivity
Wi-Fi, Bluetooth 4.2, GPS, GLONASS
Wi-Fi, Bluetooth 5.0, GPS, GLONASS
Water Resistance
50 meters/5ATM
50 meters/5ATM
Battery
110mAh
135mAh
Strap
TPU
TPU
Honor Band 5 vs Mi Band 4: Design
Not much has changed on the design front when you compare the fitness bands we're talking about here with their predecessors. Mi Band 4 brings the same rounded design we're acquainted with but the recessed home button is now replaced with a simple flat round button. This makes it easier to produce screen protectors for the Mi Band 4.
Also, Mi Band 4 looks bulkier than the Mi Band 3, but you won't feel the slight bump in weight. The thickness, however, gives away the secret. It also isn't as rounded on the edges as its predecessor, which is something I prefer. Mi Band 4 comes equipped with similar straps as last year, so there's not much to talk about here.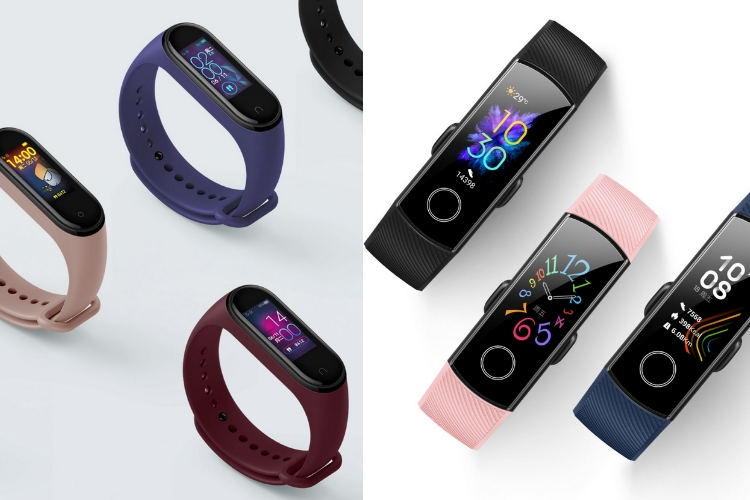 The Honor Band 5, on the other hand, is an 'exact replica' of the Band 4 and it's really difficult to tell them apart. The company has kept its flat rectangular aesthetic for the tracker intact, but it's something I find more appealing than the Mi Band 4. The round design looks dated and like any other fitness band out there.
Honor has tried to one-up its fiercest rival, Mi Band 4 by adding a new sensor into the feature pool. Honor Band 5 brings along the SpO2 sensor we have previously seen on Samsung's Galaxy S-series. It helps monitor blood oxygen levels, a feature that would come in handy for users working in stressful conditions, climbers and hypoxia patients.
There's one caveat to the Honor Band 5 though and it's that Honor Band 5 supports the older Bluetooth 4.2 standard as compared to the more efficient Bluetooth 5.0 support in the Mi Band 4.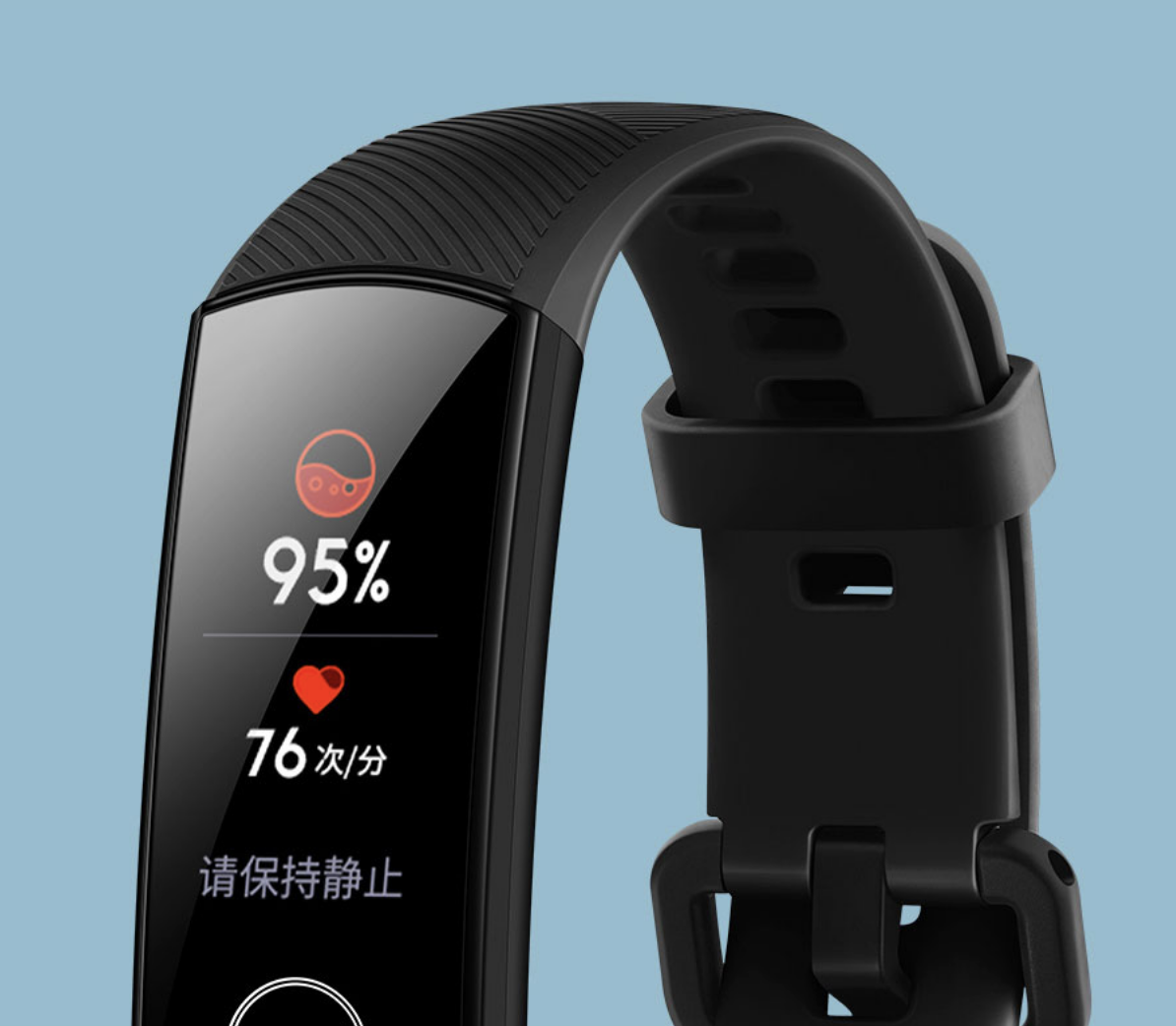 Honor Band 5 vs Mi Band 4: Display
Basically, both of these budget fitness bands feature the same display. It's a 0.95-inch AMOLED screen with a 240×120 pixels resolution. There's a home button which is known to underscore the display and enable interaction on these devices. Also, both of these bands use a 2.5D tempered glass to protect the fitness bands against fingerprints and scratches.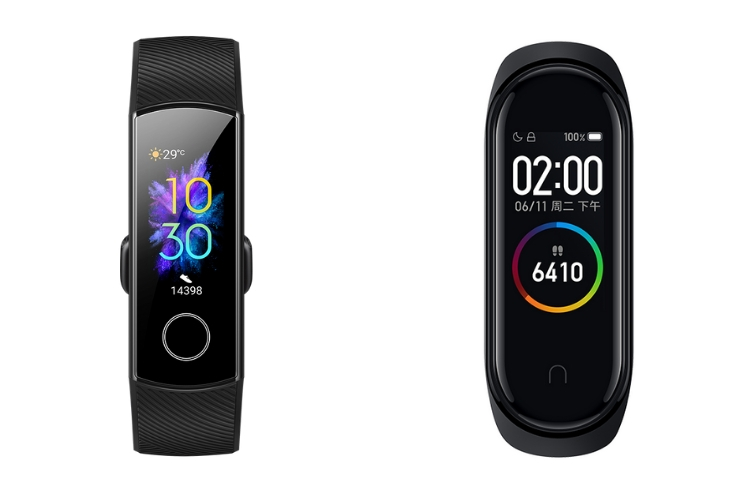 We haven't tried out both of these fitness bands, so we can't comment on how the new colored displays look in real-life and whether they are bright enough. Xiaomi does claim that the Mi Band 4's display goes up to 400nits brightness and can easily be used under direct sunlight.
This is the first fitness band with a color display from Xiaomi whereas Honor Band had more time to experiment with and polish their experience for a colored display. You're getting 11 default watch faces on the Honor Band 5 in comparison to the measly 4 on Xiaomi's Mi Band 4. You can download and apply more watch faces from its Mi Fit app.
Honor Band 5 vs Mi Band 4: Software & Fitness
Coming to one of the most important aspects of choosing a fitness tracker, the overall experience and fitness features packed into each of them. I would like to start off with Honor Band 5 as it has had a colored display for a longer duration, thus, I expect it to provide a more refined user experience as compared to Mi Band 4's first attempt at a newer UI.
The Mi Band already displayed call or message notifications, acted as a wakeup alarm, display the weather, and more. However, Xiaomi has added an ability to control music playback from your Mi Band 4, which is awesome. Honor Band 5 also provides a ton of software features, of which I especially like the baked in camera shutter feature.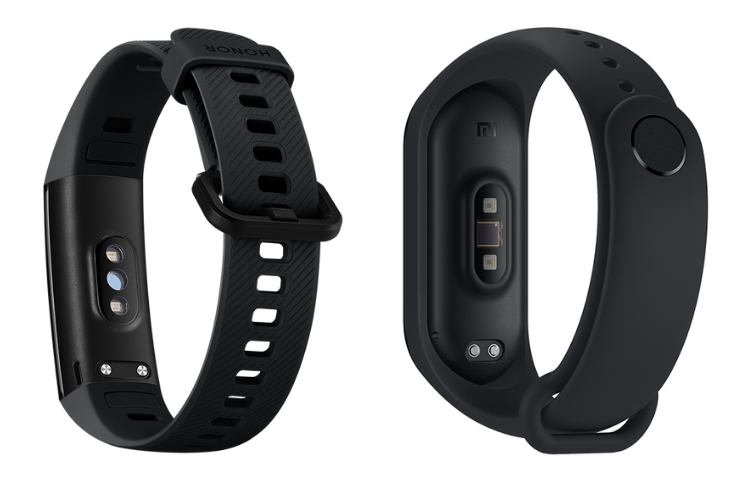 Both the Mi Band 4 and Honor Band 5 feature 6 activity sensor for improved tracking. There's a chance that it's another section where the Honor Band 5 probably has the Mi Band 4 beat is support for tracking a larger number of activities. While the former supports up to ten different types of activities, like outdoor running, swimming, cycling, hula-hooping, walking, and more, the Mi Band 4 only supports 6 activities. The features here are really important for some users as they can track all of their activity, including steps count, distance traveled, and calories burned.
Both the Mi Band 4 and Honor Band 5 offer continuous heart rate tracking, idle alerts, along with sleep monitoring to help access your sleep cycles. The Honor Band 5 offers a couple of handy features such as blood oxygen monitoring and IR wearing detection as well. I believe these could prove to be quite useful in the long run.
Also, both of these fitness bands are water-resistant up to 50 meters (5ATM pressure), which simply means you can wear them while swimming. Both of them are capable of recognizing different styles and recording data for the same.
Honor Band 5 vs Mi Band 4: Battery
The battery life is one of the most crucial features that one looks at before buying any smart accessory. Xiaomi's Mi Band has offered excellent battery backup time and time again, and well, the same seems to be the case with this iteration as well.
The Mi Band 4 packs a 135mAh battery that Xiaomi claims should last you up to 20 days on a single charge. This is bigger than the 110mAh battery pack inside Mi Band 3 from last year and should last up to 20 days on a single charge, as per Xiaomi's claims.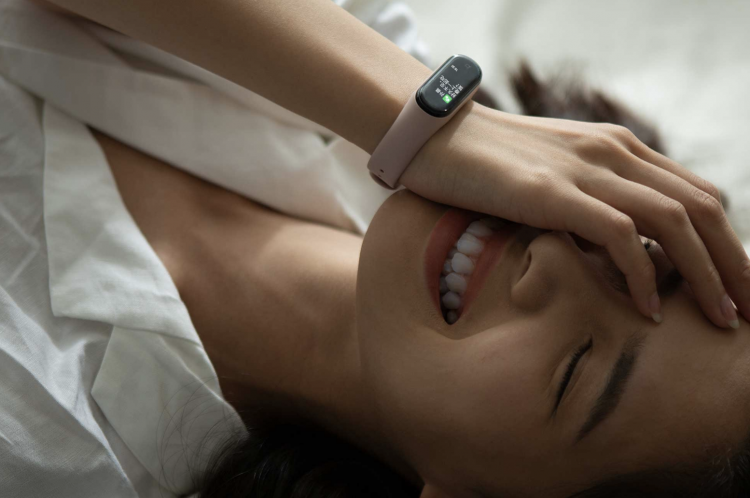 Honor Band 5, on the other hand, comes equipped with a smaller 100mAh battery. This is the same battery size as last year's Band 4 and offers up to 14 days backup and that's lower than Mi Band 4's backup. Xiaomi's Mi Band has always had a pretty decent battery life.
As for charging these fitness trackers, the Mi Band 4 takes close to 2 hours to be fully juiced up whereas Honor Band 5 charges up in just an hour using the pogo pins at the bottom. Also, you will need to remove the Mi Band 4's straps before charging and it's honestly a hassle as compared to the clip-on Honor Band charger.
Honor Band 5 vs Mi Band 4: Pricing
Though the Mi Band 4 and Honor Band 5 NFC variants as well, we're solely going to talk about the standard variants as they are usually the ones that launch globally.
With regards to the same, the Mi Band 4 retails at 169 yuan, which is roughly around Rs. 1700 whereas the Honor Band 5 retails at 189 yuan, which is roughly Rs. 1900 in China. While the Mi Band 4 is more affordable and offer a longer battery backup, the Honor Band 5 offers you a wider set of health and fitness tracking options. Also, the Honor Band 5 should bring a refined experience to users as compared to the Mi Band 4.
On paper, Honor Band 5 looks like a more feature-rich offering than the Mi Band 4 but I have to reserve my final judgment for when I have tried both the budget fitness bands. Anyway, which one would be your pick? Mi Band 4 or Honor Band 5? Let us know in the comments down below.
---
Load More