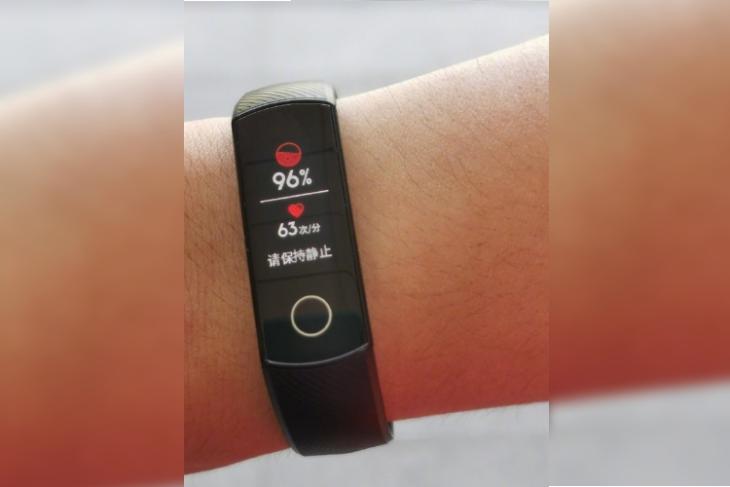 Honor has slowly been climbing ranks in the wearable market, giving a tough competition to Xiaomi's Mi Band 3 with its Honor Band 4 fitness tracker. But, Xiaomi has now taken its endeavor for affordable fitness tracking to new heights with a color display on the Mi Band 4, selling over 1 million units in just 8 days. But, the Honor Band 5 is launching alongside the Honor 9X later this month to give the Mi Band 4 some stiff competition.
Honor CEO Zhao Ming has today taken to Weibo to tease the upcoming Honor Band 5. He has not only shown the fitness tracker in all its glory but also shed light on one of its new upcoming features.
As you can see in the image of the Honor band 5 attached above, the design of the new Honor Band 5 remains pretty much unchanged. It looks the previous-gen Honor Band 4, with the color OLED display and the circular button below it. We cannot talk about any software changes, which may be in tow to one-up the Mi Band 4.
One of the features that could definitely make the Honor Band 5 attractive to buyers is blood oxygen level detection. Yes, Honor Band 5 will carry a new sensor alongwith a standard heart rate sensor to measure blood oxygen saturation or SpO2 levels.
This reading tells about the amount of oxygenated hemoglobin in the blood and as Zhao points out in his post will be handy to detect fatigue and listlessness, record poor sleep, and even intimate users of dizziness – caused due to a low oxygen saturation level. This isn't necessarily a new feature and had been present in older Galaxy S- and Note-series phones, but now seems to be making its way to budget fitness trackers as well.
The Honor Band 4 launched alongside the Honor 8X in China last year, so we speculate Zhao's tease to mean that its successor will launch alongside the Honor 9X. This device would be unveiled in China on July 23 and is expected to feature an almost bezel-less screen, with a pop-up selfie camera and a dual camera setup on the rear. You can read about the same right here.
Are you excited for the launch of the Honor Band 5? Let us know in the comments below and stay tuned for more updates on Honor's launch.