It's been rightly said that music is food for the soul. After all, good music not only relieves the mind of all kinds of stress, but also stimulates our creativity, helping us think and act better. Everyone loves music, with different people having a liking for different genres and styles of music. That being said, there are countless new and emerging artists out there, crafting some truly amazing musical creations, and waiting to be heard. But the question is, how do you find them, and their work?
Fret not, as that's what this article is meant to help you with. Can't wait to groove to some great tunes? Here's a listing of 12 of the best websites, designed to help you discover new music online:
1. SoundCloud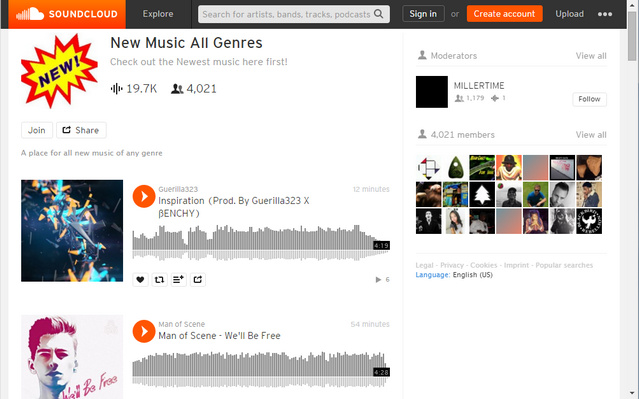 SoundCloud is an invaluable source of musical compositions, including everything from background sounds and podcasts, to original tracks and full albums, all uploaded by users. If you wish to discover new, emerging music, there are countless curated groups (e.g. New Music All Genres, Gimme Indie) constantly updated with new musical content, that you can follow. And if you feel like like checking out trending popular music on SoundCloud, make sure to check out the Charts section on SoundCloud.
2. YouTube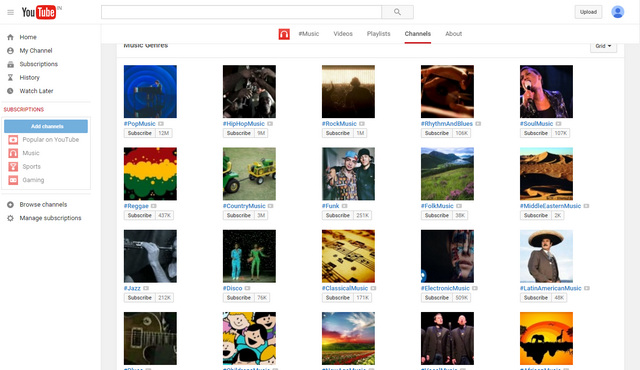 Although there are many alternatives, the fact remains that YouTube is the largest video sharing service in the world, and is something that needs no introduction. But if you think YouTube is only all about videos, think again. It's not always easy, but if you dig a little deeper, there's a whole truckload of new music to be discovered, all uploaded/shared on YouTube by original creators. A good place to start is YouTube's music discovery system, which further includes channels hosting music based on different genres. And there's a lot more! Plus, you can get the YouTube Red subscription for all your music needs.
3. Bandcamp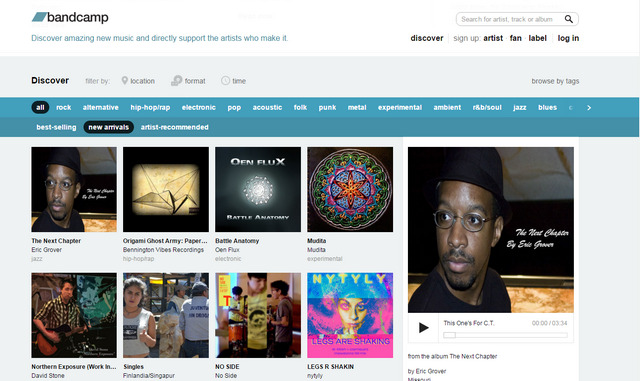 It's hard to discuss music discovery services without talking about Bandcamp. It's primarily intended as a platform for emerging, independent artists to publish and promote their work, with each artist getting a customizable micro-site of her/his own for uploading and sharing original content. All the music found on Bandcamp can be streamed online, and individual tracks/full albums from artists can be purchased. Few music creators also offer some of their music for free. You can use Bandcamp's Discover section to easily find out new music, and the results can be further filtered on the basis of parameters like genre, location, and format.
4. Last.fm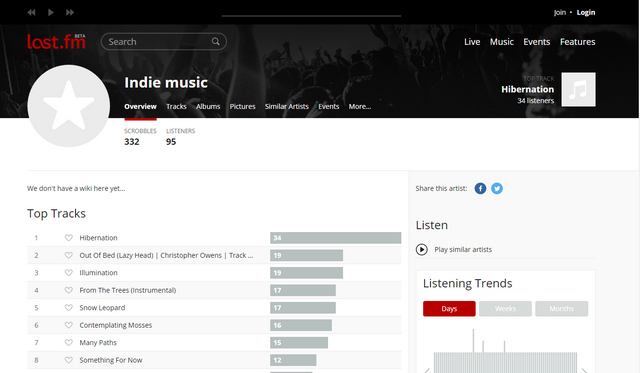 If you want to discover new music that's based on your specific musical preference (e.g. genre, style), Last.fm is just the thing you need. Featuring an extremely powerful recommendation engine (popularly known as Audioscrobbler), Last.fm basically works by creating a personalized profile for each user's musical taste, based on the music they listen to. This profile is then used to serve music and artist recommendations to the user. Last.fm's rich catalog includes music both from popular, as well as new emerging artists. In addition, it can also be used to find out information about nearby live events, among other things.
5. Indie Shuffle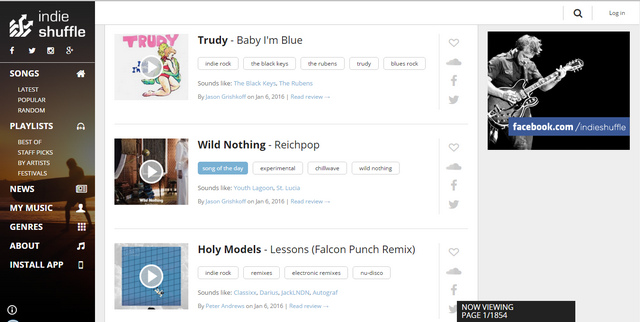 As the name suggests, Indie Shuffle is primarily geared towards curating music from indie artists, but that's not all. Essentially a smart radio service cum musical blog, it is powered by a team of international writers who hand-pick and review new musical tracks on a near daily basis. The musical pieces featured on Indie Shuffle are spread across a broad spectrum of genres/styles, including acoustic, folk, deep house, chillwave, and indie covers. Thanks to curated sections, you can listen to latest tracks, songs that are popular, or just some random tunes. There are also staff picks and smart playlists, and you can create a free account to create your custom playlists, add songs to favorites, and do a lot of other cool stuff.
6. 8tracks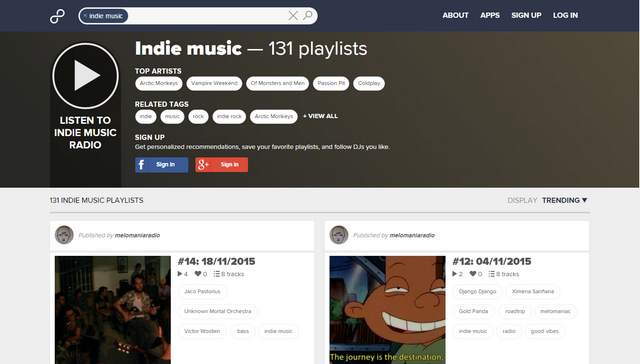 Quite a well known name in the field of streaming Internet radio, 8tracks is built on the concept of building and sharing user curated playlists, consisting of at least 8 tracks (hence the name). It features a huge collection of streaming music playlists curated by other users, and all you have to do to get started is pick a playlist, and start listening. Other than that, you can also explore/search for playlists on the basis of advanced parameters such as artist name, genre, and track count. Creating a free account opens up other options, which make it possible to like/share playlists easily. Finally, the powerful search functionality lets you search for new music, artists, genres etc. in a matter of moments.
7. AllMusic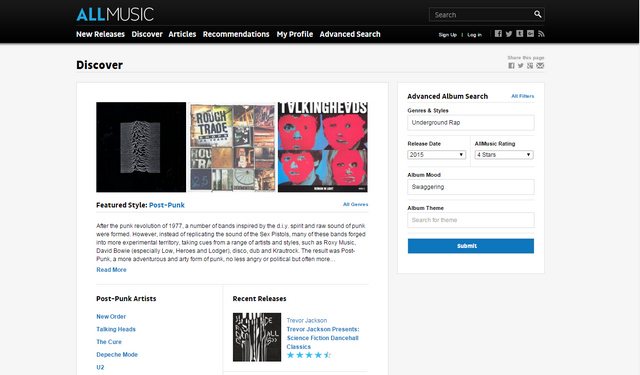 AllMusic is an impressively comprehensive database having in-depth information about a large number of artists, as well as their albums and individual songs. Apart from that, AllMusic also includes news and reviews about both classic and upcoming music releases. But that's just the tip of the iceberg. As far as music discovery goes, AllMusic includes top rated/recommended albums and songs, and the staff picks section can be used to find out new music as well. The Discover section lets you find out new music based on genre/style, mood, theme etc., and creating a free profile helps AllMusic serve you personalized recommendations based on your tastes, just like Last.fm.
8. Hype Machine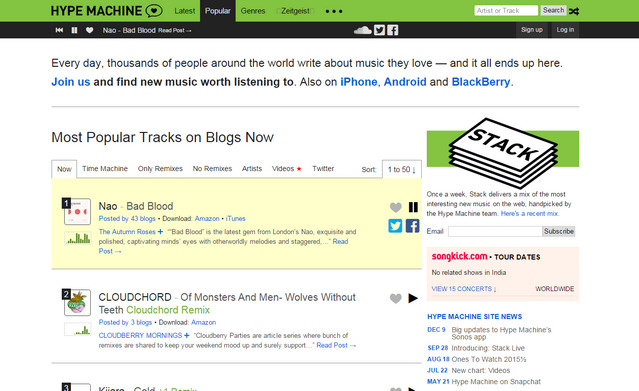 There are number of music based blogs out there, which can prove to be incredibly resourceful for those looking to discover new music. If you're among the lot, Hype Machine is for you. Curating information from an astonishing 750+ musical blogs, Hype Machine provides a uniquely impressive approach to finding new tunes. It lists the most popular tracks along with the views musical blogs that have posted about them. Other than that, the listing of music can also be filtered on the basis of a diverse range of genres (e.g. dubstep, funk). The listed music can be streamed with one click, and links to purchase music online are also listed. You can also create a free account to add tracks as favorites, and share them with others.
9. Daytrotter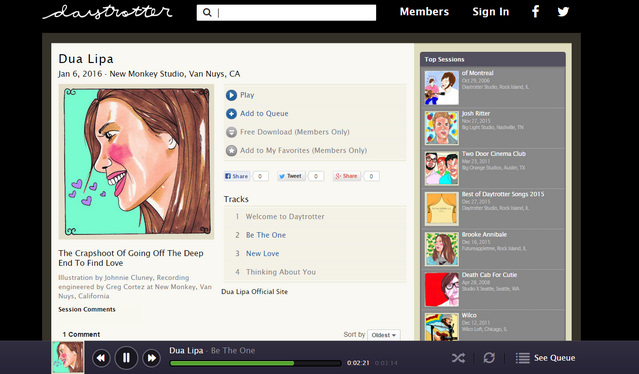 The one thing that immediately sticks out about Daytrotter is just how well designed it is, featuring clearly defined sections and artist images that look more like sketches. But visual flair is just one part of the picture, as Daytrotter is an amazing platform for discovering music from emerging artists/bands, and has quite a rich catalog of musical content. Browsing music on Daytrotter is a breeze, and can be done based on genre based categories, or by searching for specific artist. You can stream music online for free, and even add multiple tracks to the playlist. For paying members, there are also other features available, such as high quality streaming & downloads, and multi device streaming.
10. Propellerhead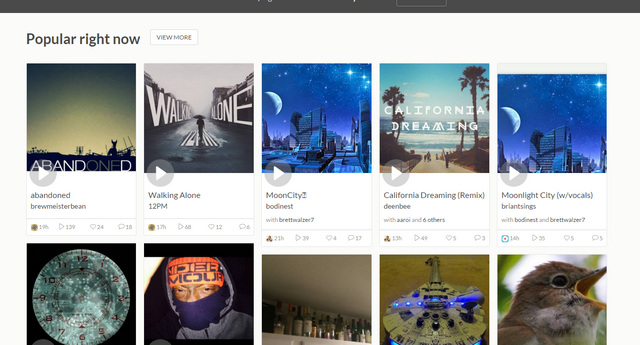 What makes Propellerhead different is that it's not just about discovering new music, but about making music as well. That being said, Propellerhead's catalog involves some really unique music, including everything from electronic beat loops and pumping house drums, to vocal music and drops. All musical pieces on Propellerhead can be easily streamed online, and can be further used to create even more music, using some really great apps created by Propellerhead itself. Artists can even collaborate on creating music. How cool is that?
11. PureVolume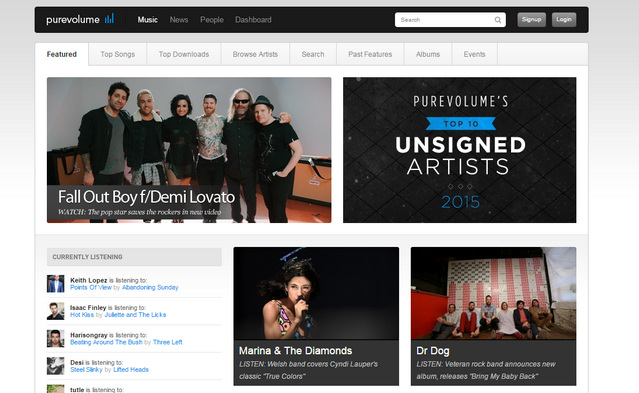 Simple and easy to use, PureVolume makes discovering new music a pretty simple affair. Just like Bandcamp, it's meant to serve as a platform for new and emerging artists. Artists can create profiles and populate them with information like bio, show updates, and also upload music that can be streamed online. They are also given the choice to make their music available for download by users. What's more, it lets users create similar profiles and interact with their favorite artists and bands, and share/like their favorite music.
12. Musicroamer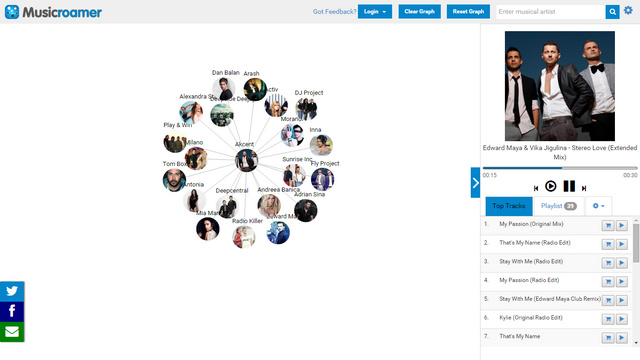 Although Musicroamer may not look like much, but its prowess belies its minimal UI. Essentially, Musicroamer is a musical search/recommendation engine that can come in really handy if you're looking for new artists (and hence, their music), similar to the ones you already like. All you have to do is initiate a search using your favorite artist's name, and Musicroamer will return similar artists, arranged as nodes connected to the searched artist. Clicking an artist's name provides options that you can use to stream their top tracks (30 second samples), purchase their music, and find even more related artists. What's more, Musicroamer also lets you specify how many similar artists are returned as results, via the settings.
Bonus: Listen To This Reddit thread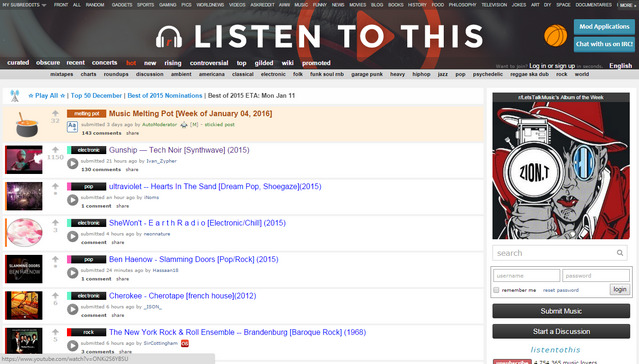 Reddit is one of the best sources of, well, anything, and it doesn't disappoint when it comes to music discovery either. Simply head over to Listen To This thread, which is a near daily updated source of finding music from new and emerging artists. The musical pieces are spread across a broad variety of genres, such as electronic, pop, and instrumental.
SEE ALSO: 15 Websites to get Creative Commons Music for free
Ready to discover some great music?
There are countless new artists out there, making some truly amazing music. And the above discussed websites are more than enough to get you started on your journey for discovering new tunes. So try them out, and let us know which one(s) work out the best for you in the comments section below.