Businesses spend a substantial amount of their IT budget to maintain their infrastructure. Yet their employees still spend 30 minutes per week on an average fixing their computers or devices. It has become increasingly more difficult for IT teams around the world to support their company's IT infrastructure due to the proliferation of devices and remote users.
It is not uncommon for IT departments to be confronted with the challenge of managing an endpoint landscape comprised of a hodgepodge of operating systems, computers, servers, application usage, and with configuration drifts on a bunch of machines. It can be even more problematic for organizations who, on top of managing a disparate infrastructure, need to extend their remote support to traveling employees, remote teams or unattended machines such as kiosks or servers in co-location. So, whether you're a big, small or medium-sized business, you may find yourself having to deal with any of these three challenges:
Managing IT complexity without compromising security
Providing proper seamless support to internal or external users
Identifying and tracking IT assets
If you are encountering any of these problems, you may find Goverlan to be the solution.
Key Features
Goverlan Reach is a powerful Remote IT support software which can perform a number of
important functions from desktop management inside or outside your company's network to performing global configuration tasks on multiple systems at once. To explain what all it can do, here are some of the key features you will enjoy when you use Goverlan Reach:
Remote IT Support Tools for Help Desks
Goverlan Reach brings a series of background systems management tools which can enhance your remote IT support by increasing the ticket close rates and reduce time-to-resolution.
The platform automatically detects the user's logged-in workstation so a service desk
technician can quickly connect to the machine and work behind-the-scenes seamlessly with no interference to the end-user.
Using Goverlan Reach's background IT Management features, your team can easily perform all the most common IT service desk functions including resetting a password, unlocking an
account, installing drivers, mapping a drive or a printer, repairing a software, monitoring
performance, and much more. And, all of that without interrupting your end-users.
When a technician can't work in the background and needs help with solving a complex issue, he has the option to connect directly to the user session using the advanced Remote Control features. He can invite other operators to join the session and collaborate on remediation. He can also share videos or screenshots of the remote computer, chat with the end-user or push notifications.
This means, your remote support operators are better equipped to deal with any types of
problems, and there is a high chance of closing the tickets on the first call.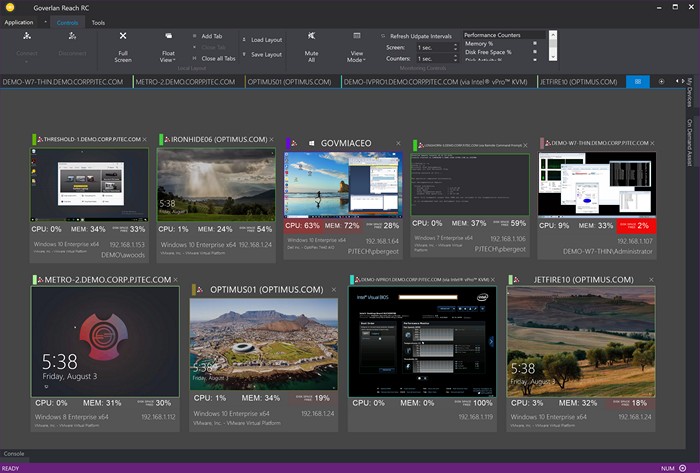 IT Process Automation for Global Configuration, Endpoint Monitoring and Compliance
Goverlan Reach also brings powerful features to help companies maintain control over their IT infrastructure through endpoint monitoring and compliance.
Goverlan's IT Process Automation (ITPA) module enables sysadmins to build workflows to pre-define a series of systems management tasks and dispatch their execution on multiple computers or active directory objects at once. It has a lot of useful applications such as the ability to deploy software, a patch, a Windows update, or run an IT asset management report.
ITPA is a great feature for mitigating security risks and keeping your infrastructure clean. With IT reporting, sysadmins can track various risk metrics such as inactive users, accounts which password never expire, disabled or recently modified computers.
IT process Automation is also useful to automate endpoint compliance with "Scan, Detect and Remediate" workflows. Those workflows are built to scan a group of machines or Active Directory objects for a specific change of configuration or state and trigger a set of remedial actions upon discovery. For instance, an automated workflow can detect a misconfiguration, a missing patch, low disk space, or a blacklisted app that needs to be removed. It can also be used to audit the local admin accesses. More importantly, it doesn't require the knowledge of any programming language. You can consult the IT process Automation tutorials to get an idea of what can be done to streamline systems management.
ATM, POS, and KIOSK Support
One of the unique features of Goverlan Reach is that it allows IT admins to remotely manage Windows embedded based ATM, POS, and other kiosk devices. With Goverlan Reach, not only the system admins can gain secure access to unattended internet based machines anywhere but they can also perform remote maintenance in the background.
When behind-the-scenes support is not an option, they can enable the curtain mode.
Goverlan's Curtain Mode prevents someone physically present at a host machine from seeing what a Remote Control operator is doing while a session is in progress. This feature is particularly useful for the maintenance of public-facing digital displays. It can also be
implemented to protect the view of restricted information.
Customize the Interface With Your Company Logo
If your business is an MSP (Managed Service Provider) brand awareness is pretty important for you. Thankfully, Goverlan allows its customers to completely rebrand its user interface to reflect the company's brand. This will not only help in increasing your company's brand awareness but also make the experience even more seamless for your end-users.
Apart from the above three main functions, Goverlan Reach brings a ton of other features which can help you in managing you're IT infrastructure. The features include tools for active directory management, IT compliance support, seamless Microsoft LAPS integrations, and remote shadowing of Citrix XenApp or XenDesktop sessions, among other things. If you are system admin you know how important these features are. I am especially fond of Goverlan's unique integration with Microsoft LAPS which enables a console operator to perform systems management tasks requiring elevated system access without having to query the Microsoft LAPS Logon UI tool beforehand. It preserves security compliance with MS-LAPS, even when patching or deploying software in mass.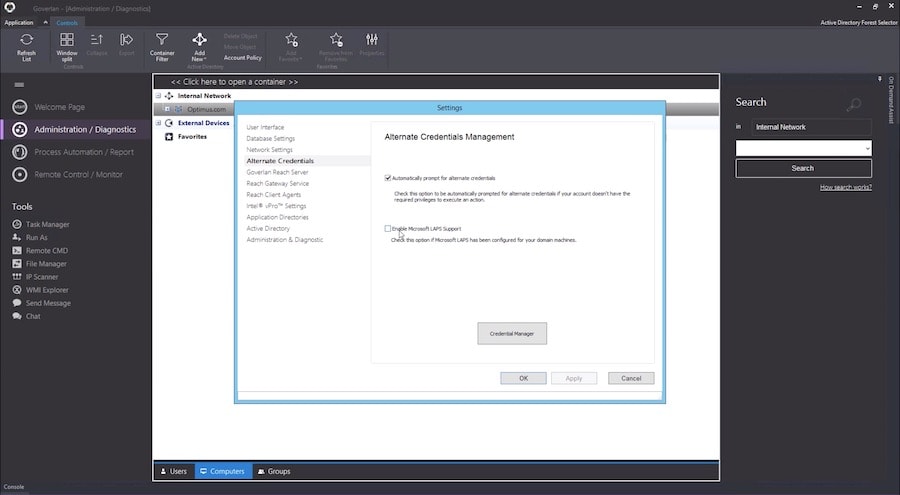 User Interface and Ease of Use
Goverlan Reach sports an uncluttered user interface and is quite easy to use as far as remote IT support software are concerned. Since this is a tool for managing IT infrastructure and providing remote IT support, it does require a technical know-how of the system, however, it's no harder than any other such software. In fact, of all the remote IT software that we have tested, Goverlan seems to feature a more user-friendly UI with intuitive workflow, enhanced search capabilities, and easy access to user ands system information.
What all this basically means is that you won't have to spend too many working hours and money on training your employees as the software is pretty easy to get the hang of. With Goverlan Reach, your workforce will spend less time learning the software itself and can focus on the getting the job done, thereby increasing the productivity of the entire team.
Pricing and Availability
Goverlan Reach is available in three different editions: Pro, Standard, and Enterprise. It is an on- premises software-based application which doesn't require any dedicated hardware or pre-configuration on your infrastructure. When it comes to pricing, Goverlan Reach is licensed on a per tech basis starting at $29 per month and comes with unlimited management of end-users as well as machines within and outside your organization. Do note that this is just the standard pricing and you can get personalized pricing based on your needs by contacting the company. A full version of the software is available for download at goverlan.com on a free 30-day trial basis.
Pros:
All-in-One tool for all your remote IT management and support needs
Instant secured connection to both attended and unattended machines
Citris and Microsoft LAPS compatible
A simple user interface which is easy to navigate
Can be rebranded to your preferences
No specialized hardware needed
Support for Active Directory Management tools
A pricing that includes unlimited internal and external endpoints
Cons:
Background IT management features primarily cater to Windows devices
Goverlan Reach: Powerful and Easy to Use Remote IT Tool for Everyone
A lot of IT professionals use Goverlan to improve and personalize the delivery of IT support services in their organization. If you're looking for a better way to support your internal and external users, manage or secure your IT infrastructure, Goverlan Reach is just the tool for you.