Recently, Google announced the death of its popular URL shortening service, "goo.gl". According to Google, although the links created through the service will keep on working, users won't be able to create new links starting from April 13th. This is a sad news for the millions of users who have been using "goo.gl" to shorten links. If you are also one of the users of goo.gl, you can find reprieve in the fact that there are a number of other good URL shortener services out there which not only allows you to shorten URLs but also customize them based on your needs. So, if you have been looking for a service to replace Google's goo.gl link shortener, here are 10 best goo.gl link shortener alternatives you can use today:
Note: The URL shortening service offered by all these tools are free. However, you might need to pay if you are using additional services such as link tracking, performance index etc. 
Best goo.gl Alternatives You Can Use
1. bitly
If you are looking for a Google URL Shortener alternative which is not only as good as goo.gl but is also more powerful, bitly is probably the one you should look for. bitly is one of the most popular link shortener service out there. Although, over the years bitly has evolved and become a service which not only lets you shorten links but also measure metrics, track individual link analytics, optimize your link performance, and more, the core of its service still remains the same.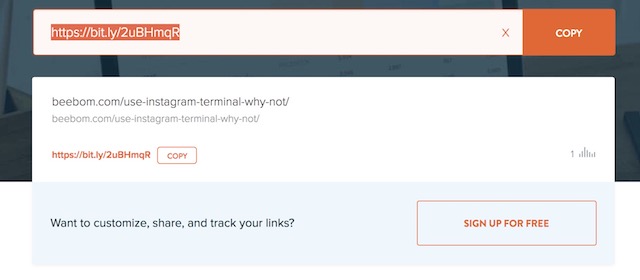 Just open bitly's website, paste your link and get the shortened URL in just seconds. You can then share that link in email, social media sites, or by just direct messaging. Your shortened link will work everywhere. bitly is one of the most respected link shortener services out there, and that's for a reason. It's easy, it's quick, and it always works. The best part is that you don't need to create any account if you are just there to use the link shortening feature.
Visit: bitly
2. is.gd
is.gd is a no-nonsense goo.gl alternative which only allows you to do one thing and that is shortening your links. Just open the website and copy and paste your link in the link shortener box and you are done. The best part about using is.gd is the fact that the website is so minimal that it takes only a few seconds to open up, no matter how slow your internet connection is. If you are looking for a simple and fast link shortening service, you should give is.gd a try.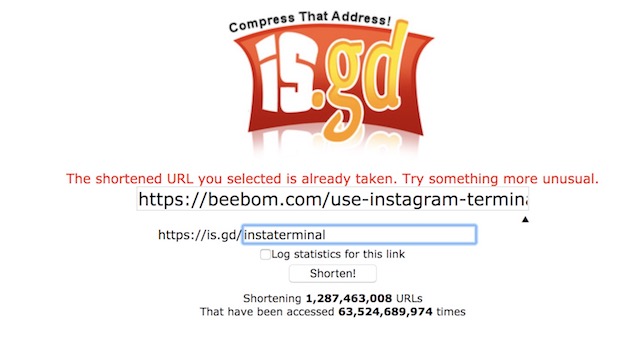 One of the nice features of this service is that it also allows you to customize your links fairly easily. As you can see in the picture below, I was able to create my customized URL just in a few seconds. That said, you might have to go through a few tries sometimes, as if you are using a too generic custom link, chances are that those are already being used.

Visit: is.gd
3. bit.do
Another easy and fast link shortening service that you can use is the bit.do. Just like, is.gd, the service offers a very minimalistic page which loads in seconds. You also get the option to customize your links and the ability to track the performance of those links. It's one of my most favorite URL shortening services and I have been using it for a while. The service has never failed me and I highly recommend this to everyone who is looking for a goo.gl alternative.
Visit: bit.do
4. soo.gd
Soo.gd is yet another easy to use and simple URL shortener service which allows you to easily shorten URLs without having to either log in or create an account. All you need to do is visit the website, paste the link you want to shorten, and click on the Shorten button. Alongside giving you a shortened URL, the service also creates a QR code which comes in handy if you want to open the website on your smartphone without going through the hassle of copying and pasting the link in your browser. The service is really good and a worthy replacement for goo.gl.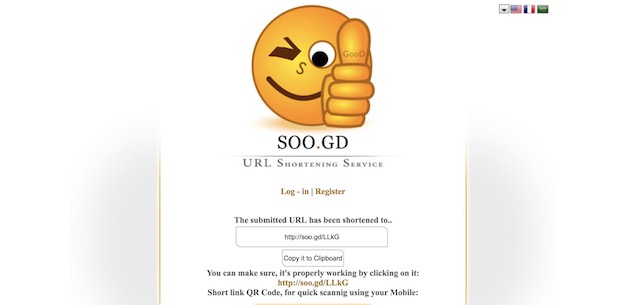 Visit: soo.gd
5. Ow.ly
Ow.ly is a URL shortener service which is the same as bitly, which means that if you want, you can get a lot of features other than the basic link shortening service. One thing that I don't like about this service is that you will need to create an account even if you just want to use URL shortener service. That said, there are a ton of features here that I like.

Apart from the features like link performance, individual link analytics, and more, the one feature that I like the most is the ability to post a link to multiple social media accounts at once. All you need to do is to link your social media accounts with the service and then with one click, you will be able to post your customized and shortened links. If these features ring a bell with you, do give Ow.ly a try.
Visit: Ow.ly
6. ouo.io
While you are looking at a URL shortening service, how about using one which makes you money instead of costing it. Yes, you read that right! There are link shortening services which pay you money based on how many clicks you can generate on those links. Although there a ton of such services, my favorite is ouo.io. The best part about using ouo.io is that if you don't want to participate in the earnings program, you don't have to create an account with the service.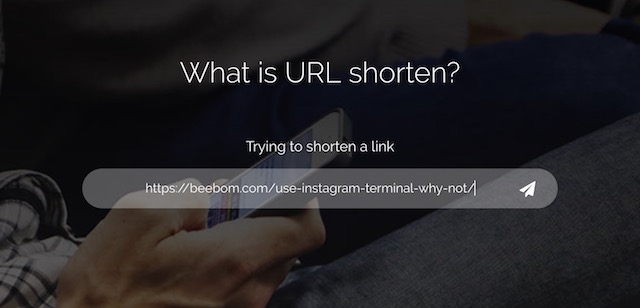 However, if you want to earn money with your shared links, you will need to create an account with the service. One thing more to keep in mind while signing up for the service is that it pays you because it attaches ads to your links. So, your visitors will be shown ads for a few seconds before they are redirected to your linked page. So, if that's something you don't want, you should use other services mentioned on this list.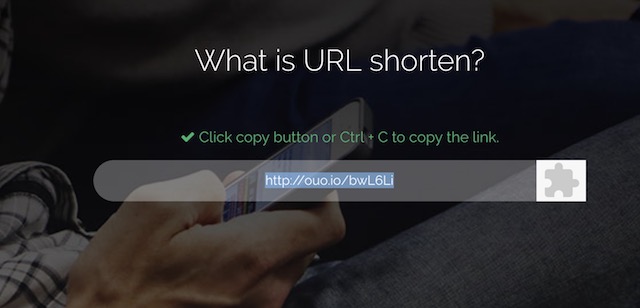 7. Shortener By GoDaddy
GoDaddy is a famous domain provider which not only helps you get a perfect domain but also build a website around it. If you have your own website, there is a high probability that you secured your domain name from GoDaddy. If you are already a customer of GoDaddy, it seems obvious to use the URL shortener service that GoDaddy provides for you without any extra charge. That said, if you are not a GoDaddy customer, this is not the service for you as you need to have a paid account to use the service.
Visit: Shortener by GoDaddy
8. sniply
Snip.ly is a very good link shortener service with a trick up its sleeve which can help you drive traffic to your website or social media profile. sniply allows users to attach custom call to actions buttons to the page itself. For example, suppose you came across an article and want to share it with your audience. You can use Snip.ly to create a shortened URL which will take people to the article.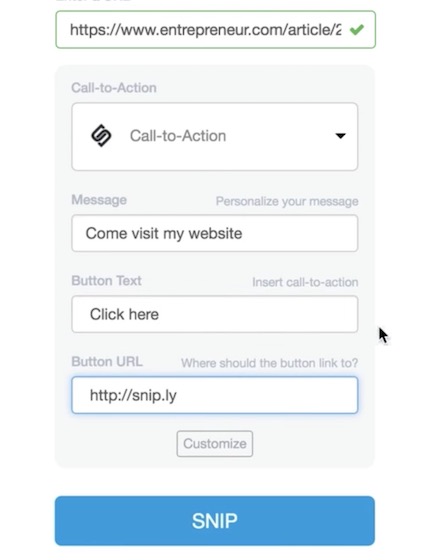 However, apart from showing just the article, visitors will also be seeing a custom call to action button at the bottom of the page. The button can be a link to your website, or your social media profile or anything else that you want your audience to redirect to. sniply is a great way to drive your audience to your preferred destination without hampering their user experience.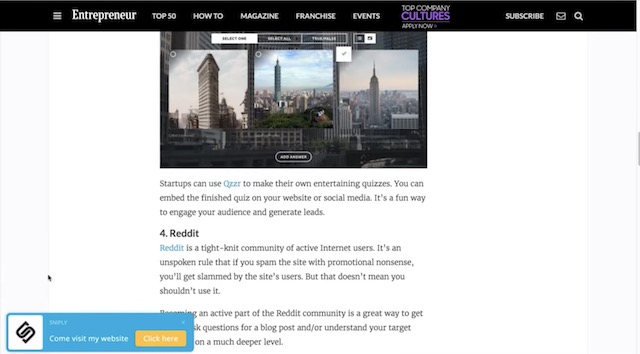 Visit: sniply
9. Pretty Links
Pretty Links is a great way to not only shorten your links but also make those links readable, easily speakable, and memorable. The service is for anyone who has a WordPress website and wants an easy way to share links which stand out. Pretty Links allows users to create custom links which contain your primary domain name. Not only it makes links easier to share and remember, it also helps in increasing your brand awareness. If you have a WordPress website, Pretty Links is a service that you should be using.

Visit: Pretty Links
10. Geni.us
Geni.us is a very popular link shortening service which allows users to easily shorten links. The links that you create using Geni.us can be easily tracked. You can also compare links to see which ones are performing better than the others. One major advantage of using Geni.us over other link shortening services on the list is for people who earn money through Amazon's affiliate marketing tools. Geni.us makes sure that the link shortened through its service guide the users into Amazon store which is specific to their region allowing you to increase your affiliate income. That said, even if you are not into affiliate marketing, it's a great tool to create short links and track their performance.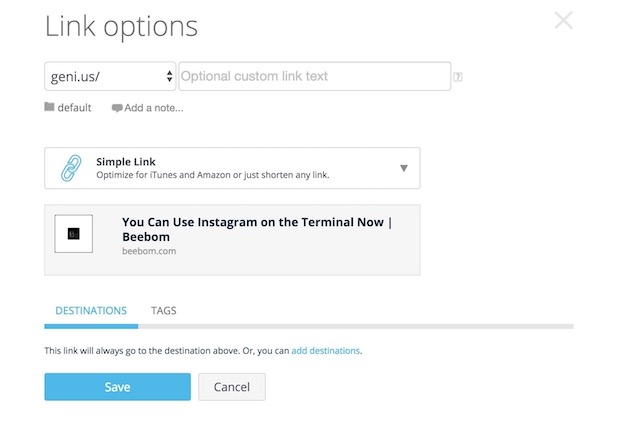 Visit: Geni.us
SEE ALSO: 5 Hidden Facebook Settings You Should Change Right Now
Which Google URL Shortener Alternative Will You Use?
Although it's said that Google is pulling the plug on its URL shortening service, goo.gl, the fact remains is that there are a number of great services out there which easily outperform goo.gl. I hope that this article helped you in finding the link shortening tool that you were looking for. If it did, do let us know which one was it by dropping its name down in the comments section below.
---
Load More