Asus has just announced new peripherals for PCs, including a keyboard and mouse under the Marshmallow series. The KW100 keyboard and MD100 mouse have several features under the hood, which make them incredibly compact and portable to use. Let's discuss what these new peripherals are all about, apart from reminding us of eating sweet, roasted marshmallows over a campfire.
Asus Marshmallow Keyboard KW100: Specs and Features
The Asus Marshmallow KW100 is focused on being a wireless keyboard at an incredibly compact size. This portable keyboard is designed for a comfortable and silent typing experience, thanks to its switches, which Asus claims reduce noise by up to 90% compared to standard switches. These switches are rated to have a lifespan of 10 million key presses, so you can expect a consistent experience over the usage period.
The keyboard has 12 hotkeys and being a wireless keyboard it can connect to many different platforms including Windows, ChromeOS, macOS, and iOS. While the company did not mention Android, this keyboard shouldn't have a problem connecting to those devices using Bluetooth. Also, the Marshmallow Keyboard KW100 can connect to up to 3 devices at once. It supports BLE 5.0 technology for optimal connectivity.
Talking about its aesthetics, this is where the Marshmallow Keyboard shines! It comes in Oat Milk and Green Tea Latte colors, both of which feel quite pleasing to look at. The minimal, subtle aesthetics of this keyboard makes it stand out compared to other options. This keyboard's battery life is rated to last up to 2 years, depending on the usage.
Asus Marshmallow Mouse MD100: Specs and Features
The Asus Marshmallow MD100 is the second product the company announced. It is a portable wireless mouse coming in at 56g (without the battery). This mouse has an ambidextrous design, meaning that both left-handed & right-handed users can comfortably use this mouse. There is a magnetic top cover, so you can swap colors easily.
By the way, like the keyboard, this mouse comes in Oat Milk and Green Tea colors, with magnetic covers for both colors being included with the mouse. The cover has an anti-microbial coating, and overall it's claimed to have 3 times the lifespan compared to a regular office mouse.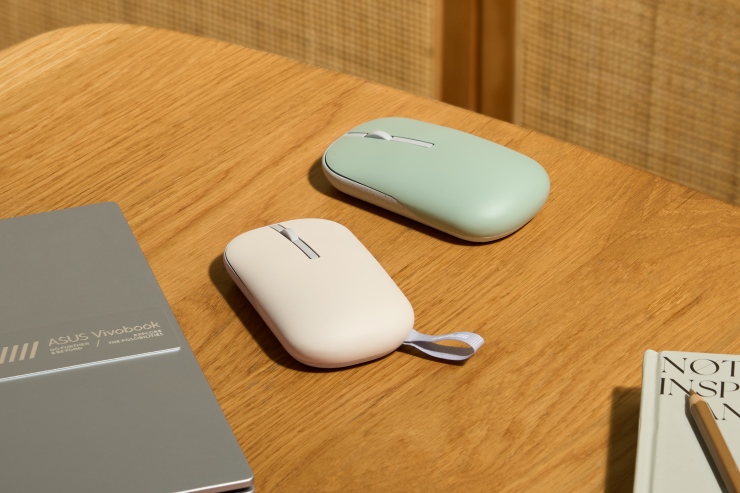 This mouse has under 3cm tall, so the overall design is quite sleek. The clicks are designed to be quiet, and they are also durable enough with a rating of 10 million clicks. The DPI is adjustable between 800 to 1600. The sensor of the Marshmallow MD100 is definitely well-suited for work purposes. It connects to your PC using the included 2.4GHz dongle, or through Bluetooth v5.0.
The battery of this mouse lasts up to a year, depending on usage. It accepts a single AA battery. Asus mentioned that this mouse is supported on Windows 10 or above, ChromeOS, and macOS. Thanks to the 100% PTFE feet, the mouse will glide effortlessly across a variety of surfaces. This mouse feet material is used even in more expensive mice built for gaming.
Price and Availability
The Asus Marshmallow KW100 is priced at Rs 2,899 and the MD100 mouse retails at Rs 1,499. Both will be available for purchase soon at the online ASUS e-shop, along with retailers like Amazon, Flipkart, Croma, Reliance Digital, and more.
What are your thoughts on the Marshmallow series peripherals from Asus? Will you buy one for your work setup? Let us know in the comments below.
---