Apple's ecosystem of content is vast as well as highly protected at the same time, shielded behind multiple layers of coding and compression algorithm. These tough measures reflect clearly in the troubles users have to undergo if they want to transfer files between Apple devices and their PC. One has to first connect the two devices, then sync them via iTunes, and as if all that was not enough, they have to go through a confusing process of making the actual transfer. This is where instant file transfer tools come to the rescue.
There is no dearth of software and apps masquerading as 'the best Apple file transfer tool out there' and whatnot, but most of them turn out to be a disappointing mess. Well, such had been my bitter experience, until I tried FonePaw iOS Transfer, which turned out to be a surprisingly good option when it comes to transferring media files between Apple devices (iPhones, iPad, etc.) and a PC.
Key Features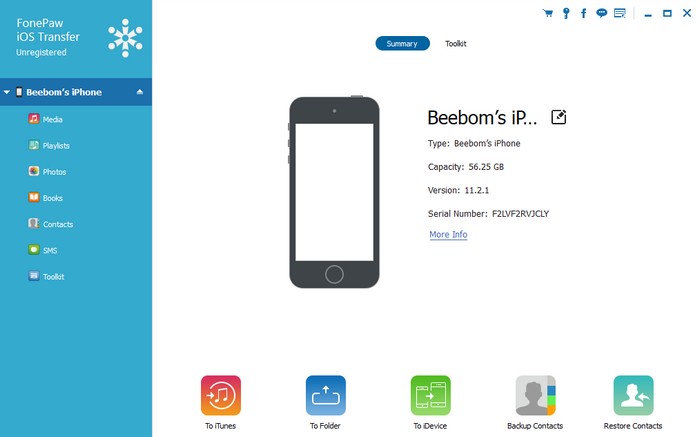 One of the most likeable features of FonePaw iOS Transfer is the super convenient sync process between the software and the Apple device it is connected with. How does it work then? Well, as soon as you start the software on your PC and connect the Apple device, you'll be asked to unlock the latter and tap on 'Trust' when you see a dialog box with the prompt 'Trust This Computer?'. Give your 'Trust' and you're good to go.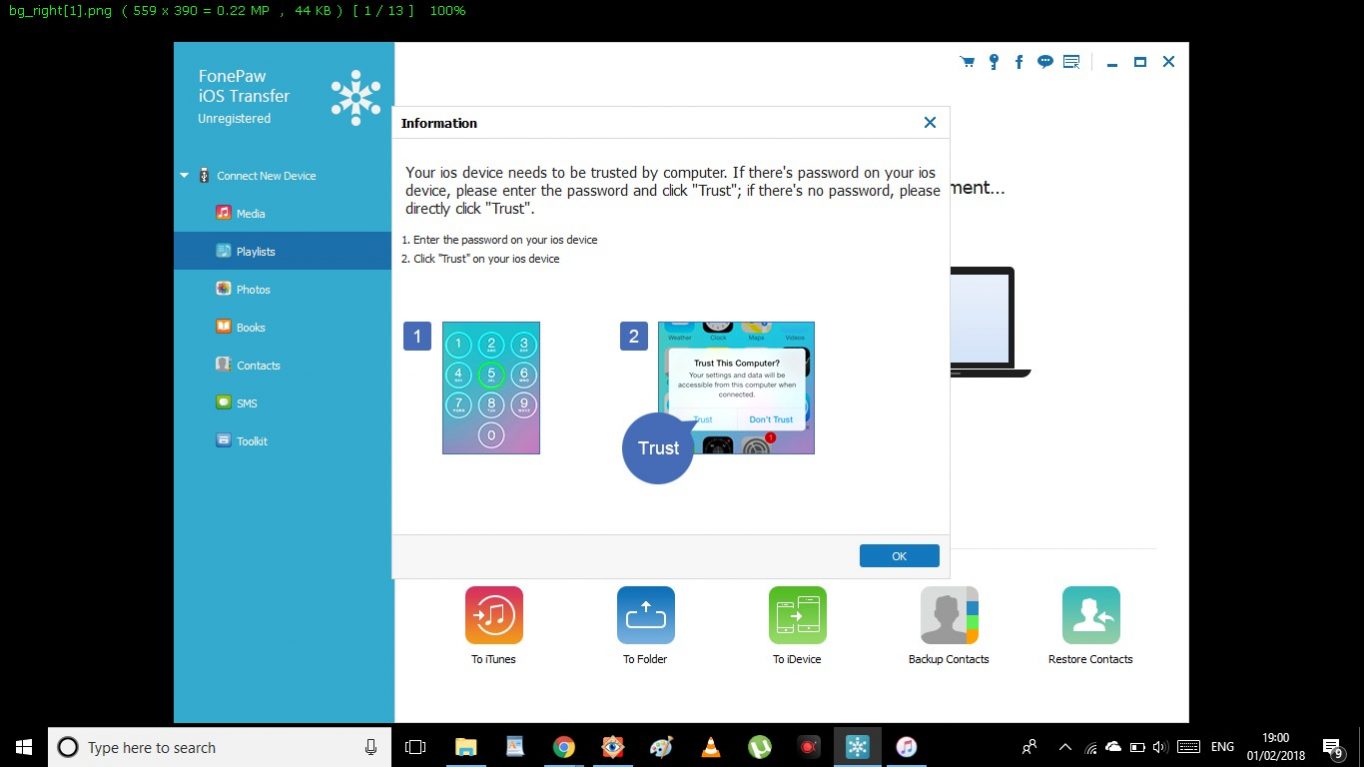 Media Transfer
With FonePaw iOS Transfer, media transfer between an Apple device and a PC is nothing more than a breeze. Let's have a look at how the software makes it highly convenient to transfer files like music, photos, videos, contacts, etc.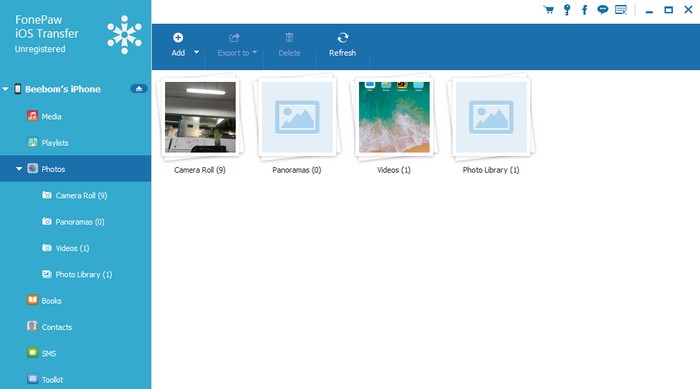 You can transfer the complete selection of photos stored on your iOS device viz. camera roll, panorama, etc. to your PC by selecting the images and clicking on the 'Export to' option on top of the screen. You can also add new images to the Photo Library by choosing the images of your liking from your device, and vice versa.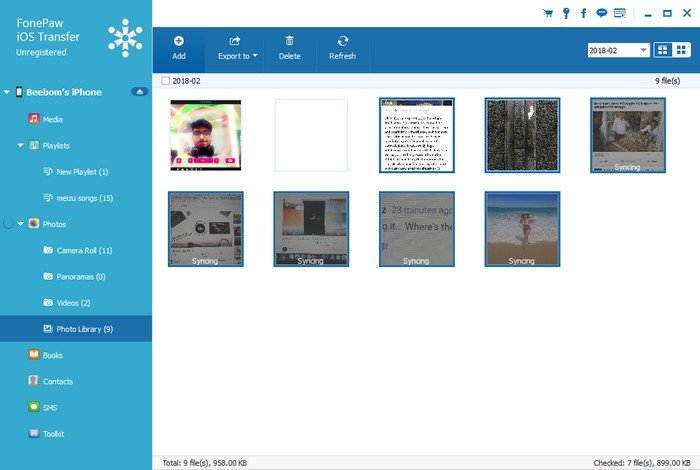 And let me tell you, the image addition process (which also involves syncing) is done in a matter of few seconds, so you don't have to wait and stare blankly at the screen while the transfer is happening anymore.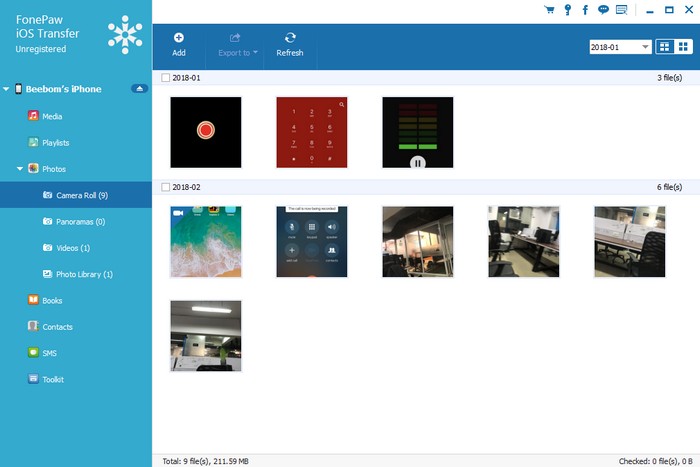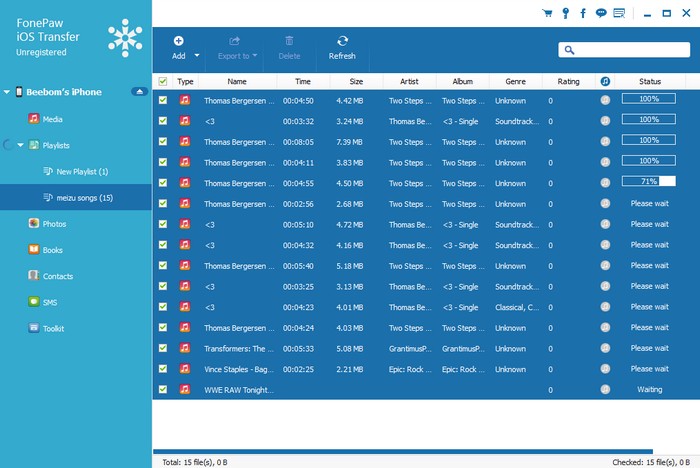 Using the FonePaw iOS Transfer software, transferring files between iOS devices and a PC or adding them to one's iTunes library is surprisingly fast and easy. All you need to do is select your tracks from either of the devices and execute the 'Add' or 'Export to' command to move files, and hey, you can also create an entirely new playlist too. Also, you don't have to search for the options to transfer audio files to the PC or your iTunes library, as they are located together under the same header.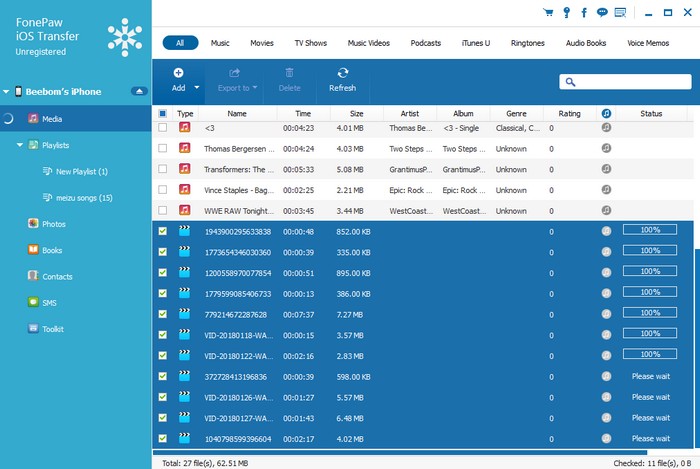 Likewise, the video transfer process is as simple as it can get. Just select the video files and add/export them to a designated folder on your PC, Apple device or the iTunes library. I moved some video files from my Android device to my PC, and then added them to the iTunes library via FonePaw iOS Transfer. As expected, the software took less than a minute to make that happen, and even though some file format conversion was required, that too was handled without any glitch. All in all, a very satisfying experience as far as media transfer is concerned.
But media files are not the only area where FonePaw iOS Transfer can be of immense help, as you can use the nifty software to transfer books, contacts as well as SMS between your iPhone and PC. And much to my delight, I found the software acing this domain too. You can use FonePaw iOS Transfer to import contacts from Gmail, aside from exporting them as CSV or Vcard format. Adding new contacts, editing older ones, and merging duplicate entries can all be done with exceptional ease. And yes, back-up and restore facility are on the table too. The same can be done for messages too, which can be transferred as HTML, TXT and CSV files. As for the bibliophiles, you're not left out, as you can transfer PDF files and audiobooks between your Apple device and PC in a fast and secure manner using the FonePaw iOS Transfer software.
User Interface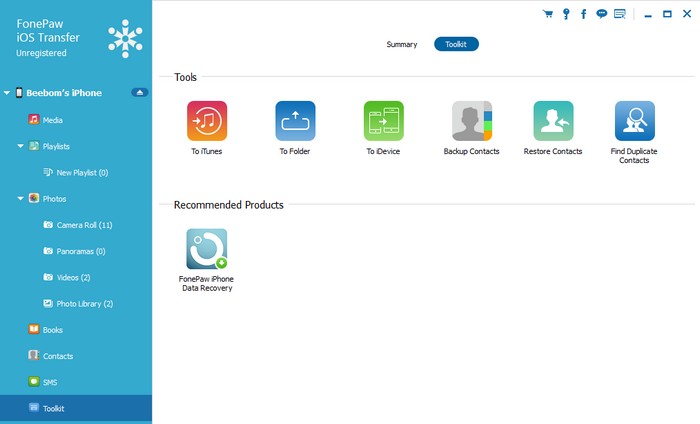 If you frequently transfer files between your iPhone/iPad and your PC, and rely on iTunes to do so, you are well aware of the drill. Connecting, syncing, searching and whatnot. For me, the most appealing aspect of FonePaw iOS Transfer software is its UI, which makes it a breeze to transfer files between iOS devices and your PC. And just in case you want to add the songs to your iTunes playlist, you can do that too, straight from the FonePaw iOS Transfer software. All in all, I found the software to be one of the best options in its segment, and definitely worth a try.
Pricing and Availability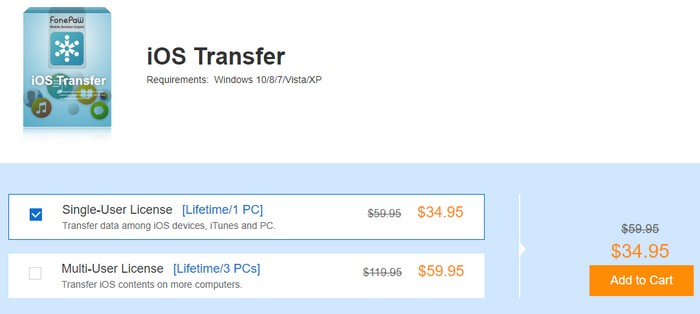 It should not come as a surprise that a promising software like FonePaw iOS Transfer is not free, but compared to the hefty price tags of apps in Apple's ecosystem and the subscription-based charges asked by most utility software, FonePaw is a good value for money.
A single user license to run the FonePaw offering on your system will cost you $34.95, but that fees will let you derive the software's benefits for your lifetime. If you aim to avail the software's services on multiple devices (up to 3 systems), you'll have to pay $59.95, which is a much better deal in my opinion.
Pros:
Export and transfer speeds are super fast
The UI is simple and engaging with a clutter-free design
Files are converted almost instantly into compatible formats
Cons:
There are a lot of limitations in the software's free trial version, which means you cannot test the software's full capabilities unless you buy a premium version.
System Requirements
Despite its promising performance, FonePaw iOS Transfer is compatible with a wide array of devices that run on significantly older operating systems, and does not require a beefy hardware to run either. Listed below are the compatibility details for FonePaw iOS Transfer software:
iOS devices: iOS 6 and above
Windows OS: Windows 10, 8.1, 8, 7, Vista and XP (32-bit and 64-bit)
macOS: macOS 10.7 to 10.12
Memory: Minimum 1Gb of free space and 512MB of RAM or higher
Processor: Intel/AMD chip running at 1GHz or above
FonePaw iOS Transfer: The Only Transfer Tool You Need
Let me put it in clear words. Get the app. If you are tired of using iTunes and suffering the ordeal of going through its confusing UI, you need the FonePaw iOS Transfer software. If not, at least do it for the sake of added convenience. Users might ask whether paying north of $30 is justified for some added ease, because you don't have to transfer files on a daily basis. A valid question nonetheless. Let me clear the air if you are in a dilemma whether to take the plunge or not. If you are into heavy editing or such tasks which require frequently transferring media files between your iOS device and PC, you should totally get FonePaw iOS Transfer. If you don't fall into the aforesaid category, well, you'll do just fine with iTunes and its tantrums, of course.
Download FonePaw iOS Transfer (Free trial, paid versions start at $34.95)