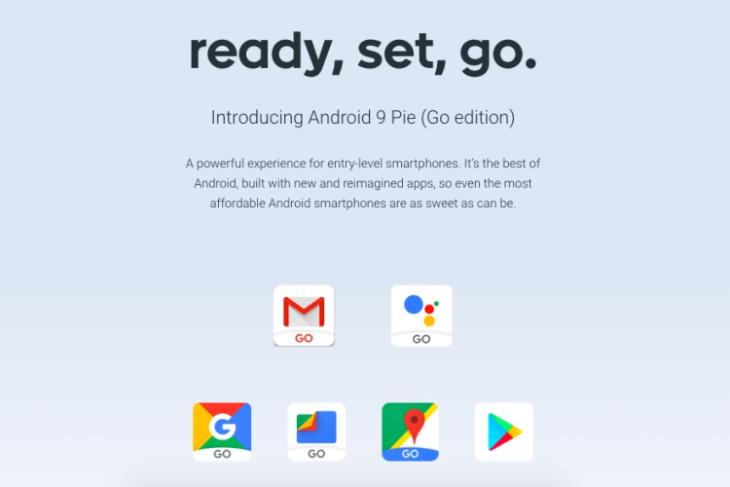 Android Pie went official earlier this month and has now been rolled out to the Pixel and Essential Phone. However, Google has now announced that the lighter version of its latest mobile OS update, Android Pie (Go edition) will be released later this fall to help make entry-level devices leaner and faster later this fall.
Google had kicked off its Android Go journey with last year's Android Oreo, but has now made significant improvements to its lightweight OS to make it run better on devices with low storage (only 8GB or less).
In its official blog post, Google states that you will now get increased storage out-of-the-box as Android Pie (Go edition) takes up less space on the device. You'll now have up to 500MB of additional storage in comparison to the previous Android Go release.
The tech giant has also optimized the OS to achieve faster device boot times, make security features such as verified boot, and a new dashboard for tracking and monitoring data consumption available to budget phone owners. Talking about the new OS update, Sagar Kamdar, Director of Product Management, Android, said,
Collectively, these features help solve some of the most common pain points for entry-level device owners: storage, performance, data management, and security.
Several improvements to the core Go app ecosystem have also been announced in this blog post. Google Go will now offer the ability to read out web pages, gallery mode for downloaded content in YouTube Go, navigation in Maps Go, and a smaller new Android Messages app. The Phone app on Android Pie (Go Edition) also includes caller ID and spam detection.
Google has also revealed that there are more than 200 Android Go devices available in 120+ countries including India, South Africa, US, Nigeria and Brazil. With the ever-growing ecosystem of Go and Lite apps, we can expect Android (Go Edition) devices to become popular over the coming years.